Do You Need a Notarized Custody Agreement Template? DoNotPay Can Help!
If you're in need of a notarized custody agreement template, you've come to the right place! DoNotPay is the platform that can help you draft your document and give further instructions on how to notarize it.
We can help you find an online notary and get their signature without the administrative issues that come with traditional notary services. If you use our platform, you'll be able to notarize any document, including copies of documents.
What Should a Notarized Custody Agreement Template Contain?
The most important detail of a notarized custody agreement is the notary public's signature. A custody agreement can prove to be one of the most complicated documents you'll ever come across. The reason why you need to go to court for custody agreements is that the safety and wellbeing of children are in question.
You will spend countless hours searching the internet for the right custody agreement template, and you'll come to realize that it's almost impossible to draft one on your own.
A custody agreement can be temporary or permanent. We will explore both the temporary and permanent notarized custody agreements further in this article.
What Should a Temporary Custody Agreement Look Like?
The purpose of the temporary custody agreement is to authorize another party (who isn't one of the parents) to take care of the child. The holder of the agreement will be able to make decisions about your child or children on your behalf.
You need to create a temporary custody agreement when you:
Are sending your children on a trip

Are traveling without your children

Have to serve time in jail

Are to be deported

Have financial difficulties and are unable to fulfill the child's needs
What About a Permanent Custody Agreement?
If you're going through a divorce, you'll need to have an agreement that states the rules about the custody of your child or children. A notarized custody agreement must contain the following:
The names of the parents—i.e., the petitioner and the respondent

Names of the children

A visitation schedule

Declaration of responsibilities of a parent

Designation of physical custody

Some specific rules about the care of a child or children

The rules about parents' conduct that might affect the child

A notary public's stamp and signature
Will a Notarized Custody Agreement Prove Helpful in Court?
A notarized custody agreement won't be enforceable in court. The agreement is useful as a type of contract between the parents, but it's not a legally binding document until the court incorporates it into the court order.
You can use the notarized custody agreement as evidence—that you were on the same page with your former partner at one point—in any future proceedings. This document is especially useful if any problems arise during the court process.
School systems, in general, tend to honor notarized custody agreements, which is useful when it comes to children's medical care or insurance.
How To Generate a Notarized Custody Agreement by Yourself
You'll find a plethora of law firms and online platforms offering custody agreement templates. You can use the platforms to create the agreement by yourself. Writing the custody agreement by yourself and getting it notarized can be an energy-draining process, especially if you need to visit a notary's office in person. Fortunately, many states allow remote online notarization. You can find some of them in the table below:
Follow the steps below to get a notarized custody agreement:
Find a platform that generates templates

Pay any fees (if they apply)

Download your template

Fill out the template

Find a notary online

Schedule an appointment with them

Wait for the notary to witness your signature and validate your document
This might seem like a simple process, but imagine how long it will take you to find the right platform or the right online notary public.
We have a solution for your troubles—DoNotPay's powerful Notary product.
How Does DoNotPay's Notary Feature Work?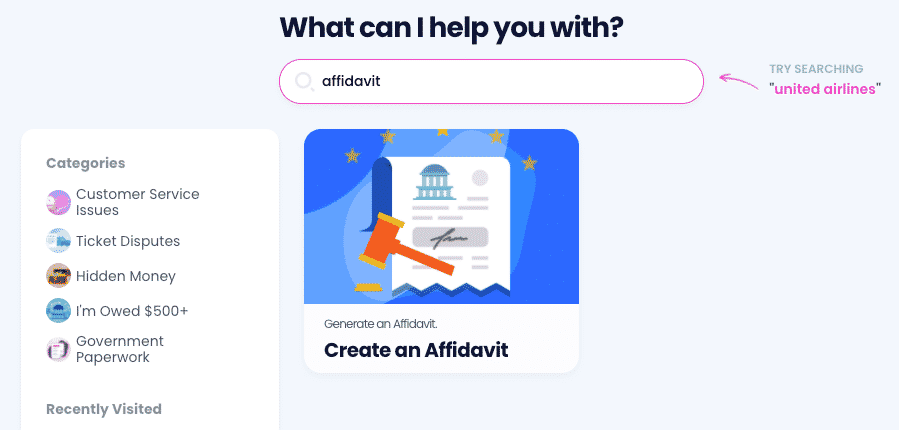 DoNotPay came up with a way to make the process of legal document notarization fast and simple for everyone. We can help with documents such as wills, affidavits, acknowledgments, car titles, high school diplomas, and more.
Using DoNotPay will help you avoid queuing in lines for an in-person appointment or paying costly fees for a mobile notary's services. If you , you'll get any document notarized, and you'll be able to access a bunch of other useful products we have to offer.
Steps to Notarizing Your Custody Agreement
After you , you can follow these steps to get your document notarized:
Type in

Notarize Any Document

in our search field

Click on the product

Upload your document

Go to your inbox and click on the link we sent
After you click on the link, it will redirect you to a page where you'll be able to make an appointment with an online notary. During your virtual appointment, the notary will verify your ID, witness your signature, and grant you a notarial certificate.
No Need To Search for a Template Online—DoNotPay Can Help You Create Your Own Documents
If you didn't create a custody agreement yet, you don't need to search high and low for a template. DoNotPay has another feature to make your day—Standardized Legal Documents—that is integrated with our Notarize Any Document product.
This feature enables you to get information on and create numerous agreements in a few clicks. All you need to do is sign up for DoNotPay and start making your contracts!
Get informed quickly about the following contracts and start creating your own easily:
Prenuptial Agreement

Custody Agreement

Non-Disclosure Agreement

Residential Lease Agreement

Independent Contractor Agreement

Bill of Sale

Non-Compete Agreement
Tired of Bureaucratic Hurdles? Our App Will Step In
As soon as you sign up for the world's first robot lawyer, you won't have to worry about any administrative mess you find yourself in. We can help you resolve anything from reporting stalkers, robocalls, spam emails, and spam text messages to applying for clinical trials in any U.S. city.
With our AI-powered app's assistance, you can even get a refund from any merchant or airline you can think of. We can also help you save money by resolving your problems with high bills, canceling any subscription you no longer need, or assisting you with parking ticket appeals.
DoNotPay Helps You Fight for Your Rights
Do you feel like a company has wronged you? Don't let them win—sue them in small claims court with our assistance! Our app will prepare all of the necessary documentation and help you win the case stress-free!
Apart from helping you sue any firm or individual, DoNotPay also makes it easy for you to set up a DMV appointment, deal with any credit card issue, start a free trial without your credit card info, protect your work from copycats, and much more!
Sign up for our app to take advantage of all its features!