Is Notarizing Birth Certificates Necessary?
Obtaining a notary's signature is a required step in many legal procedures. By having your documents notarized, you confirm that everything stated in them is true.
Regardless of the reason why you need an enforceable document, you must check all related legal requirements before you validate it.
In this article, we explain whether notarizing birth certificates is necessary and teach you how to create and have any document notarized in the blink of an eye! I
When Do You Need a Birth Certificate?
A birth certificate is a primary form of identification confirming your full name, age, and other essential information. It's a part of supporting documentation in many common situations, including:
Getting married

Applying for an ID, passport, or Social Security card

Obtaining a driver's license

Applying for citizenship

Opening a bank account

Applying for a job

Registering in a school or college

Requesting general and health-related insurance benefits
The original birth certificate mustn't leave the vital records office. You can only get a certified copy of the document in exchange for a state-specific fee.
How Much Does It Cost To Get a Certified Copy of Your Birth Certificate?
Below is the table showing the approximate price you must pay for a certified copy of a birth certificate in each U.S. state:
States
Fees

Kentucky

Indiana

Wyoming

New Mexico

Hawaii

Florida

North Dakota

Vermont

$7–$10

Arkansas

Maryland

Montana

Oklahoma

Kansas

Missouri

Illinois

Maine

New Hampshire

Alabama

Louisiana

South Dakota

South Carolina

$12–$15

Idaho

Iowa

Arizona

Colorado

Mississippi

Nebraska

Massachusetts

Nevada

Pennsylvania

Rhode Island

Utah

Washington

Wisconsin

$16–$20

Oregon

Texas

Ohio

North Carolina

New Jersey

Georgia

Delaware

California

$21–$25

Alaska

Connecticut

Minnesota

New York

$26–$30

$31–$35
Do You Need To Notarize a Birth Certificate?
Certified copies of birth certificates don't require notarization. Since the original document is located in a public institution, a copy already has a seal, which means it's legitimate. What must be notarized in certain U.S. states is a signature on a birth certificate application.
How To Get a
Notarized Birth Certificate
Application on Your Own
The procedure you must go through before getting a notarized birth certificate request is complicated and requires a lot of time. Here are the steps you have to take:
Choosing a notary—Depending on your needs, you can opt for one of the following

notary services

:

Booking an appointment with them

Visiting the chosen notary office (or meeting with an official at your preferred location if they provide mobile services)

Having your identity verified with a valid ID, passport, or driver's license

Having your birth certificate application checked for potential discrepancies

Signing the document in the presence of the notary

Obtaining a notary's seal and signature
If any of these phases go wrong, you may need to repeat the process and do everything from scratch, which can be stressful and frustrating. Some complications that may arise include:
Forgetting an ID when coming to the notary office

Failing to complete your application according to state laws

Making technical errors while composing a document

Waiting for too long to schedule an appointment
Bearing in mind these difficulties, we created an easy solution for you—a virtual lawyer that lets you draft and notarize your documents without leaving your home!
Notarize Any Legal Document With DoNotPay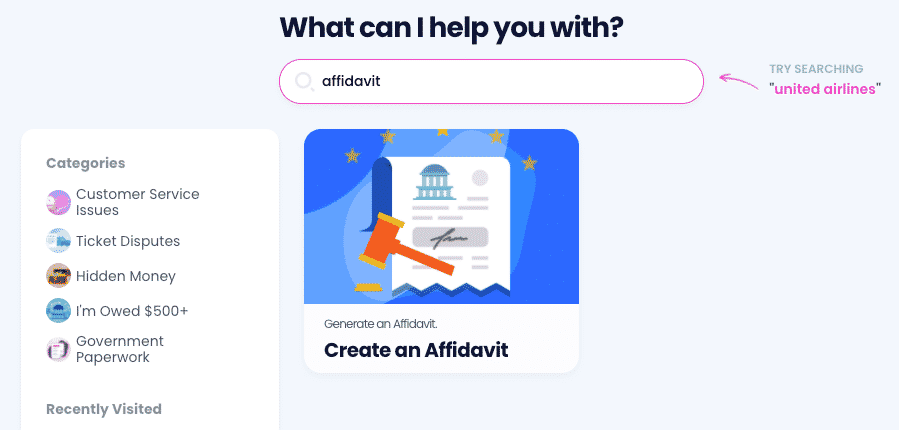 Whether you want to notarize your contract, diploma, affidavit, or translation, you can do it the easy way with DoNotPay! We developed a system that helps you book a virtual appointment with a notary and notarize your documents from home or any other location! Forget about administrative hurdles and long queues in notary offices—you don't need to wait ever again with DoNotPay!
Here's how to use our feature:
from your preferred web browser

Navigate to the

Notarize Any Document

section

Attach the document you want to notarize

Provide us with your email address
We will use your contact details to send you a link to pick the appointment date. A notary will verify your identity via video call and witness the signing. Once they do it, you can consider your document legally binding!
Another perk we offer is an excellent learning center full of useful notarization-related guides. It answers some of the most common related questions, such as:
Generate and Notarize Legal Documents Using DoNotPay's Features
Not only can we make your documents enforceable, but we also create them in your stead! If you are struggling with drafting a contract on your own, use DoNotPay's modifiable templates to simplify the procedure.
To create a document this way, follow these steps:
from your preferred web browser

Look for the desired customizable template

Specify what you want to include in your document—your location, contract duration, etc.
You will get a personalized document ready for signing!
We have linked this feature with our notary service, allowing you to validate your contracts right after drawing them up! Our database currently offers the following document categories:
Non-Disclosure Agreement

Child Custody Agreement

Promissory Note

Prenuptial Agreement

General Affidavit

Independent Contractor Agreement

LLC Operating Rules Document

Estoppel Certificate

Non-Compete Agreement

Residential Lease Agreement

Child Care Authorization Form

Intent To Purchase Real Estate

Bill of Sale Document

Quitclaim Deed

General Business Contract
Our Robot Lawyer Gets Rid of All Admin Tasks
What makes DoNotPay so unique is that it helps you get back what is rightfully yours in many different ways. You can appeal parking tickets, find unclaimed money, demand a refund for canceled or delayed flights, get help with bills you cannot pay, or get your college application fees waived with the help of our platform.
If you're sick and tired of annoying robocalls, spam emails, copyright violations, text message spam, or stalkers and harassers, DoNotPay can assist you in getting rid of them once and for all.
DoNotPay Can Help You Save Money
Have you ever subscribed to a service's free trial you forgot about after a few days? Many Americans have, which is why DoNotPay has a free trial feature that will help you avoid getting charged once the trial is over.
If you want us to scan all your active memberships and help you not pay for the ones you don't use, connect your email address or credit card to DoNotPay. Our cancel feature will ensure that you don't waste your money on subscriptions you don't even remember exist.
If a merchant charges you once the free trial is over, though, you can use our robot lawyer to request a refund and skip the phone queue when doing so.
In case a company refuses to grant you a refund, you can also use our app to sue them in small claims court.