Your Best Options for a Notary in Mandeville, LA
Notaries are a part of our everyday lives, giving us the peace of mind that our wills, contracts, affidavits, and other legal documents have been witnessed.
As a resident of Mandeville, LA, finding the best-value notary can be a chore, though. DoNotPay is here to help with all the advice you need to make an informed choice!
Why Do I Need a Notary?
A notary signature adds legal weight to almost any document and is required for:
Property-related paperwork

Transfer of assets

Wills

Contracts or agreements

Executorships

Custody agreements

Court documents

Powers of attorney
Any document that involves a commitment by a party to do something should be notarized to make it as legally robust as possible.
Where Can I Find a Notary in Mandeville?
You have three options for finding and using a notary service in Mandeville, LA:
In-Person Notary
Visiting an in-person notary in their offices represents the traditional and most common way of getting your documents notarized.
Although many in-person notaries advertise walk-in services, in most cases, you will have to make an appointment, travel to the notary's location, and wait in a queue for your allotted time. The process can be inconvenient and time-consuming, and if you are unlucky and forget a required piece of paperwork, you will have to rebook.
There are search engines that can help you locate a notary in Mandeville, the best of which are:
As an alternative, these locations normally offer notarial services:
Organization Type
Examples

Public buildings

Legal or financial services

Other outlets

AAA

stores

Car dealerships

Large companies
Mobile Notary
A mobile notary comes to your location, meaning you don't have to leave your home or office to get your documents notarized.
While this is much more convenient, a mobile notary charges for travel, so your final bill may be considerably higher than you expected.
Mobile notaries are also often booked out, so you may find it difficult to get an urgent appointment.
Online Notary
An online notary performs a notarization via video call. You upload your document in advance of the appointment, and during the video call, the notary verifies your identity and witnesses your signature. Once this has been completed, the notary digitally signs and stamps your document.
Online notaries combine convenience with value for money, and DoNotPay can help you connect with an online notary in minutes.
How Does Notarization Work?
A notary doesn't examine the content of a legal document but rather certifies that it has been signed without duress and in full understanding of its contents.
Before you sign a document, a notary checks your:
Identity

Relationship to the document

Competence
Identity
A notary requires a form of ID that includes both a recent photo and a sample of your signature. Acceptable forms of ID are:
Current passport

Valid driver's license

Any government-issued ID that fulfills the requirements
Relationship to the Document
You need to establish why you are signing the document to be notarized by identifying yourself as:
The author

A named signatory

A party affected by the document
Competence
The notary makes sure you are old enough to sign a legal document and that you are of sound enough mind to understand the contents and how they affect you.
How Much Does a Notary Cost in Mandeville, LA?
Louisiana is one of the four states—together with Iowa, Kansas, and Kentucky—that does not set fixed rates for notarial services.
This means that notaries in Louisiana can effectively charge whatever they want, so using either an in-person or mobile notary could result in unexpectedly high costs.
You can avoid having to shop around by letting DoNotPay connect you with an online notary.
How Can DoNotPay Help Me Notarize Documents?
We can help you get your documents notarized in a flash!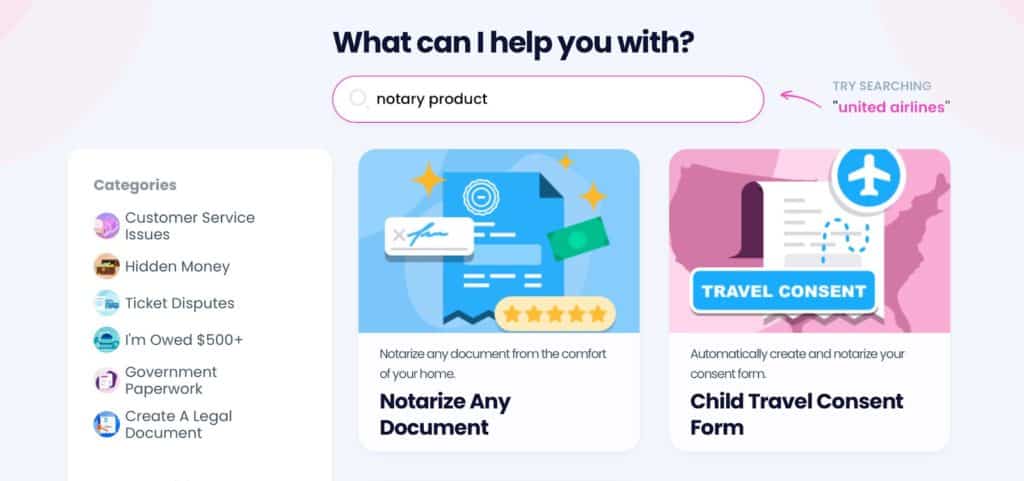 To use DoNotPay's online notarization product, all you have to do is:
Navigate to DoNotPay in your web browser and

Go to our

Notarize Any Document

feature

Upload the document you need notarized

Give us your email address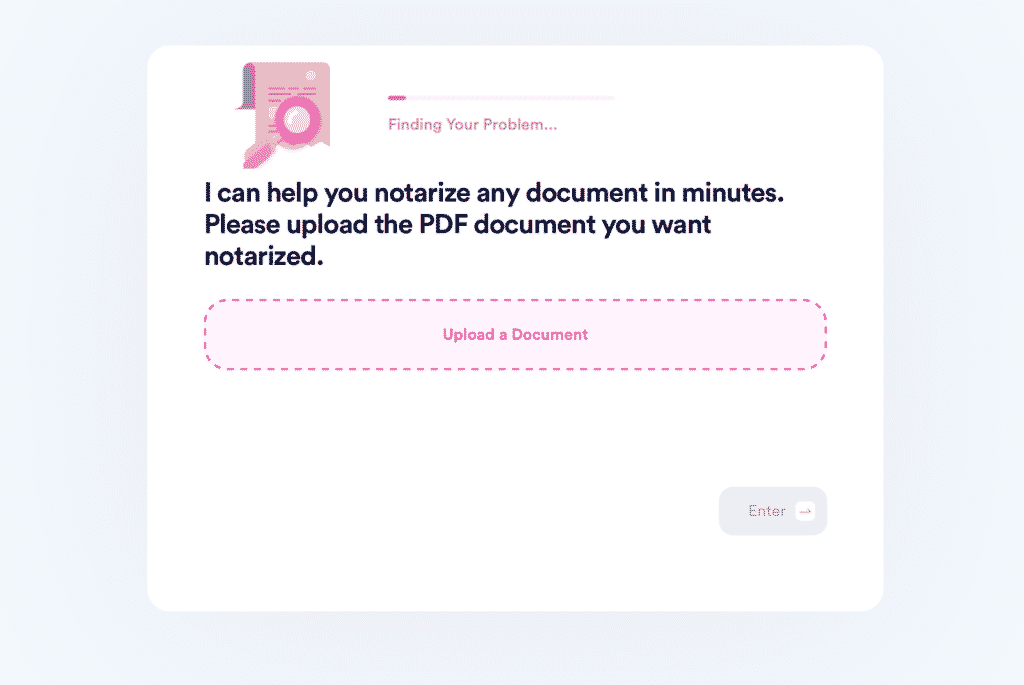 In no time at all, you will receive an email with a link—follow the link to schedule your appointment with one of our online notaries.
I Need a Notary in a Different Location—Can DoNotPay Help?
Across the country, 28 states have legalized online notarization. These states are:
Can DoNotPay Help Me Create Legal Documents?
DoNotPay has a range of contract templates and legal documents that you can customize to your requirements. If you aren't comfortable writing a contract, we are here to help!
To get your document:
Go to DoNotPay on the web and

or sign in

Search for the document you need

Fill in the details you want included

Wait while we generate your document
Our range of documents is expanding rapidly, and here are a few examples of what we can offer:
Property
Business
Personal

Lease agreement

Intent to purchase real estate

Real estate purchase agreement

Estoppel certificate

Quitclaim deed

Independent contractor agreement

Bill of sale

Non-disclosure agreement

Non-compete agreement

Operating agreement

General business contract

General affidavit

Prenuptial agreement

Custody agreement

Promissory note
Money Troubles Got You Down? Use DoNotPay To Get What You're Owed!
If you need help paying bills, you could benefit from our hacks for saving and earning money.
Our app can help you get free trials with no hidden charges, thanks to DoNotPay's virtual credit card. If you want to get rid of a service, we can assist you in canceling it or requesting a refund. We'll get everything done so that you don't have to deal with customer service. In case a company is playing dirty, our award-winning app can help you take it to small claims court.
A slow bureaucratic process shouldn't stop you from getting your money back. This is where DoNotPay comes in! We provide the fastest way of:
Rely on DoNotPay To Manage Different Tasks and Issues
DoNotPay is a multifaceted app making your life easier in numerous ways. Here's how you can benefit from your DoNotPay account: