All Your Notarial Needs Satisfied With a Notary in Arlington, TX
Notaries in Arlington are Texas public servants who are allowed to practice across the state.
Most of us will need a notary signature at some time, whether it is for notarizing a contract, signing and witnessing a will, or transferring ownership of property with a bill of sale. DoNotPay is your one-stop resource for the quickest and easiest way to access a notary public in Arlington, TX.
Where Can I Find a Notary in Arlington, TX?
There are three ways to get documents notarized in Arlington:
In-Person Notary
Notaries have offices in many locations around Arlington, and you can use the following websites to search for the most convenient one:
Alternatively, the following organizations usually offer notarial services:
Organization Type

Examples

Public offices

City or county clerk's offices

Courthouses

Public libraries

Police departments

Financial or legal institutions

Other outlets

AAA

stores

Car dealerships
Although many of these in Arlington offer walk-in services, you may find that you need an appointment. This will mean you have to travel, wait in line, and make sure you have all the required documentation with you. If you forget anything, you will have to rebook.
Mobile Notary
A mobile notary takes much of the inconvenience out of the process by coming to you, meaning you can have your documents notarized without leaving your home or office.
The downside to mobile notaries is they are often heavily oversubscribed, so you may have to wait a considerable time to get an appointment. If your documents require urgent notarization, this may not be a viable option for you.
Mobile notaries also normally charge travel expenses, meaning that the cost of notarizing your documents will increase.
Online Notary
The most convenient way to get your documents notarized is to use an online notary.
Online notaries use digital copies of your documents and witness your signature via a video call, after which they append an electronic signature and a digital notary stamp to confirm your documents have been notarized.
Texas is one of the 28 states that allow online notarization, so you can have your documents notarized online without the inconvenience or expense of the other two methods.
What Does a Notary Cost in Arlington?
The state of Texas fixes the maximum charges notaries can levy for their services. The rates are as follows:
Service
Fee

Taking acknowledgments or proofs

$6 for the first signature

$1 for each additional signature

Administering an oath or affirmation

$6

Swearing a witness for a deposition

$6

Taking a witness deposition

$0.50 per 100 words

Certifying a copy

$6
Notaries in Texas have to be transparent about the fees they charge, but they are allowed to levy extra fees for certain administrative tasks, such as photocopying, scanning, or phone calls.
How Does Notarization Work?
A notary's job is to certify several things when you sign a document, namely your:
Identity

Competence

Understanding
Identity
A notary requires proof that you are who you claim to be, so you must provide a valid form of ID that contains your name, your signature, and a photo. Acceptable forms of ID could be a valid driver's license or a current passport.
Online notaries require a digital copy of your ID, and they will usually ask you several verification questions based on searches of your online profile to make sure you are the person you say you are.
Competence
You must prove that you are:
Of the age of majority (18 in Texas)

Of sound mind

A party to the document to be notarized (the author, a named signatory, or an affected party)
Notaries will only proceed with notarization if they are satisfied that you fulfill these criteria.
Understanding
A notary checks that you understand the contents of the document to be notarized and that you are not under any duress or pressure to sign.
DoNotPay Makes Online Notarization Easy in Arlington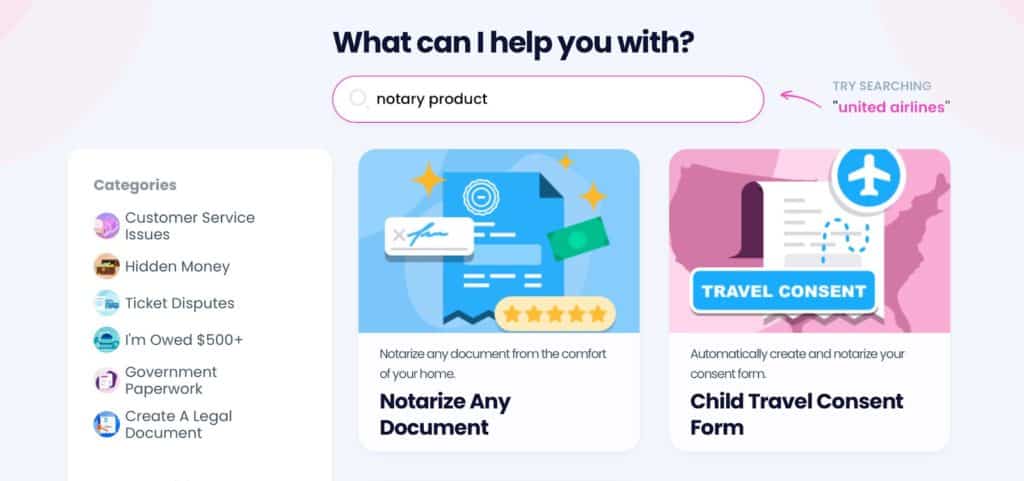 DoNotPay is committed to making your documents' notarization as quick and convenient as possible. We can help you access a notary in a few clicks. Here's what you need to do:
Go to DoNotPay in your web browser and

Click on our

Notarize Any Document

product

Upload the document you need notarized

Give us your email address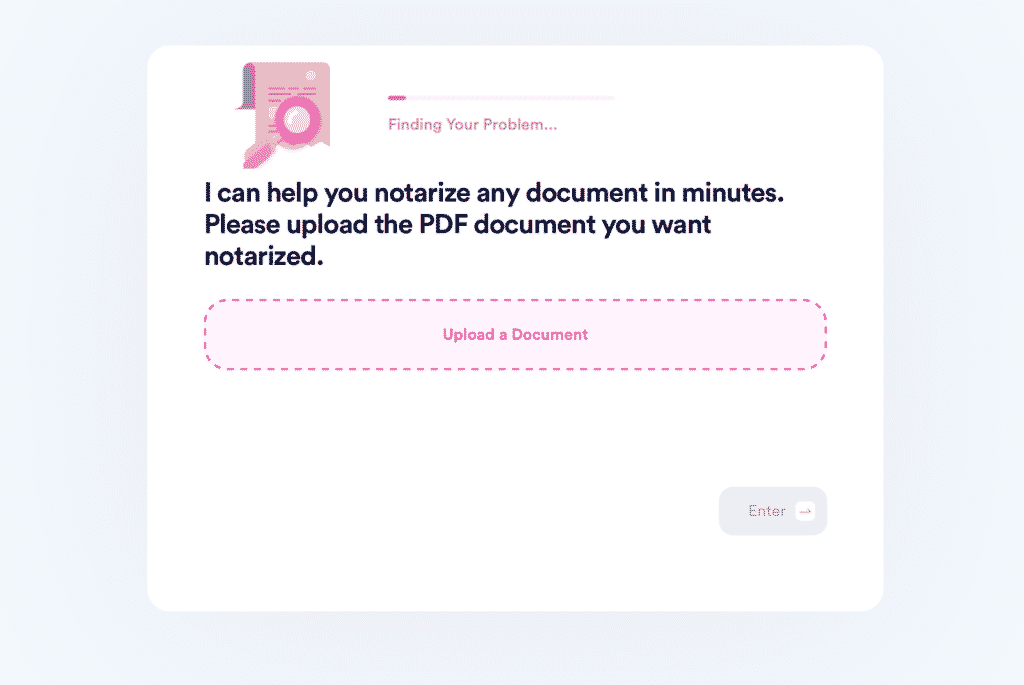 We will send a link to your email address—click on the link to arrange an appointment with an online notary.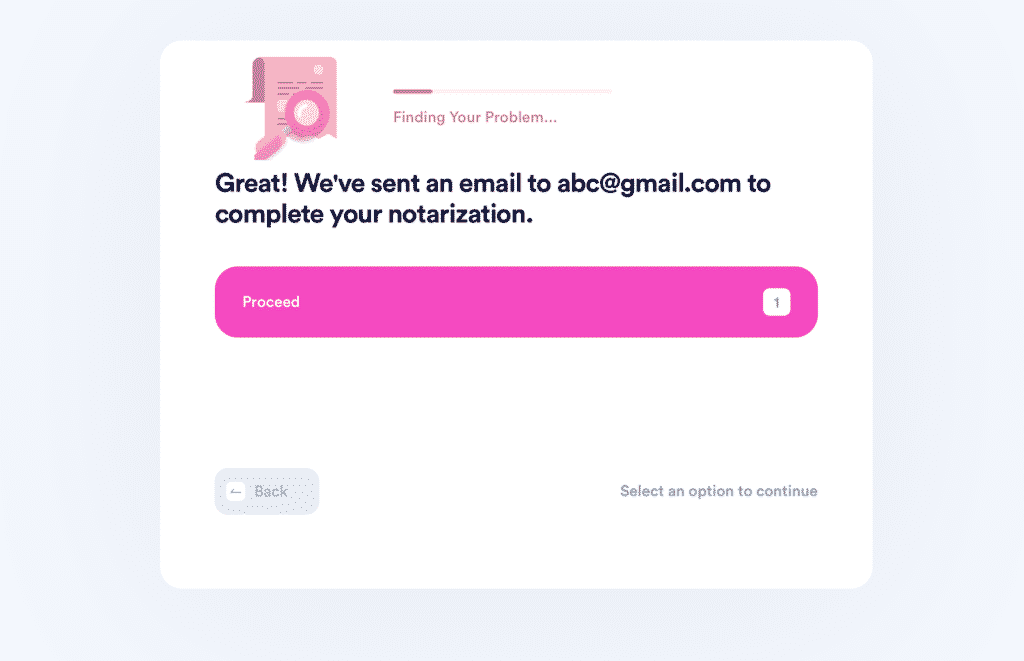 Can DoNotPay Help With Legal Documents?
Not everybody knows how to write a contract, so DoNotPay has developed a range of customizable legal documents and contract templates that you can tailor to your needs. All you need to do to get your document is:
with DoNotPay in your web browser

Search for the document you need

Fill in the required details

Wait while we generate your customized document
Our range of legal documents is expanding all the time, and here is a selection of what we can offer:
Property:
Real estate purchase agreement

Lease agreement

Estoppel certificate

Quitclaim deed

Intent to purchase real estate
Personal:
Prenuptial agreement

Custody agreement

Promissory note
Business:
Operating agreement

Independent contractor agreement

Non-compete agreement

Bill of sale

Non-disclosure agreement

General business contract
What if I Need a Notary Somewhere Else?
DoNotPay can also help you with information about notaries outside Texas:
Falling for Scams Is Less Likely With DoNotPay
Thanks to AI technology, DoNotPay is a great resource for protecting your privacy and finances from potential scammers. Our bots can help you report robocalls, keep your inbox clean from spam email and shady text messages, or even deal with stalking and harassment, if it comes to that.
In case the issues escalate, skip the expensive lawyers and sue the offenders in small claims court with ease.
Another great way to increase your online security is to use our virtual credit cards and sign up for any free trial without risking unwanted charges. You can even avoid sharing your contact info with our Burner Phone feature.
The Solution to Your Driving Woes
DoNotPay provides invaluable help to future and current drivers. By helping you ace that driver's license test, scheduling a DMV appointment the easy way, or contesting parking tickets, our app saves you money and time.
If you need to file a car warranty or an insurance claim, we will help you deal with the necessary paperwork within minutes. Trying to get out of a car wash membership? DoNotPay can cancel it in an instant.
Our platform works above ground as well. You can use DoNotPay to secure refunds from airline companies or compensation for delayed and canceled flights.