What Should You Know About Miami University Financial Aid?
Hesitant about enrolling at Miami University because of its high-priced tuition? There is some good news for you—According to the institution's statistics, 87% of students get financial support provided by the college that enables them to afford higher education.
Getting enough information on how and when to apply for Miami University financial aid may be challenging. This is why we created a step-by-step guide containing the answers to all your questions and all the instructions for getting the necessary funds!
What Is Included in the Miami University Cost of Attendance?
Cost of Attendance (COA) represents the estimated total amount you need to cover all the education-related expenses for one school year. Full costs of studying at Miami University can vary depending on a few factors, such as:
Residency status
Student category
Campus type
The table below shows the exact expenses you must pay directly to the college and other related costs:
Direct Expenses
Indirect Expenses

Tuition
On-campus meal plan
On-campus housing
Fees for other college services—recreation, internet, or technology, for example

Books
Transportation
Education-related supplies
Off-campus food and meals
Off-campus housing
Clothing and footwear
Hygiene
Dependent care
Expenses related to disabilities
Educational loan fees
How Does the Institution Calculate Your Financial Need?
Most financial aid programs provided by Miami University are need-based. This means that the financial support sum you get depends on your financial situation.
The institution gets all the required information about your household income, taxes, and education through a Free Application for Federal Student Aid (FAFSA). This is an online or printed form you must complete using personal data and accurate information from your documents and bank statements. It must be submitted within the predetermined time frame each year.
Upon receiving your application, the Miami University financial aid office assesses your eligibility for available programs by determining your Expected Family Contribution (EFC). This is the amount your family can set aside for college expenses based on the details from your FAFSA. By subtracting it from the overall COA, the financial aid office team gets the amount you should receive as a financial support award.
What Types of Financial Aid Can You Apply for at Miami University?
You have a wide selection when it comes to active financial aid schemes at Miami University. The college offers two main types of programs:
Gift aid, including:

Grants
Waivers
Scholarships

Self-help aid, such as:

Loans
Saving plans
Student employment programs
Here's a table with more details about the available subcategories:
Type of Aid
Individual Programs
Grants

Federal Pell Grant
Federal Supplemental Educational Opportunity Grant
Ohio College Opportunity Grant
Teacher Education Assistance for College and Higher Education Grant
Iraq and Afghanistan Service Grant
Pennsylvania State Grant
Vermont Grant
Study Abroad Airfare Grant

Waivers

Family Tuition Fee Waiver
Staff Tuition Fee Waiver
Faculty Tuition Fee Waiver

Scholarships

First-Year Undergraduate Student Scholarship
Scholarship for Current Students
Intercollegiate Athletics
Myaamia Heritage Award Program
Graduate student scholarships
Transfer student scholarships
Regional campus scholarships
Outside scholarships

Loans

Private loans
Federal loans

Direct Subsidized Student Loan
Direct Parent PLUS Loan
Direct Unsubsidized Student Loan
Direct Graduate PLUS Loan

Student employment

Federal Work-Study
Regular wage employment
What Should You Do if You Don't Want To Accept the Awarded Amount?
Did you receive an official offer from Miami University, but it doesn't satisfy your needs? You can:
Choose another offer if you applied for financial aid at multiple colleges. Here are some articles about financial support options you may find handy while researching alternatives:
File an appeal letter yourself and provide additional financial info to get a second chance and more support funds
and let our app generate and submit an appeal letter in your stead
Didn't Get the Amount You Were Expecting? Try Getting a Better Offer With DoNotPay
Whether you want to appeal a financial aid decision from a college or a graduate school, DoNotPay ensures the procedure goes as easy as ABC!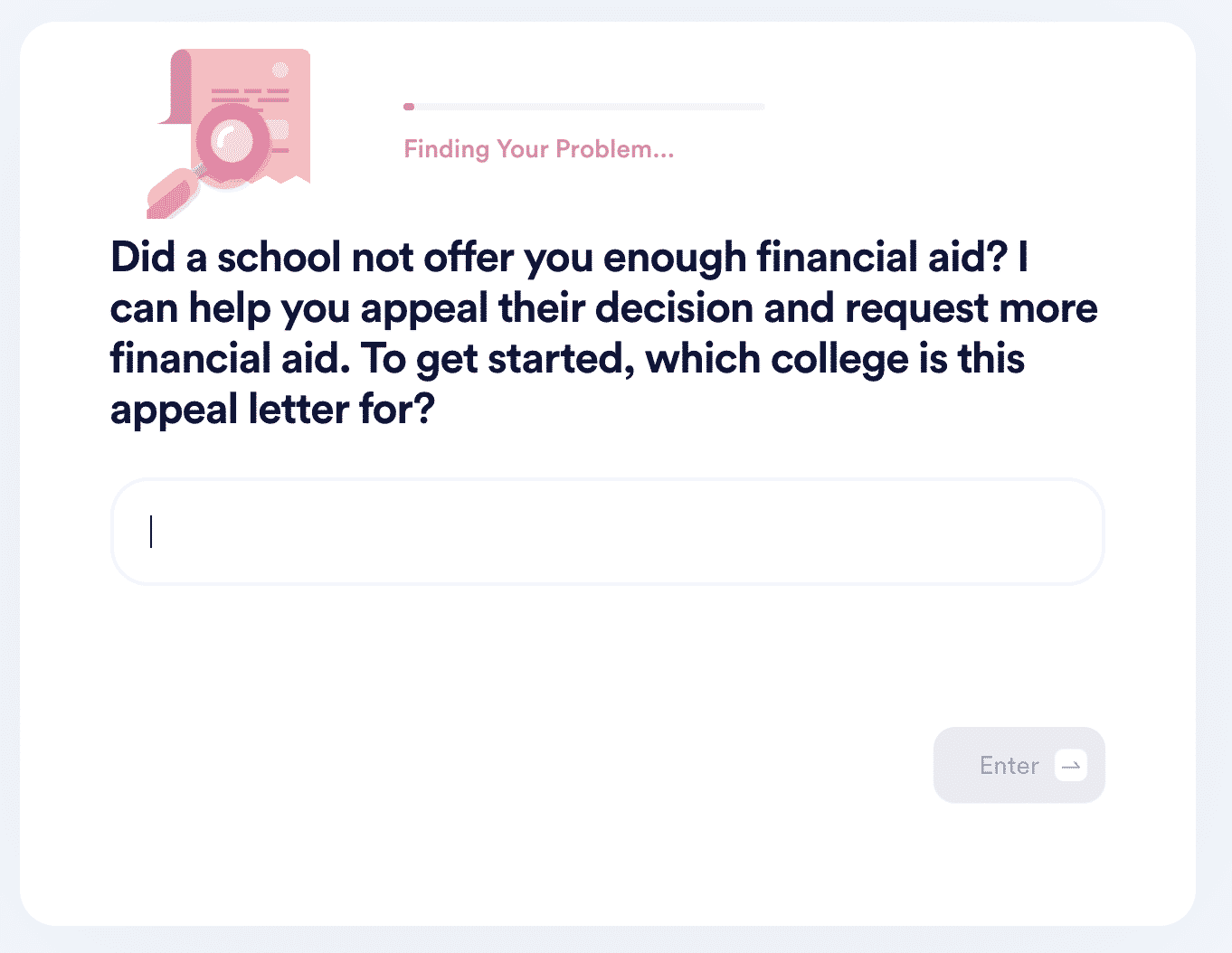 Everything is so simple—all we need from you is a few answers to our chatbot's questions related to your tax, income, and education information. Our system will scan the info we get from you and compose a customized appeal letter tailored to your needs! You don't need to add anything or waste time writing the letter yourself—we will spare you the trouble!
Here are the steps you must follow:
and log in
Search for the Appeal for More Financial Aid option
Enter the required information about your college
Complete our brief questionnaire
Once your document is ready, we will automatically send it to the right address!
Explore our knowledge base and find the answers to some of the most common financial aid-related questions, such as:
Where can you find financial aid help

?

DoNotPay Crosses All Your Tasks Off Your List
Whether you need help with preparing for government tests, online faxing, or getting your documents notarized—DoNotPay will be able to help! Whatever problem you're facing, we'll turn it into a breeze!
Sign up now if you want an easy solution to stop email spam, cancel unneeded subscriptions, schedule DMV appointments, and draw up agreements from the comfort of your home.
We can also help you reduce property taxes, pay bills, appeal parking tickets, and find any unclaimed money.
Improve Your Quality of Life With DoNotPay
The beauty of our platform is that besides bureaucratic issues, it can also assist you with numerous other struggles! To name a few, we can help you:
The list could go on for days!