Can Felons Get Financial Aid? The Final Answer
Many students need financial support to go to college. Tuition fees can be quite expensive, especially at prestigious universities such as Dartmouth, Brown, or Virginia Tech.
You must meet specific criteria to get financial aid, but even if you do, a criminal conviction may influence your eligibility.
"Can felons get financial aid?" is the question DoNotPay will address in this article. We will also provide guidance on how to apply for a financial award and ensure the highest possible amount from any college!
Financial Aid for Colleges—The Essentials
Financial aid is money aimed at helping low-income undergraduate and graduate students get higher education. They can come from different sources (federal, state, institutional, or even private) and are typically available in one of the following forms:
Grants
Scholarships
Loans
Work-study programs
While grants and scholarships are treated as awards for deserving students, those applying for loans have to repay everything with interest after graduation. Work-study programs help students earn money to finance their education by providing them on- and off-campus jobs.
The key factors when applying for financial aid are:
Knowing how to apply—Applying for any type of financial aid requires you to fill out a Free Application for Federal Student Aid (FAFSA) form. You must submit a FAFSA for every school year you want to receive financial aid, but some colleges may require additional application forms for state or institutional aid
Respecting the deadline—Prospective students can apply for federal financial aid typically between October 1st and June 30th of the current year for the following term. Deadlines for state and college financial aid applications may differ
Meeting the eligibility standards—The essential criteria that students must fulfill to apply are:

Be U.S. citizens or eligible non-citizens
Demonstrate financial need
Be in good standing with any other federal loan they might have
Own a high school diploma or complete a state-approved homeschool program
Be enrolled or accepted in an eligible degree or certificate program
Can You Get Financial Aid With a Felony?
You can get financial aid with a felony, but your eligibility may be limited. While some convictions might have minor consequences on your qualifications, others may strip you from any financial aid altogether.
To get a complete picture of how a felony impacts your chances at getting financial aid, consult the table below:
Type of Conviction
Details
Probation or parole
Persons who are on probation or parole are typically eligible for financial aid. Bear in mind that the eligibility may vary depending on your offense. It might be limited if you have committed a sexual or drug-related offense
Incarceration in a federal or state institution
If you're in a federal or state prison, know that you won't be eligible to apply for the following federal financial aid types:

You may be able to apply for a Federal Supplemental Educational Opportunity Grant (FSEOG), but your chances of getting it are fairly low.

Know that most of the federal aid restrictions will be lifted once you're released from prison, except if your conviction involves a drug or sex-related offense

Drug conviction
A drug-related conviction can disqualify you from applying for financial aid. Once you fill out the FAFSA form, you will be asked if a drug conviction happened while you were receiving financial aid. FAFSA will then have you complete a form to determine your eligibility.

You can regain your eligibility by:

Entering a drug rehabilitation program
Clearing two random drug tests administered by a drug rehab program

Bear in mind that if you get convicted of a drug-related offense after submitting your FAFSA, you will probably:

Lose your eligibility
Have to return all financial aid you have received
Can You Get Financial Aid With a Felony—Final Thoughts
While a criminal conviction will most likely limit your chances of getting financial aid, that doesn't mean all is lost. Your best course of action is to contact the university's financial aid office and consult with your lawyer to see what the available options are.
All students can get rejected for financial aid or receive a smaller amount than expected, regardless of their circumstances. If that is the case, is here to help you appeal your case and get a higher amount in no time!
Get Higher Financial Aid With DoNotPay
If the university turns your request down or you feel like your circumstances deserve a higher award, why not appeal the university's decision? The best way to do that is by letting DoNotPay draft a compelling financial aid appeal letter!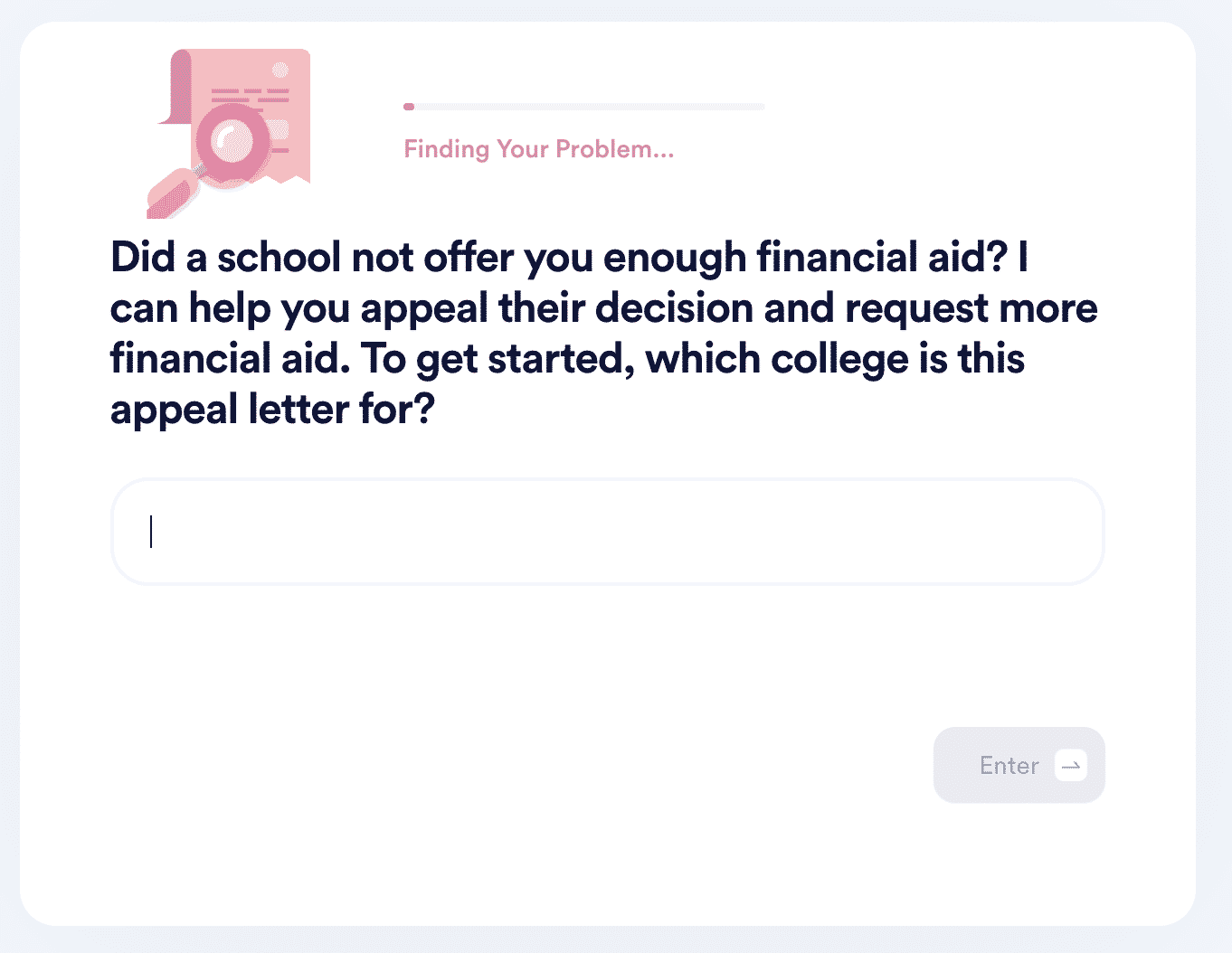 Here's what to do:
Find our Appeal for More Financial Aid tool
Provide answers regarding:

College you want to enroll
Your financial circumstances
Possible higher offers from other colleges
We will personalize the letter according to the information you provide and send it to your desired college in no time!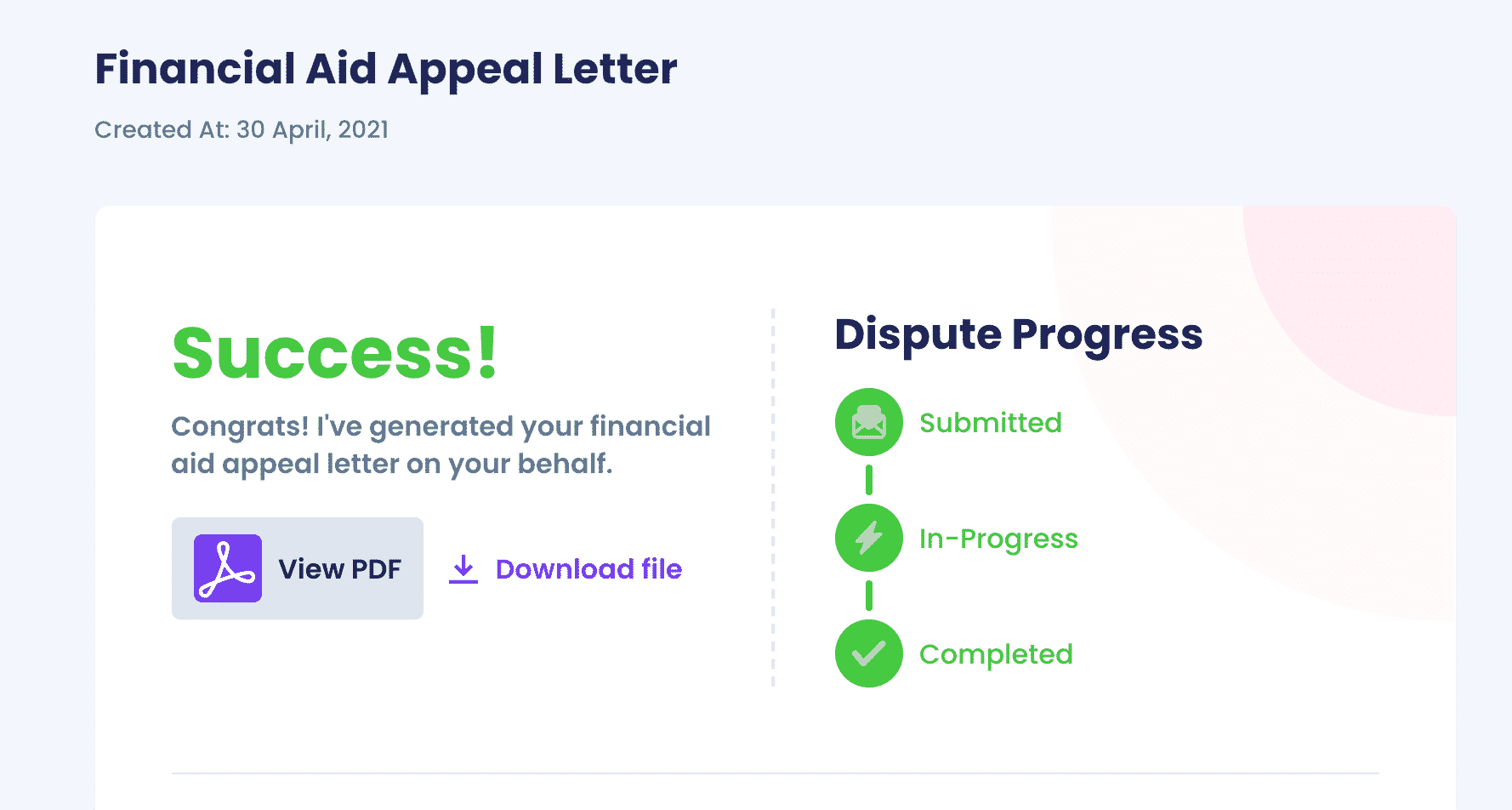 Do you want to know more about financial aid offers at other colleges? Take your pick from the table below and compare:
Get an Extra Buck or Two With DoNotPay
Besides being able to assist you with almost any legal issue, DoNotPay can also help you get some extra money! We can cancel any unused memberships and prevent you from being charged after free trial periods are over with our virtual credit card.
Can't claim a warranty or get cash back for a gift card? Subscribe for DoNotPay and consider it done! We can also help you return items to almost any company or even help you get a refund in a few clicks!
Helping you jump the customer service queues is also not a biggie for us, as well as taking the company that wronged you to small claims court!
No Problem Is Unsolvable for DoNotPay
By subscribing to our platform, you get access to a plethora of handy features that can help you with:
Drafting legal documents

Creating POA agreements

Reducing property taxes