What Are Good Excuses for a Financial Aid Appeal? DoNotPay Knows!
Did you enthusiastically apply for financial aid, but instead of a generous offer, you got a rejection? This is not an uncommon situation.
Students get their financial aid declined, reinstated, or suspended all the time. This doesn't mean that the financial support needs to end. If you have good excuses for a financial aid appeal, you have a chance at getting the help you need.
To write an effective appeal letter, you first need to determine a solid cause for it—and our guide is here to help! We bring you some persuasive reasons for filing an appeal. In case you need help writing the letter, .
Ten Good Excuses for a Financial Aid Appeal
An appeal is a form of objection to a college's decision to deny or withdraw your financial aid. While providing the funds is based on strict guidelines, a college may reconsider its verdict when a student has a good reason for the appeal.
The key factor that influences students' eligibility for financial aid is their financial situation. If your economic situation changed, a school could change its mind.
Financial Aid Offices can find your appeal justified under these circumstances:
Separated or divorced parents
Loss of employment in the family
Notable decrease in parents' income
Death in the family
Another family member has enrolled at college
Serious illness in the family
Damage to family assets due to a natural disaster
Providing support to an aging family member
The last FAFSA form reflected a one-time increase in income
A student has received a better financial aid offer from another school
If you can match your situation to any of the above-mentioned reasons, you have every right to file an appeal. Note that any other occurrences that have negatively affected or reduced your family's income can also be considered valid.
How To Appeal a Financial Aid Decision
Take these steps to appeal a financial aid decision:
Contact the schools' financial aid offices
Inquire about the appeal process at the specific college
Complete the forms that the financial aid office asks for
Write an appeal letter
How you'll go about the appeal letter depends on the circumstances. Your financial aid can be:
Discontinued
Suspended
Terminated
Declined
Find out what kind of letter you need to write in the table below:
| | |
| --- | --- |
| The Financial Aid Was | A Student Needs To Write |
| Discontinued | Appeal for financial aid reinstatement |
| Declined because a student failed to meet the Satisfactory Academic Progress (SAP) requirement | SAP appeal letter for financial aid |
| Suspended | Financial aid suspension appeal letter |
| Terminated | Appeal letter for financial aid termination |
How To Write an Appeal Letter for Financial Aid Reinstatement
If you fail to meet the basic requirements that make you an eligible candidate for financial aid, the federal funds will be discontinued. Once you qualify, you can file an appeal for reinstatement.
To write the letter, follow these tips:
Accept your responsibility for losing the aid
Pinpoint the problems that made you ineligible
Explain how you solved the problems
State how you plan to continue to be a suitable candidate
If you can't finish college without the aid, mention it
How To Write an SAP Appeal Letter for Financial Aid
One of the basic requirements for getting the aid is to comply with SAP. When you fail to do so, you won't be able to get financial aid.
If you managed to fix your academic progress and meet the SAP requirements, you should submit an appeal.
When writing the letter, you must include the following:
Explanation of why you weren't able to maintain the satisfactory progress
What has changed since your last appeal (if this isn't your first one)
The measures you have taken to improve your progress
Specific actions you'll take to maintain the progress
A Student Improvement Plan signed by your adviser
How To Write a Financial Aid Suspension Appeal Letter
No matter how many years you've been receiving funds for your education, a school can suspend your financial aid because:
You changed majors or switched schools
Your family's income has increased
You didn't meet the SAP requirements
When the reason that led to suspension ceases to exist, you can appeal the school's decision. To write a successful letter, mention the following:
Why your financial aid was suspended
What has changed since the suspension
Why you deserve to get financial aid again
How you plan to keep the satisfactory progress (if the reason for the suspension was failing to comply with SAP)
How To Appeal Financial Aid Termination
The government, state, or school can terminate your financial aid if you don't keep your end of the bargain. If you can provide a solid reason for objecting to the termination, put it to use.
Find out what caused the termination by calling a Financial Aid Office. To write an appeal letter for financial aid termination, follow the same guidelines for writing a suspension appeal letter.
Do Appeal Letters Give You a Headache? DoNotPay Comes to the Rescue!
Writing appeal letters can be challenging. This is why we have created our nifty Appeal for More Financial Aid tool.
We can help you write an appeal letter, and all you need to do is:
Find the Appeal for More Financial Aid feature
Answer some basic questions about your reasons for the appeal
Your responsibilities end here, as we will generate and send the letter in your stead to any school you desire.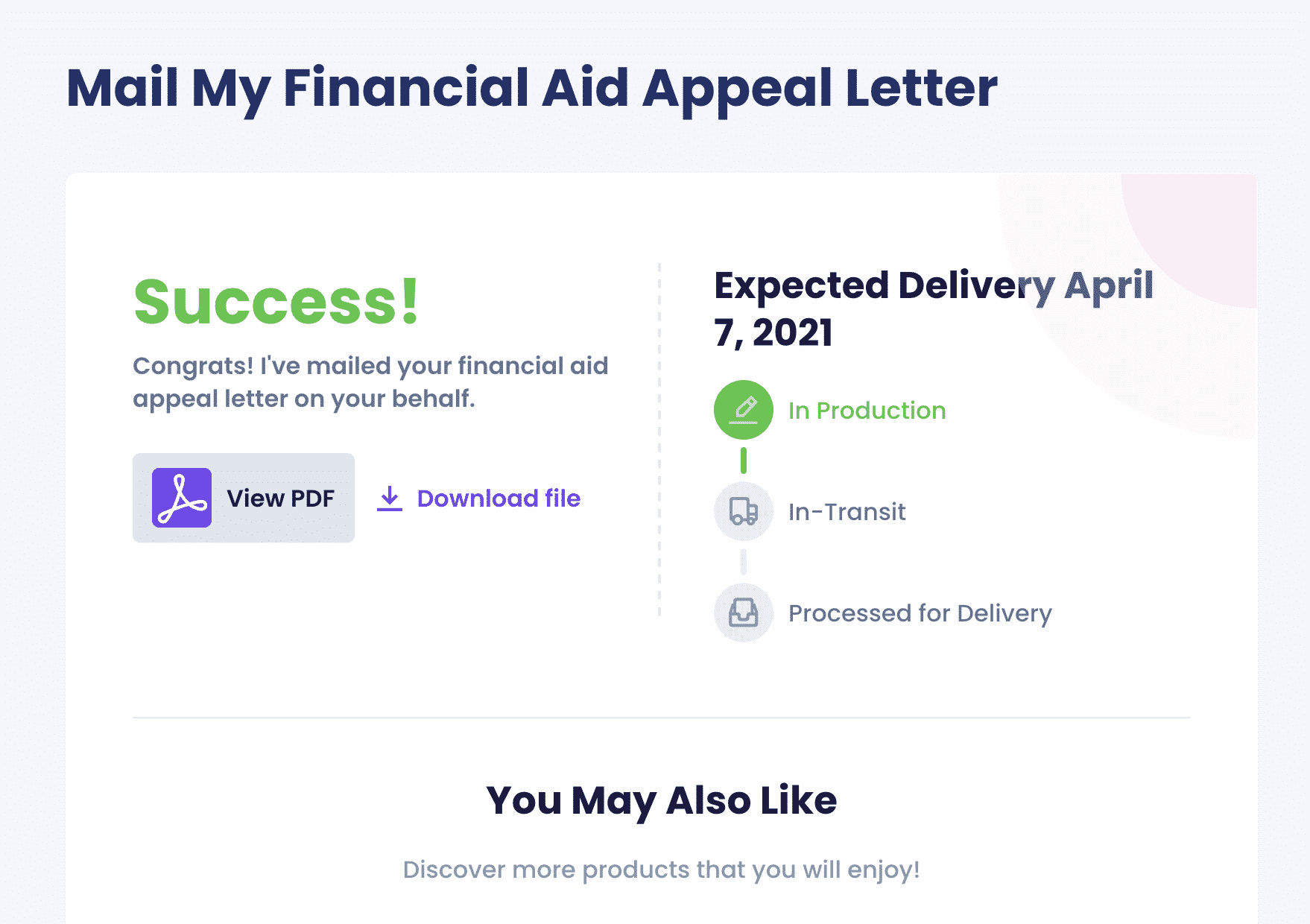 Whether you aren't happy with how much funds you got or have other reasons for the appeal, a customized letter will turn the odds in your favor. We can help you appeal a financial aid decision for graduate school as well!
Keep Your Options Open
When applying for financial aid, you shouldn't stick to a single college. For every college you apply to, you can also submit a request for financial aid. The more you browse, the more chances you'll have of getting enough funds.
If one school offers you a better package than the other, you can use that as leverage to ask for more financial aid from the college you set your heart on.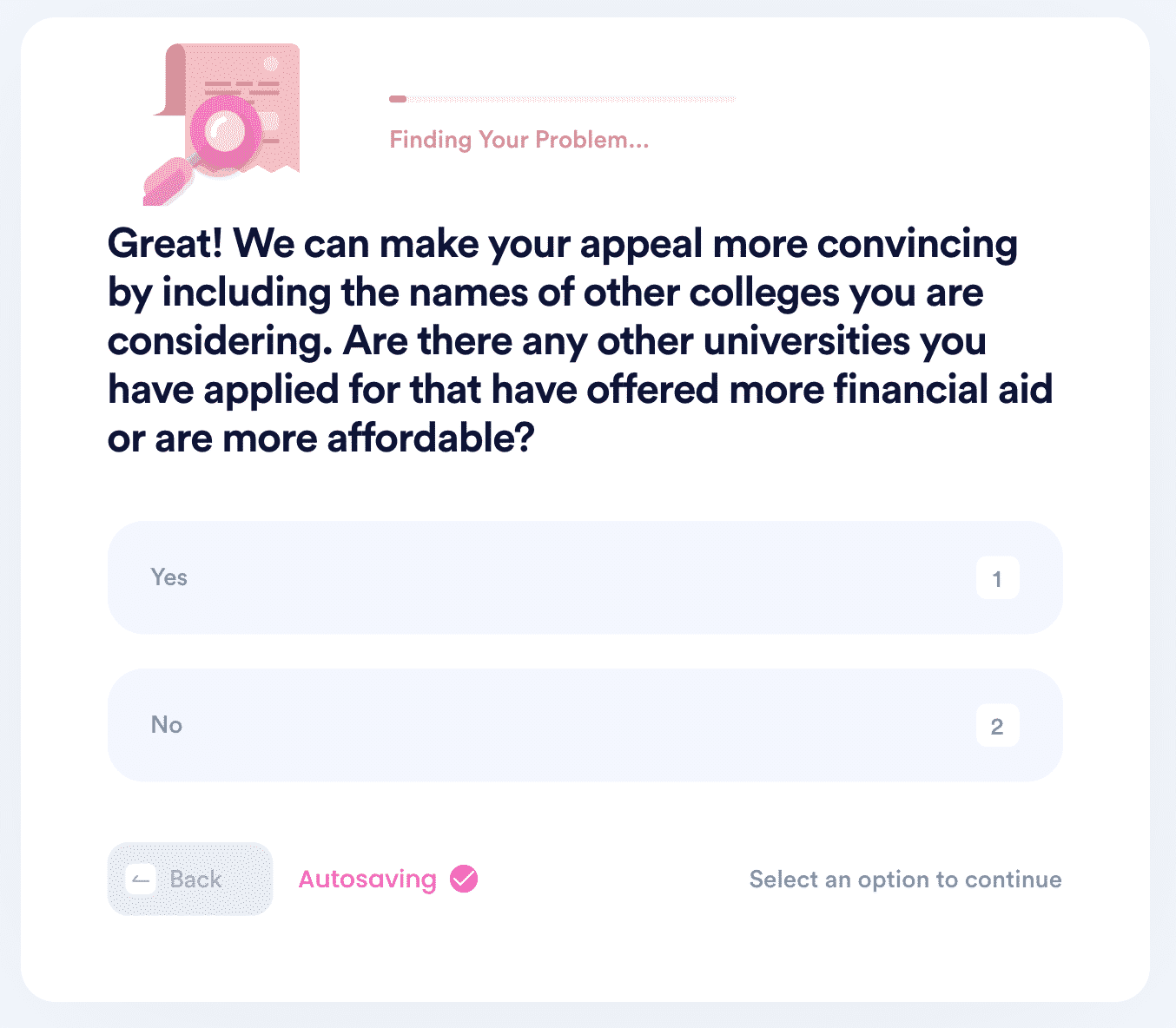 If you want to check out financial aid programs at some of the best schools across the states, our simple guides will help you out:
DoNotPay Is an App for Everyone
Whether you need help with drafting paperwork, searching through government databases, or managing your bills, DoNotPay has a feature that'll make your life easier. The number of features keeps growing, and you can check out a table showcasing some of them:
Get More Done With Our Do-It-All Platform
DoNotPay can take care of any daily hurdle you come across. For a small yearly subscription fee, you get access to various features that you'll find handy on a daily basis. Besides everyday chores, signing up for DoNotPay will help get you:
The list could go on for days. You can even get in touch with an inmate or fight for discrimination at your workplace!