Getting Familiar With the McDonald's Call In Sick Policy
Requesting time off for medical reasons in McDonald's can be quite a burden if you are unaware of the sick leave rules in your state and company. Despite having a somewhat flexible call in sick policy, this company still proposes some laws you must comply with if you get ill at work and want to get a few sick days to rest.
In this article, you will discover everything about the McDonald's call in sick policy and learn how to earn even more extra time off for medical purposes. It will also show you how to to avoid email sick leave requests and create a personalized demand letter in record time!
How To Call In Sick if You Work at McDonald's
As per the company's crew member handbook, if you are too sick to show up at work, you must contact your manager at least two hours before your shift begins.
If you are supposed to work the morning shift the next day, it's necessary to let your boss know about the health issue the evening before unless it comes unexpectedly.
The company doesn't tolerate:
Calling in sick via text messages—you need to call the manager
Requesting time off due to sickness without a two-hour notice
Using your sick leave if you are not sick
How Many Times Can You Call In Sick at McDonald's?
There is no specific information about the exact number of times you can call in sick as a McDonald's employee. What matters is that if you do it too frequently, your manager can create written documentation about the case, which may result in disciplinary actions.
How Can You Get Additional Sick Leave Hours as a McDonald's Employee?
Eligible McDonald's employees can get more sick leave hours if necessary based on the Family and Medical Leave Act (FMLA). This law requires businesses with 50 and more employees to provide 12 to 26 weeks of unpaid sick leave to employees for the following purposes:
Recovering after giving birth
Carrying out a pregnancy
Receiving prenatal medical care
Recovering after a serious illness or injury
Taking care of a:

Newborn baby
Newly adopted child
Sick or injured family member
Covered service member

Addressing qualifying exigencies related to a family member on covered active duty
During the COVID-19 pandemic, some employees may also be entitled to receive extra sick leave days based on the Emergency Paid Sick Leave Act.
Eligibility Requirements for the FMLA Sick Leave
To be entitled to FMLA sick leave, you must:
Have been a McDonald's employee for at least a year
Be one of the 50 employees hired in a 75-mile radius
Have spent 1,250 or more hours at work in the last 12 months
Comply with the regular paid leave policy of the employer
Provide a 30-day notice before taking this type of leave
DoNotPay Tackles Sick Leave Reports in a Jiffy!
Do you want to demand unpaid or paid sick leave without doing an entire case study about the state-specific laws? If the answer is yes, DoNotPay has a quick and simple solution!
We can run the necessary checks in your stead and see if your state has favorable sick leave laws. If it does, our app will generate a unique request letter on your behalf and even offer to forward it to your company!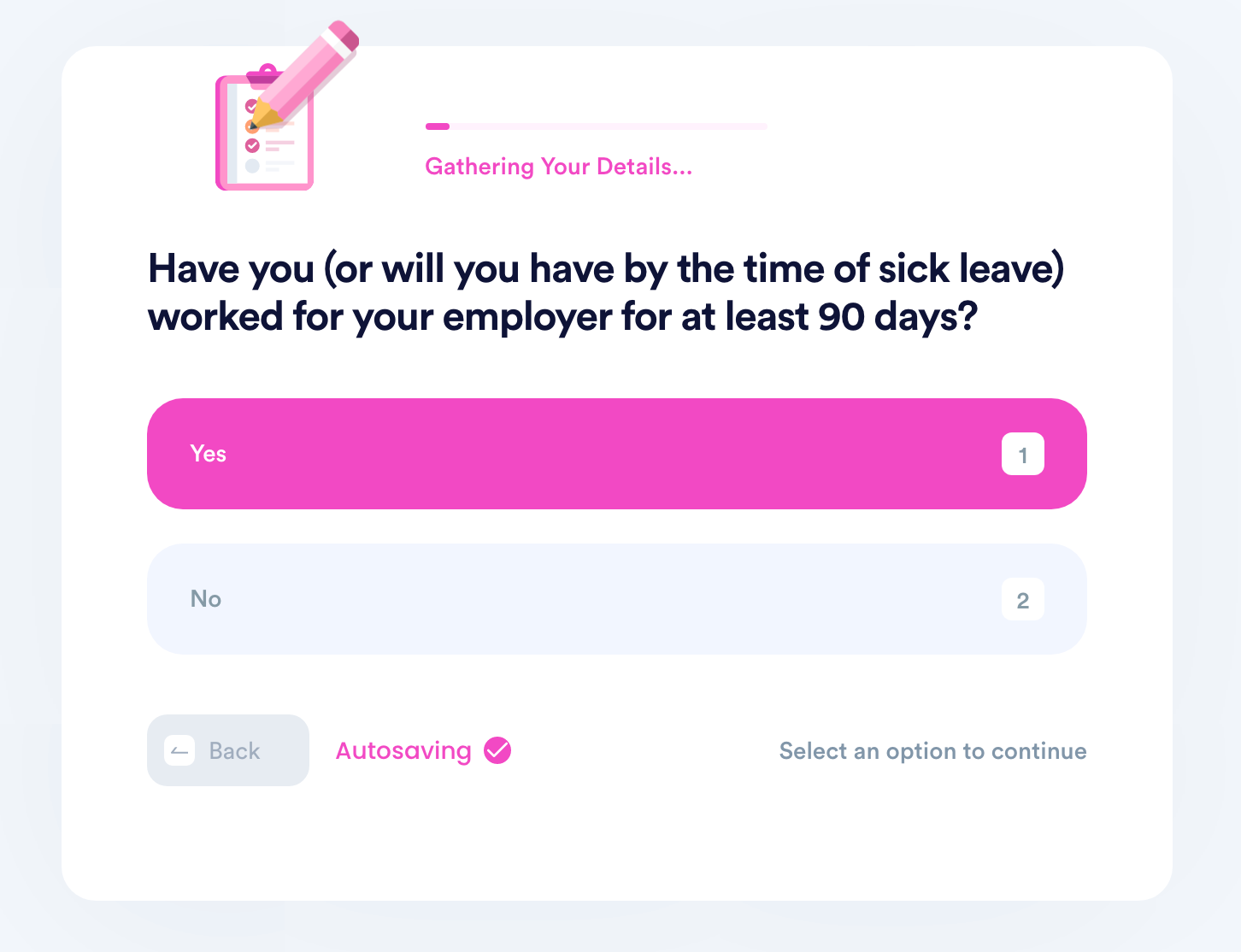 That's not everything! If your employer forces you to work while being sick or fires you because you request the time off you deserve, DoNotPay can help you sue them. We will prepare the required paperwork and a script with convenient arguments you can use in court!
Here are the prompts you should follow:
Select Request Sick Leave
Provide the name of the state where your company is located
Tell us more about:

Your company and employment specifics
Reason you want to take sick leave
Desired number of sick leave hours you want to use
The table below helps you get more tips for demanding paid sick leave with zero effort in:
Get the Best Solutions for Everyday Tasks With Our App
DoNotPay has come up with multiple handy products whose purpose is to make your life simpler and more enjoyable! Don't hesitate to check out the features that will help you:
Complaints and Appeal Letters Have Never Been Easier To Draft With DoNotPay
Dissatisfied with a delivery? Use DoNotPay to file an item return request and get a refund from the merchant if the product didn't meet your expectations! We can also help you apply for a late delivery refund or help you claim your warranty or insurance if the product you purchased gets damaged or breaks down. Our multi-functional app also allows you to appeal potentially inaccurate property tax assessments, banned accounts, and seatbelt or parking tickets.
If you subscribe to our platform, you will have a chance to file anonymous HR complaints and prevent discrimination at work more effectively.