Logitech Return Policy Deciphered by DoNotPay
Have you ever received an item from Logitech only to discover it wasn't what you expected? Failing to understand the Logitech return policy may result in an unsuccessful return and extra costs, and that's why we're here! This extensive guide will help you navigate through the process of returning an item to Logitech.
, and let us create a return request letter and send it to Logitech on your behalf!
The Basics of the Logitech Return Policy
Logitech return policy revolves around the following groups of products:
New products
Dented Box products
Open-box products
Refurbished products
New Product Returns
You can return a new product bought from Logitech within 30 days of the purchase date. Make sure you have valid proof of purchase. The 30-day deadline is extended during the holiday season—purchases made from November 15 to December 23 can be returned until January 31 of the following year.
Dented Box Product Returns
Logitech Dented Box products are items whose outer box has been dented, torn, or scratched. If a product you ordered came in a damaged box, you have 30 days to return it.
Open-Box Product Returns
Logitech Open-box products are previously owned items that were returned to Logitech. Such items often don't come with instruction manuals, documentation, or retail packaging and carry a limited 30-day refund-only policy. Exchanges are not possible.
Refurbished Product Returns
Logitech refurbished products are items that have been returned to Logitech for testing, inspection, and repair. They may have scratches, dents, or other slight signs of wear and carry:
A 90-day warranty
A limited 30-day return policy
Are There Any Logitech Products That Are Not Eligible for a Return?
Engraved items can't be returned, i.e., you can't get a refund for them, and they can't be exchanged for other goods.
How To Make a Return of an Item Bought Online
If you want to return a Logitech product within the 30-day policy period, visit the Logitech Returns page. For Logitech G returns, visit the Logitech G Returns page.
To get started, you'll need to enter:
The order number
Your email address
What Is Logitech's Refund Policy?
According to Logitech's return policy, a refund includes:
The purchase price
The original shipping fee
Handling charges (if applicable)
To get a refund for an online purchase, you should contact Logitech Support. Consider creating an account to get access to your support history and get more personalized assistance. Keep in mind that the product must be purchased directly from Logitech to be eligible for a refund—you can't get your money back for returned Logitech items that you bought from other retailers.
When Will the Refund Appear on Your Credit Card?
The refund will appear on your credit card no later than three weeks after the company receives the returned product.
Use DoNotPay To Return a Logitech Product Without Breaking a Sweat
Even though the Logitech return policy is straightforward, the whole return procedure will require a significant amount of effort on your behalf. To avoid going back and forth with the company, opt for DoNotPay. Thanks to our Item Return Request product, you'll be able to create a perfect return request letter in no time.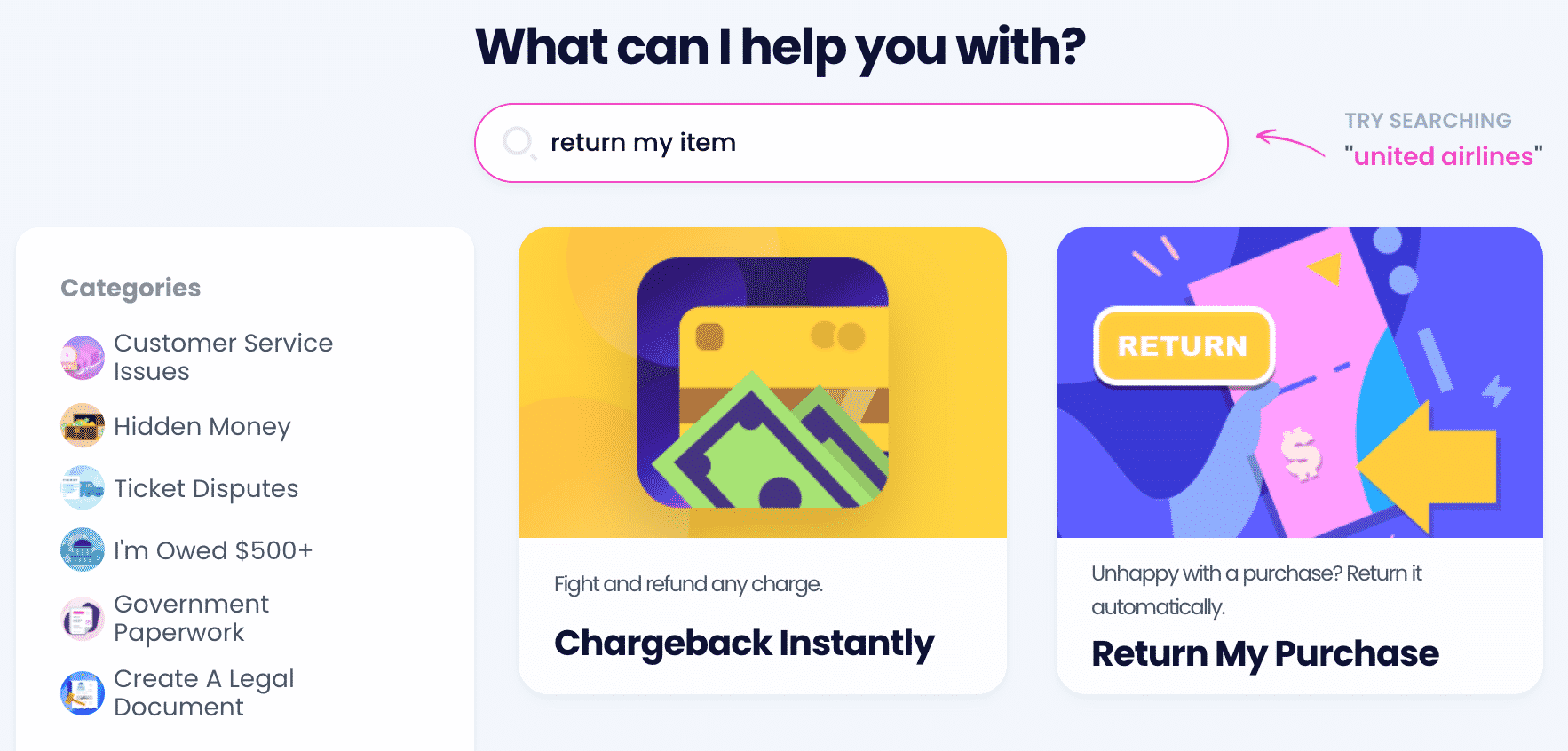 To start the process, you have to and take the following steps:
Look for the Item Return Request feature
Provide us with info about:

The company you are requesting a return from
The product you want to return
The purchase date
The price of the product

Attach photographic proof of your purchase (if applicable)
Click on the Submit button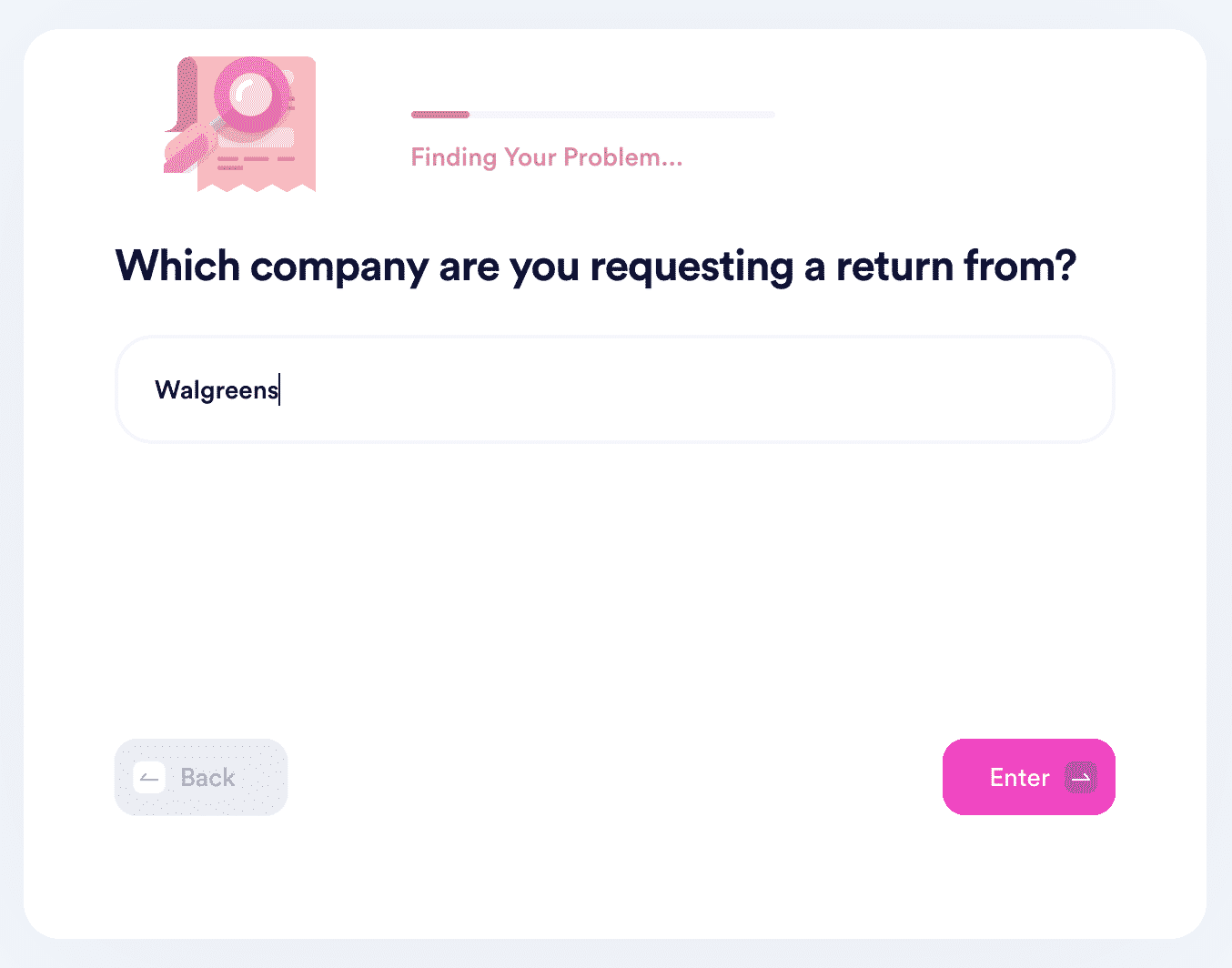 DoNotPay will create a custom return request letter according to the info you provided and send it to Logitech. By including a deadline for the company, we will make sure your request is processed in a timely manner. DoNotPay will also provide you with a return label so that you can ship the return package free of charge.
If you want to get familiar with the return policies of other major retailers, check out the table below:
Has Logitech Wronged You? Sue It in Small Claims Court With DoNotPay's Help!
If you feel like Logitech has wronged you by not accepting your return or refusing to give you a refund, we have a solution! You can sue them in small claims court with the help of DoNotPay—the world's first robot lawyer that was also recognized by the American Bar Association.
We can help you:
Write a demand letter
Fill out all court forms
Gather the paperwork you'll need in court
File a complaint
Make a script with arguments you should use in court
Put Greedy Companies in Their Place
If being on hold with customer service and requesting refunds and cancellations is your idea of the worst nightmare, we come to the rescue!
When you create a DoNotPay account, you'll be able to do the following with ease:
If worse comes to worst, we can guide you through suing any company in small claims court.
Use DoNotPay To Resolve Numerous Issues
The number of products we offer keeps growing. From simple chores to bureaucratic tasks and serious issues, there's not much DoNotPay won't be able to handle in a few clicks.
Would you like to search for unclaimed money you may not know about? Are you trying to save your work from copyright violations? Do you want to contact government representatives? Once you have a DoNotPay account, you will get everything done in a flash.
Even if you are a victim of stalking or harassment, violent crimes, or workplace discrimination, we can help you out! DoNotPay can also perform a sex offender search in your area and give you weekly updates.
If robocalls and spam are what's bothering you, our app will free you from such annoyances for good. Whether the spam is coming via email or text, we'll know what to do.