Microsoft's Return Policy From A to Z
Did you decide that Microsoft products aren't your cup of tea? Find out everything about Microsoft's return policy and how to initiate a return request in a flash!
Microsoft Return Policy—The Basics
Microsoft accepts returns and exchanges for products up to 30 days after purchase or download.
If you buy Microsoft products from a third-party seller, you will have to contact them about the return procedure.
The seal must be intact on all packaged software and games, and you must include all accompanying manuals, product keys, and accessories when you make a return. You can return opened products that have a customer satisfaction warranty, assuming you uninstalled the software and didn't make any copies of it.
Non-Returnable Microsoft Products
Microsoft states that the following products aren't eligible for a return, refund, or exchange:
Apps
Books
Movies
TV shows
Subscriptions
RAM products
Add-on content
Clearance items
Gift cards and subscription cards
Personalized and customized products
Microsoft Surface Return Policy
If you're not happy with your Microsoft Surface, you can return it within 60 days for a full refund. To be eligible for a return, your product must:
Be in like-new condition
Include all manuals and accessories
Come in original packaging
Xbox Return Policy
You can refund Xbox game keys within 14 days of purchase if you haven't redeemed them.
Pre-orders, game subscriptions, and digital game gifts don't require you to submit a return form. If you purchase a pre-order and cancel it before the game release, Microsoft will automatically refund you. Gift senders can return digital game gifts as well.
You must initiate a return request using the account you made the purchase with. If you lose your login credentials, you will have to contact your financial institution to demand a refund.
When requesting a refund for a game, Microsoft considers the following:
Date of purchase—You must request a refund within two weeks of purchase
Time played—You can't have more than two hours of playtime if you want to refund a game
Time since the release of the game—You can't request a refund within the first 24 hours of launch
Submitting a return request does not guarantee a refund.
Microsoft may accept your request if you:
Bought a product or product version by mistake
Lost access to your account
Suspect Microsoft made unauthorized charges to your account
Purchased content you already own
Used the wrong account to make your purchase
How To Request a Return From Microsoft
You can return your products to Microsoft:
Via website form
Using DoNotPay
Initiate a Return Request on the Microsoft Website
If you're not happy with your Microsoft products, you can initiate a return request by doing the following:
Visit the Microsoft website
Log in to your account
Find the Order history button on your account page
Locate the item you wish to return
Click on the Request a return link
Select a reason for your return
Click on Continue
Click on the Start a return button
Locate the Print a shipping label link on the product tab and click on it
Print your shipping label and tape it to your package
If you don't see the Request a return link, your items might not be eligible for returns. If you can't get a shipping label, contact customer support using the Get Help app.
There is an alternative to this lengthy procedure— to save time and get your money back in the blink of an eye!
Request a Return From Microsoft Using DoNotPay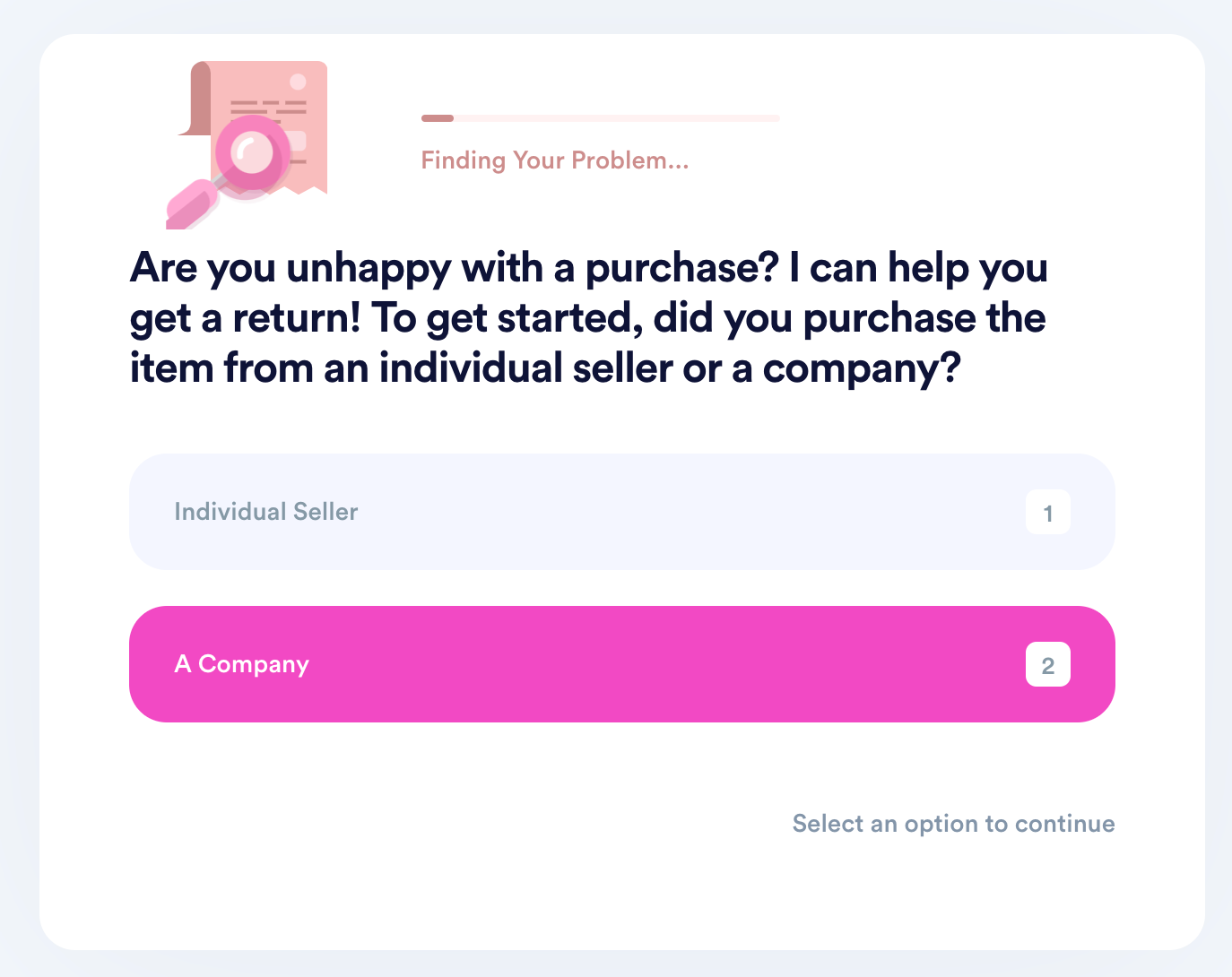 DoNotPay believes that returns shouldn't be confusing but simple and straightforward instead. Our Item Return Request product will ensure a smooth process that will be over before you know it. For an uncomplicated way to request a return from Microsoft, follow these steps:
Select the Item Return Request feature
Answer a few quick questions about your Microsoft purchase and attach any necessary evidence of your faulty product
Click on Submit Request
Our app will speed up the procedure even further by adding a deadline by which Microsoft needs to process your request. We will generate a return request letter using the information you provided and mail it to Microsoft on your behalf. If you're shipping your product back to Microsoft, we will provide a return label so you can send your item back for free!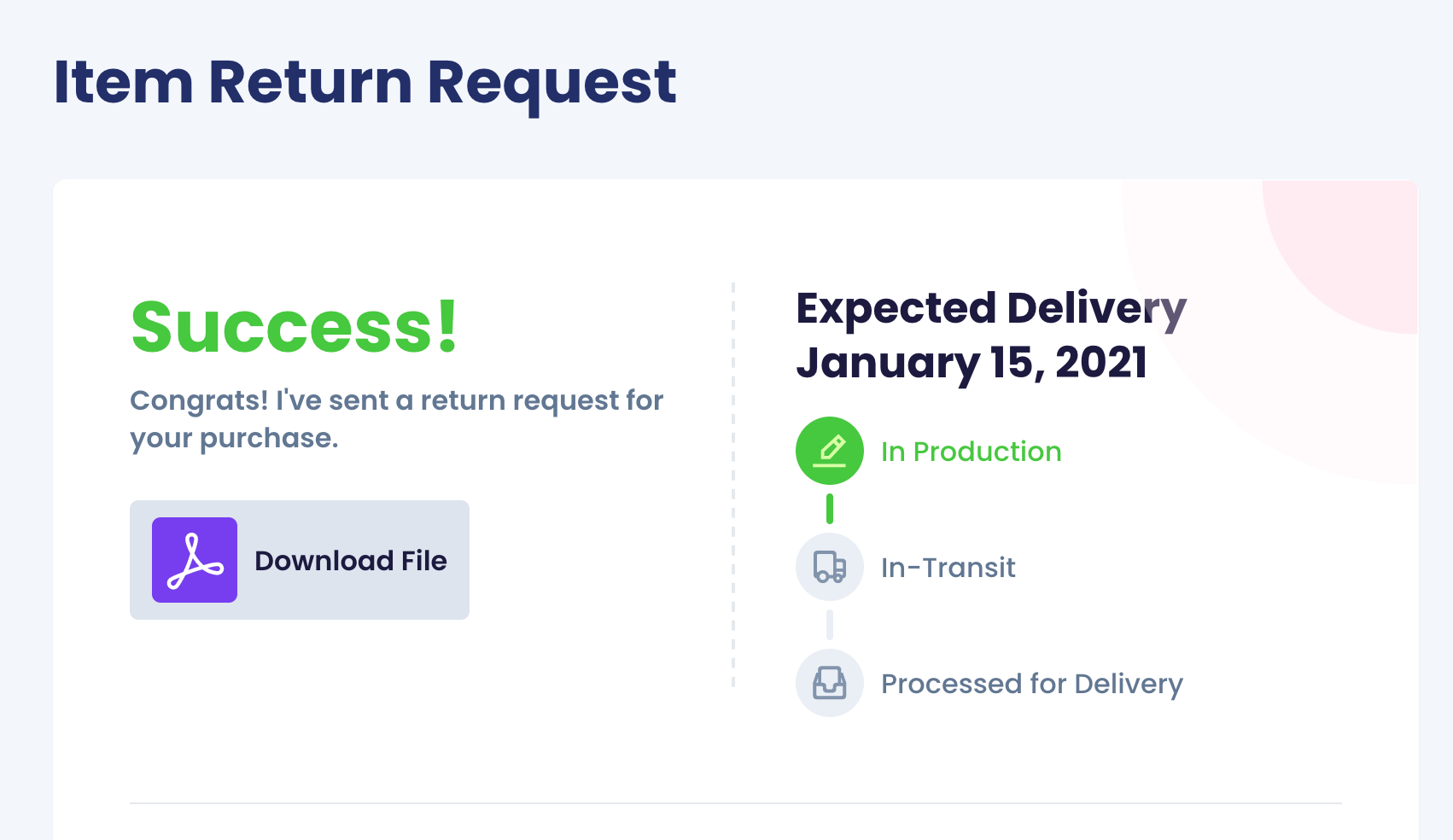 We offer more in-depth guides to return policies of big retailers, such as:
When and How Will Microsoft Refund My Purchase?
If Microsoft accepts your return request, it will issue a refund to your original payment method minus shipping and handling fees. The company usually takes three to five business days to process your request. Microsoft will credit your refund to the payment method you used during purchase unless you opt for store credit.
Did Microsoft Do You Wrong? DoNotPay Can Help You Take It to Small Claims Court
Is Microsoft disregarding your rights? DoNotPay—an ABA-Brown Award winner—is a consumer rights advocate and will lend you a helping hand if you need to sue Microsoft in small claims court. Our app will:
Fill out your court forms
Write a custom demand letter
Gather all necessary paperwork
File your complaint
Create a convincing script using all the information you provide
Don't Tolerate Corporate Attitudes—Request What's Rightfully Yours
DoNotPay is known for being the champion of customer advocacy because we help our users claim what's rightfully theirs, and we don't tolerate big corporations taking people's hard-earned money.
No matter if you want to request a refund, insurance, extended warranty, or compensation from airlines, our AI-powered lawyer will fight for your right.
If you feel like you're overpaying certain subscription services, we can help you cancel them. Also, if you want to test a subscription before you start paying money for it, don't connect your credit card to the free trial page! You can sign up for free trials using our virtual credit card. That way, companies won't be able to charge you auto-renewal fees because the card has no funds.
Wait! DoNotPay Can Help You in Many Other Ways
DoNotPay has many different areas of expertise—helping you return your faulty items is only one of them.
Check out how our app can assist you in: