L.L.Bean—Check Your Gift Card Balance in the Blink of an Eye
Sometimes it is easy to forget what your remaining balance on a gift card is because it doesn't seem like you are spending real money. If your gift card is from L.L.Bean, check your gift card balance with DoNotPay's guidance. Our app can also help you get the leftover money back hassle-free!
Ways To Check Your L.L.Bean Gift Card Balance
You can find out how much money you have left on your L.L.Bean gift card in a few ways. Check your balance by:
Visiting the company's website
Calling the company's customer service
Going to the store
Signing up for DoNotPay
How To Check Your L.L.Bean Gift Card Balance Online
You can check how much cash you have on your L.L.Bean gift card online by following these steps:
Visit the L.L.Bean website
Open the Gift Cards page
Click on Check Gift Card Balance
Type in your card number
Enter your PIN
Click on Check Balance
How To Check Your L.L.Bean Gift Card Balance Over the Phone
You can always opt to call the L.L.Bean customer service to find out how much money you have on your gift card. Here's what you should do:
Call 800-441-5713
Inform the customer service agent that you wish to check your gift card balance
Provide the rep with your card number and PIN
How To Check Your L.L.Bean Gift Card Balance in Person
If you are in one of the L.L.Bean stores, you can find out what your remaining balance is by completing these steps:
Tell the employee that you want to check your gift card balance
Provide the information they ask for (your PIN and card number)
Ask them any other questions you may have about L.L.Bean gift cards
How To Check Your L.L.Bean Gift Card Balance in Minutes With DoNotPay
DoNotPay can help you save time by checking the gift card balance on an L.L.Bean gift card on your behalf. All you need to do is:
Take a picture of your gift card
Upload the photo to DoNotPay
We will contact the company, ask them about your balance, and inform you right away. Once you find out how much money you have on your gift card, you can think about what to do with the remaining balance.
What Are Your Options With Used L.L.Bean Gift Cards?
If you still have some balance on your L.L.Bean gift card, you may use the remaining funds in a few ways. Take a look at the table below for more information:
| | |
| --- | --- |
| What You Can Do | Brief Explanation |
| Give the card to someone | You can choose to give the gift card to a friend or a family member if you think they would find it useful |
| Sell the card | It is possible to sell gift cards on certain online platforms, but finding a buyer isn't always easy. You will also get only a percentage of your balance |
| Exchange the card | If the state you live in has gift card exchange kiosks, you can find one and get cash for your card. You need to insert the card into the machine and confirm the offer. Another option is to trade your card for a card from a different brand on an online gift card exchange platform |
| Get cash back with DoNotPay's help | L.L. Bean gift cards are not redeemable for cash unless required by law. While only 11 U.S. states and Puerto Rico have cash back policies that obligate companies to issue gift card reimbursement, DoNotPay will help you get your money back regardless of the state you live in |
Get the Remaining Balance From Your L.L.Bean Gift Card With DoNotPay
Filing a cash back request on your own is a complicated and time-consuming process. If you turn to DoNotPay for help, you can sit back and relax while our app tackles this task with ease. We will do all the necessary research and let you know whether you can get the money from your used gift card back.
These are the only three steps you should complete:
in your favorite web browser
Find our Gift Card Cash Back product
Provide the important information about your card
DoNotPay will check whether the state you live in has a cash back policy. If it doesn't, we will send your request to an L.L.Bean store in a state that has this policy! You should receive the money in 14 business days.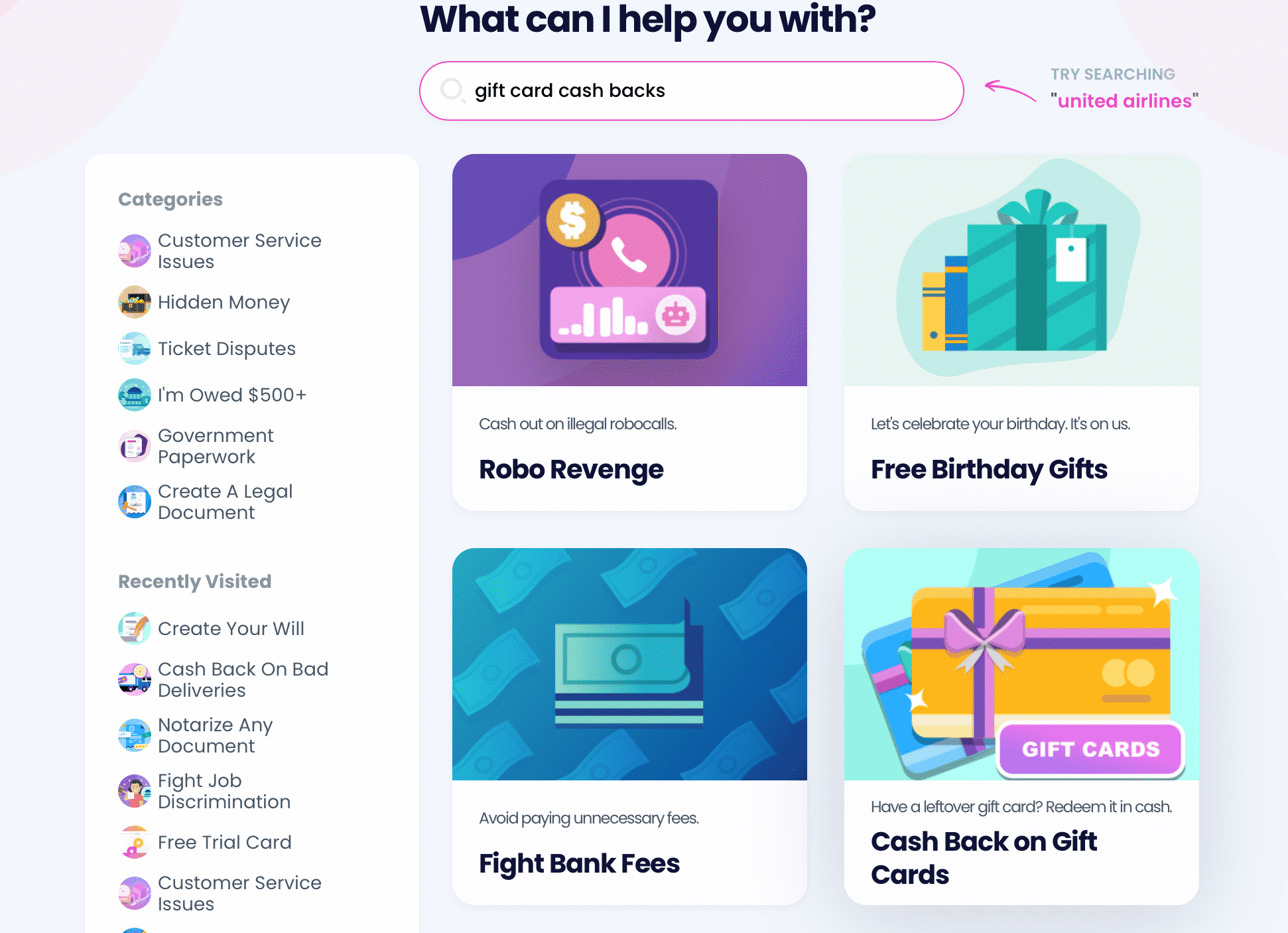 Check Your Balance and Get Money Off Other Gift Cards With DoNotPay
With us, you can find a guide to checking your balance on various other gift cards. Check out the table below to see some of the companies we can assist you with:
DoNotPay can also answer other questions you might have about gift cards. We can tell you how to:
Shop Online on Your Terms
Have you ever had to deal with complaints about lost, late, or damaged parcels? Is reaching customer service over the phone always a pain? Don't you wish there was an easier way to request refunds and chargebacks for bad purchases?
Shopping can easily turn into a nightmare, but DoNotPay will take away some of that stress. We can help you with all of these issues and more!
If you need to file warranty claims for any kind of product, our AI bots will make the process painless. Those who like to try out new services will fall in love with our virtual credit cards and foolproof methods of signing up for free trials without risking charges.
When you get sick of your subscriptions, cancel them with DoNotPay. Also, don't throw away your used gift cards with a few bucks left—we can help you get your cash back.
DoNotPay Protects Your Interests
There are already so many ways you can use DoNotPay to improve your daily life, but we keep developing more and more features that will make our subscribers even happier.
On our platform, you can find useful resources to: