What You Need To Know About Leaving Work Early Sick
If you feel sick at work, you might want to leave early. It is especially important that you leave if you feel unwell to avoid contaminating your coworkers now that the COVID-19 pandemic has increased the risk factors.
Is leaving work early sick legally permitted? What can you do to make such a request? Can your employer fire you for requesting time off? can help you find answers to these questions and show you how to apply for sick leave.
Can You Request To Leave Work Early Sick?
There is no uniform answer to whether you can leave work early if you feel sick or how many days you can request off. The United States does not have many federal laws regarding sick leave. Although some states require all employers to provide sick leave to their employees, many states have no such regulations.
The number of days an employee can take off or the process to make such a request is entirely at the discretion of the employer. Some employers allow their employees to leave early if they feel sick, while others may be reluctant to accommodate these requests.
Sick Leave Laws by State
Since the sick leave laws differ based on your location, you should check relevant legislation in your state carefully before requesting time off. We can help you find information about several states, including:
When Should You Leave Work Early if You Feel Sick?
If you have minor inconveniences, such as a cold or a slight headache, you may not be able to leave work early. You should immediately leave if you have one or more of the following symptoms:
Fever
Severe headache
Nausea or vomiting
Excessive bleeding through the mouth or nose
You can also request to leave work early if you're suffering from a serious injury or require immediate medical attention.
How To Ask To Leave Work Early Sick
The exact procedure to ask to leave early or request sick leave depends on the company you work for. Based on your company policies, you might need to:
You may also be required to find a colleague who can take over your work during your leave.
Am I Required To Submit Proof of Illness if I Want To Leave Early?
Your employer may ask you to submit proof of illness if you want to leave early or request time off. In some cases, your employer might allow you to leave work early if you're feeling sick but ask you to submit a doctor's note before you can come back.
Can My Employer Deduct Paid Time Off if I Leave Work Early?
Many employers who offer paid sick leave to their employees count it on an hourly basis. If you're requesting to leave early, your employer may deduct hours from your paid time off.
For those who count paid time off on a daily basis, leaving early due to illness may result in having an entire day deducted from your paid sick leave.
Request Sick Leave With DoNotPay
Many people refrain from asking for sick leave because they don't want to waste time filling out paperwork or they are afraid of angering their employer. DoNotPay offers a hassle-free solution to request sick leave that can help you save time!
To use the product:
Locate the Request Sick Leave feature
Share relevant details about yourself and the reason why you're requesting sick leave
Sign electronically and click on Submit
We will generate a letter for you that will contain the details of your request and the number of days you want off.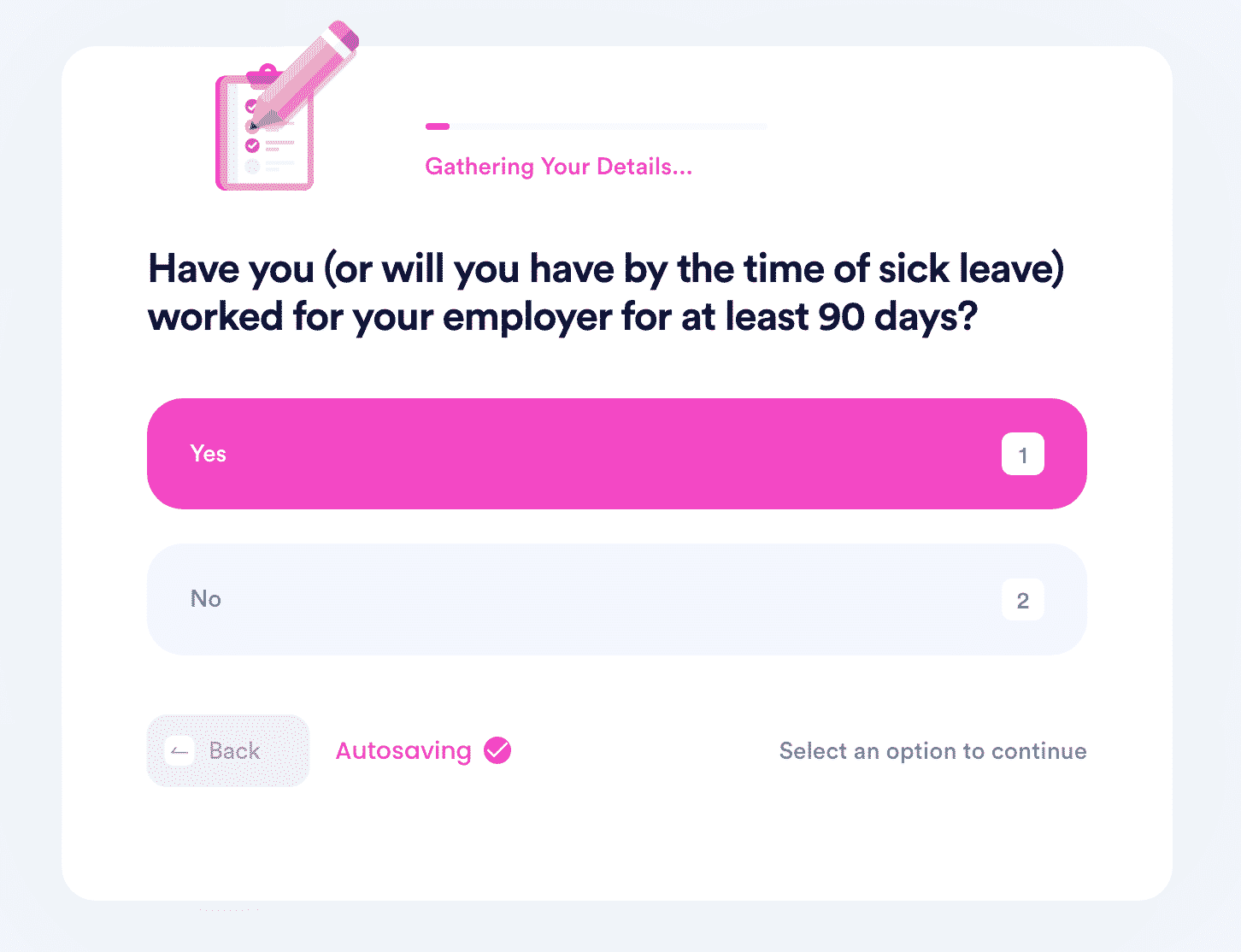 Is Your Employer Refusing To Grant Your Sick Leave Request? Find Out How DoNotPay Can Help!
If you're legally entitled to sick leave, but your employer is refusing your request or forcing you to work, you can sue them in small claims court with DoNotPay! We can help you:
Draft a demand letter
Fill out necessary forms
File the lawsuit
Gather necessary documents and construct an argument to be used in court
Let DoNotPay Help You With Various Tasks
The assistance we can provide doesn't stop here! Check out the table below for more details on our services:
| Improving Your Security | Making Your Everyday Life Easier | Creating Customized Paperwork |
| --- | --- | --- |
| | | |
Struggling To Be Economical? Rely on DoNotPay!
Our app—the world's first virtual lawyer—can help you save a significant amount of money in a few clicks! Starting from lowering your bills and reducing property taxes to claiming missing funds under your name, DoNotPay will keep the cash in your pockets.
Our system will also prevent you from financing unwanted or unused memberships and subscriptions by canceling them. You will be able to enjoy free trials without getting charged for them and get refunds from any merchant or airline company due to dissatisfying service!