Forget the JCPenney Call-In-Sick Number—Get Sick Leave With DoNotPay
Taking paid sick leave at JCPenney can be challenging, especially if you aren't well informed about how its call-in-sick policy works. In this article, you can learn how to inform your manager about the intended absence without the JCPenney call-in-sick number, emails, or direct communication. If you , you can go through this process more swiftly and efficiently and make your employer acknowledge your legal rights!
What Is the JCPenney Sick Leave Policy?
As a new employee, you have a chance to choose a package of JCPenney benefits, which includes a perk called My Time Off (MTO). It's a program that allows you to gain paid time off that can be used for:
Sick leave
Personal issues
Vacations
There is no specific number of sick leave days you can use. You are allowed to take all paid time off hours you accrue during your employment for this purpose.
To be eligible for MTO as a part-time employee, you should work at least 30 hours per week during the first 11 months of your employment. If you comply with this requirement, you will get your first MTO deposit once the 12th month of work starts.
How To Call In Sick at JCPenney
If you get sick at work or need some time off due to an injury or illness, you can use your MTO benefits by doing the following:
Contact your manager or call 800-527-0063
Let them check how many hours you have accrued—if you don't already know
Tell them how many days off you want to take
What Happens if You Don't Have Enough MTO Hours Accrued?
Specific life and medical situations sometimes require more time off than you may have earned. In such cases, you have two main options:
Applying for Leave of Absence (LOA)—If you show a satisfactory work performance and meet general state or military requirements, you can take some additional time off for personal purposes. All you should do is inform your manager about your decision and submit an LOA request by calling 888-890-8900
Getting extra FMLA sick leave—As per the Family and Medical Leave Act (FMLA), 15 U.S. states and D.C. require all businesses with 50 and more employees to provide unpaid time off to their workers. If you meet the proposed requirements, you may get 12 to 26 weeks of unpaid sick leave
What Makes You Eligible for the FMLA Sick Leave?
You are entitled to the FMLA benefits if you:
Have been working for JCPenney for at least 12 months
Have accrued a minimum of 1,250 work hours during the last 12 months
Work in a JCPenney branch located in:

Arizona
Colorado
Connecticut
California
Maryland
Massachusetts
Michigan
Maine
Nevada
New York
New Jersey
Oregon
Rhode Island
Vermont
Washington
Washington D.C.
How To Request Sick Leave in Record Time With DoNotPay
Applying for time off in your company usually requires communicating with your boss directly and checking sick leave laws in your state. With DoNotPay, you can skip all this since our app can send a sick leave request to the company in question on your behalf in less than five minutes!
Here's what you need to do:
and go to Request Sick Leave
Tell us where your company is
Give us more details about your company and the reason for requesting sick leave
Specify the number of days you will be off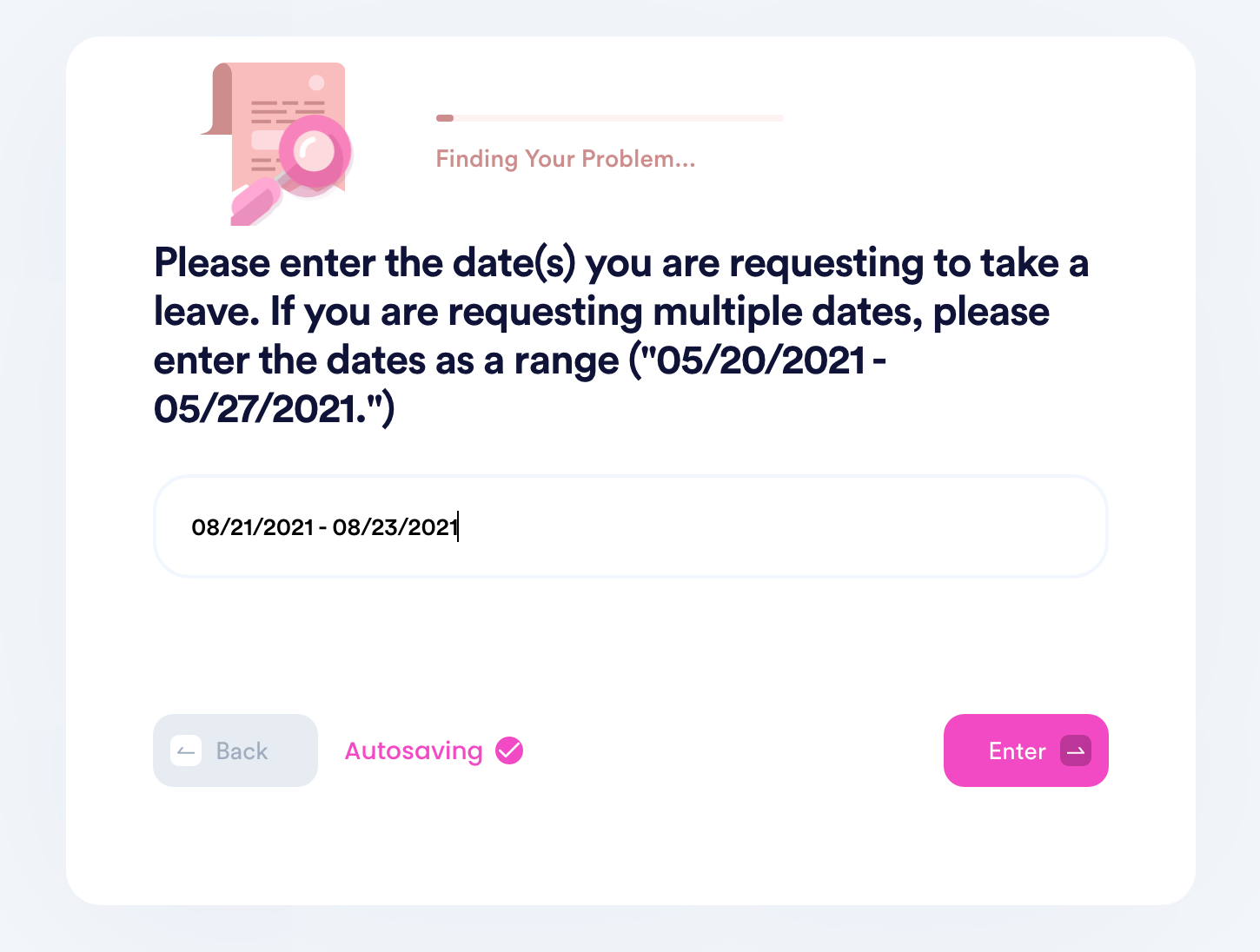 Another great perk of our app is that it can help you prepare for suing your employer for firing you for being sick or forcing you to work while being ill.
We can also help you find out if you are eligible for extra days off based on the Emergency Paid Sick Leave Act or clarify the details of the paid sick leave laws in the following areas:
DoNotPay Is Your Ultimate Money-Saver
Don't spend your hard-earned money on subscriptions you don't use—cancel them with our app in a few simple steps! The best part is—that's not all we can do to help you save some coins. DoNotPay can also reduce other expenses by helping you:
Kiss Spammers and Harassers Goodbye for Good With DoNotPay
Our app offers handy features that can assist you with blocking irritating robocalls and getting rid of pesky spam texts and emails. It also gives you peace of mind by helping you fight workplace discrimination, stalking and harassment, annoying neighbors, and defamation.
With DoNotPay, you will always be able to maximally protect your safety by searching updated sex offender databases and avoiding unpleasant situations. Suppose you have already been a victim of harassment or any other crime. In that case, we can help you get compensation with no difficulties!