Everything You Need To Know About How To Get Unbanned From PS4
Getting banned from your PS4 is an unpleasant experience. The thought of not being able to play your favorite games can build up frustration—but not for long. DoNotPay will tell you everything about how to get unbanned from PS4.
Our guide will make sure that you understand why you got banned, whether your ban is permanent or temporary, and what steps you need to take to unban your account. We will also introduce you to our nifty app that can send your ban or suspension appeal letter in the blink of an eye!
Possible Reasons for Getting Banned From PS4
When you open a PlayStation account, you agree to respect its terms of use and community guidelines. If you don't keep your end of the bargain, you can get banned. The company doesn't tolerate violations and has a system that detects players' wrongdoings. The consequence is restricted access to PS4 temporarily or permanently.
Here are some of the reasons for getting banned from PS4:
Promoting hate speech
Bullying, threatening, harassing, or stalking other players
Discriminating other players based on age, gender, race, sexual orientation, and other
Cheating
Sharing, buying, selling, renting, trading, transferring, or phishing for accounts or account credentials
Using bugs, glitches, or vulnerabilities to get an advantage
Uploading, posting, or transmitting content containing viruses, worms, or spyware
Being in debt with PlayStation
Stopping bank payments to PlayStation
Engaging in illegal activities
Using, making, or distributing unauthorized software or hardware
Impersonating someone
Banned Console vs. Banned Account—What's the Difference?
It's important that you know the difference between a banned or suspended account and console.
If your account gets banned, you won't be able to log in and play with that account, but you can use your console. You can appeal the decision or create a new account and keep playing. If you are unsure about whether your account got banned, try logging in on a different PS4 to check if you can access it.
Getting your console banned means that you can't access the Network with that console. More serious violations, such as breaking the law or cheating, will result in this form of punishment. If you are permanently blocked from using your console and you find this verdict to be unfair, you should appeal the decision.
How To Know if You Were Banned From PS4
Whether you get suspended or banned, PlayStation will send you a notification about its decision. In case of a suspension, the message will include information about how long it will last. After the expiration date, you will be able to log in to your account or use your console normally.
Instead of a clear notice, you can also get an error message. You will see some numbers and letters on the screen that are confusing, so we will decipher them for you:
WS-37337-3–This PSN account has been temporarily suspended
WS-37338-4–This PS4 console has been permanently banned from the PlayStation
WS-37368-7–This PSN account has been banned
8002A231–Your PlayStation Network account has been suspended
80710016–For more information, go to WS-37397 Error Code
WS-37397–IP address has been blocked for an activity that violates the PSN Terms of Service and User Agreement
If you get any of these error messages, you will need to address your suspended or banned account issue with PlayStation reps.
How To Get Unbanned From Playstation
Before you rush to cancel your PlayStation subscription, you should first try to resolve your banned account nuance. To initiate the process, you will need to:
Call PlayStation representatives at 1-800-345-7669
State your case
Get ready to explain what happened and why you believe you don't deserve to be banned. Be polite and respectful and arm yourself with patience if you want to have a chance at getting your account back.
Do you want to avoid phone queues and long discussions with the reps? ! With the help of our app, you can send a written appeal letter hassle-free.
How To Unban PSN Account With DoNotPay
DoNotPay is a handy app that can handle your PlayStation 4 appeal submission within minutes. You can create a customized demand letter in four easy steps:
Locate the Unban Gaming Account tool
Fill in the simple questionnaire about the ban by answering questions like:

Which platform banned you?
When did you get banned?
Would you like to request a refund?

Select Sign and Submit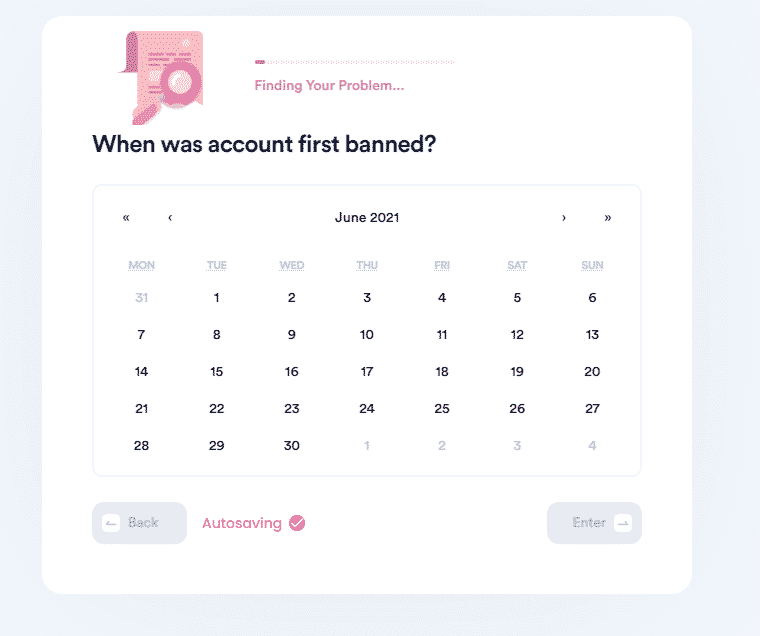 We will put together an urging request that PSN addresses your banned account situation as soon as possible. The company will have a deadline to send you a response, so you can forget about endless waiting.
Once you subscribe to DoNotPay, you can use the app to appeal ban and suspension decisions for specific games as well. You will have a go-to solution for any trouble you encounter with your gaming accounts, including being:
DoNotPay Helps You Recover Your Account on Any Platform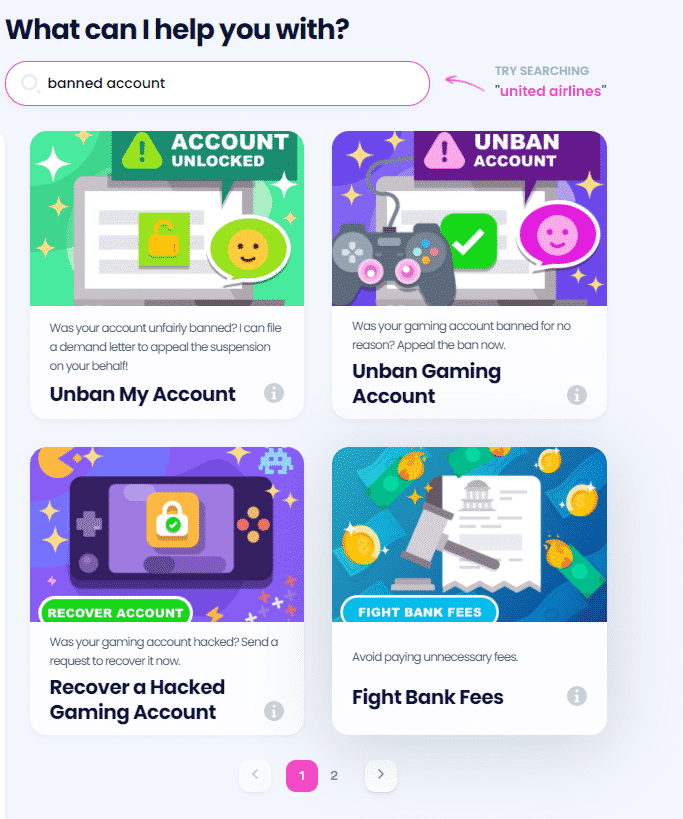 DoNotPay has the answer to reactivating accounts on all platforms, servers, or services—the Unban My Account tool. You can create a demand letter for lifting your suspension or ban and send it to any platform, whether that's Snapchat or Etsy.
Use our helpful guides listed in the table below to learn more about the suspension and ban processes on popular platforms:
Solve Your Legal and Bureaucratic Issues With DoNotPay
The primary purpose of our app is to provide you with practical tools that can speed up all the drawn-out tasks you must complete. All you need to do is choose a suitable feature from our offer and get your problems solved in a heartbeat!
Once you create an account with DoNotPay, you can:
File:
Create:

Powers of attorney

Divorce settlement agreements

Many other legal documents

Get:
Feeling Unsafe or Harassed? DoNotPay Can Help You!
Have annoying calls and messages become your everyday problem? Don't give up on your peace—rely on DoNotPay and deal with robocalls and restless text and email spammers easily.
We also take care of your privacy, allowing you to create burner numbers and virtual credit cards to avoid revealing sensitive information when signing up for various online services.
If you are being stalked by somebody or discriminated against at work, we will do our best to help you fight for justice and report the case accordingly! We will also safeguard your creative work from copyright violation and ask for violent crime compensation on your behalf.