How Long Is a Temporary Suspension on PS4? DoNotPay Helps You Find Out
Getting your PlayStation account suspended is frustrating if you're an avid gamer. In this guide, you will learn everything you need to know about your PlayStation Network (PSN) account and console suspensions.
How long is a temporary suspension on PS4? Aside from providing you with this info, DoNotPay will also answer some other questions, such as:
How to tell if you are suspended
Why your account is suspended
How to lift a suspension from your account
We can even help you find out how to get unbanned from PS4!
How To Tell if You Are Suspended From PlayStation
You will know that your account or console has been suspended if you see one of the following error codes when attempting to sign in to your account:
Error Code
Explanation
WS-116331-5

WS-116330-4

Access to PSN has been temporarily suspended due to a violation of the Terms of Service
WS-37368-7
The account has been suspended due to a violation of the Terms of Service and User Agreement
WS-37337-3
Access to PSN has been temporarily suspended from accessing PSN services for violating the Terms of Service and User Agreement
In most cases, the company will also email you, explaining your suspension and its duration.
Types of PSN Suspensions
There are two different suspension types issued by the company:
Account suspensions—you won't have access to the PlayStation Network and won't be able to use certain products and services (even the ones you paid for)
Console suspensions—you won't be able to connect to PlayStation Network with any account from your console
Keep in mind that, for minor offenses, you may get a warning instead of a suspension. The console suspensions are reserved for the most serious breaches of the PlayStation Network Terms of Service.
How Long Is a PSN Suspension?
The only way to find out how long your suspension will last is to check the email notification from PlayStation Safety. According to some users, a temporary suspension will usually last for a week or so.
Why Was My PS4 Account Suspended?
When you initially signed up for PSN, you agreed to its Terms of Service and Community Code of Conduct. Failing to comply with the rules listed in these documents results in a suspension or ban from moderators who thoroughly check each report of a violation.
Check out this summarized list of actions you shouldn't participate in if you want to avoid getting suspended or banned—you must not:
Bully, harras, troll, stalk, or threaten anyone
Share, stream, create, or upload lewd, violent, or graphic sexual content
Organize hate groups and use hate speech
Promote or engage in terrorism, illegal activity, acts of violence, or self-harm
Reveal personal information about yourself or another person
Alter, create, upload, stream, or share images or audio of another person without their consent
Buy, sell, share, rent, transfer, or phish accounts or account details and credentials
Cheat, use bugs and glitches to get an advantage, or get unauthorized access to PSN content
Upload, post, transmit, or stream content that contains spyware, viruses, worms, and other harmful programs
Send spam
Steal anyone's identity or engage in deceptive practices
Be rude to PSN employees, agents, or representatives
Engage in or promote any activity that infringes on the rights of a third party or violates the law
One of the other reasons that can cause a suspension is a chargeback, which occurs when a financial institution cancels an existing payment upon your request. To be more precise, your account will be suspended if you made a purchase on PlayStation Network and reversed the payment.
How To Lift a Suspension on PS4
Account and console suspensions on PlayStation Network are results of thorough investigations by PlayStation Safety staff. For this reason, suspensions are final and you can't appeal them. There is one exception to this rule—you can appeal if you have been suspended for an account debt. To do so, contact PlayStation Support. In any other case, you will have to wait for your suspension to expire if it's temporary. If you buy a used PlayStation console that was suspended, keep in mind that the suspension can't be lifted. What you can do is contact the seller for help.
If you don't feel like contacting PlayStation Support and want to avoid the hassle of going back and forth with the company, .
Appeal Your Suspension or Ban With DoNotPay
Our app can draft an appeal letter for you in less than five minutes and send it directly to PlayStation.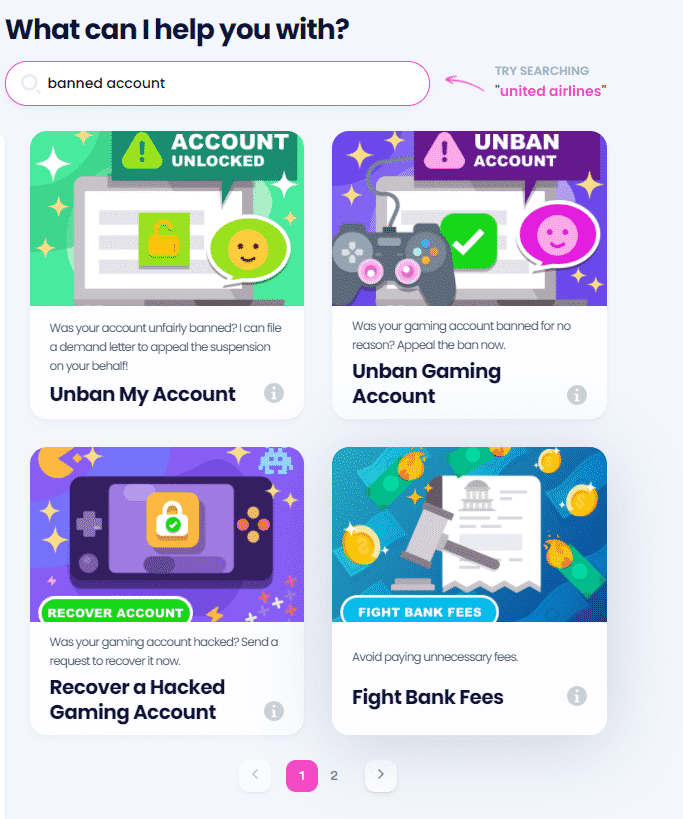 Take a few simple steps to start the process:
Find the Unban My Account feature
Answer a few questions related to your PlayStation account
Click on the Sign and Submit button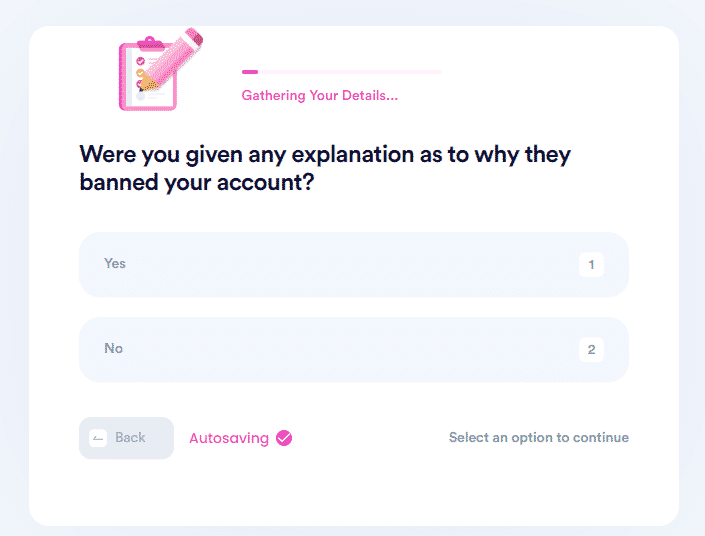 Using our app to send an appeal letter is much more effective than doing it yourself because of the legal pressure we put on companies. Our letter will contain a two-week deadline, which will help you get a fast response.
DoNotPay Can Help You Get Unbanned on a Variety of Other Platforms
DoNotPay can do more than appeal your PS4 suspension—we can help you get unbanned on many other platforms and services. Keeping up with all the different rules is not easy, which is why we prepared a number of guides on how to get your account back:
Tackling Administrative Issues Has Never Been Easier
DoNotPay was created to help you deal with burdensome everyday tasks you would rather skip. The features we offer will make sure you can:
Dealing With Legal or Security Issues? DoNotPay Will Make Them Go Away
Has a company refused to issue a refund you are entitled to? Sue it in small claims court and get your money back with the help of the world's first robot lawyer! You can also turn to us if you want to protect your work from copyright violation, prevent stalking or harassment, or get virtual credit cards to avoid disclosing your credit card info.
Besides assisting you in seeking justice and security, DoNotPay can help you arrange DMV appointments, contest parking tickets, prepare divorce settlement agreements, and compose various legal documents.