How To Convince Your Parents To Be Homeschooled
Are you interested in home education but don't know how to start that conversation with your family? Read DoNotPay's guidelines on how to convince your parents to be homeschooled. We'll help you prepare your talking points by providing insight into the lifestyle. Follow these tips and prepare for your big talk!
Be Open About Your Reasons
If you want to get your parents to homeschool you, you'll have to provide a solid argument. Pinpoint the reason why you want to be removed from school, and communicate it to your family members.
You can also look into the most common reasons why other families choose to homeschool, such as:
Research the Ins and Outs of Homeschooling Together
Figuring out how to convince your parents to homeschool you will probably take time. Since home education is a family endeavor, try researching the following aspects of homeschooling together:
Local homeschool laws—Each state implements different rules and regulations, and some are more lenient toward homeschooling families than others. Research the local legislation in your area with your parents to avoid potential penalties
Potential curriculum requirements—Coming up with a lesson plan is the duty of the parent or homeschool teacher, but sometimes, there's a list of obligatory subjects. You may also be required to maintain a certain number of homeschool hours per year
The cost of homeschool—Most states don't provide homeschoolers with textbooks or learning materials. It's possible to apply for financial aid in some places, but the overall cost of homeschooling is your parents' responsibility
Familiarize Yourselves With the Standard Homeschool Requirements
You can also check out the table below for an overview of the most common homeschool requirements:
Homeschool Requirements
Description
Keeping records
Parents should keep comprehensive homeschool transcripts to record their child's progress. The files typically include the following data:

Information about the student
Details about the curriculum
Completed grade level
Test scores and grades
Immunization records

Most post-secondary institutions recognize homeschool portfolios as proof of completed education

Homeschool operator qualifications
Parents rarely need extensive qualifications to homeschool their children. A high school diploma or GED is typically enough, but occasionally, parents have to get certified to teach
Learning assessments
Homeschooled students are mostly exempt from standardized testing, but alternative learning assessments are recommendable
Graduation requirements
It's advisable to look into the enrollment policies of prospective colleges since not all high school programs are universally acclaimed. Some families use an accredited homeschool curriculum for that reason
Homeschool diploma
The parents issue a diploma at the end of the homeschool program. In Florida, parents file a homeschool completion affidavit that's equal to a public or private school diploma
Master the First Steps of Homeschooling
To get the upper hand, you can familiarize yourself with the homeschool enrollment procedure in your area. The steps can vary from state to state, but homeschool typically begins by:
Composing a letter of intent to homeschool
Getting it notarized
Filing the document to the school district superintendent
A declaration of intent to homeschool (i.e., a homeschool affidavit) includes the following information:
The student's name and date of birth
The homeschool address
Information about the homeschool operator (parent, legal guardian, or a third party)
Curriculum overview
Your parents will probably have a deadline for submitting the affidavit, especially if they're pulling you out of school halfway through the year. To win them over, you can prepare the paperwork yourself by:
Downloading a template from the Department of Education website of your state
Acquiring a form from a homeschool organization
How To Convince Your Parents To Homeschool You? Check Out DoNotPay—The Fastest Way To File a Homeschool Affidavit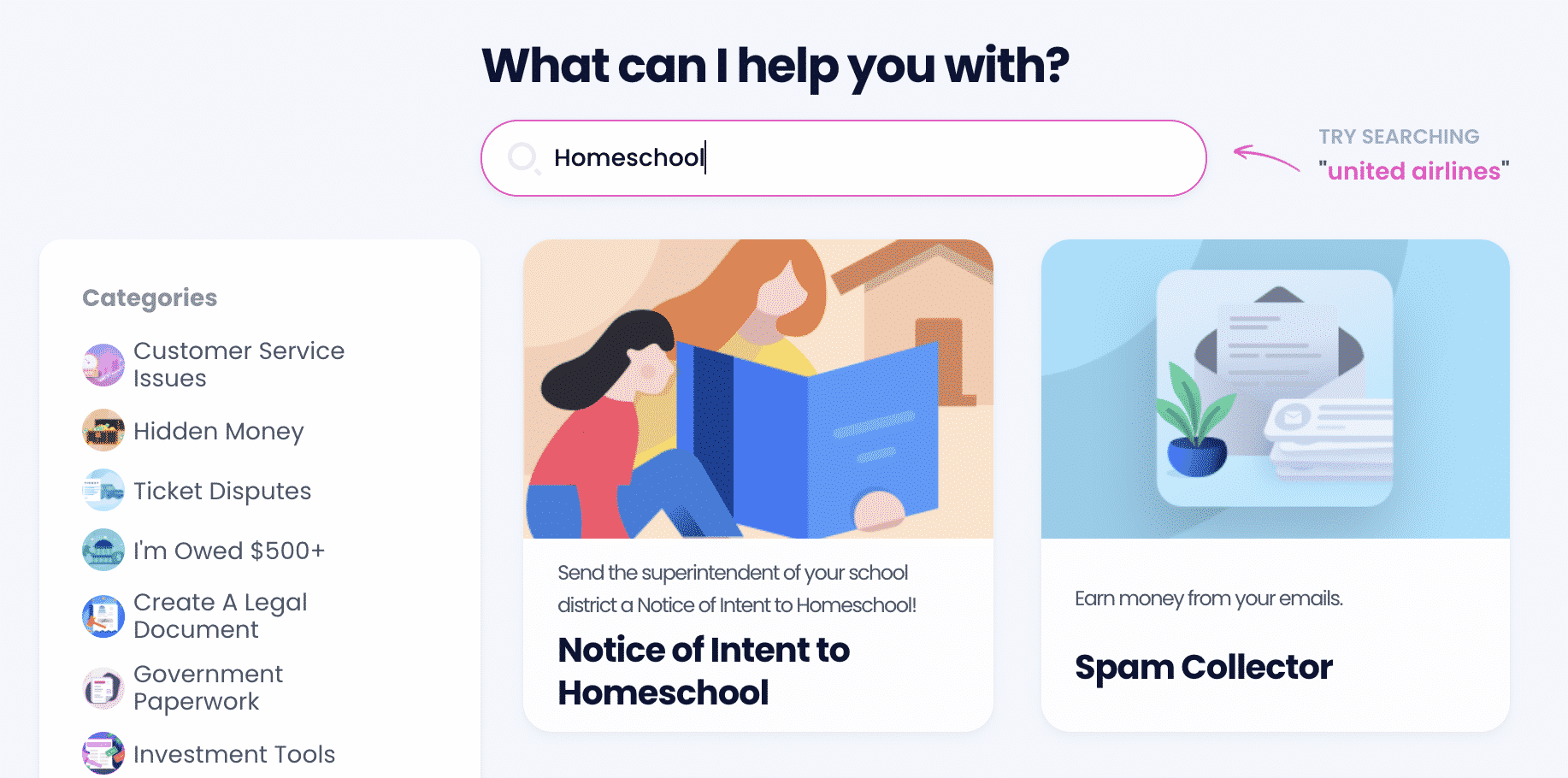 Wondering how to convince your parents to let you be homeschooled? Tell them about DoNotPay's super quick way to file a declaration of intent to homeschool!
Most people dread the thought of filling out paperwork and navigating through administrative procedures. With DoNotPay's Notice of Intent to Homeschool tool, generating a homeschool affidavit has never been easier. All you have to do is:
Select the Notice of Intent to Homeschool product
Provide the information about your current school district
Answer a series of questions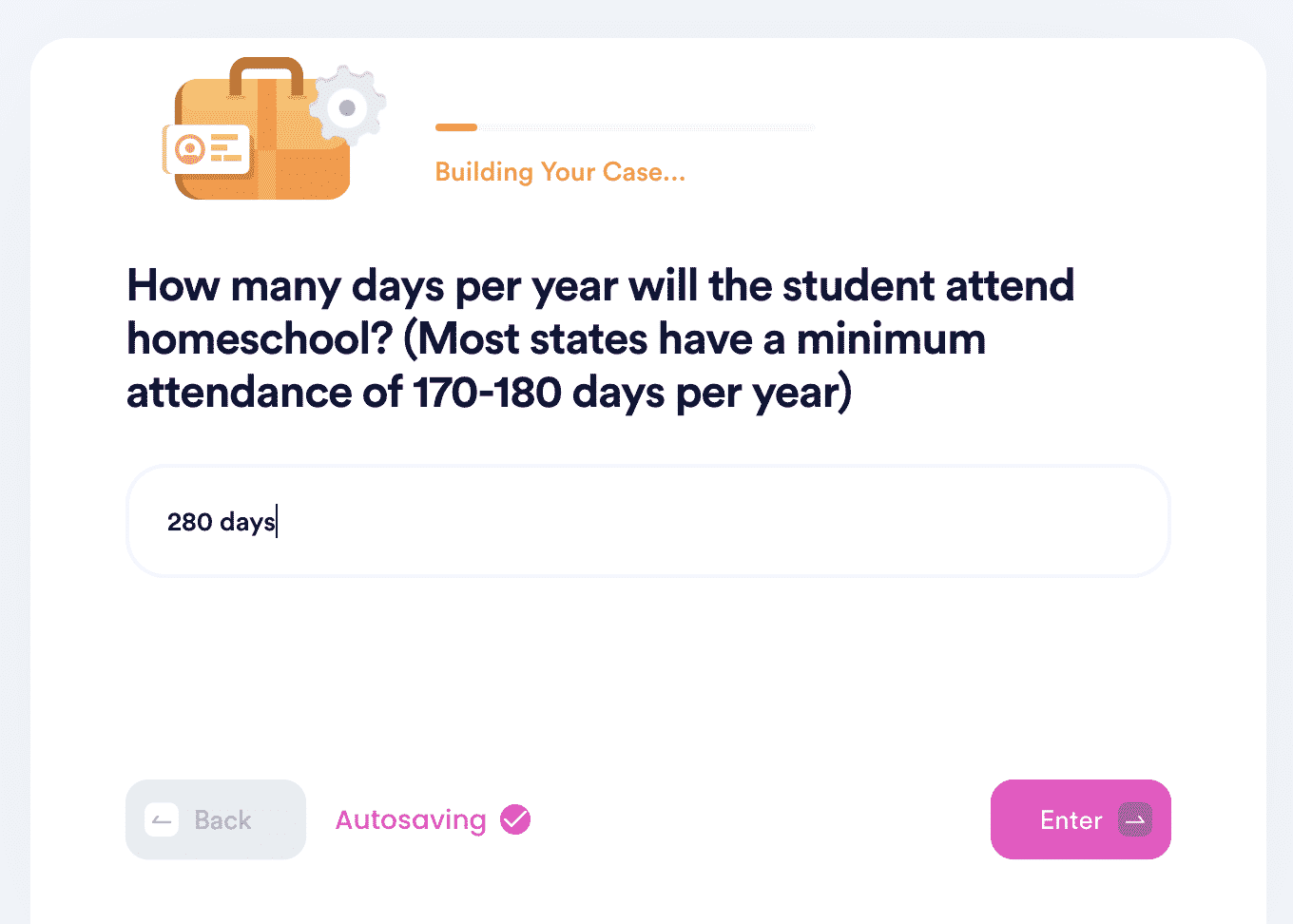 Our AI-operated app will instantly create a PDF version of the document. If you also want to get the affidavit notarized in record timing, check out our Notarize Any Document feature. Once you've cleared out your to-do list, DoNotPay will forward the notice of intent to the competent authorities.
Don't Stop There—Check Out DoNotPay's Product Range
DoNotPay has many tricks up its sleeve—no matter the admin or legal issue at hand, our AI-enabled app can power through it in a split second. Look into our product range to find out how you can:
What Else Do You Need? DoNotPay Will Provide!
If you want to cancel a subscription before your free trial expires so that you don't get charged, you can count on our virtual credit card to do it in your stead! We can also make sure that you get what's rightfully yours—be it a refund, insurance, warranty, unclaimed money, flight refund, raffle ticket, or gift card cash back.
You no longer have to go through legal or administrative hurdles on your own—as soon as you sign up for DoNotPay, you'll get access to our app's assistance and will be able to use it to fight injustice.