Feeling Sick at Work—A Comprehensive Guide
With a global pandemic raging on in full swing, it has become essential to protect yourself and the others around you by taking time off if you're feeling sick at work. What if your company does not have a paid sick leave policy, or you haven't been employed there long enough to be eligible? This guide will give you a rundown of what you should do if you feel sick while at work and what benefits you may be entitled to.
If you're unsure about how to request sick leave, you can for a quick solution!
What To Do When You're Feeling Sick at Work
Nobody plans on getting sick at work, especially if they work for a company that does not provide a paid sick leave option. If you do feel sick while working, you should:
Talk to your supervisor and see if you can take a break or go home for the day
Request to work from home until you feel better
Call in sick if you feel unwell before reaching work
Be sure to cough and sneeze into your elbow and maintain a safe distance if you feel ill. If you show COVID-19 symptoms or suspect you might have more than mild flu or an upset stomach, you should leave work immediately. Depending on which state you live in, you might even be eligible for emergency sick leave.
Why Do Many People Come To Work Sick?
While the pandemic makes it all the more important to take time off if a person is feeling unwell, it has also put many people in a difficult financial situation. Since many companies do not offer paid sick leave, their employees feel obligated to attend work even if they're seriously ill to avoid losing money. Some companies also assign demerit points and could potentially fire employees for taking time off due to illness.
A few other reasons why people are reluctant to take sick leaves can be:
They have too much work
There is an important deadline they don't want to miss
They want to save up their sick leave days for later
Am I Entitled to Sick Leaves by State Laws?
While several states require employers to offer paid sick days, there are no such federal laws, which means employers can actually force their employees to come to work sick.
We have guides to help you navigate the sick leave laws in several states, including:
How To Request Sick Leave
The exact method of asking for sick leave differs by company. Some employers find a verbal request acceptable, while others might ask you to send in an official email. There are many companies who take it a step further and require their employees to fill out elaborate forms, present evidence, and jump through several hoops only to take one day off due to illness.
You should always read your company's policies and find out what their rules for calling in sick are—even before joining, if possible.
Not Sure How To Ask Your Employer for Sick Leave? DoNotPay Can Help!
If you are feeling sick and need some time off but aren't sure how to word your email, DoNotPay can help! We offer a quick and easy solution that can create a custom letter for you in a few easy steps, and you can choose to send it directly through our app.
To use this product, and:
Locate the Request Sick Leave product
Input a few details about the state you live in and the company you work for
Tell us how much time off you'd like to request
Sign and submit your letter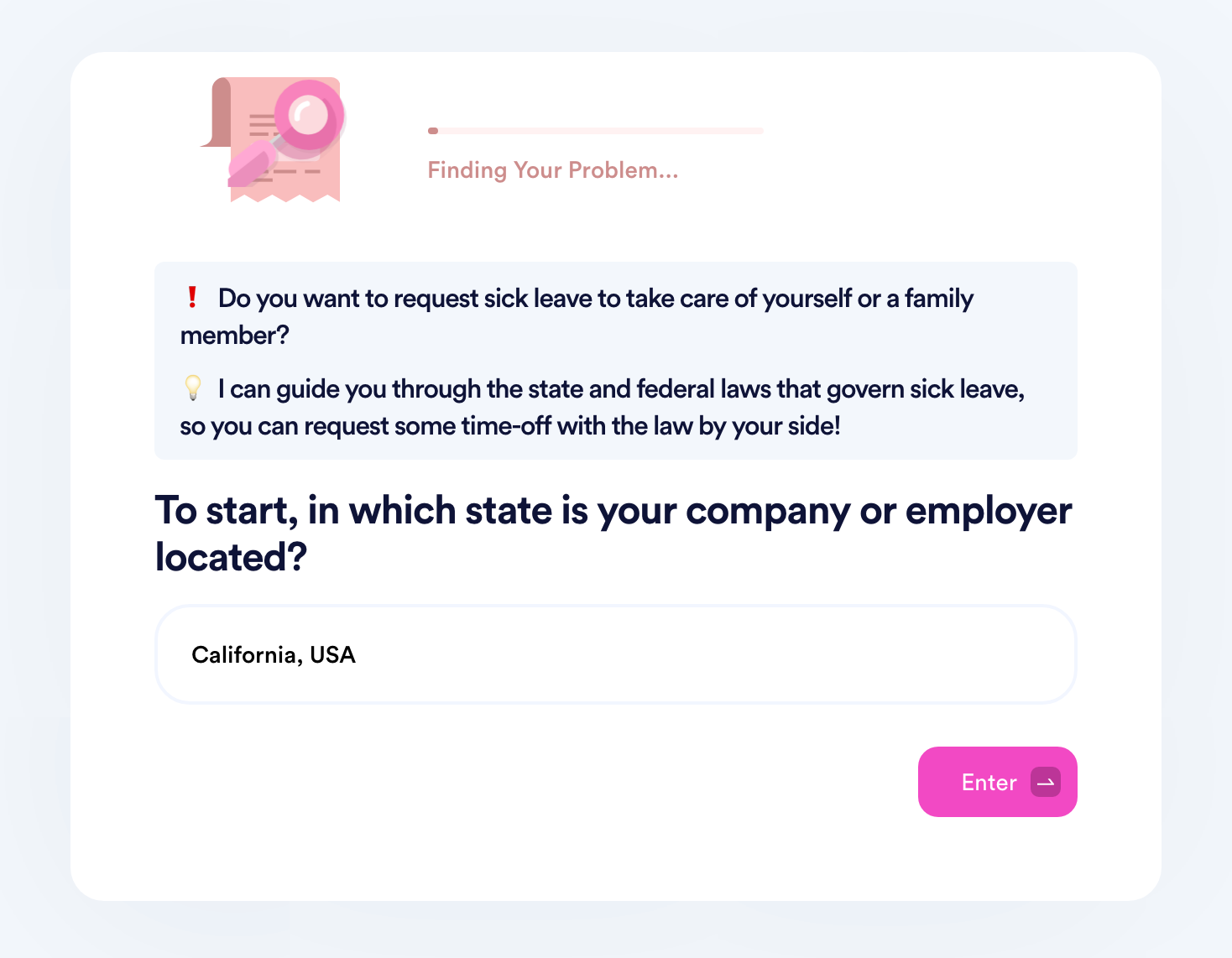 Entitled to Paid Time Off, But Your Employer Is Refusing Your Request? Sue Them With DoNotPay's Help!
If your state regulations say you are entitled to paid sick leave, but your employer is refusing to accept your request—or worse, threatening to fire you over it—you can sue them in small claims court with DoNotPay!
We can help you:
Write a custom demand letter and fill out the required forms
Organize all the necessary paperwork
File the lawsuit
Prepare the argument that can be used in court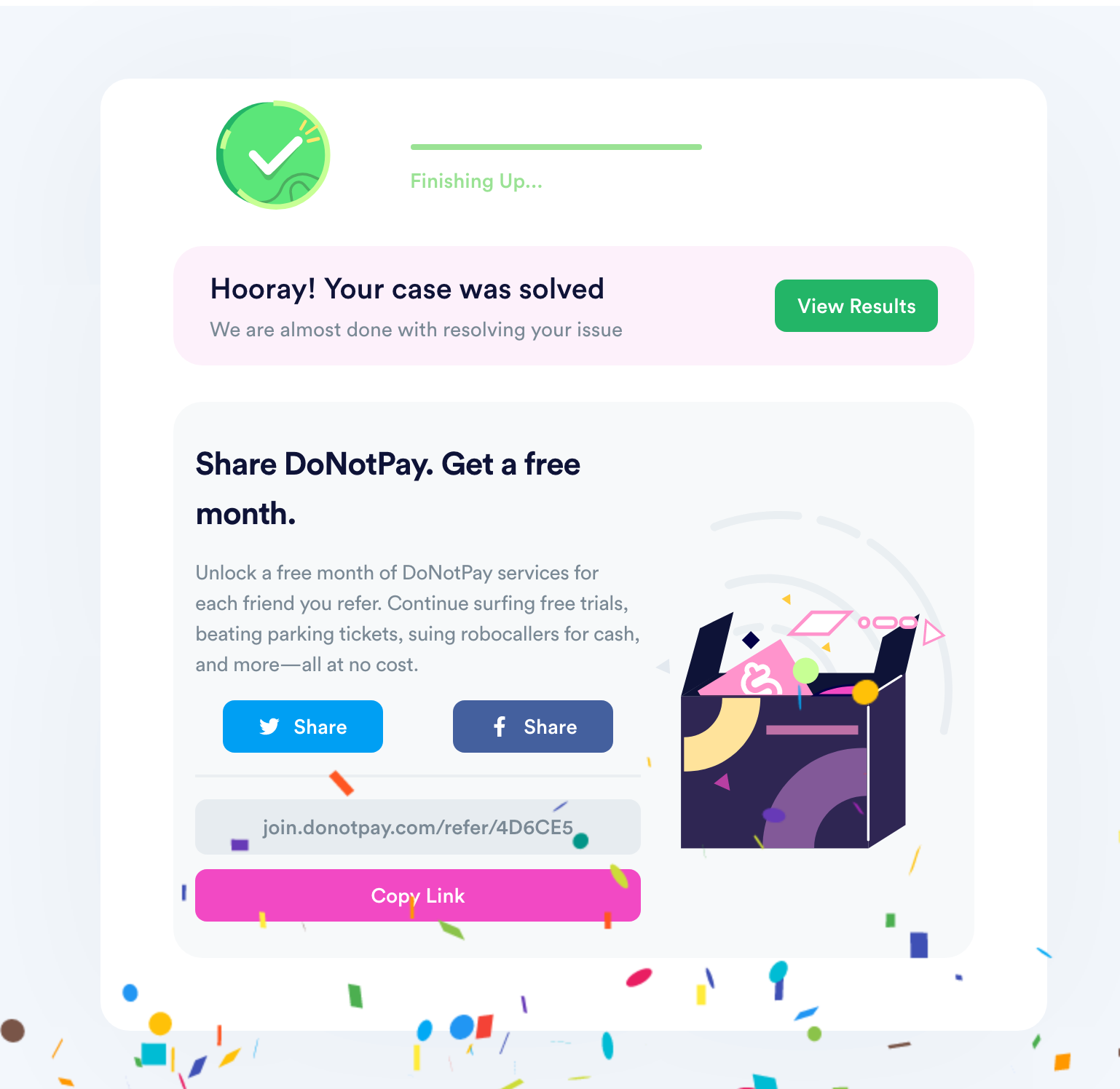 Our Platform Makes Your Life Simpler
DoNotPay offers a vast spectrum of life-changing services, including the ones listed below:
| Services | With Our App, You Can: |
| --- | --- |
| Eliminating spam and harassment | |
| Saving and getting more money | |
| Providing other useful services | Convert various files to other formats |
DoNotPay Helps You Get the Necessary Paperwork in a Heartbeat
Do you need to compose a power of attorney, revocable living trust, or a health care directive but don't know how? No worries—DoNotPay can do it for you! If you need comprehensive and valid legal documents tailored to your wishes and needs, there's no better way to get them than subscribing to our app!
We can also draft personalized FOIA requests, divorce agreements, homeschool notices of intent, and various complaints.