Ask for Sick Leave Without the FedEx Call In Sick Number Effortlessly
Whether you work as a FedEx package handler or in any other department of the company, you are entitled to a specific number of sick leave days or hours per year. If you get ill at work or want to call in sick from home, you must be familiar with the FedEx sick leave policy and know how to request paid time off appropriately.
This guide brings the answers to all the questions you may have related to this matter! We also provide detailed instructions on avoiding dialing the FedEx call in sick number or sending lengthy emails and help you ask for sick leave by instead!
Does FedEx Provide Paid Sick Leave to Its Employees?
FedEx offers specific paid time off benefits to its employees, but they aren't strictly connected with sick leave.
During your employment, you accrue a particular number of paid hours off based on the following scheme:
Part-time workers earn one PTO hour per 20 working hours and can accrue a total of 40 PTO hours per fiscal year
Full-time workers earn one PTO hour per 20 working hours, but they accrue a total of 80 PTO hours per fiscal year
The earned hours can be used for various purposes, including:
Vacations
Wedding, maternal, and paternal leave
Other personal reasons
Medical absence due to:

Personal physical or mental illness or injury
Physical or mental illness or injury of a family member
Child care
When Can You Use the Accrued Sick Days at FedEx?
Your days off start accumulating as soon as you start working for FedEx. Once your first six months of employment pass, you can start using the sick leave hours/days accrued. This rule applies to both part-time and full-time workers.
What if You Need More Time Off Due to an Illness or Injury?
If you don't think your accrued time off will be enough for you to recover, check if you are eligible for the unpaid time off based on the Family and Medical Leave Act (FMLA). This law guarantees up to 84 sick leave days for qualified employees in companies with 50+ workers in a 75-mile radius.
To meet the requirements for this benefit, you should:
Have been employed at FedEx for at least 12 months
Have spent 1,250+ hours at work in the last 12 months
Work in a FedEx branch located in one of the following areas:

Arizona
New Jersey
New York
Vermont
California
Colorado
Connecticut
Massachusetts
Washington
Washington D.C.
Michigan
Maryland
Maine
Oregon
Rhode Island
FedEx isn't eligible for the paid time off proposed by the Emergency Paid Sick Leave Act, as it has more than 500 employees. This law provides help only to businesses with 500 or fewer workers.
What Number Should You Call To Request Sick Leave at FedEx?
The best way to inform the company about taking time off is to:
Dial (800) 463-3339
Wait for the agent to pick up your call and explain that you want to take sick leave
Provide the required personal details and the reason for your sick leave
Demanding Sick Leave Days Is Much Simpler With DoNotPay
When requesting sick time, you may encounter many pesky tasks.
Lines are usually too busy, which may leave you on hold for hours if you try to reach the company over the phone. Besides this, you need to check the paid sick leave laws in your state and see if you are entitled to get any time off.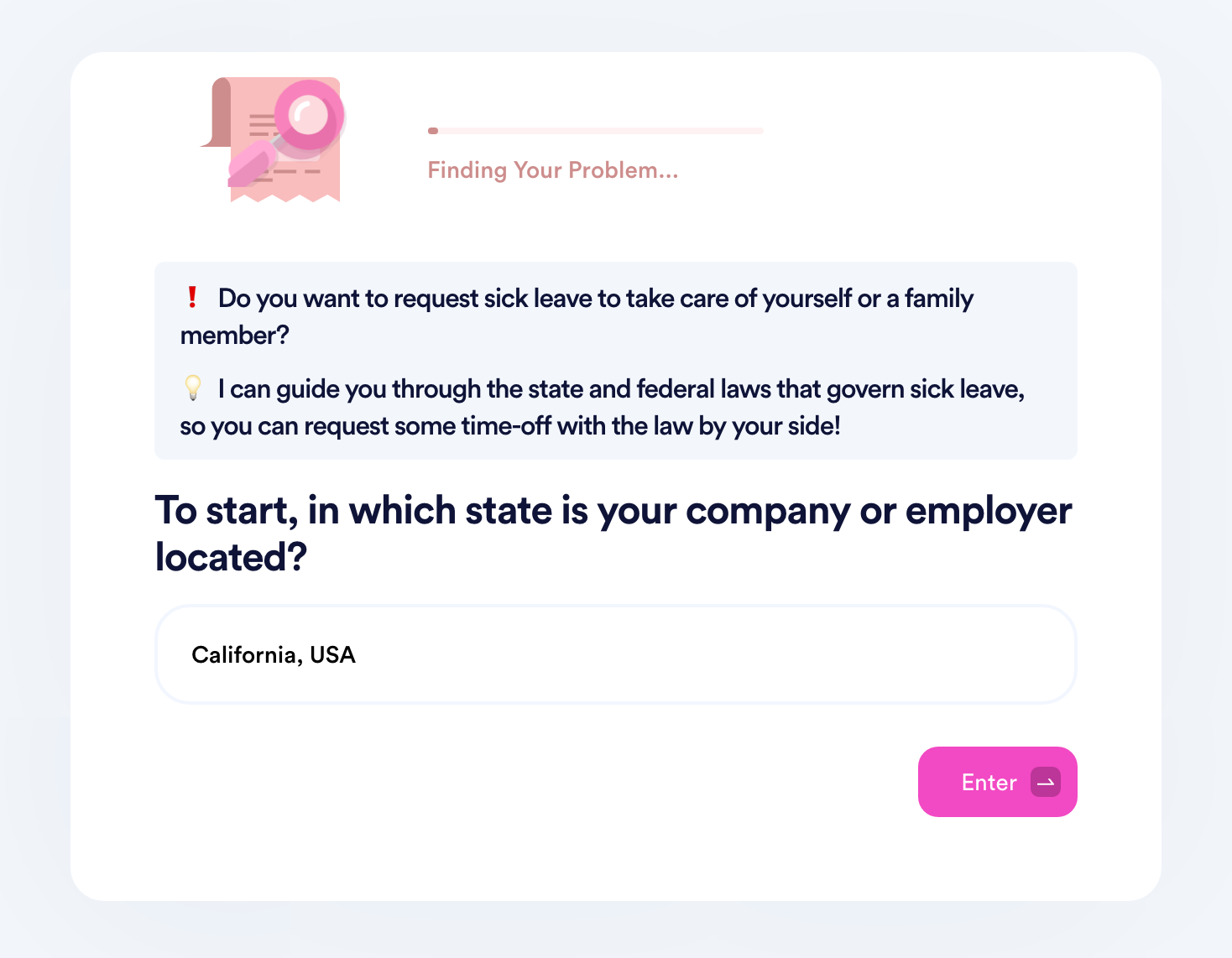 Luckily, you don't need to do it yourself anymore—DoNotPay has an ideal solution for you! We can review the laws in your stead, create a sick leave request letter, and direct it to your employer in less than five minutes!
Here are the instructions you should follow:
and go to Request Sick Leave
Choose the state where you work
Answer a few simple questions provided by our chatbot
Tell us if you want to send the request letter yourself or let us do it on your behalf
Refer to the table below for more valuable manuals explaining how sick leave policies work in:
Another tool we offer provides all you need to sue your employer if they made you work while being ill or dismissed you for taking sick leave. This includes the required paperwork and reasonable arguments, which can be prepared in minutes!
DoNotPay Handles Lengthy and Challenging Tasks on Your Behalf
No time to dedicate yourself to drawn-out procedures or solve administrative issues yourself? Keep calm—that's why DoNotPay is here! By creating an account on our platform, you will be able to:
Convert various files into different formats
Keep the Cash in Your Pockets With Our App
DoNotPay doesn't bring you money-saving hacks—it actually assists you in cutting out expenses and living more economically. The tools we provide are made to help you pay less for utilities, end unwanted paid memberships, have college fees waived, or get lower tax bills. You can also save more on education-related costs by applying for scholarships and other financial aid via our app!
If you have a few forgotten gift cards lying around, don't let them go to waste. DoNotPay can cash them out and send the remaining funds to your home address!