Disney Call-In-Sick Number—Do You Need It To Request Time Off?
Sick leave laws in the U.S. can be quite complicated, as they depend on the state where you live. If you work at Disney but don't know what time-off rules and regulations apply to this company and its employees, we have got your back! Not only will we explain how the Disney sick leave policy works, but we will also offer you the easiest way to request time off without the Disney call-in-sick number. Explore our guide, , and get all the paid time off you are entitled to!
Disney Sick Leave Policy Explained
Disney's sick time policy allows employees to use paid time off if they are absent due to:
Their own injury or illness
Injury or illness of a family member
Family member's doctor's visits and care
Employee's status of crime victim—in case of attacks, sexual harassment, domestic violence, and similar assaults
This rule applies to regular full-time Disney employees only.
The number of available sick leave hours depends on whether you are a salaried or hourly employee. You can find more details in the table below:
Employee Type
Number of Sick Leave Days
Additional Notes
Salaried employee
80 hours—immediately upon hiring and at the beginning of each calendar year

Unused sick leave hours don't carry over from year to year
Disney won't pay for unused sick leave hours upon contract termination

Hourly employee
From 56 to 80 hours—depending on the location of some branches

Hourly employees can use sick leave after a 90-day waiting period
Earned sick leave hours carry over from year to year until 240 hours are accrued
It's possible to receive a buyout equal to 120 sick leave hours two times per year
What if the Earned Sick Leave Days Aren't Enough?
If you get seriously ill or suffer severe injuries, the sick time you have earned may not be enough to cover your recovery. In such cases, you can rely on the Family and Medical Leave Act (FMLA) and avoid working while you are sick.
The FMLA is a set of rules that obliges companies with more than 50 employees to provide mandatory unpaid leave for eligible workers. The employees can use up to 12 weeks of unpaid time off to:
Recover from a serious health condition that prevents them from working
Carry out a pregnancy
Take care of their:

Newborn babies
New foster children
Spouses, children, and parents who are ill or injured

Address specific needs in case of family member's active military duty
To be eligible for the sick leave proposed by the FMLA, you must:
Be employed by the company for at least a year
Have worked for at least 1,250 hours in the last 12 months
Work at a location within the 75-mile radius of your home
You can also check whether you qualify for extra sick time based on the Emergency Paid Sick Leave Act.
Are Disney Employees Eligible for Sick Leave Proposed by the FMLA?
Yes, Disney staff members are entitled to receive sick leave based on the FMLA. What many people may not know is that, in some cases, the company's policy offers more benefits than the rules in this act, such as:
Extended periods of leave in specific situations
Additional time to take care of sick relatives, including partners, siblings, and grandparents—more than what's covered by the FMLA
Sick leave without a one-year waiting period for new employees
How To Demand Sick Leave From Your Company Swiftly With DoNotPay
If you want to request some time off due to sickness, you must:
Get informed about the state sick leave laws and check if you are eligible for paid time off
Inform the supervisor about your needs by contacting them directly by email or phone
Explain what your legal rights are
The good news is that you don't need to take care of all of this on your own. DoNotPay can do all the grunt work in your stead!
To get our help, proceed as follows:
and choose Request Sick Leave
Disclose more info about your company and employment
Give us the number of sick leave days you want to use or specific dates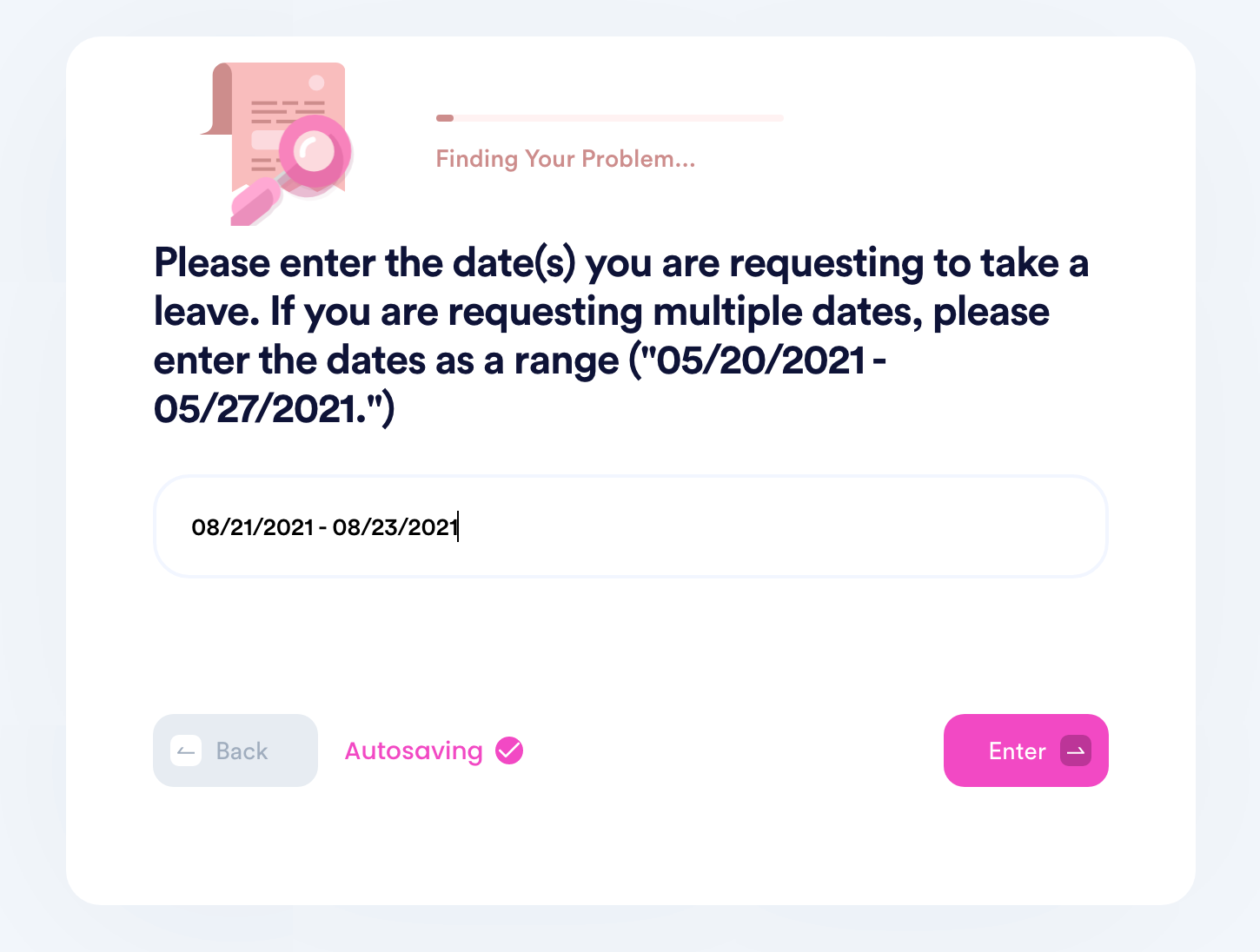 We will compose a sick leave request letter within minutes and offer to send it to the company in your stead! Our app can also assist you in preparing everything you need to sue an employer who fires you or forces you to work while being sick.
That's not all—the guides we prepared for you will help you explore sick leave options in:
Get the Best Solutions for Everyday Tasks With Our App
DoNotPay has come up with multiple handy products whose purpose is to make your life simpler and more enjoyable! Don't hesitate to check out the features that will help you:
Complaints and Appeal Letters Have Never Been Easier To Draft With DoNotPay
Dissatisfied with a delivery? Use DoNotPay to file an item return request and get a refund from the merchant if the product didn't meet your expectations! We can also help you apply for a late delivery refund or help you claim your warranty or insurance if the product you purchased gets damaged or breaks down. Our multi-functional app also allows you to appeal potentially inaccurate property tax assessments, banned accounts, and seatbelt or parking tickets.
If you subscribe to our platform, you will have a chance to file anonymous HR complaints and prevent discrimination at work more effectively.