How To Check the Publix Gift Card Balance in a Flash
Spending the exact amount of money you have on a gift card can be tricky, and you are usually left with a few extra dollars. How can you use the leftover money or exchange your gift card for cash? DoNotPay has the info on what you can do with the money still on your card and how you can check your Publix gift card balance.
Can You Check the Balance of a Publix Gift Card Online?
You cannot see how much money you have left on your Publix gift card online. There are two other ways to check your balance:
Visiting the store
Checking the receipt
The two options may not be as convenient as checking the balance online, but they are the only ways to see the amount of money you have on the card.
How To Check the Balance on Your Publix Gift Card in the Store
The simplest way to see the remaining balance on your Publix gift cards is by visiting the store. To see how much money you have left on the card in person, follow these steps:
Visit the nearest Publix store
Approach an employee
Explain that you'd like to check the balance on your gift card
Provide them with the information they require
Wait for the answer on the spot
You can also use this opportunity to ask about anything else about the gift card you might be curious about, such as what items you can buy with it.
How To Check the Balance on Your Publix Gift Card From the Receipt
You can always see the remaining balance of your Publix gift card each time you use it. The balance will be printed on the receipt, and you will know how much money you have left. The problem is that you won't be able to see the amount of money left whenever you want if you lose or forget to take the receipt.
Can You Receive Cash Back for Your Publix Gift Card?
According to the terms and conditions on the Publix website, you cannot get cash back for your gift card. You may only use it to buy merchandise at Publix.
But is that really the case? In certain states, companies have to reimburse you in cash for a gift card under a certain balance. DoNotPay can check all of the options available and tell you if you have the right to receive cash back for your Publix gift card after all.
Use DoNotPay To Get Cash Back From a Publix Gift Card
If you have a certain amount of money left on your Publix gift card, you may want to get the cash back. DoNotPay can help you do that by checking whether the state you live in has a cash back policy. Even in situations where that is not the case, Publix could have an office in another state that allows getting the leftover money from gift cards.
DoNotPay will provide you with an answer in a matter of minutes if you:
Access our Gift Card Cash Back product
Provide a few details about your card—the company name, card number, and remaining balance
Our app will send your request to the Publix office. If everything is alright, you can expect to get your cash or check via mail in the next two weeks.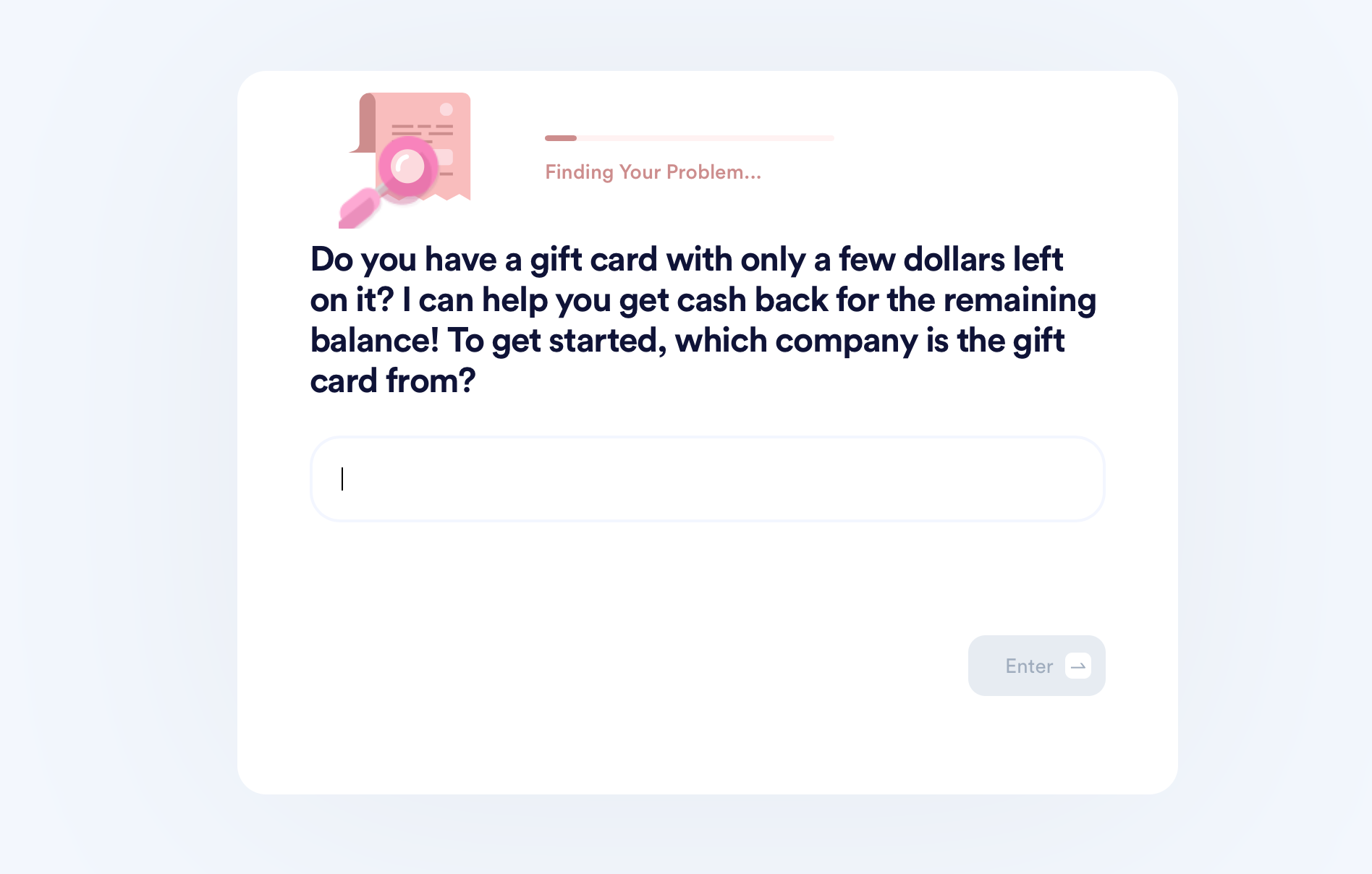 Questions About Gift Cards DoNotPay Can Answer for You
Whatever the store you got your gift card from, you should learn about the possibilities the card comes with. If you visit DoNotPay's Learning Center, you can find answers to the following questions about gift cards:
We also have explanations on how to check your balance on gift cards from a plethora of other companies. Take a look at the table below for more information:
| | | |
| --- | --- | --- |
| Clothes | Food and Drinks | Other |
| | | |
More Information About Publix Gift Cards
Publix gift cards can be worth anything between $5 and $500, and they don't have an expiration date. If you order a card online or by phone, you can choose to add a restriction for the person who gets it to purchase alcohol, tobacco, or lottery with it.
These gift cards cannot be used to purchase other gift cards. You can't return the gift cards and must be careful not to lose them because the store won't replace them.
Use DoNotPay's Features to Your Advantage!
DoNotPay offers a myriad of helpful services you can use to resolve your everyday hurdles.
Do you need help paying bills or finding and claiming missing money? Are you interested in applying for clinical trials in your area? We can help you solve these and many more issues in no time!
Here are some other problems you can handle effortlessly with our help:
Hiring a Lawyer Can Cost a Small Fortune—Rely on DoNotPay Instead
If you're on a tight budget and can't pay a lawyer to help you create legal documents, file a claim in small claims court, or handle stalking and harassment, DoNotPay has a solution for you.
Our app will help you create various documents, including child travel consent forms and complaint letters for a problematic neighbor.
Are you a victim of a crime and need help applying for reimbursement of your crime-related expenses? You can sign up for DoNotPay and allow us to handle your crime victims compensation on your behalf.
DoNotPay can also connect you with an online notary and enable you to get your documents notarized from the comfort of your home.