Check Your Roblox Gift Card Balance in a Flash
Do you think you have some balance left on your Roblox gift card since the last time you used it?
This article will teach you how to check your Roblox gift card balance like a pro and turn the remaining amount into cash with ease! The process is simple, and you won't even have to deal with customer service representatives or fill out tedious forms!
What Is a Roblox Gift Card?
Roblox gift cards are used to buy upgrades for your avatar and other additional perks or get a Premium subscription on the Roblox gaming platform. They are available in $10, $25, and $40 variants, and you usually receive a free virtual item upon the purchase of one. You can buy a Roblox gift card either at local retailers or at:
Amazon
Walmart
Target
Official Roblox website
How To Check Your Roblox Gift Card Balance
To check your Roblox gift card balance, you will have to:
Navigate to the Gift Card Redemption page
You will then be able to see the remaining balance on your used gift card under the Redeem button.
If no balance is showing up, that means your account is out of funds.
You can also check your balance by following these steps:
Visit the nearest Roblox store
Give the cashier your gift card and show them your ID
Ask them to check your balance
How To Add Funds to Your Roblox Account
If you want to add funds or Robux credit to your used gift card, you will need to log in to your account and:
Go to the Gift Card Redemption Page
Enter the PIN located on the card
Click on Redeem and add credit
Once you've added balance to your Roblox account, a success message will show up on the screen.
How To Turn Your Leftover Roblox Gift Card Balance Into Cash
Roblox gift cards are not redeemable for cash, except where required by law. Puerto Rico and 11 U.S. states have cash back policies, including:
Maine
Oregon
Vermont
Missouri
California
Colorado
Massachusetts
New Jersey
Connecticut
Rhode Island
Washington
If you're located in one of these states, you're allowed to redeem your card for money. In case you're not, there are various ways you can turn your Roblox gift card balance into cash, such as:
Exchanging your gift card—Find an exchange kiosk in your area and get cash for your Roblox gift card. Keep in mind that this method is only viable if you have a physical copy of the card
Selling your gift card online—Numerous websites buy and sell gift cards, which means that you can turn yours into cash. The downside is that these websites will not pay you the full value of your card
Trading your gift card—Online marketplaces and platforms for trading allow you to exchange your card with someone else and get a card that's more fitting to your needs. Choosing this option to turn your card into cash will require patience, as it might take some time to trade your card and cash it
Using DoNotPay—If you sign up for DoNotPay, you'll have access to our numerous products, including Gift Card Cash Back, which lets you cash in your gift cards with ease
Use DoNotPay and Turn Your Roblox Gift Card Into Cash in a Snap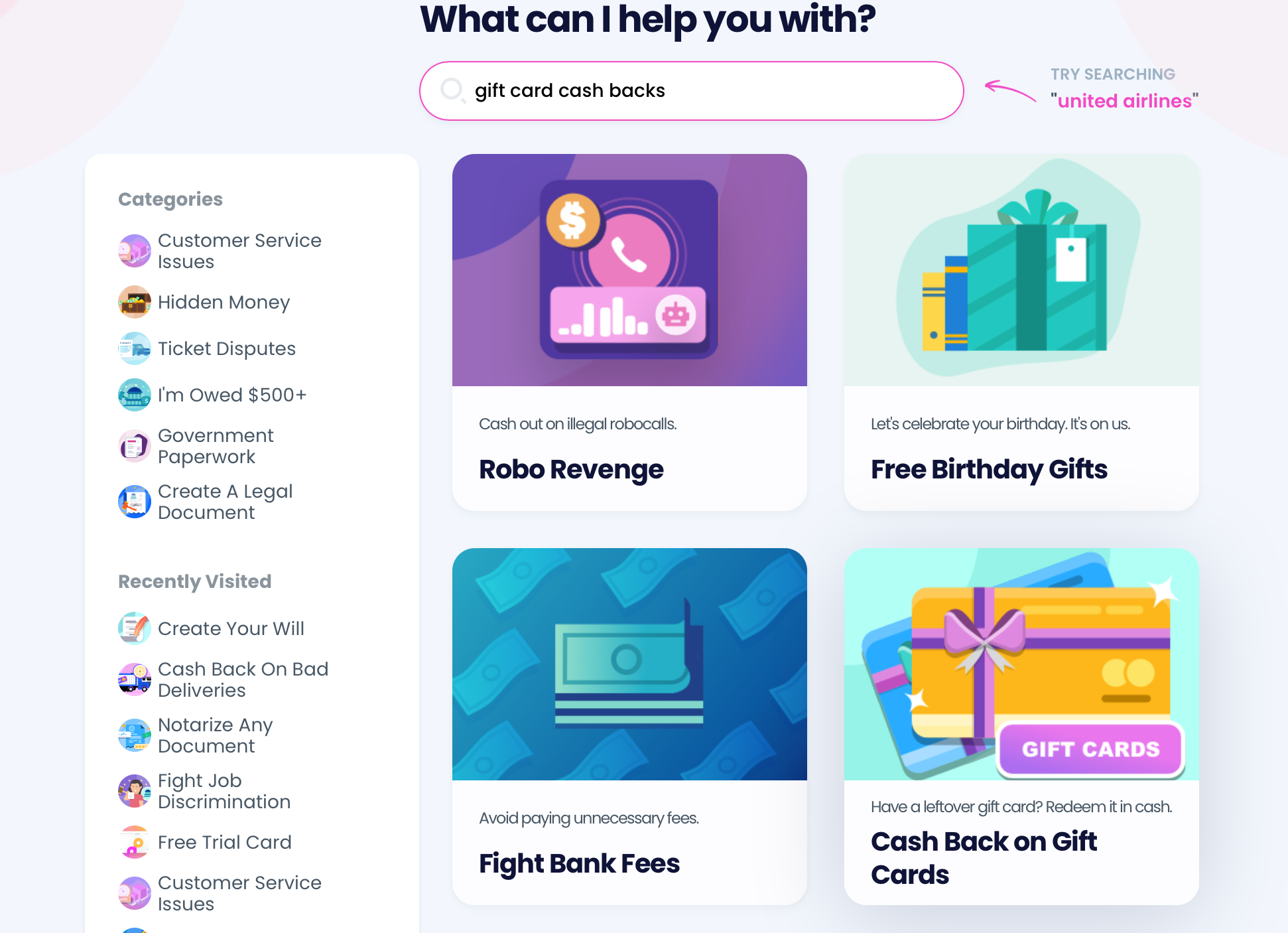 If you want to redeem your remaining Roblox gift card balance into cash without a hassle, turn to DoNotPay! We've developed the Gift Card Cash Back feature to help you get your leftover money without having to resort to other time-consuming methods.
Here's how it works:
Open DoNotPay in your preferred browser
Select the Gift Card Cash Back product
Enter the necessary information about the gift card, such as the company name, remaining balance, and card number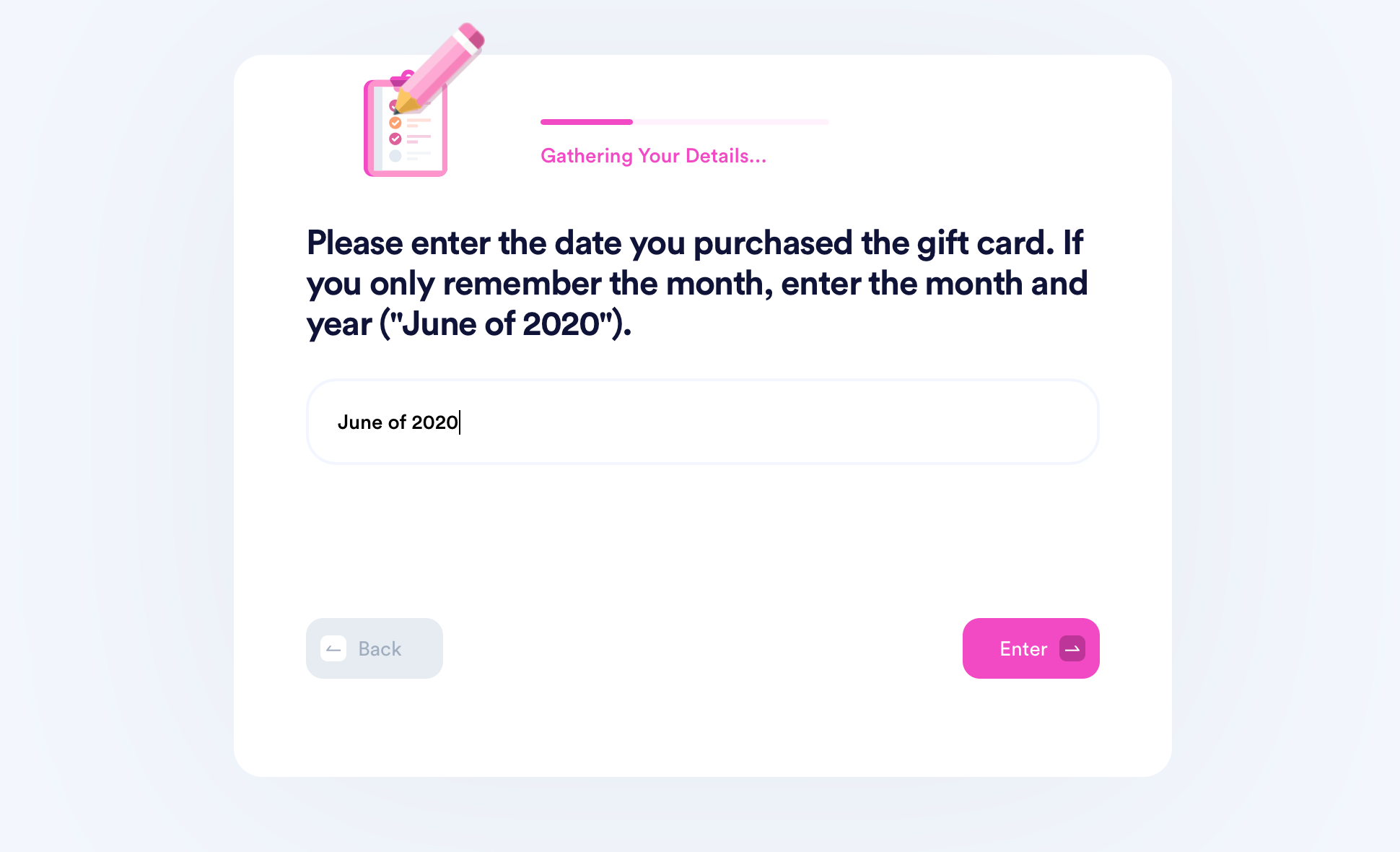 We will then check if your state has a cash back policy. In case it doesn't, we'll see if Roblox has an office in any state with such a policy and send a request to that office. You should receive your cash or check in the mail within 14 business days once the request is approved.
Keep in mind that this only works if you have a few dollars on your gift card. Some state laws, such as the one in California, allow gift cards to be redeemed for money only if the amount is up to $10.
Learn More About Gift Cards With DoNotPay
DoNotPay's assistance doesn't end here—we've prepared some articles that can answer your gift card-related questions and help you get cash back from various companies, including:
| | |
| --- | --- |
| Guides | Company-Specific Articles |
| | |
DoNotPay—The Quickest Way To Deal With Greedy Companies
Spending hours on the phone with customer care reps struggling to get a refund or cancel certain services due to complicated procedures can be tiresome.
If you sign up for DoNotPay, we can help you:
Unsubscribe from all unused subscriptions in a few clicks
Get a refund for faulty products and late deliveries
Request compensation from any airline because of canceled flights, poor Wi-Fi, and similar
Return an item that's damaged or defective
Has a company refused to accept your warranty claim even though it was valid or wronged you in any other way? Make sure to serve them justice by bringing them to small claims court with DoNotPay's help!
Use Our App To Resolve Any Issue
DoNotPay has numerous products you can use. We can help you resolve any problem in a few clicks.
Do you want to find unclaimed money? Would you like to know how to protect your work from copyright infringement? Are you wondering how to apply for a college fee waiver because the application fee is too expensive for you? If you rely on us, you will solve all of these and many more issues stress-free!
Even victims of violent crimes—such as stalking—can use DoNotPay to solve their problems. Having a stalker is traumatic and potentially dangerous. We can tell you how to deal with the situation and apply for crime victims compensation in your state if you need help covering counseling expenses.
We can simplify the document notarization process and help you send online faxes and mail letters from the comfort of your home in less than five minutes.