Columbus State Community College Financial Aid Options You Should Consider
Columbus State Community College (CSCC) was established in 1963 in Ohio. This public community college is a school for more than 27,000 undergraduate students. The cost of attending this college is on the cheaper side, with the tuition reaching $4,588 (in-state) or $9,540 (out-of-state students).
Many students still can't afford to pay that much money for education, and the solution is applying for Columbus State Community College financial aid. DoNotPay is here to explain the application process and help you file an appeal if you get a disappointing offer.
Columbus State Community College Financial Aid Office
During the COVID-19 global pandemic, CSCC Financial Aid Office staff is assisting students remotely in the following ways:
Over the phone
Via email
Via live chat
How To Get in Touch With the CSCC Financial Aid Office Over the Phone
If you want to talk to a financial aid advisor over the phone, follow these steps:
Call 614-287-5353
Explain your circumstances
Ask any questions you may have
Provide the rep with the info they ask for
You can call from Monday to Thursday from 8 a.m. to 5 p.m. and on Fridays from 9 a.m. to 4:30 p.m.
How To Get in Touch With the CSCC Financial Aid Office via Email
If you prefer putting your worries and questions in writing, you can send an email to the CSCC Financial Aid Office. Follow these instructions:
Compose a formal email from your @student.cscc.edu email address
Write any questions you may have
Include your Cougar ID number
Send the email to finaid@cscc.edu
You can expect a response within two business days.
How To Use Live Chat To Ask Financial Aid Questions
In case you are looking for fast answers to your questions, you should consider using the CSCC live chat tool. The procedure is simple—you only need to:
Visit the CSCC website
Click on the conversation bubble in the lower right-hand corner of the page
Ask the questions you have
Live chat representatives are available during business hours.
Types of Financial Aid Available at CSCC
You can choose between a few different types of financial aid at Columbus State Community College. Check out all the available options in the table below:
Type of Aid
What You Should Know
Grants
This type of aid provides funding to students that doesn't have to be repaid. You can apply for:

Federal Pell Grant
Federal Supplemental Education Opportunity Grant (FSEOG)

Loans
This is the money you borrow and need to repay with interest. You can apply for:

Direct Subsidized Loans
Direct Unsubsidized Loans
Direct Parent Loan for Undergraduate Students (PLUS)
Other Non-Federal Loans

Scholarships
Like grants, scholarships don't need to be repaid. These are your options:

First Responders Funding Opportunities
Future Scientists of Ohio (FSO) Scholarship Program
Honors Program Scholarship
The Health Careers Opportunity Program (HCOP)
Summer Jump-Start Award
Steps You Need To Take To Get Financial Aid From CSCC
If you want to ensure you receive financial aid from CSCC, you need to follow the procedure and respect the application deadlines. Here is what you should do:
Apply for admission to Columbus State Community College
Complete the FAFSA (Free Application for Federal Student Aid)—This form will determine your eligibility for financial aid. You have to complete it each academic year. The Columbus State FAFSA school code is 006867
Verify your FAFSA information—You should make sure that your financial aid application is complete. The Columbus State can ask you to provide additional documents, so check your email frequently
Review your financial aid award letter—You should review your awards carefully and accept or decline offers
Use financial aid to pay fees
Maintain eligibility for federal financial aid—You are required to make Satisfactory Academic Progress (SAP) to keep receiving aid in the future
If Columbus State Community College rejects your application or doesn't offer you enough money, you can file an appeal with !
Send a Financial Aid Appeal Letter to CSCC With DoNotPay
Creating a financial aid appeal letter is a dull and time-consuming task. If you turn to DoNotPay for help, you can rest assured we'll deal with the process in a jiffy. Our app can make a rock-solid appeal letter that will make CSCC reconsider its decision. You only need to:
Choose our Appeal for More Financial Aid product
Provide us with the info about financial aid offers from all the schools you applied to
Give us the details about your family's income and financial status
DoNotPay will send the letter to Columbus State Community College in your stead right away.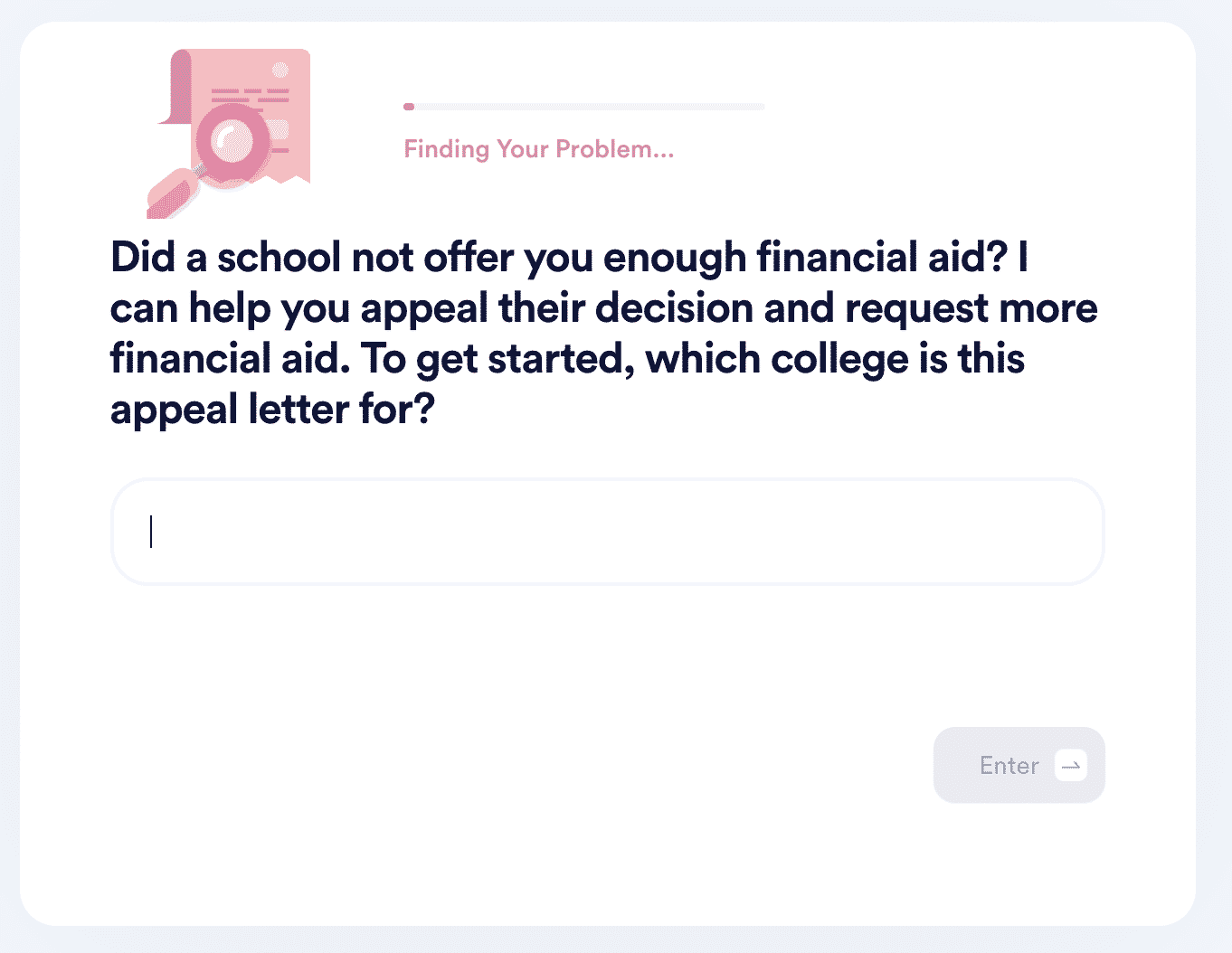 DoNotPay has the info about:
Financial Aid Programs at Other Schools
Check out the table below to see what other universities in the U.S. have to offer regarding financial aid:
Let DoNotPay Be Your Virtual Assistant!
Why bother with deciphering legal terminology or figuring out how to write a legal document when you can let us do it for you? You don't have to waste your time any longer. Once you sign up for DoNotPay, we'll do much more than draft your legal documents or help get them notarized!
DoNotPay will show you how to perform a number of tasks with ease, including suing any company in small claims court, filing insurance claims, claiming warranties, creating passport photos, and sending your neighbor a complaint letter!
Should you need assistance with requesting a refund for a delayed flight or fighting workplace discrimination, our virtual assistant shows you how it's done.
There's More We Can Do!
Tired of dealing with mundane tasks and spending hours running dull errands? We offer the perfect solution!
DoNotPay can assist you in completing tedious tasks with ease! The best part is that you will spend significantly less time on them, and you can get them done from the comfort of your home!
Paying bills, getting a free trial, canceling subscriptions, getting revenge on robocalls, requesting refunds, or making a DMV appointment is only a few clicks away!