Learn What the Columbia University Financial Aid Deadline Is To Apply on Time
The tuition and attendance costs for Columbia University, reaching up to $62,000, can prove difficult to deal with for prospective students. Luckily, you can apply for the University's financial aid program to cover as much of these expenses as possible.
In this guide, you will find out what the Columbia University financial aid deadline is, how much aid you can get, and how to if the award doesn't meet your financial needs!
What Is the Deadline for Financial Aid Applications at Columbia University?
Check this table to learn more about financial aid application deadlines at Columbia University:
| | | | |
| --- | --- | --- | --- |
| Application Periods for Different Qualifying Student Categories | Application Deadline | Estimated Time of Arrival of Your Offer Letter | Deadline for Paying the Enrollment Deposit of $500 |
| Early decision (for first-year students) | February 15 | Late March | May 1 |
| Regular decision (for first-year students) | November 15 | Mid-December | Mid-January |
| Transfer & Combined plan | March 1 | April | May |
| Continuing students | January to May | Late June | / |
What Forms Do You Need To Submit When Applying for Columbia University Financial Aid?
To get ready to apply for Columbia University financial aid by the required deadlines, you should prepare your:
Free Application for Federal Student Aid (FAFSA)—applications are open from October 1 to June 30 every year
CSS Profile—applications are open as early as October 1, so you can prepare in time
W-2 tax forms—for you and your parents
Federal tax returns—all pages, schedules, and statements associated with it are also required
Students should prepare the following forms only if applicable:
Business returns—you should submit a K-1 form if your family's ownership is less than 5%. If it's higher than 5%, you will need to submit forms 1120, 1120-S, and/or 1065, including all schedules and attachments
Non-Tax Filer Certification—this form is required for parents who didn't file a federal tax return
Trust documentation—for you and your parents
How Much Aid Can I Get From Columbia University if I Apply by the Required Deadlines?
Columbia University, on average, awards:
All first-year and transfer students with aid that matches 100% of demonstrated need
62% of all students with grants averaging $41,785
What Is the Deadline for Columbia University Financial Aid Appeals?
There is no official deadline for financial aid appeals at Columbia University. You should request a reconsideration from the University as soon as you get your offer letter and realize that the included aid amount does not cover enough of your expenses. Aid funds deplete quickly, and your goal is to get more aid from Columbia University before that happens.
Check out the documents you need to submit to ensure you successfully appeal the decision of Columbia University:
A convincing appeal letter
Supporting documentation proving your financial need and/or unfortunate circumstances that occurred after your application
Some of the occurrences under which Columbia University accepts appeals include:
Loss of employment or reduction of income
One-time or recurring medical expenses
Financial support you're offering to relatives
Funeral costs
Expenses caused by natural disasters
Loans your parents took out for their education
If you need help with your appeal letter or you want to send one to Columbia University as soon as possible, DoNotPay can help you get it ready in a matter of moments!
How Can I Contact the Columbia University Financial Aid Office if I Have Questions?
If you have trouble with the application process and deadlines or you want to send the required documents from home, you can contact the Columbia University Financial Aid Department by:
Get More Aid From Columbia University in a Flash With DoNotPay!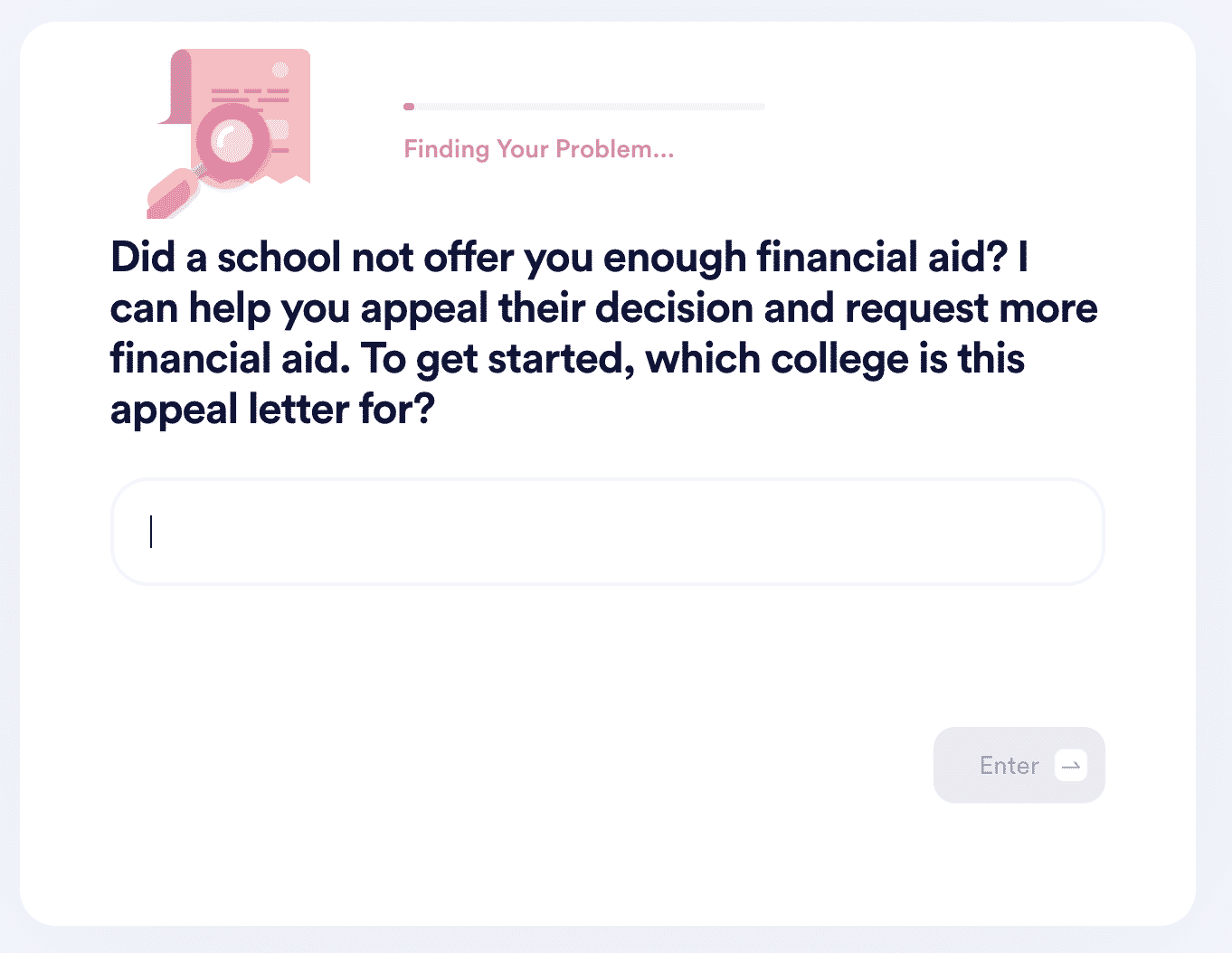 Getting insufficient funds from Columbia University can be discouraging—that's why DoNotPay created a product that can help you request more aid in a flash!
The process takes only three steps to complete:
from any web browser
Enter Appeal for More Financial Aid in the search bar
Explain what circumstances have had a negative impact on your family budget since you applied
We will generate your appeal letter, and you can choose whether you want to send the letter to Columbia University via our service or submit it yourself.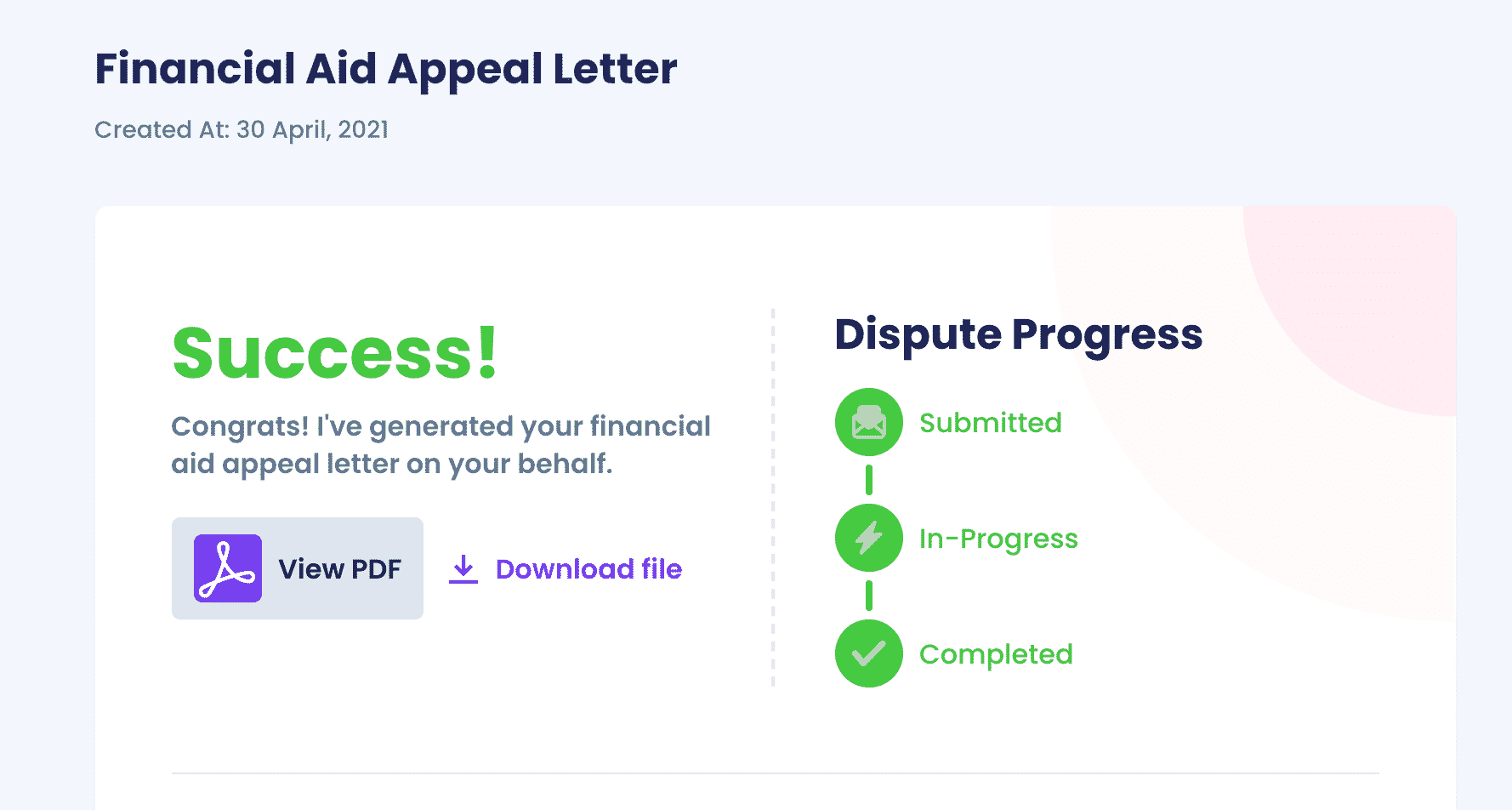 After you appeal the University's decision, check out our learning center—it's a place where you can get answers to all of your financial-aid-related questions, such as:
Alternatives to Columbia University
If the worst-case scenario happens and you miss the application deadline or get rejected by Columbia University, you can always check out other available options, such as:
DoNotPay Turns Your Everyday Hurdles Into a Piece of Cake
Did you receive a faulty or damaged item? Why not return it with your virtual assistant? We can also help you get a late delivery refund and jump the queue if the customer service phone keeps ringing to no avail. The list of handy DoNotPay features that make your everyday life easier goes on.
By subscribing to our platform, you won't have to worry about your tedious neighbors or parking tickets. We can do it all!
Want To Save Money on Lawyers? Use DoNotPay
Most people spend big bucks on expensive lawyers to overcome their bureaucratic obstacles. Don't waste your money on unnecessary fees—use DoNotPay and take care of any legal matter in a few easy clicks! Check out some of the issues the world's first robot lawyer can help you with: