University of Montana Financial Aid From A to Z
Beautiful landscapes, top-level study programs, and various research opportunities make the University of Montana a popular choice among prospective students. Still, the sticker price, which can reach over $40,000 per year, can prevent them from applying.
The best way to overcome your financial issues and make the most of the University of Montana financial aid program is to find out who is eligible, what the application process entails, and what amount of support you can expect!
What You Need To Know Before Applying for Financial Aid at the University of Montana
The University of Montana states that the priority consideration period for financial aid applications is between October 1 and December 1. Students who apply within that time frame have a greater chance of the University of Montana Financial Aid Office meeting their financial needs with the following types of aid:
Grants and scholarships
Student employment programs
Tuition waivers
Loans
University of Montana Financial Aid—Grants and Scholarships
Depending on your financial need and application date, you might receive some of the following non-returnable awards from the University of Montana:
Category
Awards
Need-based

Federal Pell Grant
Federal Supplemental Educational Opportunity Grant (FSEOG)
UM Need Grant
MUS Honor Scholarship
Montana Access Scholarships

Need-blind/merit-based

Federal TEACH Grant
Western Undergraduate Exchange (WUE) Scholarship
RaiseMe Program

Groups of both need-based and need-blind scholarships

Davidson Honors College scholarships
University of Montana Academic Achievement Scholarship (UMAAS) Program

Special student categories

Maureen and Mike Mansfield Native American Scholarship
Montana's STEM/Healthcare Scholarship Program
ROTC Scholarships
Segal AmeriCorps Education Award
Each of the academic departments at the University of Montana offers merit-based scholarships to students achieving extraordinary academic progress. UM students should inquire at their department about available scholarships and the required criteria.
Student Employment Programs at the University of Montana
The University of Montana enables its students to earn tuition money through the following student employment programs:
Federal Work-Study—The University prioritizes Work-Study candidates who apply by December 1 of the year before enrollment and have an Estimated Family Contribution (EFC) score lower than 16,000. UM students receive their paychecks twice a month and cannot work more than 19 hours per week. Summer Work-Study is available part-time for summer class attendees and full-time for students enrolling in the following fall term
Other student employment opportunities—UM students who don't qualify or apply for Work-Study can use the Griz eRecruiting platform to find on- and off-campus jobs
University of Montana Financial Aid—Tuition Waivers
Another way UM students can reduce their educational expenses are tuition waivers, and the University can consider them for the following ones:
Category
Tuition Waivers
Special student groups

American Indian Tuition Waiver
Senior Citizen Tuition Waiver
Montana Honorably Discharged Veteran Tuition Waiver
War Orphan Tuition Waiver
Surviving Dependents of a MT National Guard Member Tuition Waiver
Surviving Dependents of a MT Firefighter or Peace Officer Tuition Waiver
The Yellow Ribbon Program

Institutional waivers

Faculty/Staff Tuition Waiver

Montana University System tuition waivers

The MUS Honors Scholarship
Community College 2 + 2 Honors Scholarship
Dependents of Faculty/Staff Partial Tuition Waiver

National tuition waivers

National Merit Semi-Finalist Scholarship
Loans You Can Get From the University of Montana
Suppose you still have a massive amount of student contributions to pay despite receiving all other types of financial aid. In that case, you can borrow the following loans to afford to attend the University of Montana:
Federal Direct and Direct PLUS loans

For parents
For graduate students

Institutional loans

Short-term loans
Henry Strong Loans
Departmental loans

Private loans
How To Apply for Financial Aid at the University of Montana
To apply for and receive financial aid from the University of Montana, prospective students need to:
Submit their admission application
Complete their Free Application for Federal Student Aid (FAFSA)
Check the CyberBear portal regularly for any additional tasks and review the award offer when the University of Montana Financial Aid Office sends it
Become a regularly admitted UM student
Contact the financial aid office on your UM campus and talk to a consultant if you have any questions about the application process by calling one of the numbers from the table below:
| | |
| --- | --- |
| Campus | Phone Number of the Financial Aid Office |
| UM—Missoula | 406-243-5373 |
| Missoula College UM | 406-243-5373 |
| Helena College UM | 406-447-6916 |
| Montana Tech | 406-496-4223 |
| Highlands College of Montana Tech | 406-496-4223 |
| UM Western | 866-869-6668 |
If the University of Montana Financial Aid Office on your campus rejects your application or offers insufficient financial support, you can file an appeal. The Forms page on the UM website contains all of the necessary paperwork you need to submit. Including a financial aid appeal letter that explains your financial setbacks in detail can maximize your chances of getting more aid. Although it seems intimidating, writing a convincing appeal letter is a simple three-step process if you !
Use DoNotPay To Send an Appeal Letter to the University of Montana Financial Aid Office in a Jiffy!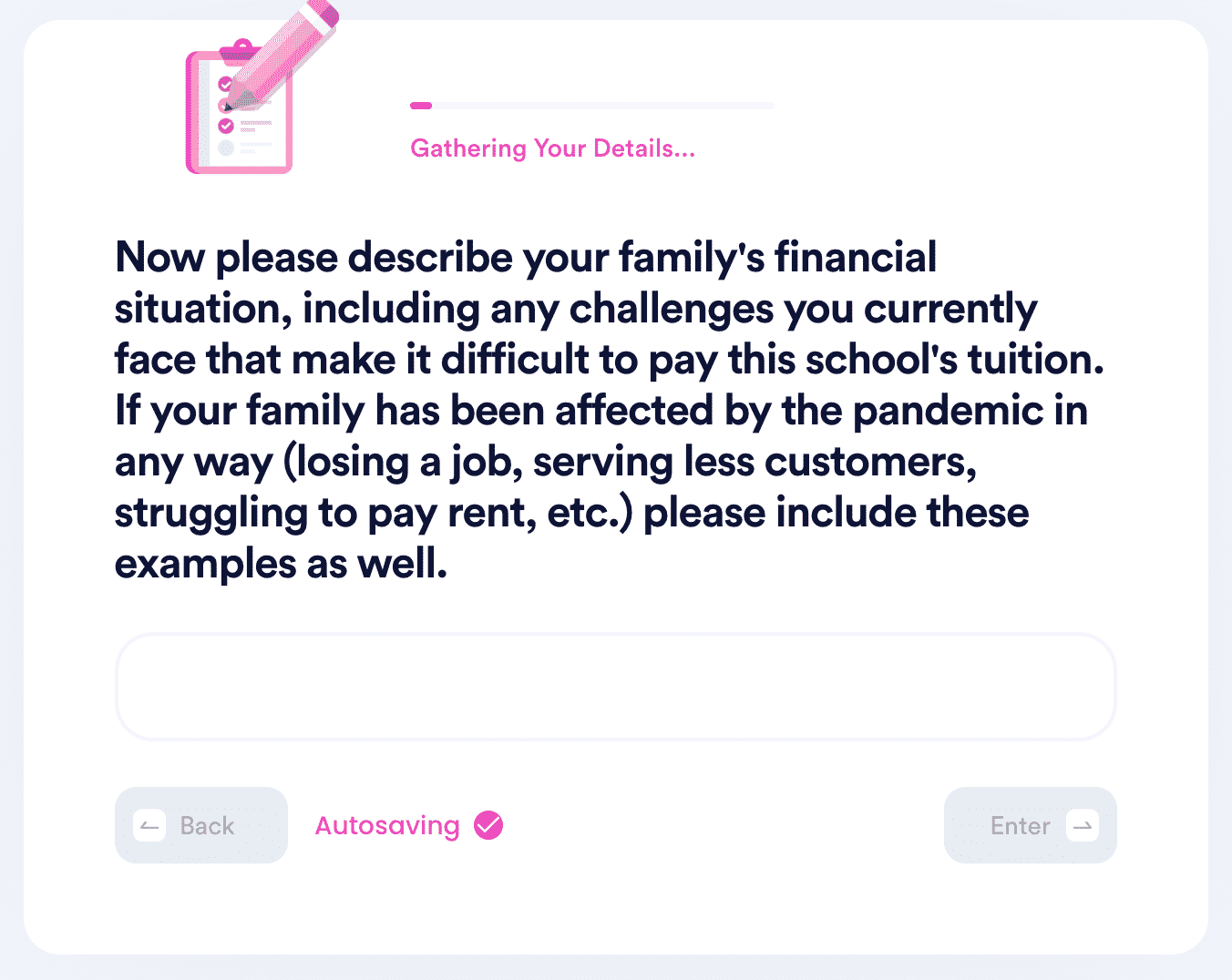 Follow these steps to request a financial aid application reconsideration from the University of Montana in a flash:
from any web browser
Search for Appeal for More Financial Aid
Explain the circumstances that are causing financial stress for you and your family
Once you complete all steps, DoNotPay will generate and send a custom appeal letter to the University of Montana on your behalf.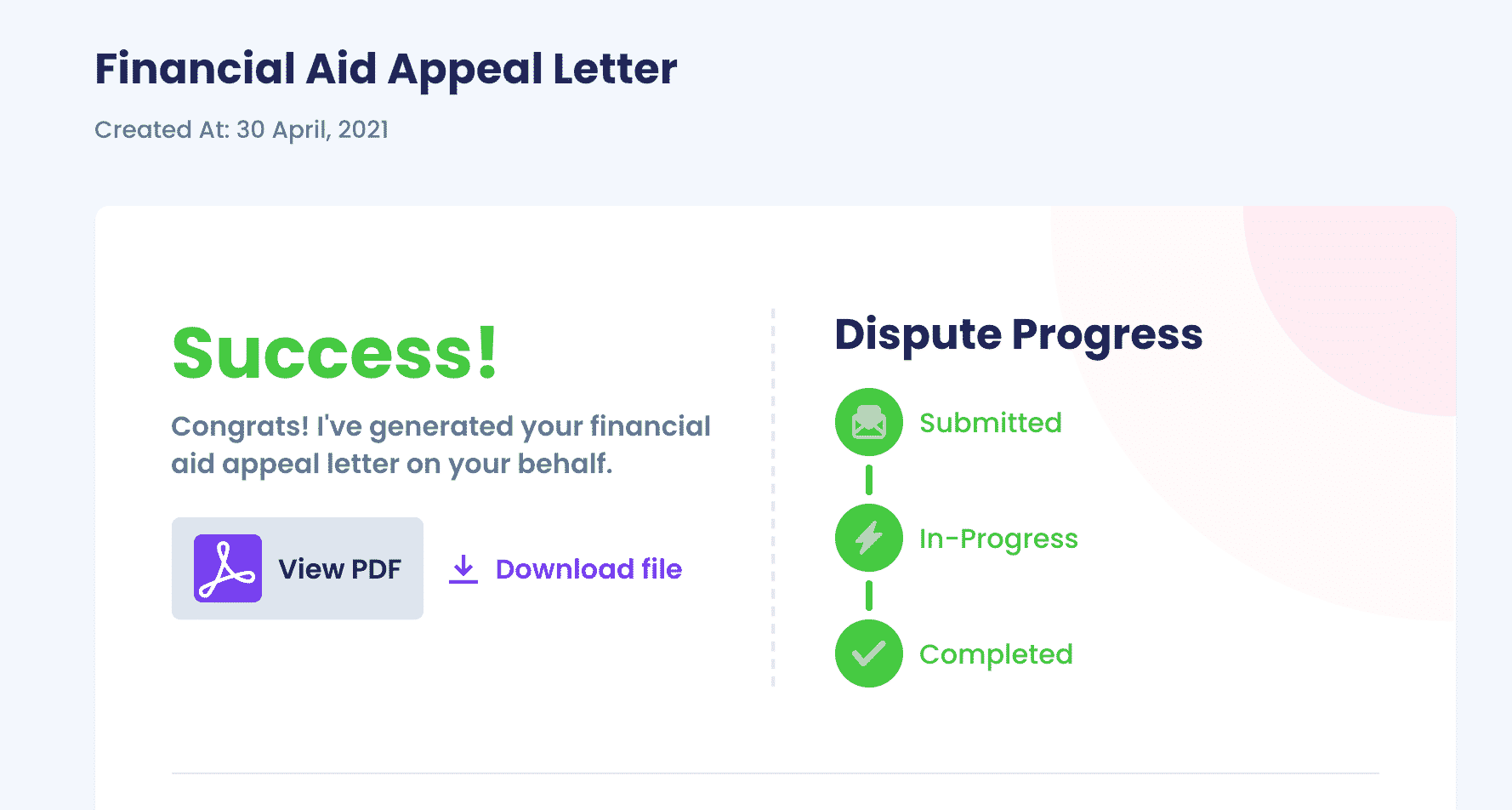 If you're curious about financial aid programs at graduate schools or the number of years you can receive financial aid for, check out our learning center to get the latest information about these topics and many more!
Alternatives to the University of Montana
Prepare for the worst outcome and check out other schools and their financial aid programs you can apply for if the University of Montana doesn't meet your financial needs:
Solve Any Issues Like a Pro With DoNotPay
DoNotPay is an AI assistant that is able to solve almost all issues you're facing. Whether that be your noisy neighbors, the annoying text and email spam you're receiving, or the frustrating robocalls that won't leave you alone. We'll even cancel your unneeded subscriptions and get you a few extra bucks you've been cheated out of.
The world's first robot lawyer app can help you get:
DoNotPay Helps You Deal With Any Administrative Issue Effortlessly
Tedious administrative tasks are always headache-inducing, but they don't have to be if you use DoNotPay. With our AI-powered app, you will be able to: