UCLA Summer Financial Aid—Learning the Basics
If you are not sure whether you can afford to participate in the UCLA summer programs or not, you should apply for UCLA summer financial aid. The funds you receive should cover the expenses of attending a summer program of your choice.
This simple guide to the UCLA summer financial aid will give you info on when and how to apply for summer aid, who the eligible candidates are, and how to get more aid.
If UCLA rejects your aid application, you can use our app to appeal the university's decision. Sign up for DoNotPay and write an appeal letter quickly and without hassle!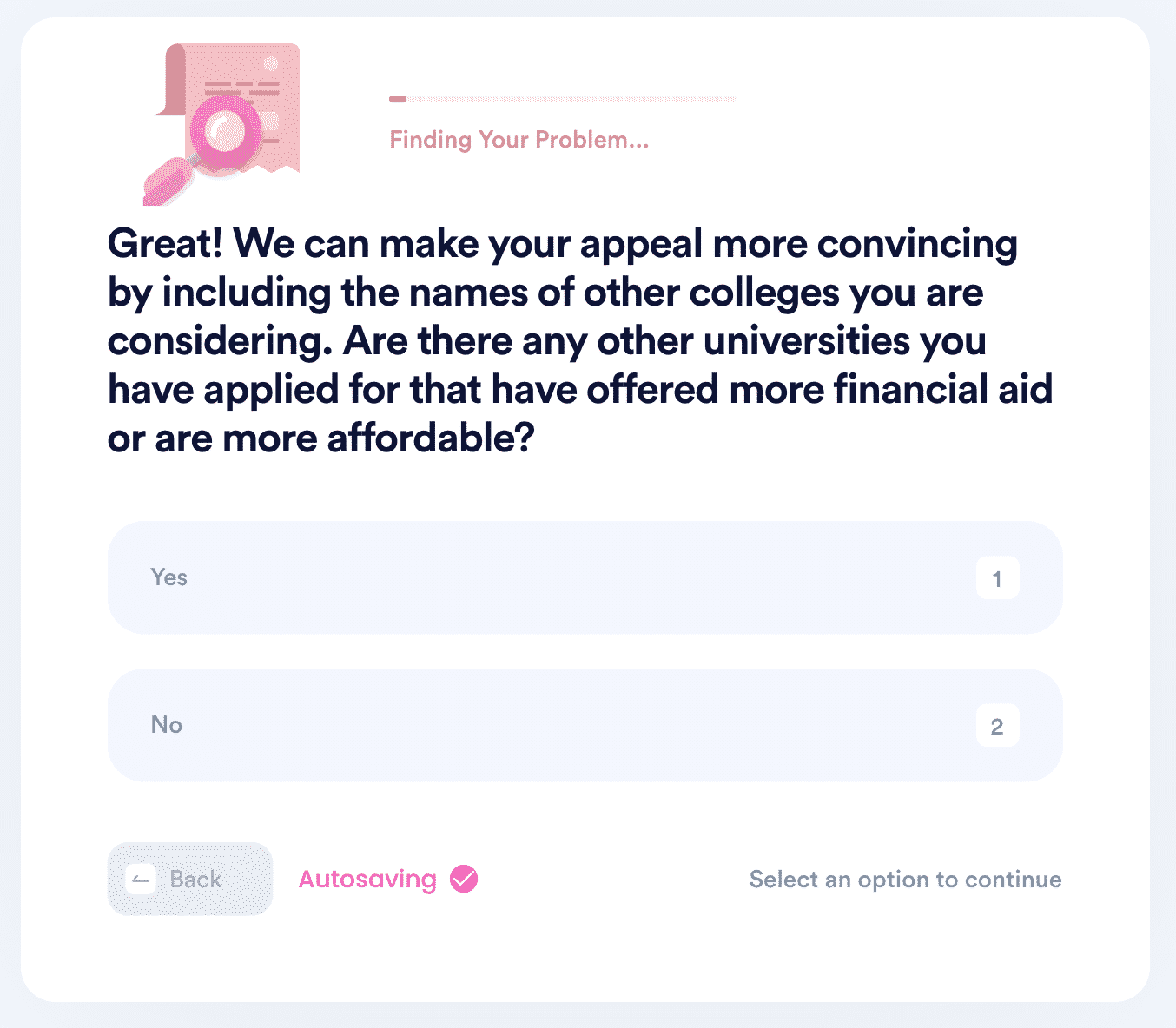 UCLA Summer Programs
During the summer, UCLA offers several educational programs you can apply for:
Summer Program
Details
Summer Sessions

Is available for those who plan to attend summer courses at UCLA
Includes a non-refundable fee of $150

Summer Institutes

Provides in-depth coverage of your subject area
Is available only after the end of the academic year
Requires a non-refundable fee of $150

Summer Cross Campus

Provides an opportunity to attend classes at another college at the University of California
Isn't available for non-UC programs

Summer Travel Program

Is aimed at students who wish to study abroad
Includes a non-refundable deposit of $300

College Summer Institute

Is accessible to new UCLA students
Requires students to apply through MyUCLA profile
You can apply for aid that covers the cost—including fees and living expenses—of any of these programs. The amount of summer financial aid at UCLA depends on the number of units and sessions you will attend.
Types of Summer Financial Aid at UCLA
While planning which UCLA summer program to enroll in, you should also consider the type of aid you want to apply for. You can choose among:
Loans
Grants
Work-study program
UCLA Summer Loans
UCLA awards federal and private loans for eligible students enrolled in summer programs. If you are applying for this type of financial aid, here is what you can expect:
Federal Direct Subsidized Loans—This is need-based financial aid. The repayment for this loan starts six months after you graduate
Federal Direct Unsubsidized Loans—This is financial aid available to all undergraduate students, whether they are in financial need or not
Federal Direct Parent PLUS—This loan is available for students' parents with good credit repayment histories
Private Loans—These loans are reserved for students who already received the maximum amount of federal loans and still need additional funds
Unfortunately, graduate students are not eligible for UCLA summer loans.
Summer Grants at UCLA
If you would rather apply for the aid that you don't have to pay back, you should take a look at the UCLA summer grants:
Type of Grant
Explanation
Federal Grant
University Grant

Awarded to students who complete FAFSA or Dream application on time
Available for students who enroll in eight or more units

Cal Grant

Available for Dream and FAFSA applicants who will not need the Cal Grant during the academic year (early-graduate students)
Awarded mid-summer
UCLA Work-Study During Summer
The UCLA work-study is available for eligible students who complete their FAFSA application on time. This program enables students to earn money for their college expenses by working part-time. This is federal financial aid with a maximum award of $1,800.
How To Calculate the UCLA Summer Aid
To make sure summer financial aid covers your financial needs, you can use the Summer Financial Aid Calculator.
The calculator establishes awards based on available funds and the information you provide in the FAFSA application. To receive accurate information about the amount you can get, you should make sure all information on your FAFSA application is correct.
The calculator will produce a result based on the assumption that you have good academic standing and haven't reached maximum limits on state and federal funding.
UCLA Summer Aid Application Process
You can apply for the UCLA summer financial aid by following these simple steps:
Fill out and submit a FAFSA or Dream application— March 2nd is the application deadline
Fill out Summer Aid Application via MyUCLA profile—Deadlines depend on the summer program you wish to attend
Submit additional documentation—In case you need to add some supplemental documentation, post your request on MyUCLA Financial Aid Document Tracking, and you will be notified via email about the results
Did UCLA Deny You Summer Aid? Use DoNotPay To File an Appeal!
Did you apply for the UCLA summer financial aid on time and with all necessary documentation, but the university still didn't consider you an eligible candidate? You can appeal the university's decision with a well-drafted appeal letter!
You will not have to waste the time and energy on choosing the right words. DoNotPay will help you generate an appeal letter in a few clicks.
All you have to do is:
Use any browser to log in to your DoNotPay account
Find the Appeal for More Financial Aid product
Provide some basic information
When you complete this process, DoNotPay will create a tailor-made appeal letter and even send it to UCLA on your behalf!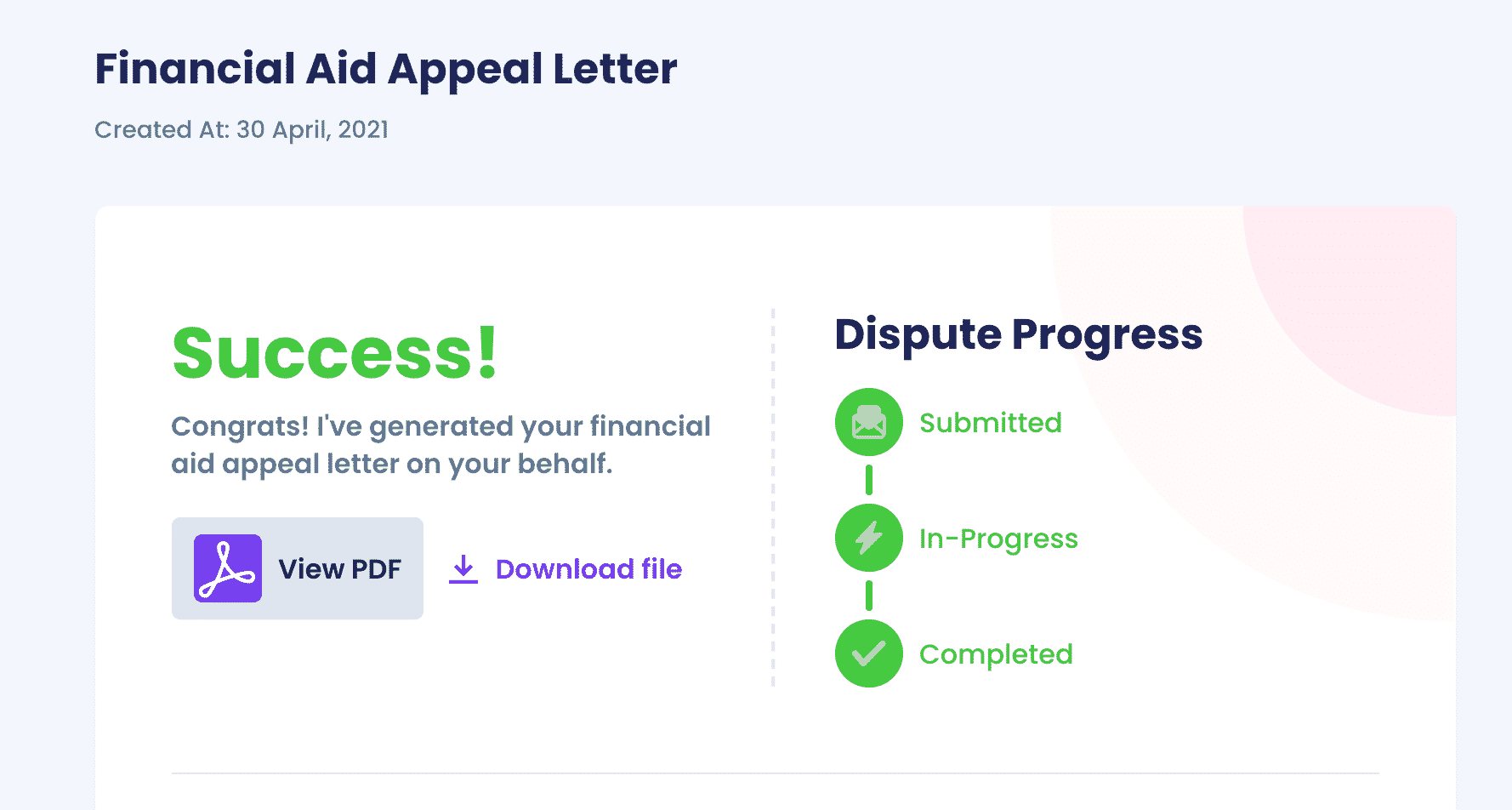 UCLA is one of many universities DoNotPay can help you with. Check out what applying for financial aid at some of the renowned colleges in the U.S. entails:
Is Bureaucracy Giving You a Headache? DoNotPay Can Help!
Bureaucracy is a big part of our lives that we can't escape. We understand the struggle over at DoNotPay—that's why we've created various features that can help you out! The world's first robot-lawyer app can assist you with:
DoNotPay's Arsenal of Features Doesn't Stop Growing
DoNotPay's number of handy features keeps growing by the day. Our platform can help you with various issues ranging from filing insurance claims to finding clinical trials. Want to save money on unused subscriptions? DoNotPay has got your back! We can help you cancel them and fight any subscription spam email that you get. Your AI assistant can also get you free raffle tickets or find any missing money in no time!
With DoNotPay, you'll have access to countless features that grow in numbers by the day! You'll be able to block robocalls, deal with tedious neighbors, and much more!