How To Secure UCR Summer Financial Aid
Are you considering enrolling in summer sessions at UCR, but you're unsure about what the University's financial aid program entails during that quarter? Learn all you need to know about UCR summer financial aid, including how to apply for it and what types of assistance you can qualify for!
Types of Financial Aid Available for UCR Summer Sessions
UCR students who apply for summer financial aid can be eligible for:
Grants

Federal Pell Grant
Summer UCR Grant

Loans

Federal Direct Subsidized Stafford Loans
Federal Direct Unsubsidized Stafford Loans
Federal Direct PLUS Loans for dependent students

Tuition waivers (only for students who received them during the regular academic year)
Teaching Credential Students can only receive financial aid in the form of Federal Direct Unsubsidized Stafford Loans and Federal Direct Grad PLUS Loans for M.Ed. Students.
To be eligible for any form of financial aid during summer, an applicant must be a continuing or incoming:
Undergraduate student
Teaching credential/M.Ed. student admitted on a regular or conditional basis for the following fall
UCR does not offer summer financial aid to students who:
Withdraw, cancel, or are dismissed
Are enrolled in another UC campus
Intend to graduate before the summer quarter
Are new teaching credential/M.Ed. students admitted on a provisional basis for the upcoming fall quarter
Don't achieve Satisfactory Academic Progress (SAP) during the spring quarter
All You Need To Know To Calculate Your UCR Summer Tuition and Fees
UCR students should estimate and calculate their financial needs during the summer quarter to better understand the amount of aid they need. Check the table below to learn about expenses you may have to cover during your summer session at UCR:
Category
Expense
Price for Undergraduate Students
Price for Graduate Students
Mandatory
Per-unit fee
$283
$351
Campus fee
Up to $390.58
Up to $278.57
Intensive Organic Chemistry and Lab Series Sessions
$117.17
$83.57
Special Summer Programs
$273.41
$195
Optional
Course Materials and Services Fee
Depends on enrolled courses
Depends on enrolled courses
Single Document Fee
$50
$50
Other costs summer session enrollment can impose on students include:
Housing
Parking permits
UCR student ID cards (R'Cards)
Rush transcripts
Some students who enroll in a large number of units during summer only have to pay a certain number of them, for example:
Undergraduate students pay only for the first 15 units
Graduate students pay only for the first 12 units
During summer, the University of California waives all visiting and out-of-state fees.
The Easy Way To Apply for Summer Financial Aid at UCR
To apply for UCR summer financial aid, you need to:
File your Free Application for Federal Student Aid (FAFSA) or California Dream Act Application (CADAA) and include the school's federal code—001316
Submit your UCR summer financial aid application
Complete any additional tasks the UCR Financial Aid Office requests
Check out the following table for important application deadlines:
| Date | Description |
| --- | --- |
| March 2 | FAFSA/CADAA deadline |
| May 1 | Summer aid application deadline |
| August 1 | Deadline for additional document submissions |
If you have any doubts about the application process, you can contact the UCR Summer Session Department by calling (951) 827-3044 or sending an email to summer@ucr.edu.
What Can I Do if the UCR Financial Aid Office Rejects My Summer Financial Aid Application?
Receiving too little or no financial aid from UCR can be discouraging, but you can follow these steps to file an appeal and request more assistance:
Complete an Exceptional Circumstances Petition via the MyUCR portal
Write a financial aid appeal letter that explains the unfortunate circumstances that led to the increase in your financial need
Send all supporting documentation, including the letter, to summer@ucr.edu
An appeal letter is a polite way to ask the University's Financial Aid Office to reconsider your application and take your case seriously. If you don't know how to write one or don't have the time to do it yourself, and let our app generate one for you in a matter of minutes!
File an Appeal to UCR With DoNotPay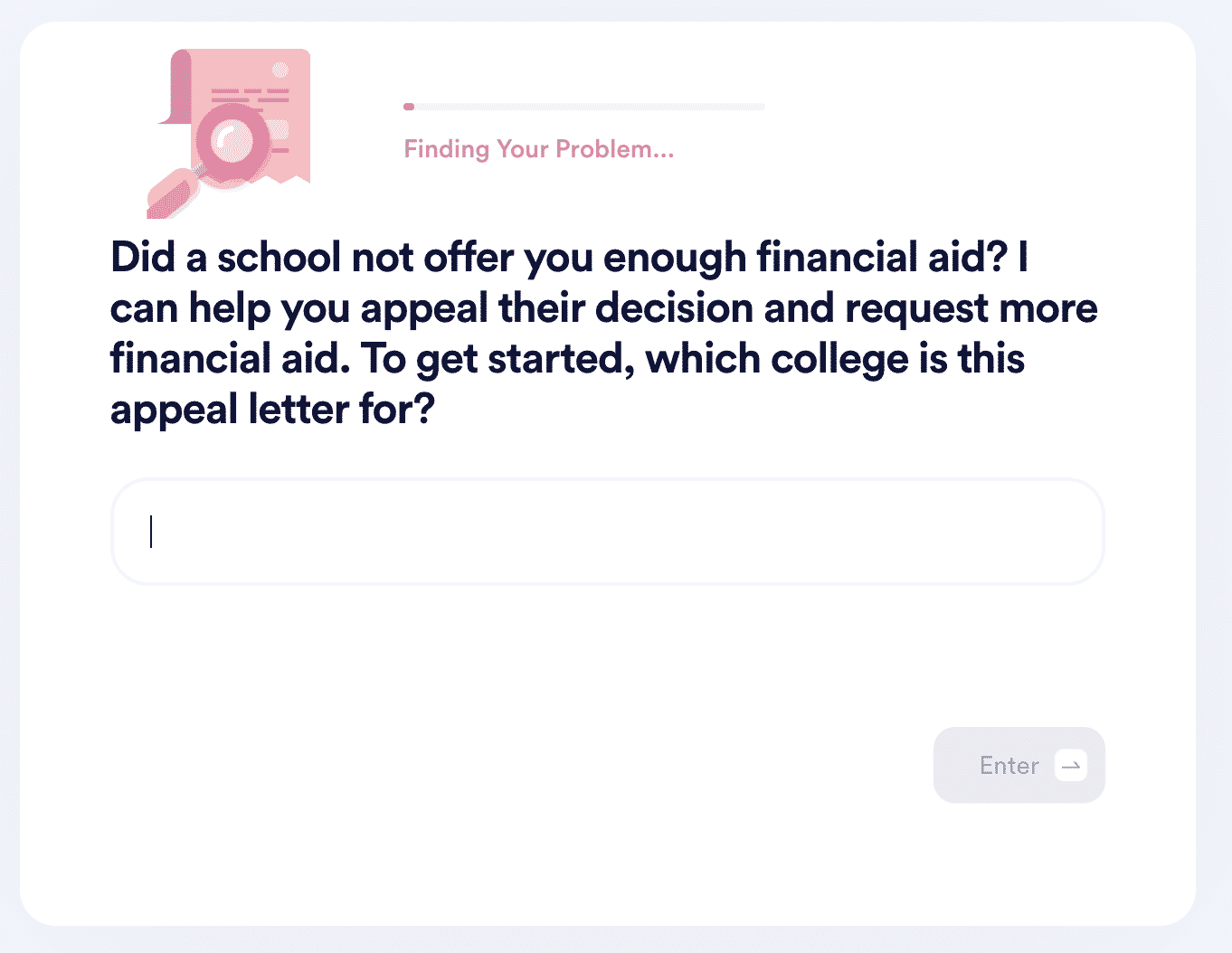 Follow these steps to get a rock-solid appeal letter on its way to UCR in a matter of moments:
in any web browser
Search for Appeal for More Financial Aid
Answer a few questions regarding your financial setbacks
After you answer all questions, the app will create a custom appeal letter for you and send it to UCR on your behalf.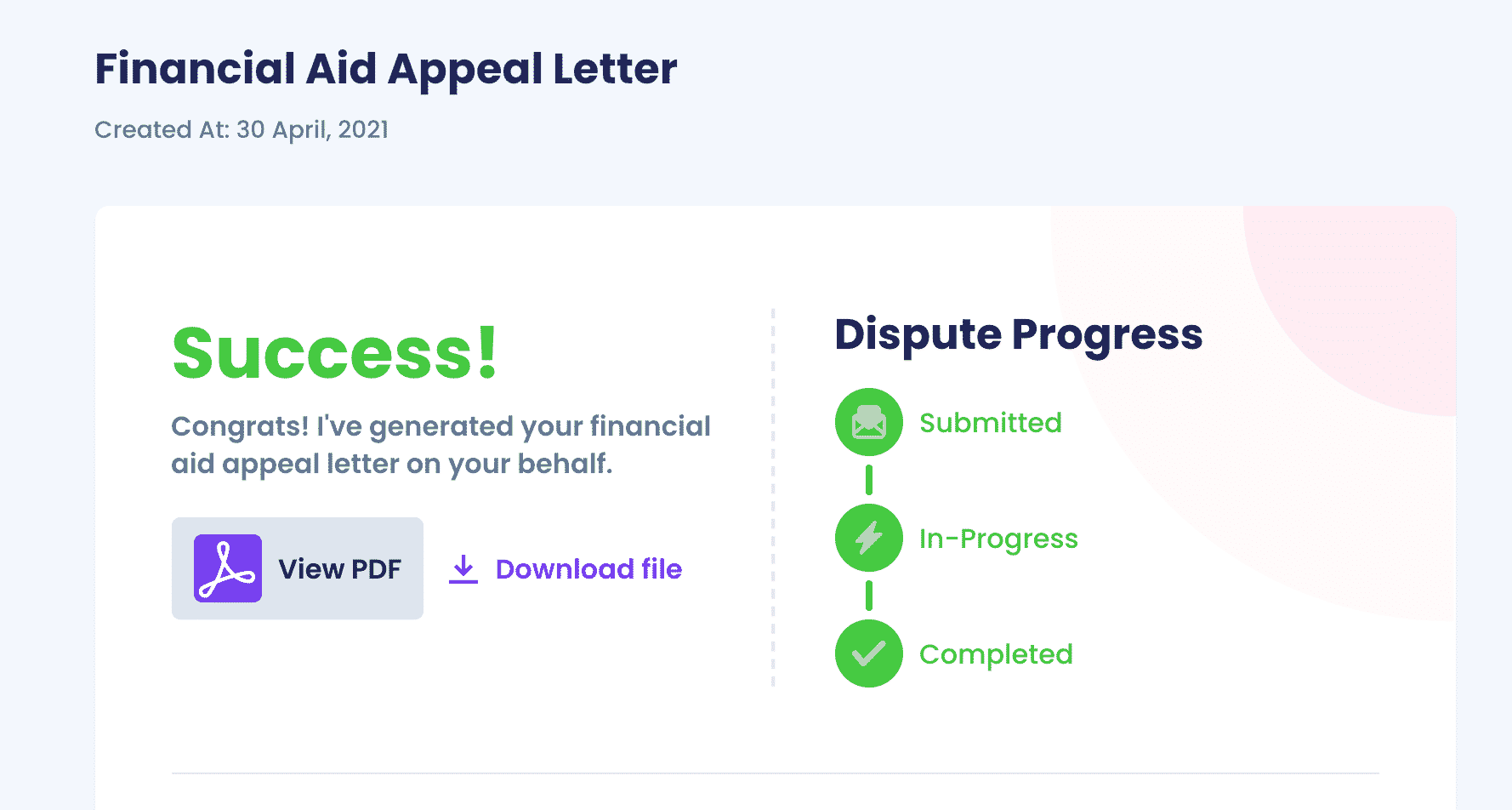 Check out our guides on how financial aid works at graduate schools or how many years you can receive financial aid. You can also explore other schools and their financial aid programs to find an alternative to UCR and prepare for the worst outcome of your appeal. Some of the schools we wrote about include:
Solve All of Your Bureaucratic Issues With DoNotPay
Do you need to file an insurance or warranty claim? Need help with setting up DMV appointments or appealing parking tickets around the U.S.? Don't worry because your AI-based helper can step in!
We can help you get professional powers of attorney and divorce agreements, so you don't have to waste money on expensive lawyers! Once we draw up these documents for you, we'll set you up with an online notary, and you can get them notarized in no time!
Subscribe to Various Services Hassle-Free With DoNotPay
Did you ever get charged by a subscription service after using their free trial? DoNotPay can put a stop to that once and for all! We can get you a virtual credit card or a burner phone number, which you can then use to subscribe to any service stress-free! When you want to cancel a subscription, turn to your virtual assistant for help, and we'll do it for you in seconds!
If the company is giving you a headache, we'll hook you up with their customer support or even sue them in small claims court. Possibilities with DoNotPay are endless!
DoNotPay can also turn mailing into a piece of cake and save your inbox from email and text spam!