UCSC Summer Session Financial Aid—Deciphered
The University of California, Santa Cruz (UCSC) is a popular choice among students but not an affordable one. The tuition is high—it amounts to $13,991 (for in-state students) and $43,745 (for out-of-state students).
Since not everyone can afford to pay that much money to enroll, the UCSC offers different types of financial aid that make tuition and other costs manageable. We're here to break down the UCSC Summer Session financial aid and show you how to apply for it easily!
If you need to appeal the college's decision regarding the amount offered to you, , and we'll take care of it!
What Is the UCSC Summer Financial Aid?
The UCSC Summer financial aid is available for the current UCSC students who enroll in the Summer Quarter at UCSC or another UC campus. The program exists to help the Summer Quarter students with the expenses, including:
Tuition
Housing
Personal expenses
Books and supplies
Transportation
The UCSC financial aid office awards this type of financial aid based on your Free Application for Federal Student Aid (FAFSA) or Dream Application that helps determine your financial situation. The average amount that students can get is:
$5,236 if enrolled in one session
$9,222 if enrolled in multiple sessions
To find relevant info about the programs offered by the UCSC, you should visit the UCSC official website. We can help you get informed about the application deadlines and find out how many years you can receive financial aid.
Who Is Eligible for the UCSC Summer Financial Aid, and How Do I Apply?
To apply for UCSC financial aid, you have to meet certain eligibility criteria. You need to:
Enroll in and complete 6+ credits to be eligible for federal and state aid
Enroll in and complete 10+ credits to be qualified for the Summer University Grant
To successfully apply for financial aid, you need to:
Complete and submit your FAFSA form or Dream Application
Enroll and complete all courses to keep aid eligibility
Provide any additional paperwork (if necessary)
UCSC Summer Session Financial Aid—Changes to Aid Eligibility Explained
In case you change the number of sessions you are enrolled in or drop credits, your aid can be adjusted accordingly.
Your financial aid may decrease if you:
Drop below 10 credits
Withdraw from a course or the summer quarter
Were enrolled in 10 or more credits in Session 1 and Session 2 but then decided to take all 10 credits in one session
Get an incomplete "I" grade and receive non-passing grades
How Can I Contact the UCSC Financial Aid Office?
If you have any questions about your application or the summer financial aid program in general, you can contact the UCSC financial aid office. You can reach out:
Over the phone
In person
Calling the UCSC Financial Aid Office
To reach the office via phone, follow these steps:
Dial (831) 459-2963
Ask the UCSC financial aid advisor to provide you with the info you need
You can contact the financial aid office Monday through Friday, from 10 a.m. to 4 p.m.
Visiting the UCSC Financial Aid Office
If you'd like to visit the UCSC financial aid office, go to the following address and get the info you need: Financial Aid & Scholarship Office
205 Hahn Student Services
1156 High Street, Santa Cruz, CA 95064
What if UCSC Rejects My Application?
Sometimes, financial aid applications get rejected, or you may be offered an insufficient financial aid sum. In case that happens to you, don't despair! You can file an appeal letter and appeal the decision.
DoNotPay offers you the easiest way to file an appeal in a few clicks!
Appealing the University's Decision With DoNotPay Is a Piece of Cake!
Writing an appeal letter yourself can take hours and a lot of effort. What if we told you that you don't have to bother doing it yourself? DoNotPay can take some burden off your back by creating an appeal letter on your behalf!
Completing the instructions below is all that it takes on your part:
Navigate to the Appeal for More Financial Aid feature
Give us the required info about the college and your family's financial situation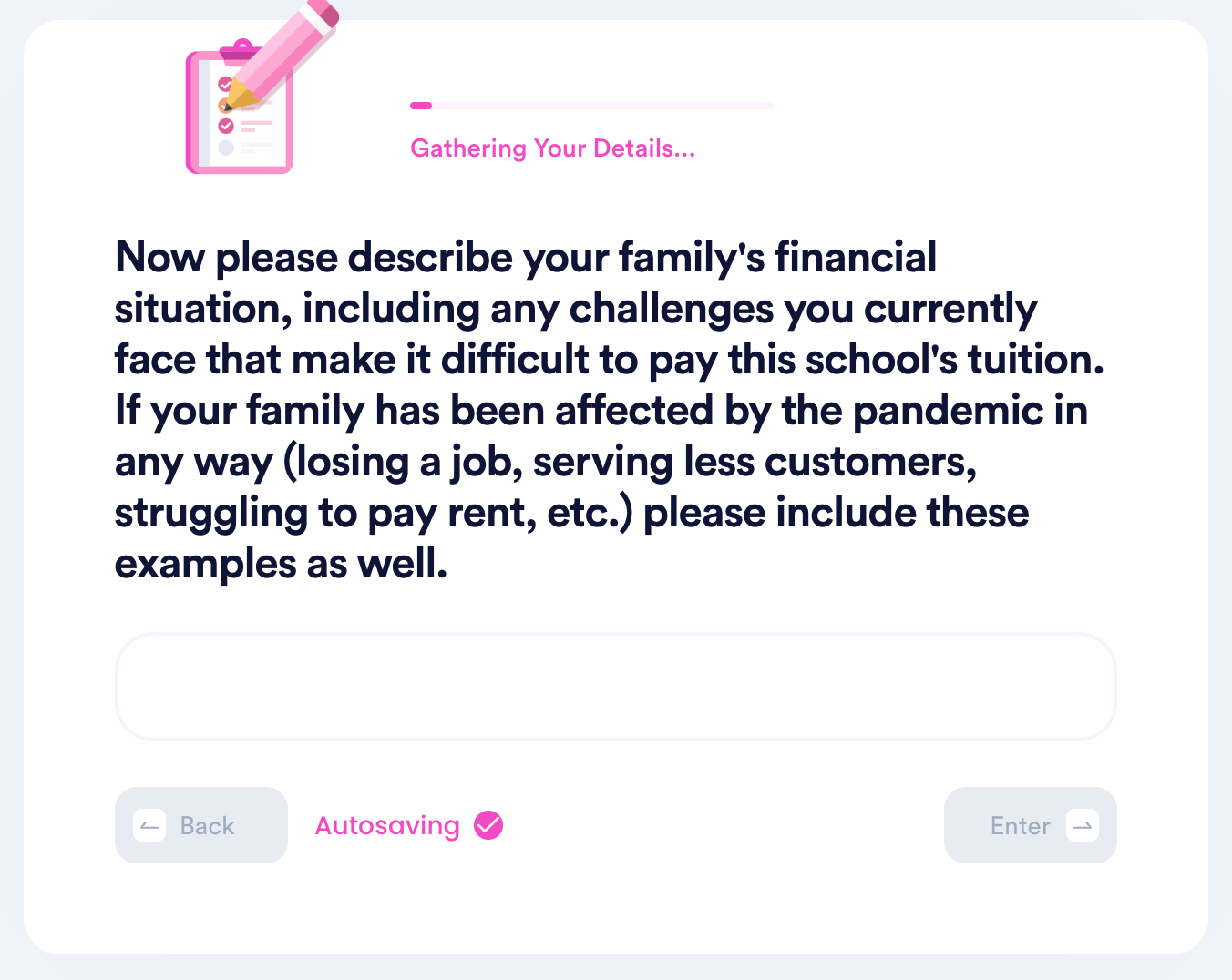 We'll create your customized appeal letter right away, but that's not all! We will also send the letter to the UCSC financial aid office in your stead!
Not happy with the final financial aid offer the UCSC made? You don't have to accept it! You may find more financial aid support from other sources and universities! Consult the table below to check out the financial aid programs offered by other schools that may be more appealing (for both graduate and undergraduate students):
Tackling Administrative Issues Has Never Been Easier
DoNotPay was created to help you deal with burdensome everyday tasks you would rather skip. The features we offer will make sure you can:
Dealing With Legal or Security Issues? DoNotPay Will Make Them Go Away
Has a company refused to issue a refund you are entitled to? Sue it in small claims court and get your money back with the help of the world's first robot lawyer! You can also turn to us if you want to protect your work from copyright violation, prevent stalking or harassment, or get virtual credit cards to avoid disclosing your credit card info.
Besides assisting you in seeking justice and security, DoNotPay can help you arrange DMV appointments, contest parking tickets, prepare divorce settlement agreements, and compose various legal documents.