Feeling Under the Weather—Can Work Contact Me When I'm Off Sick?
Being contacted by your employer while you are off on sick leave can be unpleasant, especially since there are no federal laws to define this interaction. The Family and Medical Leave Act (FMLA), state-specific sick leave laws, and company-specific policies cover this issue in unique ways—but there's a general idea permeating these policies.
If you're wondering, "Can work contact me when I'm off sick?" check out how we address this issue and the relevant rules in this article. In case you need to call in sick, you can use DoNotPay's app to .
Can Your Employer Contact You When You Are Off Sick?
The short answer is yes—your employer can contact you if you take sick days—whether paid or unpaid. The FMLA, Emergency Paid Sick Leave Act, and other sick leave laws are only regulating the reasons why your employer is contacting you.
To learn about sick leave laws in different locations in the U.S., you can check out the state-specific guides in this table:
Major Reasons for Contacting an Employee on Sick Leave
Under the FMLA, there are permissible reasons for an employer to reach out to you and other reasons that usually carry consequences for the employer.
The table shows how permissible the major reasons why employers contact sick workers are:
Usually Permissible
Usually Prohibited

Checking up on the employee's health and recovery—this is prohibited if the contact would adversely affect the employee's recovery
Enquiring to know if they need more sick days off or are ready to return to work
Requesting simple information or updates about clients, documents, etc. that the employee handles
Discussing a possible promotion or change of role
Participating in a workplace investigation—this investigation period should not be counted against the employee's sick leave and should be compensated with their full wages

Demanding the employee to return to work
Requesting the employee to come into work for any reason
Forcing the employee to keep working from home—this could be nullified if the employee agrees to the employer's work demands
Contacting an employee for non-urgent matters that can wait until their return to work
Contacting an employee that objects to being contacted
Can You Sue Your Employer for Contacting You?
You can sue your employer for contacting you if:
The contact violates the company's employee policies
The contact impedes your recovery in any way—you can initiate an interference lawsuit
You are asked to do something that violates your sick leave agreement
There is malicious intent in the contact, such as your employer trying to get rid of you—you can initiate a retaliation lawsuit
Your employer doesn't have the right to fire you for being sick. As long as you follow the company policy—or any other applicable leave laws—when you get sick at work, you can sue your employer for laying you off.
Let DoNotPay Handle Your Leave Request in the Most Efficient Manner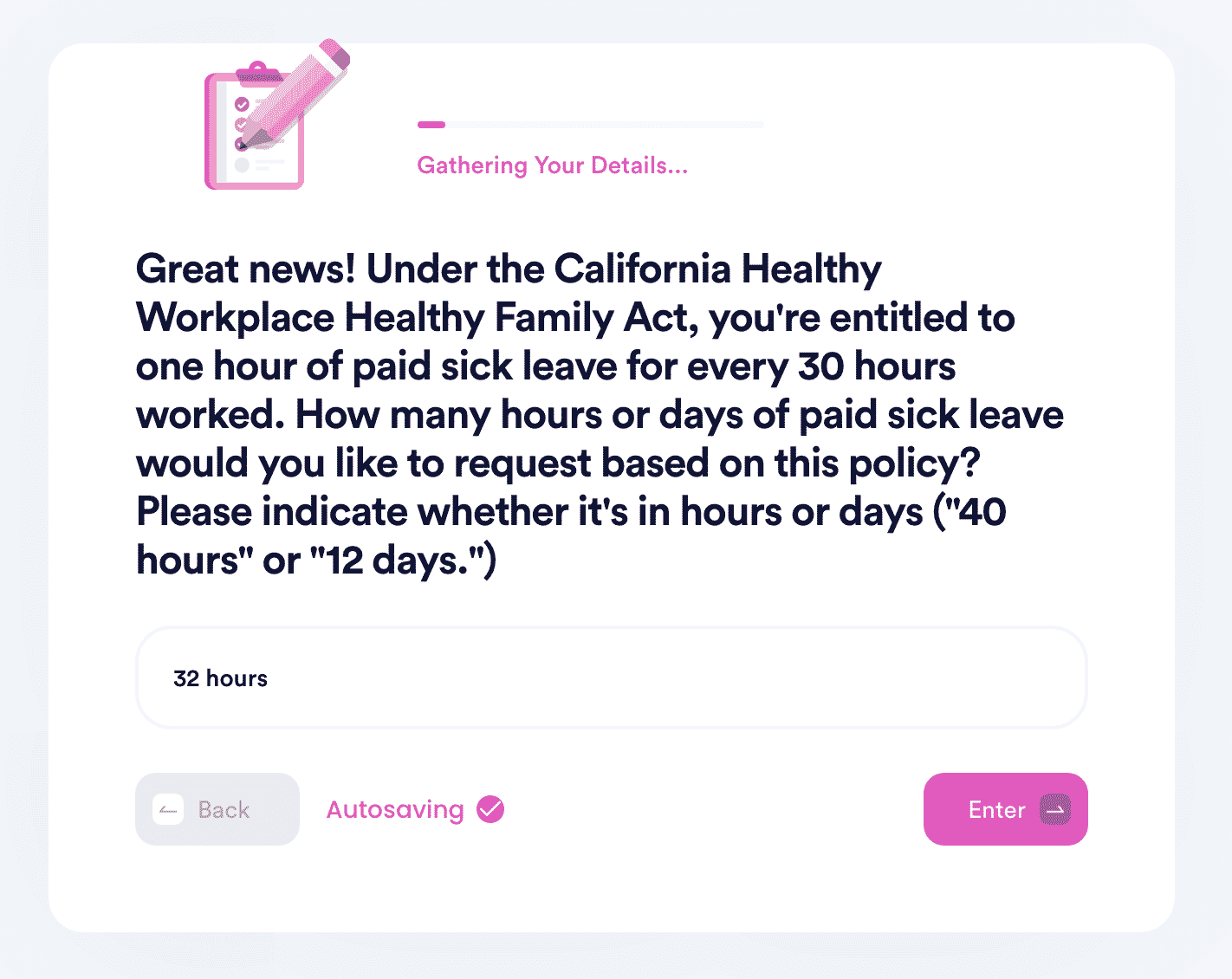 Using a sick leave email template is usually not a good idea since every case is different. DoNotPay can craft a professional sick leave request letter in minutes and send it on your behalf to your employer.
To get your letter, follow these few steps:
and locate the Request Sick Leave tool
Input your company's state so DoNotPay can apply relevant sick leave laws to your request
Answer the chatbot's questions regarding your employer
Input the amount of time you need for sick leave
Choose whether DoNotPay should send the letter to your employer on your behalf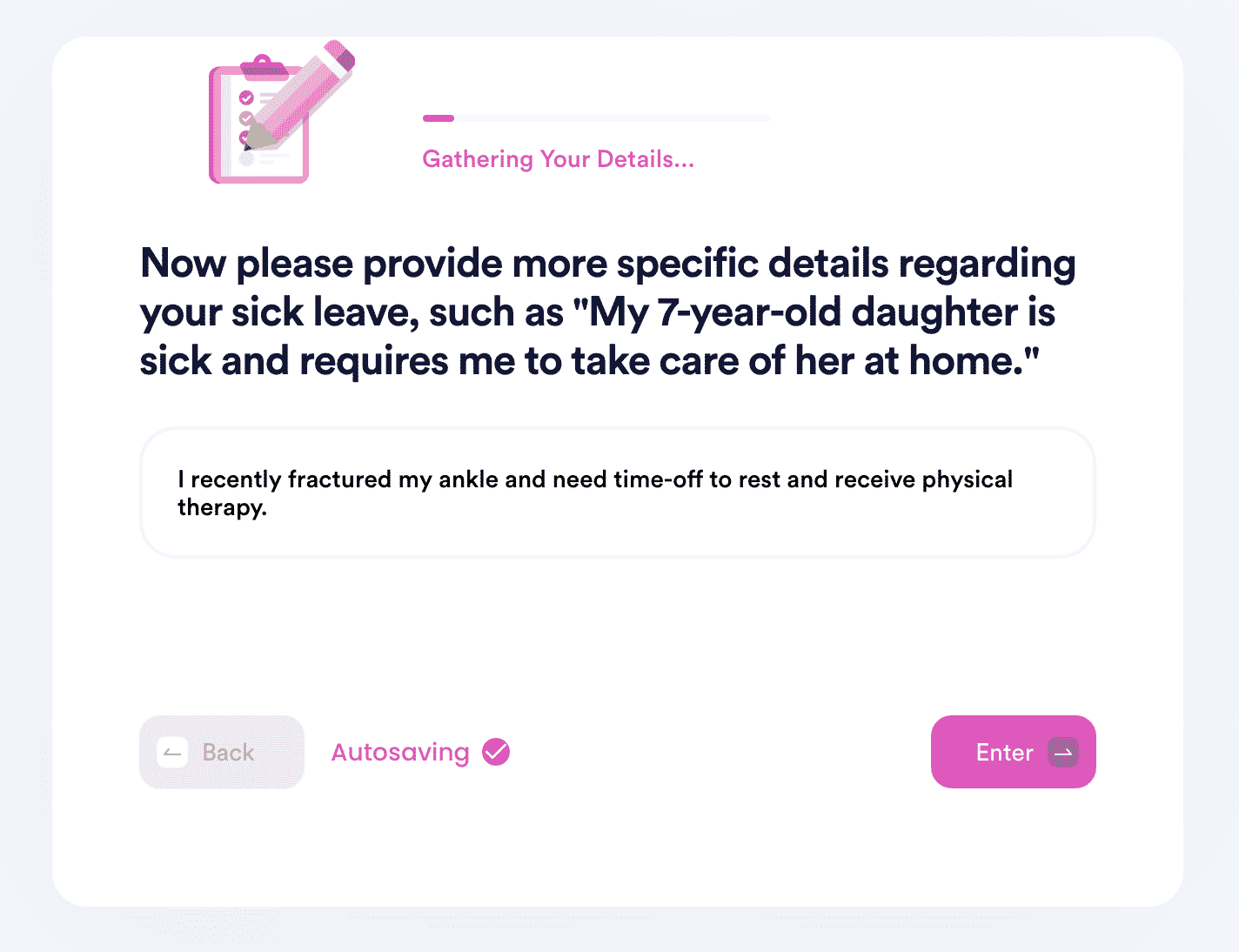 What About Other Perks Our App Offers?
DoNotPay offers valuable assistance with the following tasks:
DoNotPay Cares About Health Matters
Finding suitable and verified clinical trials you can participate in is often complicated and time-consuming. Still, with DoNotPay, it becomes a breeze! Our platform allows you to search through clinical trial databases and apply for the ones that seem acceptable to you.
If you want to make sure your health wishes are honored if you get too sick, we help you compose an advance health care directive based on your preferences. That's not all—you can also name a person who can decide on your finances and estate if you get incapacitated by creating a power of attorney in our app!