An In-Depth Guide to Boston University Financial Aid
Having a diverse and academically impeccable student population and plenty of top-level study programs that cater to everybody's needs, it's no wonder Boston University (BU) is among the top 5% of the best schools in the United States. Are the University's tuition and attendance costs, reaching up to $76,656, deterring you from becoming a prospective student, though?
Luckily, the Boston University financial aid program can help you reduce your expenses, and this guide will explain who qualifies for it, what the application process entails, and if necessary!
What Types of Financial Aid Does Boston University Offer?
Boston University offers the following types of financial aid:
Grants
Scholarships
Student work opportunities
Loans
Grants at Boston University
Check out all grants available at BU and their award amounts:
Category
Grants
Amount per Academic Year
Federal
Federal Pell Grant
Up to $6,495
Federal Supplemental Education Opportunity Grant (SEOG)
Up to $4,000
State
Massachusetts Gilbert Grant
Up to $2,500
Massachusetts Part-Time Grant
Minimum of $200—The maximum amount depends on Boston University
Boston University students can apply for grants issued by their home states if they come from:
Delaware
Pennsylvania
Vermont
Boston University Financial Aid—Scholarships
Check out all scholarships you can apply for at Boston University:
Category
Scholarships
First-year merit-based awards

Athletic Scholarships
Boston/Brookline Firefighters Memorial Scholarship
Boston University College of Engineering FIRST Scholarship
Brookline High Scholarship
Chelsea High and Andrew Quigley Scholarships
College Board National Recognition Programs
College of Fine Arts Scholarship
Massachusetts Pre-Engineering Program (Mass PEP) Scholarship
Methodist Clergy Scholarship
National Merit
Posse Foundation Scholarship
Presidential Scholarship
ROTC Scholarships
Thomas M. Menino Scholarship
Trustee Scholarship

Transfer merit awards

Athletic Scholarships
Bunker Hill Community College Scholarship
Massachusetts Bay Community College Scholarship
Methodist Clergy Scholarship
Phi-Theta Kappa Scholarship
ROTC Scholarships
Roxbury Community College Scholarship

Need-based awards

Boston University Need-Based Scholarship
BU Community Service Award
Charles River Housing Grant
University Scholarship
Student Employment Opportunities at Boston University
Boston University students can opt for one of the two student employment programs:
Federal Work-Study—Students attending Boston University earn between $2,000 and $2,600 on average during one academic year
Student employment
You can work from 8 to 12 hours per week and explore available on- and off-campus positions on the University's Job Board.
Boston University Financial Aid—Loans
If the combination of all previous types of aid does not meet your financial needs, you can choose between the following loaning options at Boston University:
Average Financial Aid Awards at Boston University
In the academic year 2020/2021, Boston University awarded:
49% of all first-year students with a financial aid package averaging around $54,000 per student
1,759 students with scholarships averaging $40,819 per person
635 students with grants valued at $7,103 on average
How To Apply for Boston University Financial Aid
To apply for financial aid, Boston University requires you to submit the following applications:
Free Application for Federal Student Aid (FAFSA)—school code 002130
College Scholarship Service (CSS) Profile—school code 3087
To receive maximum financial aid possible, submit your applications by the priority deadlines:
Early decision—November 1
Early decision 2—January 4
If you come across any issues while completing your applications, you can contact the Boston University Financial Aid Office for assistance by calling 617-353-2965 or sending an email to finaid@bu.edu.
What Can I Do if the Boston University Financial Aid Office Rejects My Application?
Students who feel that Boston University underestimated their financial needs can submit a Request for Financial Aid Reconsideration and include a financial aid appeal letter that explains the circumstances affecting their ability to afford tuition. An appeal letter can be a powerful tool to use to get more aid, and DoNotPay can help you write a convincing appeal in a flash!
Use DoNotPay To Request More Financial Aid From Boston University in a Flash!
Follow these steps to file an appeal with Boston University:
Search for Appeal for More Financial Aid
Explain the circumstances that increase your financial needs
DoNotPay will generate and send your custom appeal letter to Boston University in a matter of moments!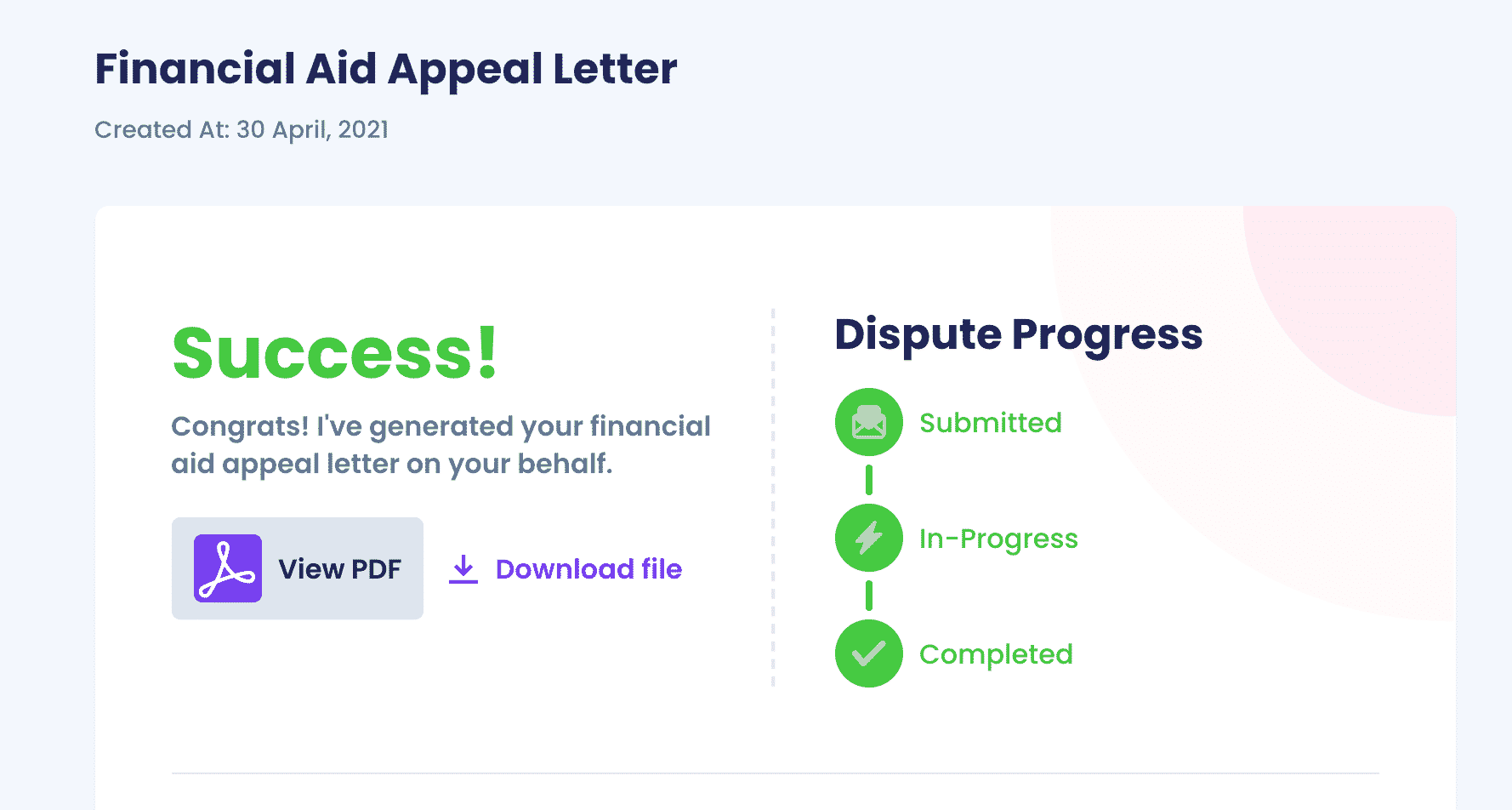 Check our learning center regularly for more financial-aid-related guides that answer frequently asked questions, such as:
What are my options regarding financial aid if I'm a resident of:
Alternatives to Boston University
Did Boston University not meet your financial needs? Don't be discouraged because plenty of reputable schools have more generous financial aid offers, and we picked out a few for you to check out:
DoNotPay Turns Your Everyday Hurdles Into a Piece of Cake
Did you receive a faulty or damaged item? Why not return it with your virtual assistant? We can also help you get a late delivery refund and jump the queue if the customer service phone keeps ringing to no avail. The list of handy DoNotPay features that make your everyday life easier goes on.
By subscribing to our platform, you won't have to worry about your tedious neighbors or parking tickets. We can do it all!
Want To Save Money on Lawyers? Use DoNotPay
Most people spend big bucks on expensive lawyers to overcome their bureaucratic obstacles. Don't waste your money on unnecessary fees—use DoNotPay and take care of any legal matter in a few easy clicks! Check out some of the issues the world's first robot lawyer can help you with: