The Basics of Ohio State Financial Aid
The Ohio State annual tuition ranges from $11,084 to $32,061 and is a challenge for many students attending this university. That is why financial aid plays an important role in their education plan.
If you are an OSU student or want to become one soon, you should consider applying for Ohio State financial aid. In this guide, we collected valuable data on the financial aid at this college, from how long it will last to who is eligible to receive it. You can also find information on how to file an appeal if you are not satisfied with the aid you received and how our app can help you with the appeal letter.
and complete the appeal process in the blink of an eye.
Types of Financial Aid at Ohio State University
The Ohio State University awards students with these types of financial aid:
Scholarships
Grants
Loans
Private loans
Federal work-study
OSU Scholarships
The Ohio State University awards its students with numerous scholarships with different eligibility criteria and end dates for application:
Merit-based scholarships—Depending on academic, artistic, or athletic merit
Special scholarships—Available for students who complete FAFSA and the ScholarshipUniverse application by February 1.
Departmental scholarships
Second-Year Transformational Experience Program (STEP)
Choose Ohio First Scholarship Program—It awards colleges for their achievements. The funds awarded to colleges are used to offer scholarships to their students
External scholarships
The Ohio State Grants
As an OSU student, you will also have plenty of choices when it comes to grants:
Type of Grant
Grant Name
Explanation
Aid Amount
Federal
Federal Pell Grant
This is a need-based grant for undergraduate students
$1,000–$2,000 per year
Federal Supplemental Educational Opportunity Grants (FSEOG)
Another need-based grant available for undergraduate students
$100–$4,000 per year
Teacher Education Assistance for College and Higher Education (TEACH) Grant
This is a grant for students who applied to teach specific subjects at the university
Up to $4,000 annually
Iraq and Afghanistan Service Grants
This grant is reserved for students whose parents were members of the U.S. Army and have tragically died during the wars in Afghanistan and Iraq
Between $5,983 and $6,435
State of Ohio grants
Ohio College Opportunity Grant
The Opportunity grant is for students who are residents of Ohio and have annual family incomes lower than $96,000
From $500 to $2,000
Other state grants
Grants coming from other public institutions in Ohio
Depends on the institution
OSU also offers the Ohio University grants:
President's Affordability Grant
Scarlet and Gray Grant
Freshman Foundation Program
Buckeye Affordability Grant
To learn more about these grants, you will have to contact the Ohio State University Financial Aid Office.
Loans Available at OSU
Loans are probably the most troubling type of financial aid at any university. You will have to pay them back with interest, and that can last for an extended period.
If you find them worth a shot, OSU offers federal loans and University Aid:
Type of Loan
Loan Name
Explanation
Federal loans
Federal Direct Subsidized Loan
With this loan, the interest starts accumulating when you finish your education
Federal Direct Unsubsidized Loan
The interest starts accumulating from the moment you receive the funds
Federal Direct Health Professions Student Loan
The loan reserved for future medical and health professionals
Federal Direct Parent PLUS
This loan is available for students' parents
University aid
Short-Term University Loan
Funded by OSU, this loan is available for students who are experiencing temporary financial struggles
Long-Term University Loan
The loan that can be awarded if the OSU financial aid office determines it is necessary
The Ohio State University Private Loans
To help students with their education costs, OSU also awards private loans. These loans are additional aid, and they can be combined with federal loans. Ohio State offers the FASTChoice private loan.
Federal Work-Study at OSU
Work-study is a common type of financial aid that helps students earn money for education while in school. The Ohio State University offers on-campus and off-campus jobs, and all that you need is a completed FAFSA form.
How To Apply for Ohio State University Financial Aid
To apply for financial aid at OSU, you will have:
File the FAFSA—You will have to do this every year you plan to attend OSU
Sign up for ScholarshipUniverse—It will make the search for scholarships faster, and you will have to update your profile each year you attend OSU
Inspect your SAR (Student Aid Report) to ensure it's complete and correct
Wait for financial aid notification
Check if you passed the verification process​—Make sure to send all of the requested documentation
Who Can Apply for Ohio State Financial Aid?
The financial aid at the Ohio State University is available for eligible candidates who are:
Freshmen
Current exchange students
Campus-change students
Graduate and professional students
Transfer students
Distance students
International students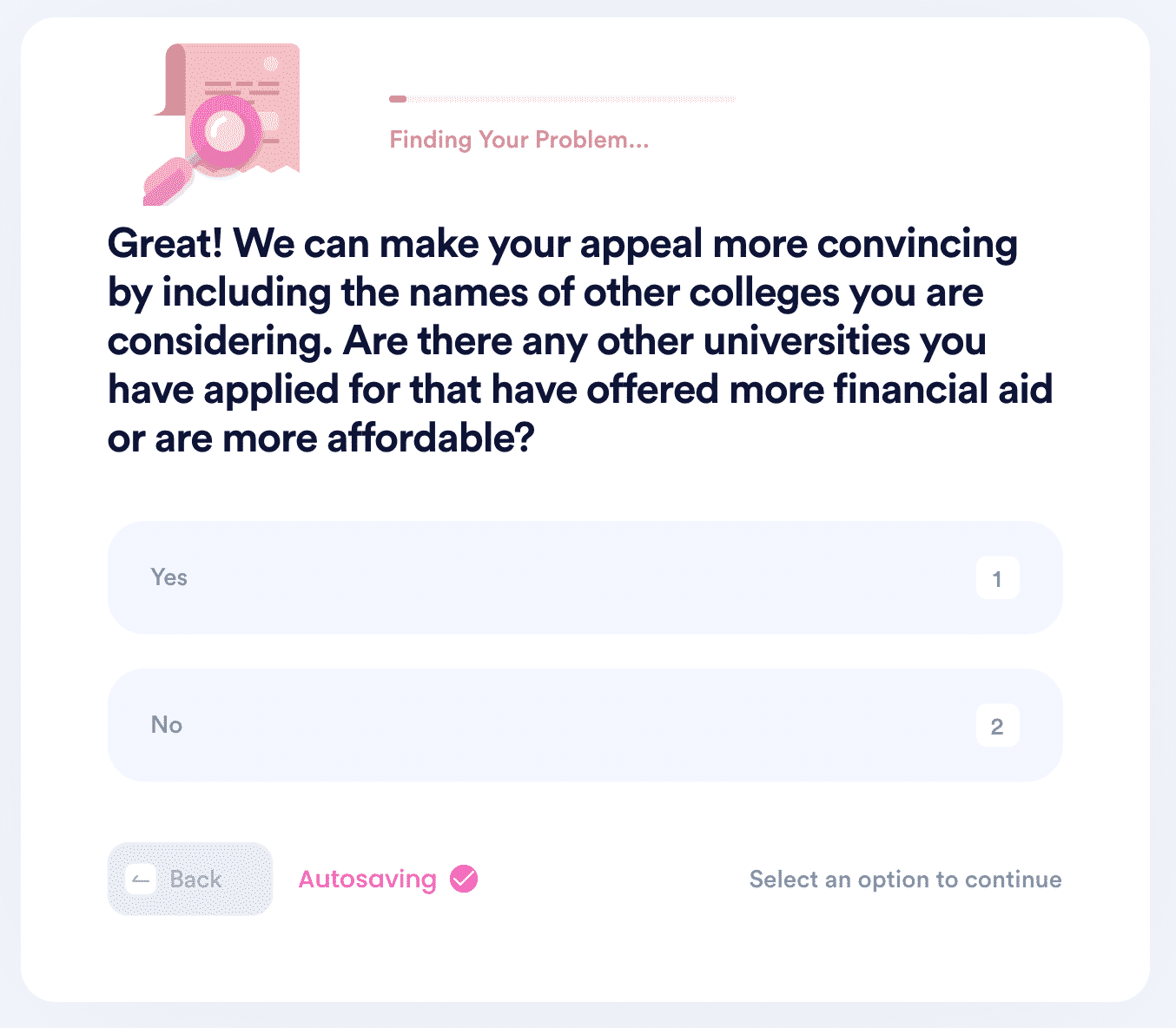 DoNotPay Helps You File a Swift Appeal to Ohio State Financial Aid Office
If the Ohio State University denied you financial aid for no good reason or offered you aid significantly lower than what you expected to get, you should send an appeal letter. To spare yourself from this dull and time-consuming task, leave the matter to DoNotPay.
Our app will create an appeal letter in a couple of minutes right after you:
using any browser
Find the Appeal for More Financial Aid product
Answer a few questions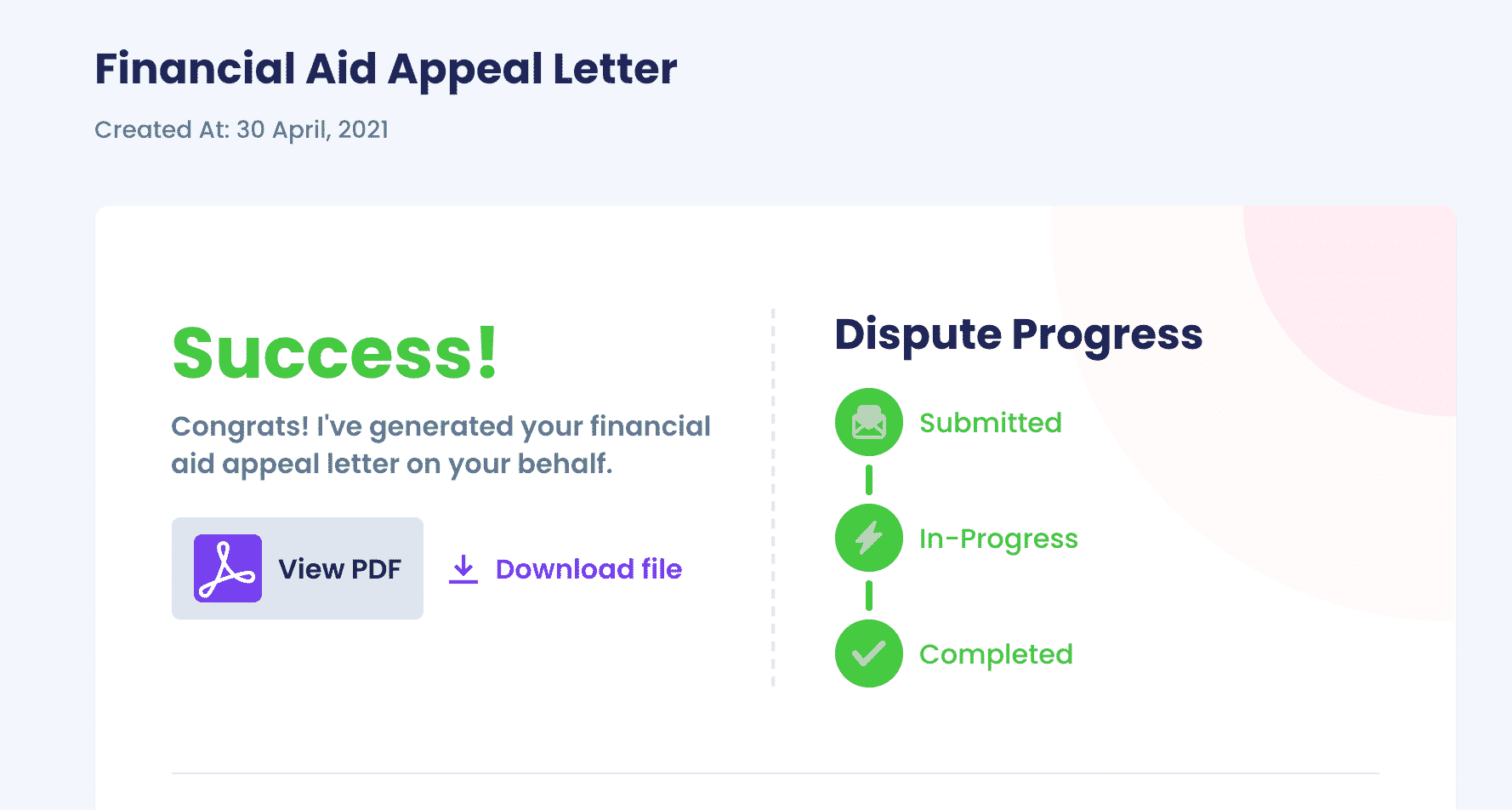 If you have more colleges on your wishlist, DoNotPay can help you file an appeal to other universities as well:
DoNotPay Crosses All Your Tasks Off Your List
Whether you need help with preparing for government tests, online faxing, or getting your documents notarized—DoNotPay will be able to help! Whatever problem you're facing, we'll turn it into a breeze!
Sign up now if you want an easy solution to stop email spam, cancel unneeded subscriptions, schedule DMV appointments, and draw up agreements from the comfort of your home.
We can also help you reduce property taxes, pay bills, appeal parking tickets, and find any unclaimed money.
Improve Your Quality of Life With DoNotPay
The beauty of our platform is that besides bureaucratic issues, it can also assist you with numerous other struggles! To name a few, we can help you:
The list could go on for days!