How To Tell if an EA Account Is Banned—DoNotPay Reveals It All!
Electronic Arts or EA game company created some of the most popular games, like FIFA, The Sims, Battlefield, and Need for Speed. Not being able to play your favorite EA game can seem like a nightmare. If the company restricts you from accessing the server, you can say goodbye to the entertainment—but first, you should make sure that you are locked out.
How to tell if your EA account is banned is what DoNotPay will decipher for you! We will disclose how you can be certain that your account is banned and let you know how you can unban your account.
Why Would EA Ban an Account?
EA wants to keep a fair and safe environment for its community of players, so it must set some ground rules. Players who disobey the guidelines and terms of use will get banned. The ban can refer to a device you are playing on or a particular game.
Knowing what could cause a ban can help you understand the situation you are in. Review these common reasons for blocking gamers' accounts:
Not following the rules of the game
Breaking the law
Hacking into the EA service
Disrupting other players' use of the service
Cheating
Harassing, discriminating, or threatening other players
Manipulating the game ranking system
Trading, selling, or buying EA accounts
Impersonating someone
The Difference Between a Suspension and a Ban
Acting against the rules can result in two forms of punishment:
Suspension
Ban
A suspension is when EA restricts your access to the account for a specific time. During the suspension, you won't be able to play games. The expiration date depends on why you got locked out. The service punishes players according to the severity of the violation. If you think that you are wrongly accused, you don't need to wait for the suspension to end—you can send an appeal.
Repeating a violation or making more serious defiance will get you banned. The ban is permanent, and you won't be able to reactivate the account—unless you prove that EA made a mistake.
Is My EA Account Banned?
If you aren't sure whether you got banned or suspended or you can't log in for other reasons, do the following:
Check your email
Review your ban history
EA notifies players via email if they get banned or suspended. The email will explain whether your ban is temporary or permanent and why you got banned.
Go to your inbox and check if you missed a message from the service. Pay attention to emails you get from noreply@ea.com, which is the address that EA uses to inform its players of bans or suspensions.
Another way to revise what's happening with your account is to go to the MY Ban History page. That page will display information about your present and past bans and suspensions.
What To Do if Your EA Account Is Banned
When you make sure that your account is banned, you can move to the next step—appealing the ban decision. You don't need to go down without a fight because EA will review your case if you fill the recovery form.
Take these steps to initiate the discussion:
Go to the Contact Us page
Click on the game that your account was banned from, or select Origin if your entire EA account was banned
Pick the platform you play on
Choose the Manage My Account option
Select Banned or Suspended account
Answer the questions about your account
Click on the Select Contact option
Log in to your banned account if you haven't already
Choose how you want to contact the reps
You'll need to provide a detailed explanation of why EA shouldn't ban you. If you have pictures or other proof that you haven't violated any rules, include them in the appeal.
EA will consider your reasoning and notify you of its verdict. It can take at least five business days for the reps to review your request.
If you aren't sure whether you can make a strong case or you don't want to risk being ignored by the support team, subscribe to DoNotPay!
How Can DoNotPay Help You Recover Your Account?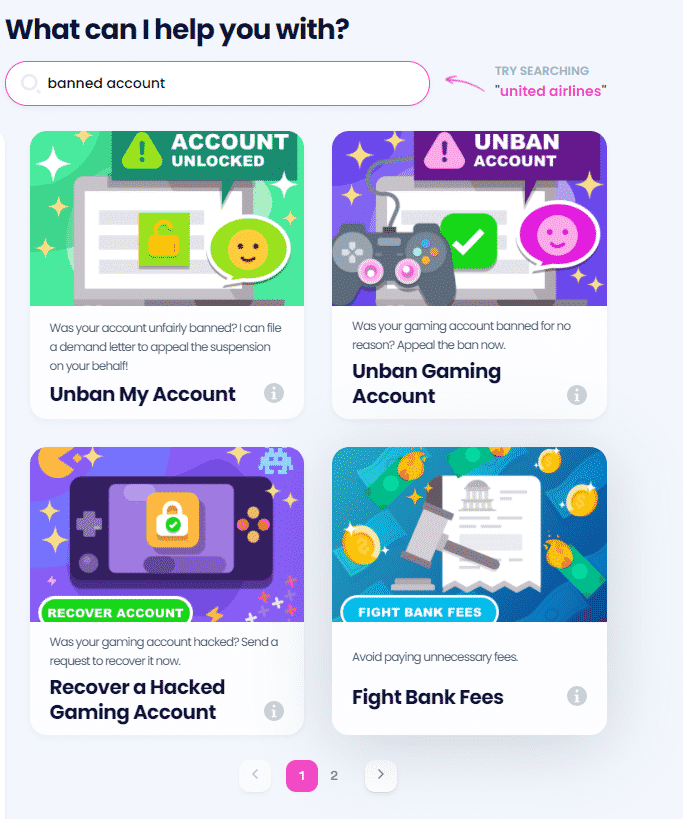 DoNotPay is an AI-powered app that can generate a customized and professional demand letter with legal weight. We can create and send that letter to EA to make sure that your appeal is prioritized.
You only need to take a few easy steps:
Select the Unban Gaming Account product
Answer the chatbot's questions, such as:

Which platform banned your account—EA
When you got banned
Why you got banned

Click on Sign and Submit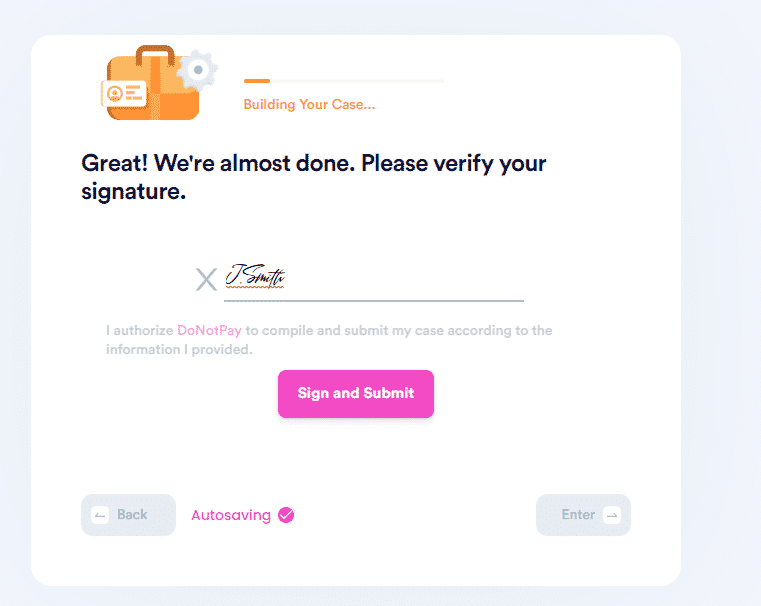 That's it! We'll take it from here and send your letter to EA. The company will get a specific deadline to respond, so you'll receive an answer shortly.
Check out how we can help you with your Hypixel, Bloxburg, CS:GO, Pokemon GO, or Clash of Clans suspended or banned accounts!
What Else Can DoNotPay Do for Your Suspended or Banned Accounts?
Once you subscribe to DoNotPay, you can use our nifty app to solve any account disputes. You can appeal suspension or ban decisions from any platform, service, or game server.
If you want to learn more about how DoNotPay can help you or why companies ban their users, our helpful guides have all the answers:
Solve Your Legal and Bureaucratic Issues With DoNotPay
The primary purpose of our app is to provide you with practical tools that can speed up all the drawn-out tasks you must complete. All you need to do is choose a suitable feature from our offer and get your problems solved in a heartbeat!
Once you create an account with DoNotPay, you can:
Feeling Unsafe or Harassed? DoNotPay Can Help You!
Have annoying calls and messages become your everyday problem? Don't give up on your peace—rely on DoNotPay and deal with robocalls and restless text and email spammers easily.
We also take care of your privacy, allowing you to create burner numbers and virtual credit cards to avoid revealing sensitive information when signing up for various online services.
If you are being stalked by somebody or discriminated against at work, we will do our best to help you fight for justice and report the case accordingly! We will also safeguard your creative work from copyright violation and ask for violent crime compensation on your behalf.