How To Unban a Permanently Banned League of Legends Account
Players get temporarily or permanently banned from League of Legends (LoL) for many different reasons. Getting banned from your favorite game is frustrating, especially if you did nothing against the rules.
This guide will give you the details on what may cause a suspension and how to unban a permanently banned League of Legends account.
You can also use DoNotPay to help you appeal your banned account. , and let us draft an appeal letter for you!
How To Check if Your League of Legends Account Is Banned
You'll know that your League account is banned if you no longer have access to it. If you were banned for a legitimate reason, such as breaching the Riot Games Terms of Service, you will not be entitled to any refunds. If you use other accounts or other Riot services, you may also be banned from accessing them.
What Can You Do To Avoid Getting Banned?
Riot Games may ban or suspend your League account if you:
Breach any part of its Terms of Service
Fail to pay any fees you owe
Make unauthorized use of someone else's payment info
According to the User Rules, you risk a warning and then a penalty if you engage in these types of behavior:
Impersonating any person, business, or entity
Removing, concealing, or altering any Riot Games copyright, trademark, or patent
Transmitting content that violates or infringes on the rights of others
Bypassing any technological measure implemented by Riot
Transmitting or communicating offensive content
Spamming the chat and disrupting the flow of conversation by posting repeatedly
Transmitting or enabling the transmission of malware intended to interfere with systems, data, or personal info
Publicly posting personal info about yourself, other players, or Riot Games employees
Using unauthorized third-party programs, including hacks, cheats, bots, scripts, and similar, that collect info about the Riot Services
Harassing, threatening, or stalking other players or Riot Games employees
Scamming and social engineering
Accessing areas of the Riot Services that are not made available to the public
Selecting a username that is offensive or vulgar
Non-participating or exiting a game during live gameplay
Encouraging others to breach these rules or Terms of Service
Playing on another person's account
Engaging in activity intended to "boost" an account's status or rank
Why Is Your League of Legends Account Permanently Banned?
You will get a permanent ban if you continue breaking the rules even after being warned. Before being banned for good, you will likely receive a temporary ban first. Such temporary bans are meant to help you learn and improve your ways.
Sometimes, you may be banned without any warning. This happens when your behavior is extremely negative or disruptive, violating the Terms of Use.
Can You Get Unbanned From League of Legends?
It is possible to get unbanned from League of Legends, but keep in mind that permabans are rarely removed. Check out the table below for details:
High Chances for Restoring Your Account
Low Chances for Restoring Your Account

You received a ban by mistake and can prove you did nothing wrong
It's your first time breaking the rules

You've been banned for toxicity after several suspensions
You've been banned for using third-party software or boosting (after being warned once)
How To Get Unbanned on League of Legends
Riot Support could be your go-to place if you want to unban your account. What you need to do is start the appeal process by taking the following steps:
Log in to your LoL account
Click on the Submit a Ticket button
Choose a Discuss a personal suspension or restriction option from the dropdown menu
Write a clear and concise ban appeal
Answer a few questions
Attach relevant files
Click on the Submit button
If this procedure seems too complicated and time-consuming, we offer a better and quicker solution. There's no need to waste time on writing an appeal letter by yourself when DoNotPay can do it for you in less than five minutes.
DoNotPay Can Help You Get Access to Your League of Legends Account
Opt for DoNotPay if you believe your LoL account was banned for no reason or you don't have any more time to wait for a response from Riot Games Support. As a result of the legal approach we use, companies and platforms will take our ban or suspension appeal more seriously.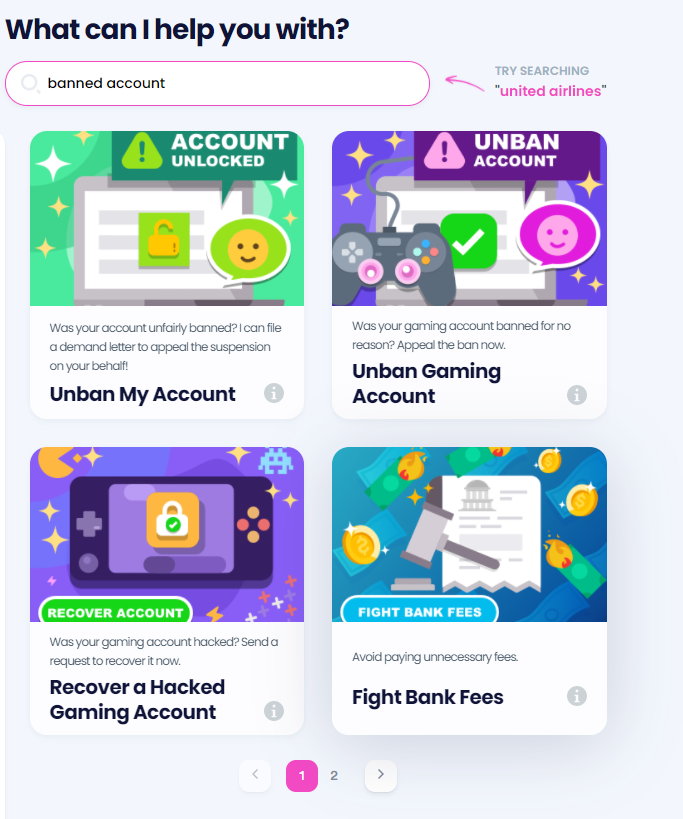 To initiate an appeal process with DoNotPay, you should and:
Locate the Unban Gaming Account feature
Provide some basic info about your League of Legends account
Tell us if you want a refund
Click on the Sign and Submit button
Make sure you also tell us if you've been discriminated against. We can use this information to strengthen your case.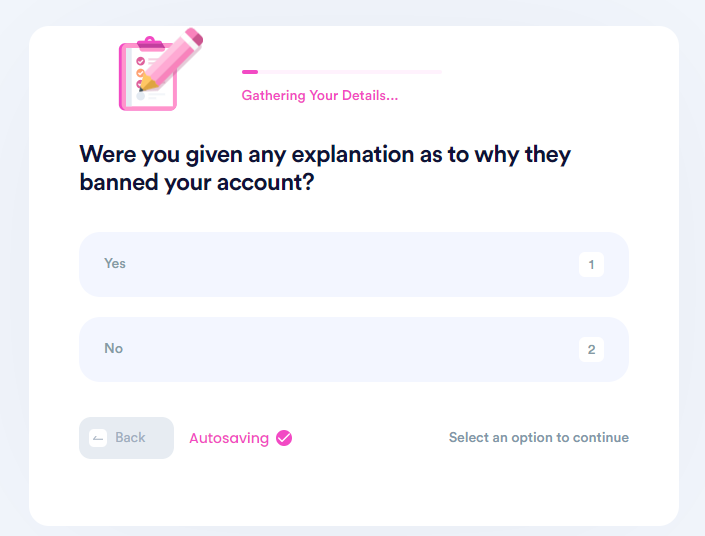 Once we've gathered the necessary information regarding your appeal, we will:
Draft a personalized appeal letter
Send it directly to the company in question
The letter will include a two-week deadline for the company to respond to your appeal.
DoNotPay Can Help You Appeal a Banned or Suspended Account on Other Platforms
If you're having trouble with another platform and want to learn how to restore your banned or suspended accounts the easy way, we also have another tool—Unban My Account. Check out some of our other guides in the table below:
DoNotPay's Vast Collection of Features Keeps Expanding
Determined to simplify bureaucratic procedures and help you with various daunting items on your to-do list, we created DoNotPay—the world's first robot lawyer! With us, you can:
Streamline Different Tasks by Using DoNotPay's Practical Features
Are you looking for an efficient way to gain back your unclaimed money or get a refund from a company? Do it with DoNotPay without lifting a finger! Our app provides excellent money-saving features that will increase your budget and make all unnecessary expenses disappear.
We can assist you in terminating unwanted subscriptions, recovering your unused gift card funds, reducing your bills, and requesting late delivery refunds. You don't even need to hire lawyers to write a financial aid appeal letter, an HR complaint, or a child travel consent form in your stead—our app can do all this!