How To Get Unbanned From Hypixel—Everything You Need To Know
With thousands of players on the server, Hypixel needs to keep order and uses bans and suspensions to achieve it. If you got the ban message, you somehow triggered its sensors. No need to worry just yet because you can still get back into the Minecraft world.
If you want to know how to get unbanned from Hypixel, our simple guide will lead you every step of the way.
Learn what can cause the ban, what kind of bans there are, and how to reactivate your account with an appeal.
How Can You Get Banned From Hypixel?
Hypixel can have different reasons for banning your account. It's possible that it made a mistake, but you will usually get a solid explanation for the ban. It can be triggered by:
Protecting your account from being compromised or hacked
Violating the terms of use and rules of the game
Security Reasons
When a server notices unusual activity, it can temporarily ban your account. The purpose is to prevent hackers from taking advantage of other players' data.
This ban can be issued because of:
Account sharing
Irregular log-in or chat activity
Detected phishing activity
VPN usage
Hacked account
If the safety of your account is compromised, you will get a security alert. Change the password and security question of your Mojang Studios account just to be safe. Once that's done, submit a security appeal for the processing of your ban.
You won't be able to access the server before the 30-day recovery phase expires.
Violated Terms and Rules of the Game
If the server finds that you aren't playing a fair game, it will ban you. The reason behind the ban can be:
Using illegal mods
Boosting your account
Using inappropriate skins, capes, items, cosmetics, and other
Disrespecting other players
Creating inappropriate drawings
Using auto-clickers
Cross-teaming
Using multiple SkyBlock profiles
Hypixel anticheat was designed to spot these types of activities. If it notices such behavior, your account will be banned.
You might have been wrongfully banished, so you have a right to state your case and appeal the ban.
Suspended vs. Banned Account—What's the Difference?
When you try to log in to your account and a notification pops up, you'll know that something is wrong. The message will say:
Whether you got temporarily or permanently banned
For how long you've been banned
For what reason you've been banned
If your ban is temporary, it is a suspension, and you can access the server again when the said time passes. You can still appeal the decision if the reason isn't valid.
A permanent ban means that you won't be able to join the server anymore. It is reserved for more serious and repeated violations.
How To Get Unbanned on Hypixel
If you don't agree with Hypixel's reasoning for the ban, you should appeal it. Your account can be unbanned if you can prove that the server has made a mistake. The reason for the appeal can also be that you find the punishment to be too severe.
To send an appeal, you need to:
Log in to your Hypixel account
Go to the Ban Appeal page
Enter your username, UUID, and your Ban ID
Explain why Hypixel should retrieve/moderate the ban
In case you can't access the forum account linked to your Minecraft one, contact the support team, and they will unlink it. For a lost UUID, go to NameMC to find it.
Writing a professional appeal that won't be ignored isn't easy. You need to use appropriate language and explain what happened comprehensively. If you aren't sure about your formal writing skills, subscribe to DoNotPay. We can handle writing a demand letter on your behalf.
Get Your Hypixel Account Unbanned With DoNotPay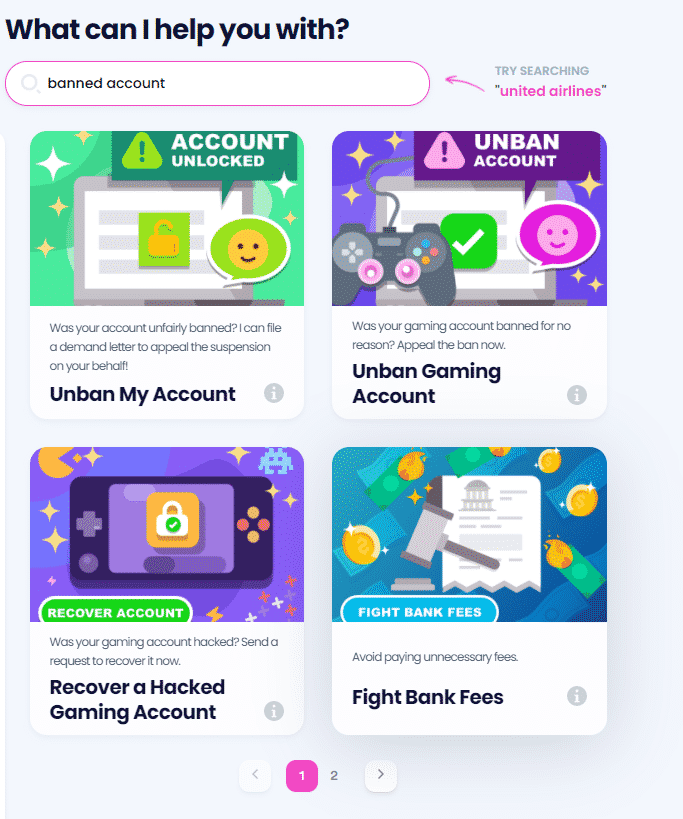 Our helpful app can generate a top-notch demand letter for lifting the suspension. The valid document will put legal pressure on the company to prioritize your appeal.
You only need to:
Find the Unban Gaming Account tool
Answer the questions about:

Which game you were banned from—Hypixel in this case
When you got banned
What your address is
What the reason for the ban is
Whether you want a refund if you were a Hypixel VIP member
What your username is
Whether you feel discriminated against
Don't hesitate to let us know if there were any signs of discrimination. We will use it to strengthen the request.
You will need to sign the document digitally to validate it, and we'll send it to Hypixel. The reps will have a set deadline to solve your appeal.
In case you've already got a finalized answer that the ban won't be lifted, the demand letter won't help. Our app can assist you with appealing the initial decision only.
DoNotPay Is Here To Help
There are no limitations when it comes to the platforms, games, and services we can help you get back on. DoNotPay can take care of appeal letters to many companies, including the ones listed below:
DoNotPay Is an App for Everyone
Whether you need help with drafting paperwork, searching through government databases, or managing your bills, DoNotPay has a feature that'll make your life easier. The number of features keeps growing, and you can check out a table showcasing some of them:
| | | |
| --- | --- | --- |
| Solving Legal Issues | Saving Money | Protecting Privacy |
| | | |
Get More Done With Our Do-It-All Platform
DoNotPay can take care of any daily hurdle you come across. For a small yearly subscription fee, you get access to various features that you'll find handy on a daily basis. Besides everyday chores, signing up for DoNotPay will help get you:
The list could go on for days. You can even get in touch with an inmate or fight for discrimination at your workplace!