6pm Return Policy—Don't Let the Time Run Out on Your Return
6pm is the discount retail division of Zappos and offers top-brand apparel and accessories at significant discounts. Everyone loves a good discount unless their ordered item doesn't meet the promised quality or other expectations.
Understanding the 6pm return policy is crucial if you don't want to get stuck with an unwanted item. We'll teach you everything about it and show you how to use our neat AI product to .
How Does the 6pm Return Policy Work?
6pm accepts returns for 30 days after the purchase date. The item must meet these conditions:
It must be unworn and still in its original condition. All 6pm merchandise comes with a security tag. This tag must be present and in good condition
It must be shipped back in its original packaging. Every parcel has a barcode that helps 6pm cross-check and match items with their original order
If you wish to return a wrong, defective, or damaged item, call 6pm's customer support before initiating the return. You can also contact customer support if the 30-day return window has expired, but you still want to return your item. The 6pm return policy does not cover exchanges.
To contact 6pm's Customer Loyalty team, use the instructions from this table:
Contact Method
Instructions
Phone
Call customer service at 1-888-676-2660. Available service hours are 6 a.m.–8 p.m. PST, every day
Live chat
Start a chat with a representative from the Customer Loyalty team. Take the following steps to get started:

Fill in your name
Provide your email
Type in your question

Email
Send customer service a message at cs@6pm.com from the email associated with your 6pm account for a quick response
6pm Return Policy—The Return Process
This return process only works for customers whose orders are still within the 30-day window. To start, you must have a 6pm account.
Follow these instructions:
Log in to your 6pm account
Find and click on the order number associated with the item(s) you want to return
Select the item(s) you want to return from the order and click Return Checked Items
Choose Submit Return from the drop-down menu that asks about the reason for returning the item
Move to the Your return is confirmed section and tap Print Return Label
After you print out your return shipping label, take these steps to prepare your package for return:
Put your items into their original packaging and then into a shipping box or a shipping box provided by 6pm
Remove any other labels, slips, or markings on the shipping box
Use clear packing tape to seal the box and tape your return label onto it
Drop the box off at your nearest UPS, FedEx, or USPS location
If you mistakenly return the wrong item, there is a strong chance that 6pm will not be able to send it back to you. You can notify 6pm's Customer Loyalty team, and they'll place an alert on your account. You should also contact the shipping service you used to try to retrieve the package.
How Long Does 6pm Take To Refund Customers?
6pm pegs the duration of the entire return-and-refund process at about two weeks—from the time you ship the item to the moment your return is processed. You'll receive an email notification once 6pm has credited your original payment method.
For credit card purchases, it can take an extra 2–10 days for your refund to show up in your account, depending on your bank. If you made the original purchase with a foreign card, this wait time could stretch to 30 days.
There are no 6pm free returns. The customer bears the shipping costs of returning their unused items, and the original shipping fees are non-refundable.
Returning a Faulty Item With DoNotPay Is a Breeze!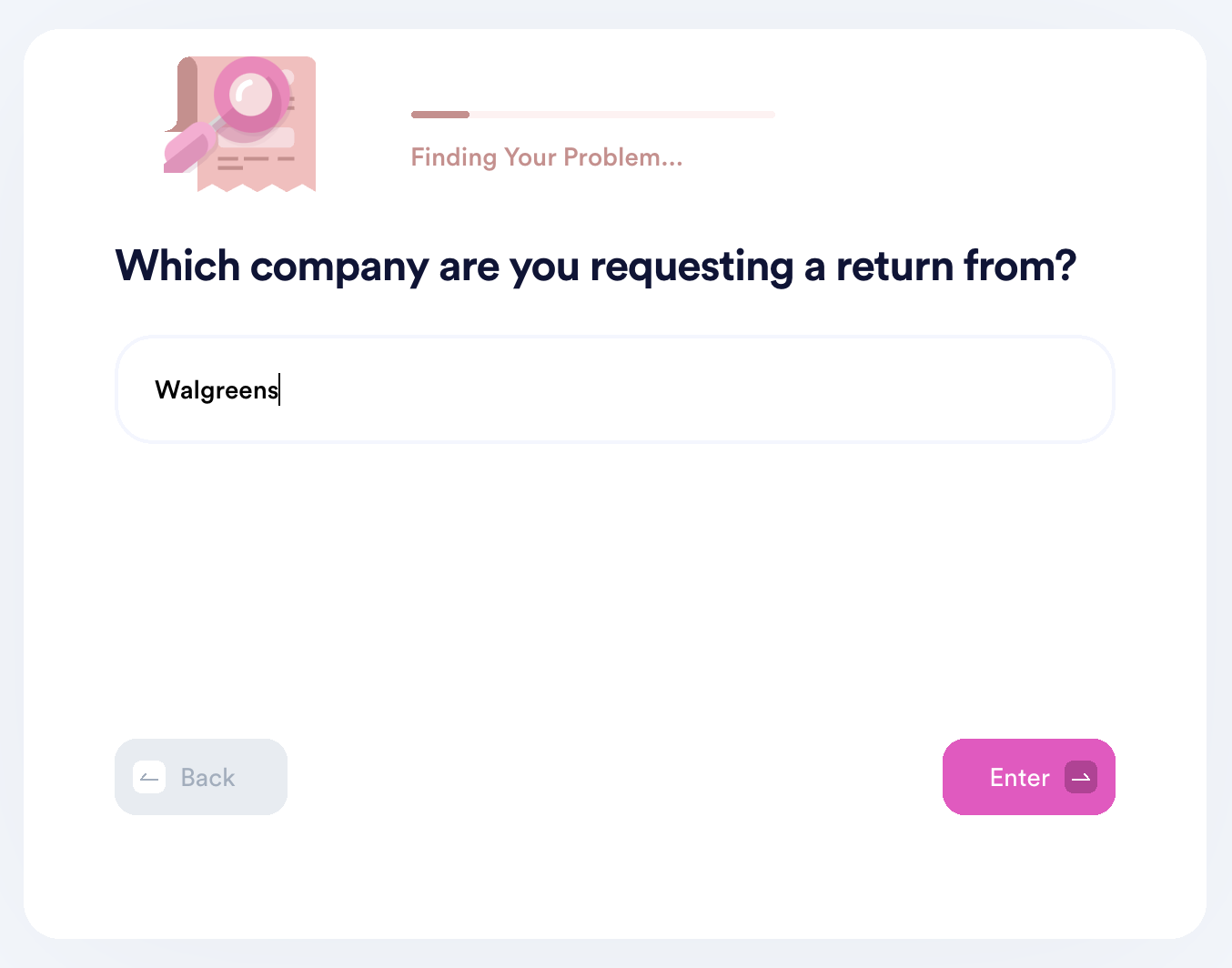 DoNotPay's AI return tool is designed to expedite the process by composing and sending out a detailed return request letter to the merchant whose item you want to return.
Follow these steps to take advantage of this service:
Use any web browser to
Look for the Return My Purchase feature
Answer a few questions and include photos if applicable
Submit the request
Your return request letter will give the merchant a deadline for responding and processing your return. You'll also get a free return label, so you don't have to pay for the return shipping.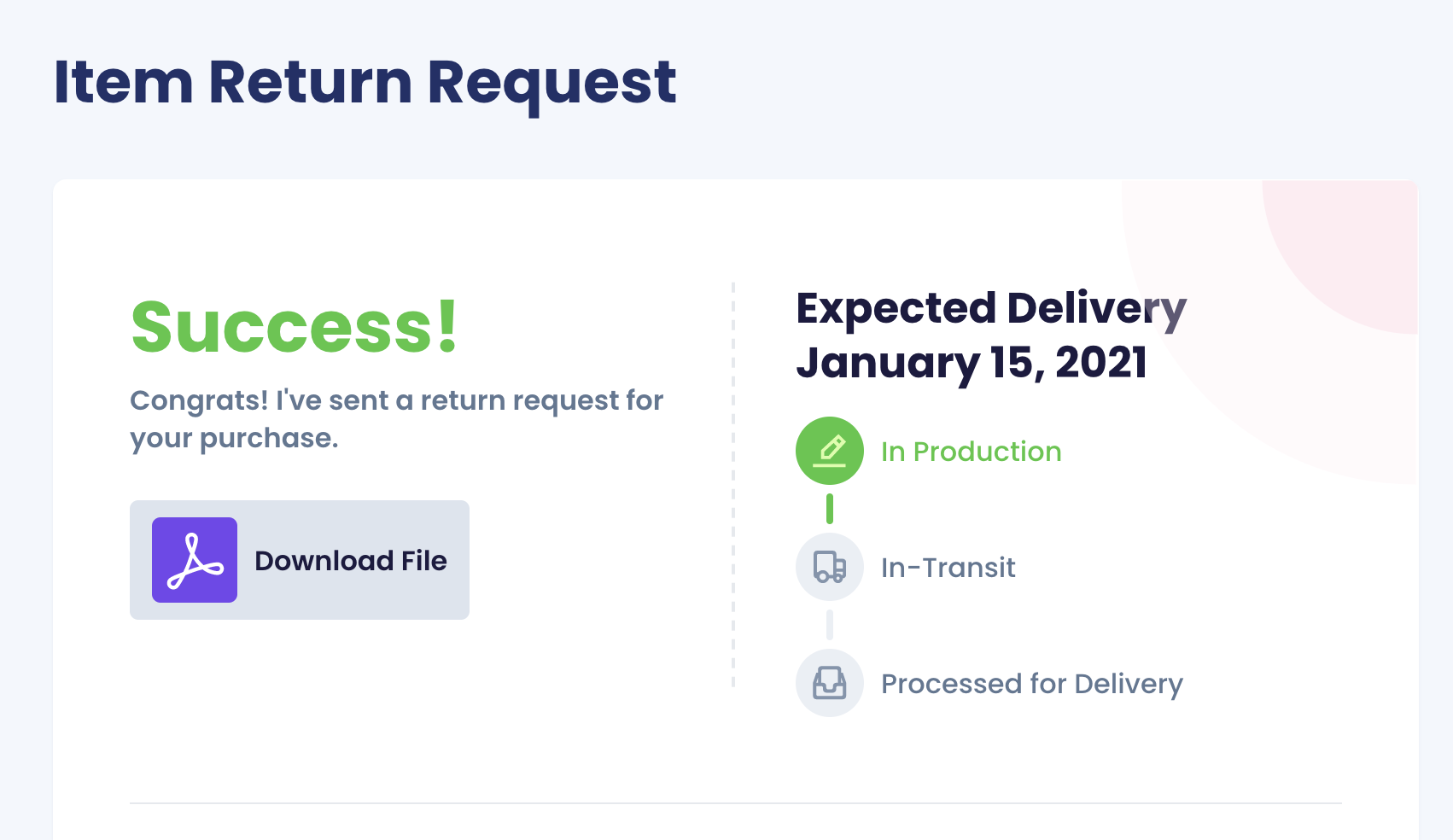 Now that you have a handle on 6pm's return policy, you can also check out the Zappos return policy. Our learning center has hundreds of guides that help you understand the return policies of many other brands and companies:
DoNotPay Is a Master at Getting What's Rightfully Yours
Are you dealing with a company that refuses to approve your return? Once we submit a refund request in your stead, we can also prepare all the paperwork you need to sue the merchant in small claims court and win your case.
Need a legal document for the lawsuit? Draw it up with our handy tool. Want to get any document notarized and fax it to someone? We have products that can do that for you as well.
Has an airline rescheduled your flight, or is your package damaged or missing? Demand compensation with DoNotPay!
Do you believe that you may have some unclaimed assets? Count on us to find and get them for you.
It Doesn't End There!
Use DoNotPay whenever you need to tackle any sort of mundane task. If you're sick of wasting your time in long phone queues or the ones at the DMV, we'll help you skip them. Do you want to apply for a college fee waiver or clinical trial? Are you looking to enter a sweepstake or get a passport photo or a tourist visa? We'll do it all in your stead!
If you want to send a letter of warning to a persistent harasser or loud neighbor or want to get compensation for victims of crime, workplace discrimination, or robocalls, let us know and we'll tackle the issue momentarily.