Morphe Return Policy—How To Initiate a Seamless Return
No one feels good when they have to return an unwanted or faulty item they waited days or weeks to get. This feeling gets worse if you have to contend with apathetic customer support during the return process. We have laid out the specifics of the Morphe return policy in this easy-to-read guide, so the above scenario does not have to be your experience.
If you'd rather not enter into a bureaucratic battle with established brand names, DoNotPay's AI-powered tool can help you speed up your return request with Morphe and other big names, like Walmart, Macy's, Target, or Nordstrom.
Morphe Return Policy—What Is It All About?
Morphe allows its customers to make exchanges or returns of their orders for any reason. There are several common reasons that can make you part with your Morphe order, including:
Your order product is damaged in transit
Your product is defective on delivery
There is a mismatch between delivered products and your original order
You will have 30 days (for in-store purchases) and 60 days (for online purchases) to report your damaged or defective items.
The company does not have too many ways for customers to contact them. This table shows a list of conventional contact methods most companies use and the ones that work for Morphe:
| Can You Initiate a Morphe Return Request Via | Yes/No |
| --- | --- |
| DoNotPay | Yes |
| Email | Yes |
| Phone | Yes |
| Letter | No |
| Website | No |
| In Person | Yes |
Returning a Morphe Item All by Yourself
You can return an item you bought from Morphe by:
Walking into any of Morphe's stores
Shipping your item back to Morphe
Morphe Return Policy—Returning Your Purchase to a Store
Returning a store-bought Morphe item is a straightforward procedure. As long as you return it within a 30-day window after your purchase, you'll only need to bring:
The product in its original packing
Your receipt or packing slip
You will receive your refund to the same payment method used for the original purchase. Due to the COVID-19 pandemic, Morphe announced on their official website that each Morphe store would accept returns for 30 days after they reopen. To find out which Morphe stores are closed or open, use the Store Locator on Morphe's official website.
Besides store-bought items, you can also return online purchases to a physical Morphe store.
Morphe Online Return Policy—Returning Items via Mail
For online purchases, you can begin the return process by:
You will have to provide the following information:
Your name
The order date
The order number or copy of the packing slip
Your delivery address
Your contact details
A photograph of the defective or damaged product, if applicable
The company's online return policy allows you a 60-day window from the day of shipment to return your item(s). This used to be a 30-day window, but it was extended to adapt to the disruptions caused by the current COVID-19 pandemic. In the case of in-store returns, your refund will be sent back to the method of payment you used during the purchase.
Does Morphe Refund the Shipping Fees?
Morphe offers free shipping on orders over $45, but should you return your order, the related shipping fees will not be included in your refund, even if it is a full one. Unless the reason for your returned items is Morphe's fault—by commission or omission—Morphe will not reimburse the delivery costs.
The beauty company states that any refunds will be made as soon as possible. The stated reasonable window is 14 days after they have received your returned item.
Jump the Queue and Expedite Your Return Request With DoNotPay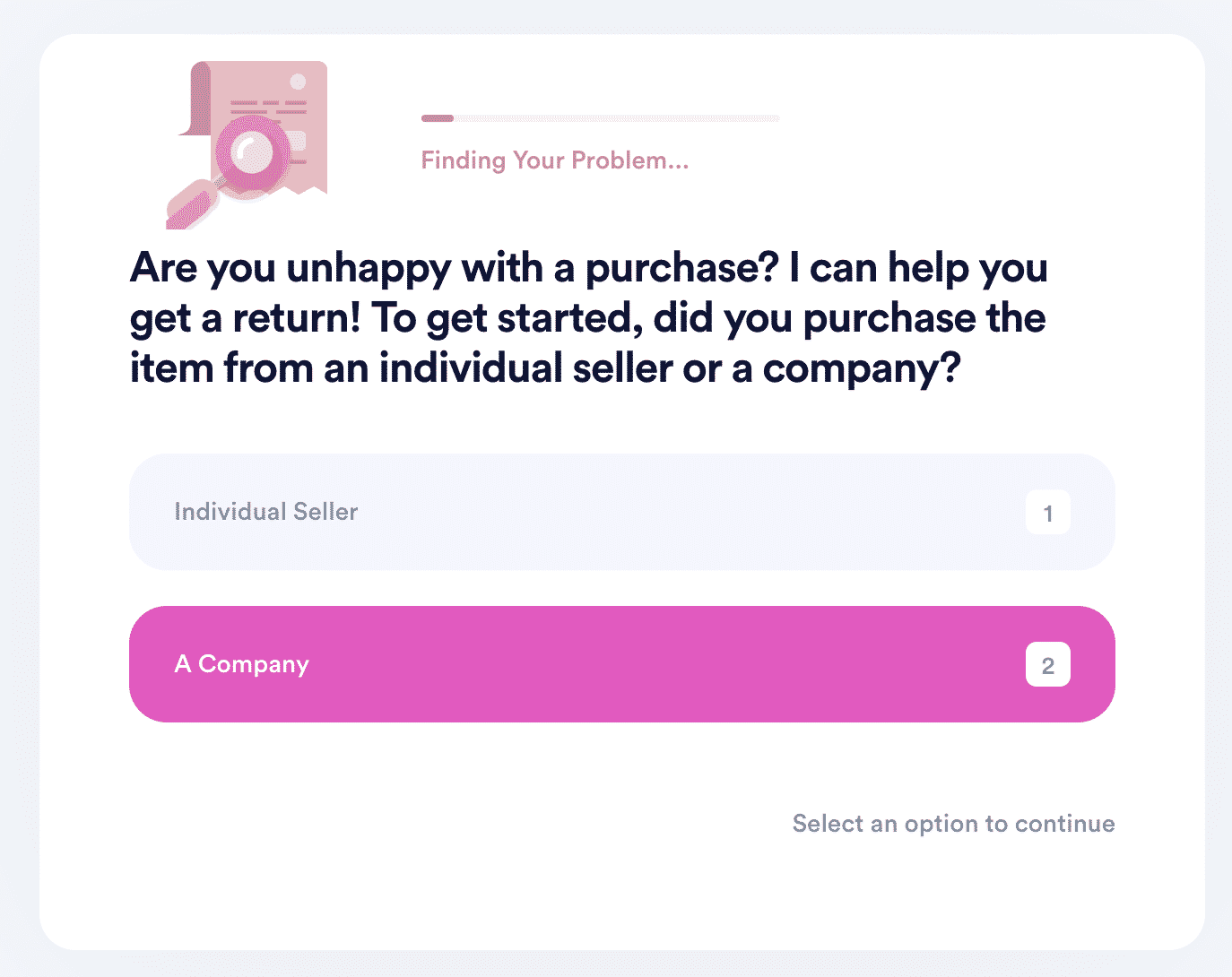 Phone and email conversations with customer support can often be long and drawn out without making any real progress towards returning your item. DoNotPay's AI service goes straight for the jugular—it cuts out all the unnecessary steps to sending your return request to any company.
It just requires you to take these few steps, and you are done:
Choose the Item Return Request option and answer the few questions that follow
Provide photos if applicable
Hit Submit
DoNotPay will create your return request letter with all the necessary nuts and bolts, including a processing deadline so that the company handles your request more quickly. Our platform will also provide a free return label, so you don't have to spend more money when sending your item back.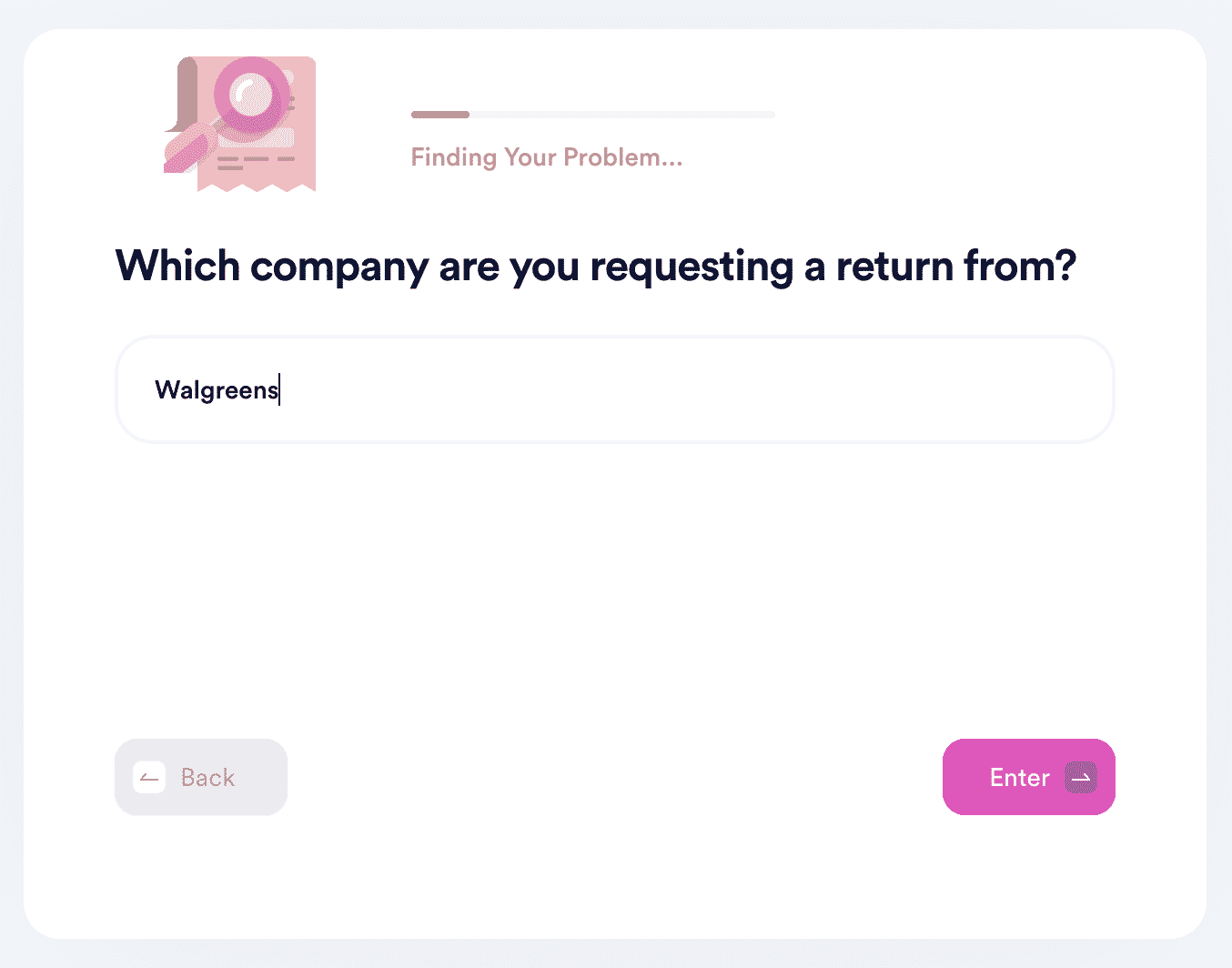 DoNotPay's success is growing rapidly—it has even been recognized by the American Bar Association. We can put all that expertise into facilitating your return requests to various companies and businesses.
Our learning center has a vast collection of guides explaining the return policies of various brands, so you never have to feel overwhelmed again trying to exercise your consumer rights:
DoNotPay Is a Master at Getting What's Rightfully Yours
Are you dealing with a company that refuses to approve your return? Once we submit a refund request in your stead, we can also prepare all the paperwork you need to sue the merchant in small claims court and win your case.
Need a legal document for the lawsuit? Draw it up with our handy tool. Want to get any document notarized and fax it to someone? We have products that can do that for you as well.
Has an airline rescheduled your flight, or is your package damaged or missing? Demand compensation with DoNotPay!
Do you believe that you may have some unclaimed assets? Count on us to find and get them for you.
It Doesn't End There!
Use DoNotPay whenever you need to tackle any sort of mundane task. If you're sick of wasting your time in long phone queues or the ones at the DMV, we'll help you skip them. Do you want to apply for a college fee waiver or clinical trial? Are you looking to enter a sweepstake or get a passport photo or a tourist visa? We'll do it all in your stead!
If you want to send a letter of warning to a persistent harasser or loud neighbor or want to get compensation for victims of crime, workplace discrimination, or robocalls, let us know and we'll tackle the issue momentarily.