Safeway Return Policy—The Whole Nine Yards
Is there something wrong with your Safeway order? Have you hit a dead-end trying to return it? You are not alone. Safeway is no stranger to complaints about its customer support, wrong or incomplete orders, and the difficulty with navigating its return policy.
Before you chuck your purchased item(s) out of the window in frustration, this article can help you make sense of the Safeway return policy. You will understand the conditions that qualify you for a return and the steps to take. This article will also show you how to use DoNotPay to simplify and hasten your return request.
Under the Hood of the Safeway Return Policy
Safeway offers a 100% product satisfaction guarantee on most of its products. It does not matter if you received your items via delivery or pickup—you can get a full refund if you are dissatisfied with your product(s) or delivery for any reason.
To start your return request process, you should do one of the following:
Notify the driver upon delivery of your order
Alert the store associate when picking up your purchase
Contact Safeway's customer support no more than seven days after delivery
If an item is missing from your order, you only have 48 hours from the time of pickup or delivery to contact Safeway's customer service team. The full cost of the missing item will be refunded to your original payment method or as Safeway credit. If you do not honor the 48-hour window, Safeway can deny you your refund.
If you use a third-party delivery service—such as Rush Delivery by Instacart—to receive your order, you will not be eligible for refunds from Safeway. If your order sustains damage in any way after delivery or pickup, you will not be able to return it.
How To Contact Safeway
This table summarizes the different ways you can contact Safeway:
Ways To Reach Safeway
What To Do
Phone
Mail
Mail Safeway's Customer Support Center at:

M.S 10501

P.O. Box 29093

Phoenix, AZ 85038

Website
In person
Walk into the store you bought from and talk to a salesperson
Safeway Return Policy Without a Receipt—Is It Possible?
While Safeway's return policy seems simple, it is not detailed enough. In case you misplace the receipt for your Safeway purchase, the exact returns procedure is not stated clearly on their website.
Your best bet is to contact Safeway directly using any of the listed methods.
What Safeway Items Are Non-Returnable?
Safeway does not accept returns for the following item categories:
Alcohol and alcoholic beverages
Tobacco products
Baby formula
Prescriptions
The purchase of these age-restricted items is considered final as soon as you have accepted the delivery or picked up your order.
How Does Safeway Give Out Refunds?
You can receive your refund in one of two ways:
Safeway credits back the original payment method by default for all processed refunds
You can also ask to get Safeway credit on your account that will be applied to your next order
Safeway accepts several payment methods for both online and in-store purchases, as shown in this table:
| Payment Methods | Method Details | Conditions |
| --- | --- | --- |
| Credit cards | MasterCard, Visa, American Express, and Discover | Use these cards for in-store or online pickup orders and delivery purchases |
| Debit cards | Visa or Mastercard | Use these cards to place in-store, pickup, and delivery orders |
| SNAP EBT/EBT Cash | SNAP EBT card or EBT Cash card | These can currently only be used for pickup orders of SNAP-eligible items at select Safeway locations |
| Others | Personal checks, Safeway Pay, Safeway gift cards, or cash | These can't be used for online orders at the moment |
DoNotPay Takes Away the Hassle From Your Return Requests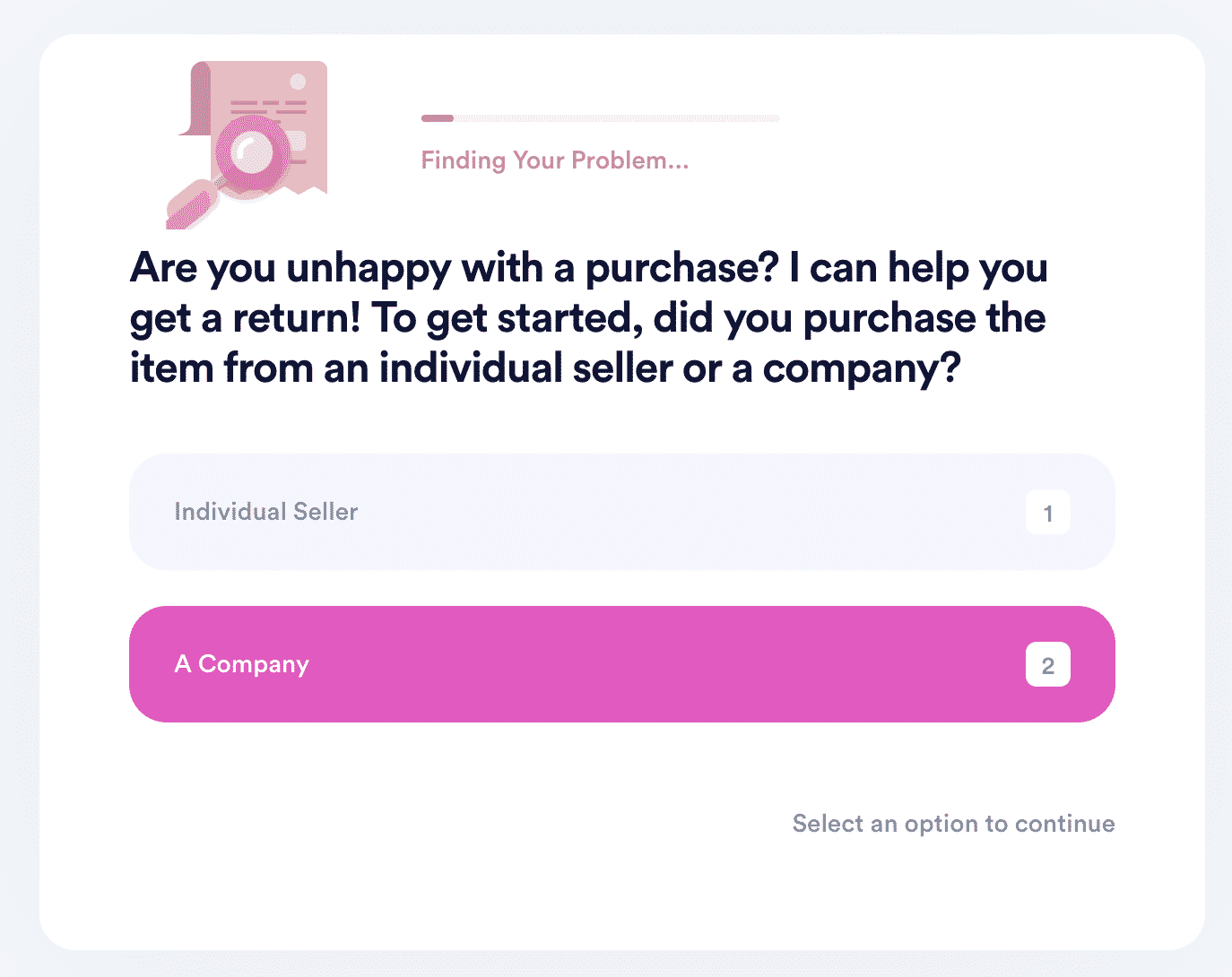 If you would rather not deal with any company's lengthy return procedures, DoNotPay's Item Return Request feature can take the burden off your shoulders. Our AI-powered tool can send a detailed and professional return request letter to any company in as little as one minute.
All you have to do is:
Select the Item Return Request tool
Answer a few questions
Click Submit
DoNotPay will send your return request to Safeway and provide a free return label so you can ship back your items free of charge.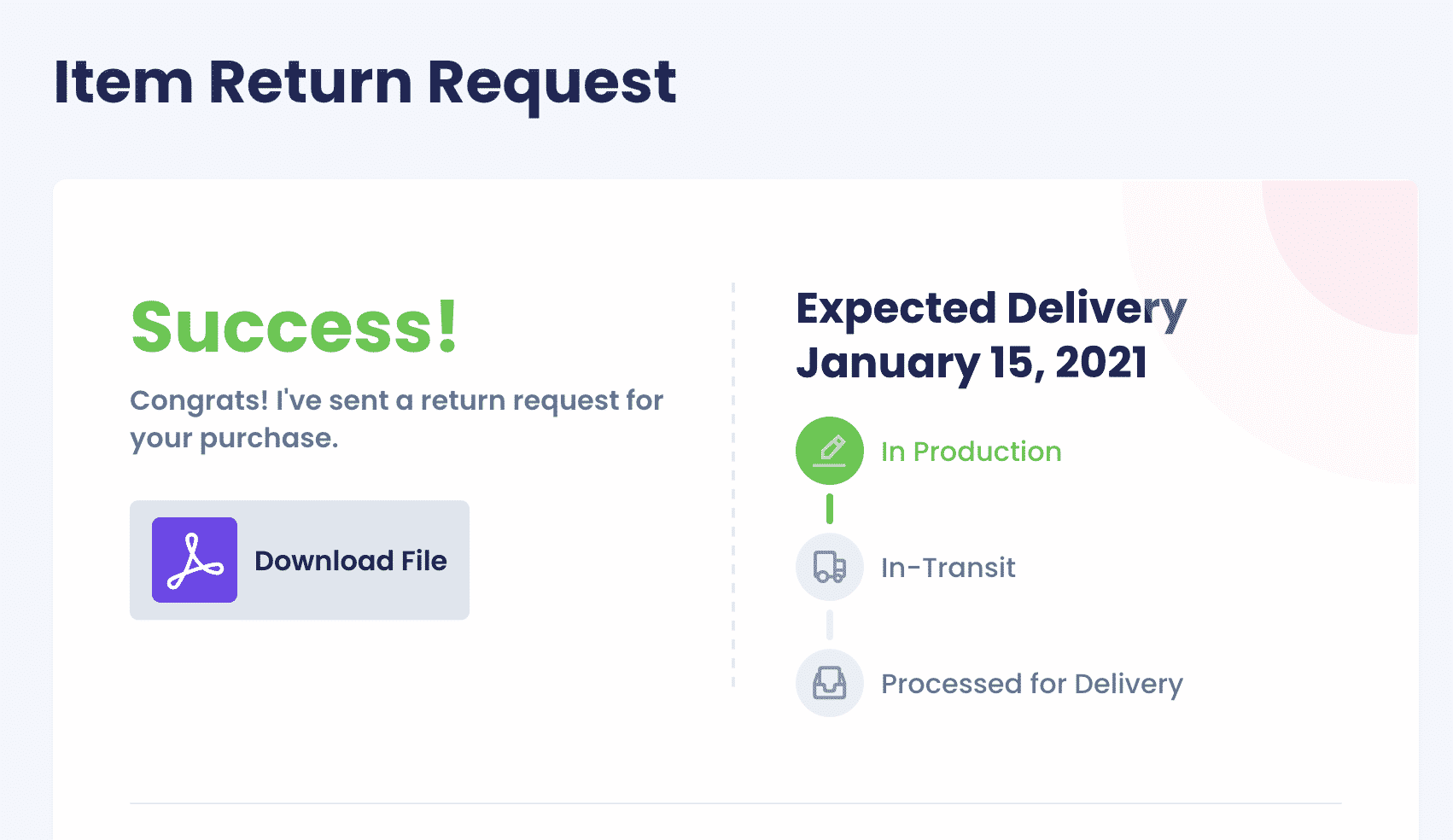 If you've had issues with other companies while trying to send back your order, go through some of our practical guides on how to request a return successfully:
You can also check out our guide to Safeway's gift cards and learn how to check your gift card balance and get the remaining cash back.
Take It a Step Further—You Can Demand a Refund With DoNotPay
If Safeway is ignoring your refund requests or being difficult, you can use DoNotPay to get your money back.
Follow these simple steps to request a refund:
Visit DoNotPay's website in any browser
Select the Chargeback Instantly tool
Tap Get Protected and answer a few questions from the chatbot
Click Sign and Submit
Item Returns and Other Annoying Tasks Take but a Minute With DoNotPay
Looking into resolving other tedious bureaucratic tasks with the help of our app? Check out a fraction of our product range that can assist you with:
Don't Stop There—See How We Can Help You Even Further
You can count on our app's assistance if you need to cancel any subscription, demand a refund from a company or airline, get help with utility bills, reduce your property taxes, get a tourist visa, appeal banned accounts, contact embassies, or get cash back on gift cards.
Think you have some missing money? Claim it before the government does it in your stead! Need help preparing for a government test? Skim through our guides! Want to schedule a DMV appointment in a snap? We'll do it for you! Have any other obstacles? We'll get rid of them in the blink of an eye.