The Ins and Outs of the World of Warships Gift Card Exchange
Do you have a World of Warships gift card you no longer need? There are several ways you can exchange it so it doesn't go to waste.
With this guide, you will learn how to perform a World of Warships gift card exchange so that you can convert your gift card to cash.
What Gift Cards Can You Exchange in World of Warships?
Wargaming lets its players obtain currency in World of Warships using gift cards. You can opt for two methods:
Obtain doubloons with World of Warships gift cards
Exchange gift cards from major U.S. companies for doubloons
Obtain Doubloons With World of Warships Gift Cards
World of Warship gift cards are only available as e-cards, with a fixed deposition of $20. You can only buy them through third-party sellers, such as:
eBay
GameStop
Best Buy
PayPal
Wargaming doesn't state anything about the potential expiration date or maintenance fees of World of Warships gift cards.
You can't use your World of Warships gift card for anything else but to get in-game currency. When you enter the code in the game, it will spend your entire gift card balance.
Exchange Gift Cards From Major U.S. Companies for Doubloons in World of Warships
The game offers players to exchange their old gift cards from major companies—such as Target, Amazon, and more—for doubloons, which you can use to buy premium content in the game.
Your gift card must have more than $10 left on it to be eligible for an exchange in World of Warships.
What Are the Alternatives to Exchanging Your World of Warships Gift Cards?
Your gift card has less than $10 on it, and you can't use it in World of Warships? If you want to get rid of your used gift cards, here's what you can do:
Gift the card to someone—Give your card to someone who might need it
Sell your gift card—Find an online marketplace or look for nearby gift card kiosks to sell your gift card for cash instantly
Trade your gift card—Trade your card online or in person for another one of the same value
Return your gift card to the store—Check your state's gift card laws. If your state has a gift card cash back policy, you will be able to redeem your card for money
Unless you live in a state with a cash back policy, don't expect to profit much with these methods because you most likely won't get the total value of your gift card back.
Don't Know How Much Money You Have Left on Your Gift Card? Check Its Balance Using DoNotPay
To turn your gift card into cash, you have to check its balance first. Take a picture of any gift card, and we'll do the hard work for you and notify you about any leftover money.
To check the remaining balance of your gift card with ease, follow these steps:
Open our Check Gift Card Balance product
Upload a photo of the gift card in question
As soon as you submit your request, we will contact the card issuer to find out how much money you have left on your gift card. When we find out what the leftover balance is, we will let you know right away.
Take a look at these examples of gift cards we can help you check the balance of:
| | | | |
| --- | --- | --- | --- |
| Cosmetics | Food and Drinks | Home Improvement | Shoes and Clothing |
| | | | |
Checked the Balance of Your Gift Card? Get Your Cash Back With DoNotPay!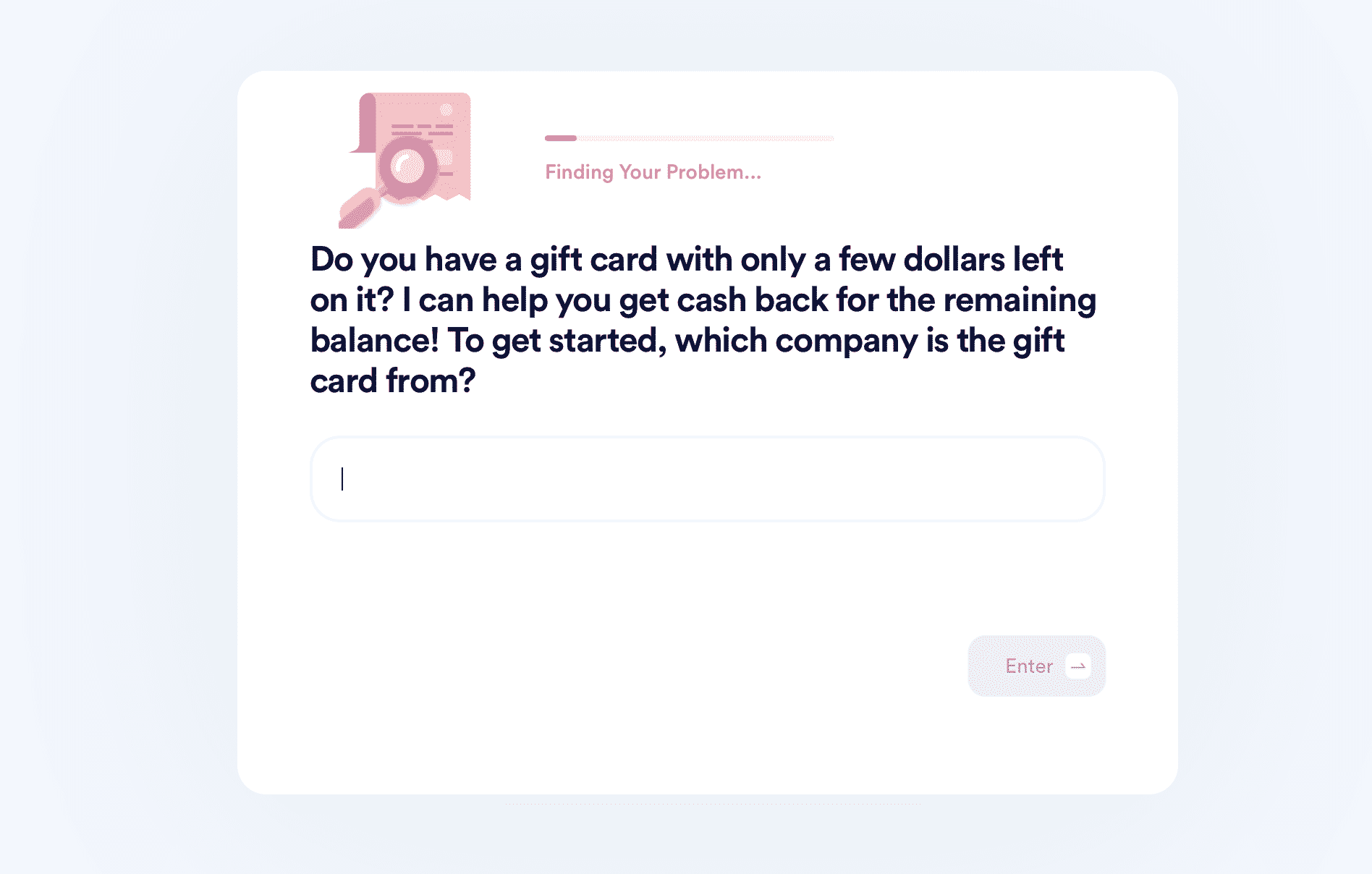 Now that you know the remaining balance on your gift card, it's time to turn it into cash. All you need to do is answer a few short questions, and we'll make sure you get your money back in no time.
To start the process of getting your gift card cash back, in any web browser and do the following:
Select our Gift Card Cash Back feature
Answer a few brief questions about your gift card
Click on the Sign and Submit button
After you submit the request, you can expect to get your money back within 14 days.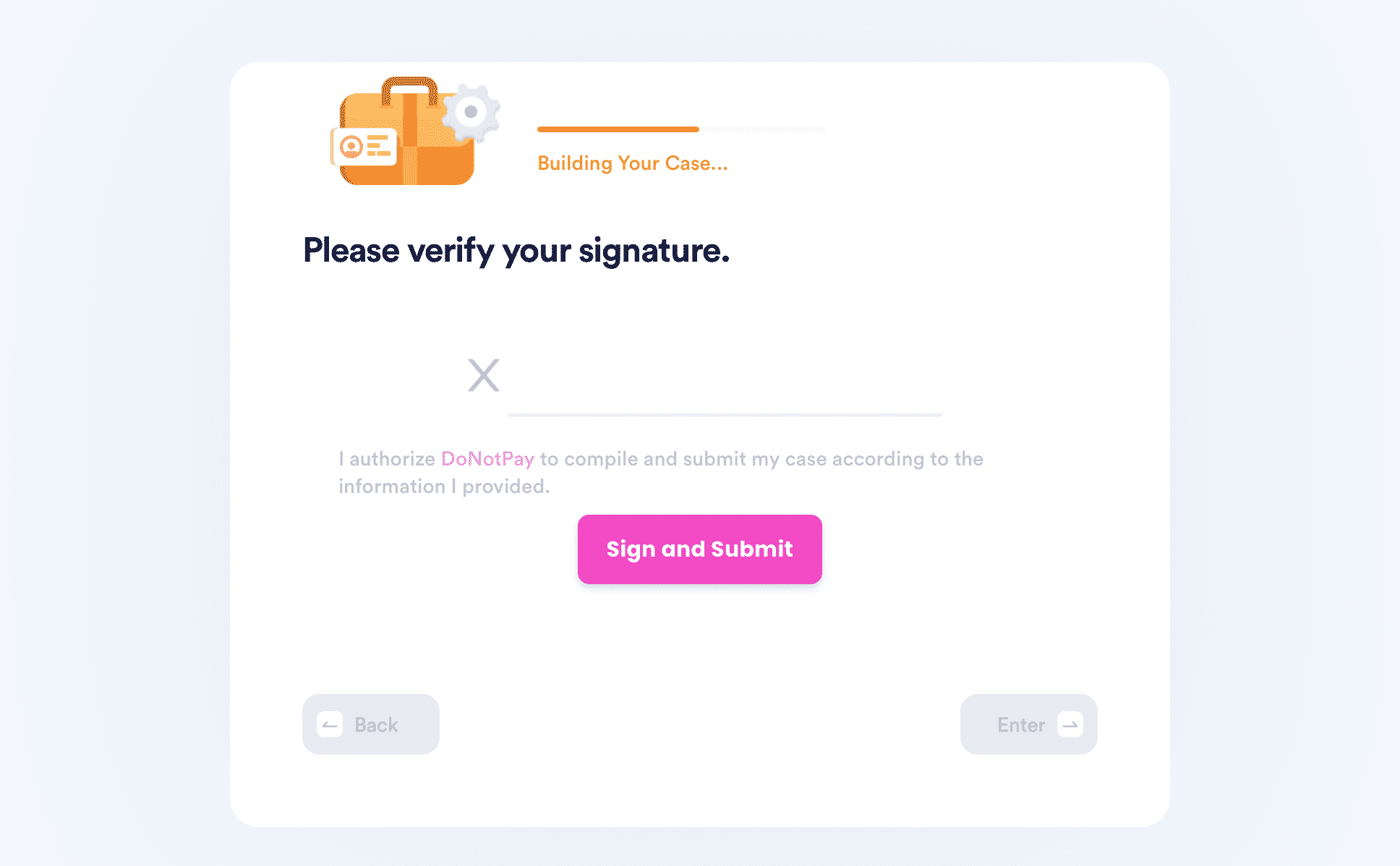 Do you want to know more about gift cards? Our knowledge base has the answers to all of your gift-card-related questions, such as:
You Can Always Do More With DoNotPay
Our platform can be used in so many different ways. Thanks to loads of useful products and services available within the app, our subscribers can draft legal documents, fight workplace discrimination, or get compensation for fighting robocalls.
We can help you deal with difficult neighbors, stop stalking and harassment, or sue anyone in small claims court.
If you have a problem, DoNotPay has a solution.
DoNotPay Helps You Travel Safer and Easier
Our platform, built to fight bureaucracy and provide easier legal access, can prove to be indispensable when you travel.
If you're looking for some extra cash to fund your world adventures, you can find unclaimed money under your name or enter free raffles to win luxurious trips using our app.
DoNotPay can also help you draft a child travel consent form, fax it, mail it, or have it notarized online.
If anything goes wrong, our AI bots will assist you with:
Do you prefer road trips? Use DoNotPay to get ready for your driving test, book DMV appointments, or contest those annoying parking tickets!