Optimizing Your Hunt for University of Utah Scholarships
The cost of attendance at the University of Utah can go over $50,000 per year. Most students can't afford to pay that much for education—especially when you add other expenses, like the application fee—and are forced to take on loans they struggle to repay later on in life.
To offset the financial strain on students and their families, various award providers offer scholarships and grants to the University of Utah's students as a form of financial aid.
In this guide, you'll find out how you can secure the University of Utah scholarships. You'll also learn:
What types of awards exist
Where you can find them
How to apply for a University of Utah scholarship
How to use DoNotPay to optimize your efforts
What University of Utah Scholarships Can You Get?
Scholarships for the University of Utah students can come from different sources:
The University
Federal institutions

Utah

government and organizations
Private companies, funds, and donors
Depending on the award program and its source, various college students are eligible to apply. Scholarships are awarded to specific student profiles based on a myriad of factors, as shown in the following table:
Scholarship Based On
Examples
Student origin
Minority or religious status
Field of study
This can affect any field of study present at the University, such as

law

, education,

engineering

,

science

, nursing, and so on
Level of study

High school seniors

planning to enroll at the University of Utah

Undergraduates

(

freshmen

,

sophomores

, and

juniors

)

Other

Disabled students

Veterans
Utah scholarships are divided into two groups:
Merit-based scholarships
Need-based awards
University of Utah Merit Scholarships
Awards based on merit are aimed at students who can prove a level of academic excellence determined by individual programs. To judge students' merit, award providers demand:
Being in the top 10–15 class rank percentile
Having high GPAs and SAT/ACT scores
Showing satisfactory academic progress (SAP)
Submitting the following paperwork:
The University of Utah divides its merit programs into four categories. Check out the table below to find some examples of University of Utah scholarships:
Scholarship Category
Examples
Incoming freshmen

University of Utah Academic Scholarship
Sterling Scholar Award
Alumni Legacy
University of Utah Flagship Scholarship
President's Scholarship

Transfer students

Transfer Utah Merit Scholarship for residents
Transfer Utah Merit Scholarship for nonresidents

Current students

Marching Band Performance Scholarship
School of Music Scholarship for Continuing Students
Lorene R. Mason Scholarship
Inspirational Student Award
J. Gordon and Betty M. Browning Scholarship

University of Utah

Asia

Campus (UAC) students

UAC Global Leaders Scholarship
UAC Pioneers Award
Inspire Scholarship
UAC Opportunity Scholarship
UAC New Horizon Scholarship
Need-Based University of Utah Scholarships
Students who can't meet the requirements for a merit-based award can receive aid based on their financial need. To do that, they need to submit the College Scholarship Service (CSS) Profile or the Free Application for Federal Student Aid (FAFSA) form.
This way, you can show your Expected Family Contribution (EFC), which needs to be below a certain limit to be eligible for need-based awards. The University of Utah scholarships that offer financial aid based on need include:
Class of 1930 Scholarship
Clegg Memorial Scholarship
Ann M. Cannon Memorial Scholarship
Mark Weiss Award
Wasatch School District Scholarship
Wildman Family Award
George Thomas Scholarship
John Alden and Amelia Wright Bowers Scholarship
Where Can You Find University of Utah Scholarships?
Many students spend weeks of their time researching various awards trying to find the ones they can apply for. If you want to speed up the process, you can do so by checking out the following sources:
When you , you can use our app to skip the entire research process and get a personalized list of all available scholarships for which you can apply within five minutes!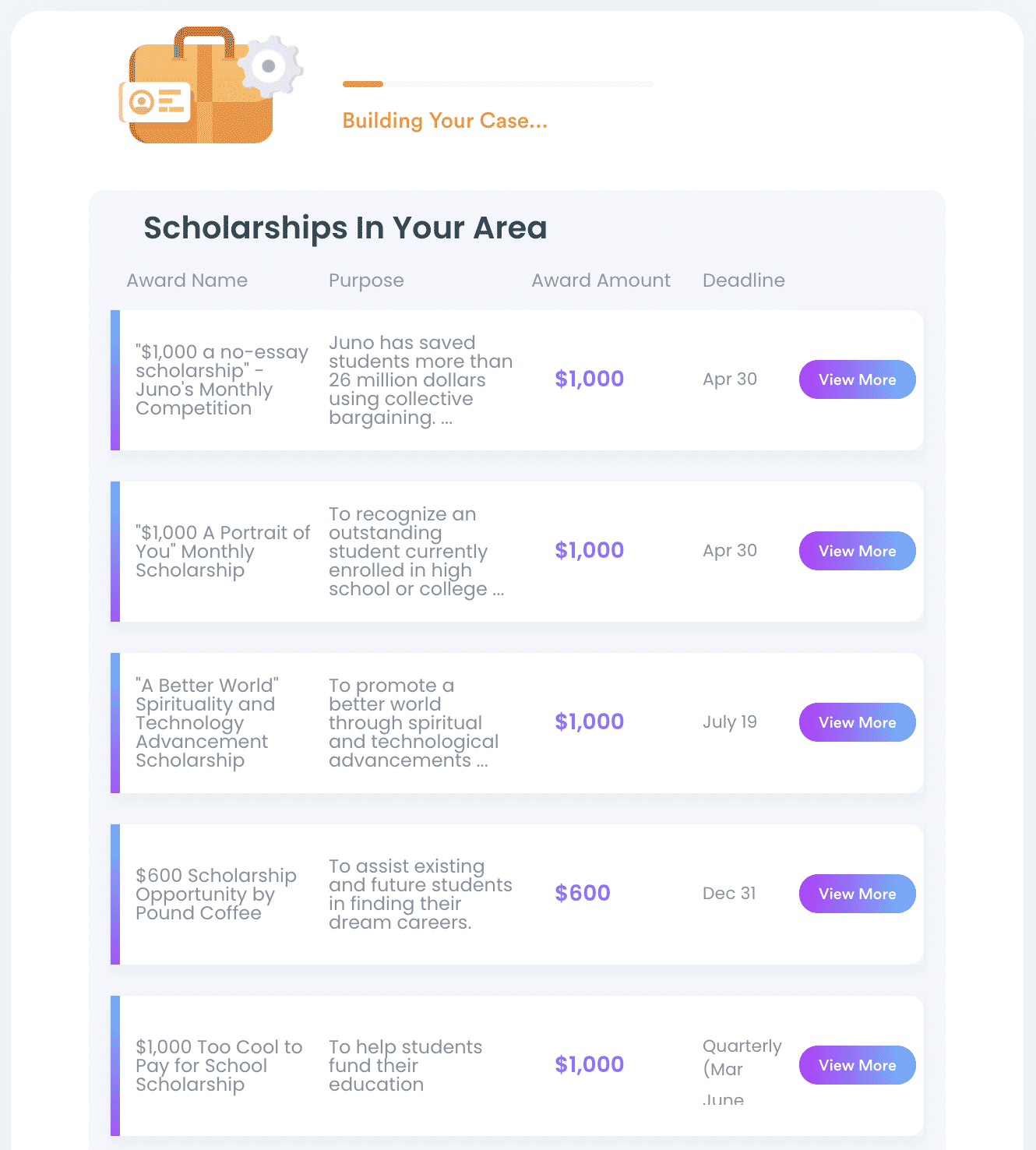 The Application Process for a University of Utah Scholarship
The steps you need to take when applying vary depending on which award you're trying to obtain. To ensure you've done everything that's necessary, create a checklist, such as:
Complete your taxes
Sign up for your FSA ID and complete the FAFSA form
Fill out the

application form

Check your financial aid status here
Submit checks to the University Office of Scholarships and Financial Aid (UOSFA) if you're applying for an outside scholarship
The Quickest Way To Find and Apply for University of Utah Scholarships
Before you can get financial aid, you need to go through the time-consuming process of researching programs that suit you and then applying for them. DoNotPay can help you learn about all available awards and apply for no-essay scholarships effortlessly!
Our app will create a personalized list of programs based on your academic performance and financial status. All you need to do is the following:
Use your browser to
Select the Apply for Scholarships option
Answer a few questions from our chatbot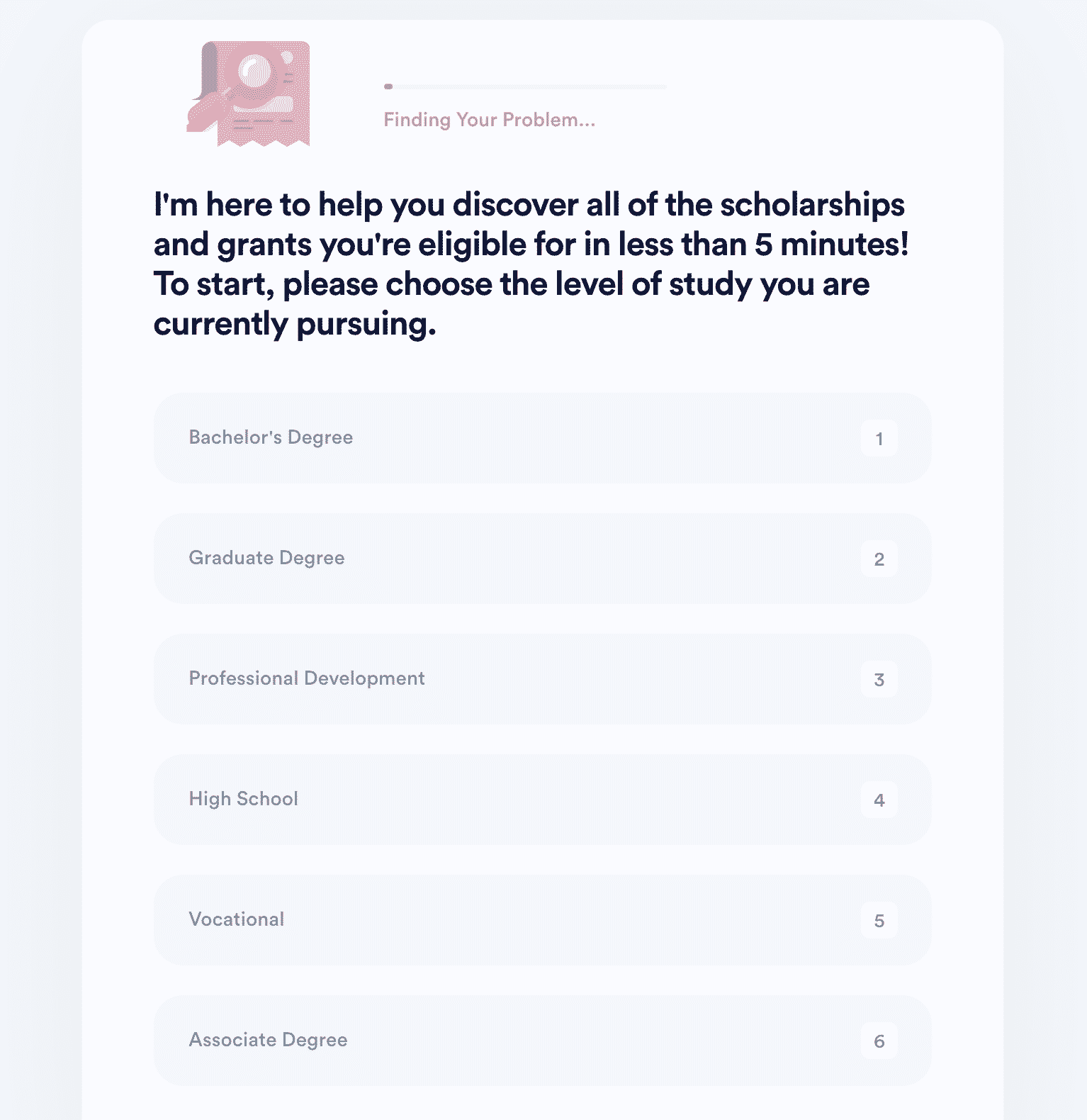 DoNotPay Turns Any Tiring Task Into a Piece of Cake
Are you tired of dealing with bureaucratic or legal matters on your own? You no longer have to—as soon as you subscribe to DoNotPay, we'll take any exhausting task off your plate.
Our app is capable of drawing up legal documents—including marital settlement agreements, child travel consent forms, powers of attorney, defamation demand letters, and affidavits to homeschool—getting them notarized remotely, filing complaints against companies, suing any individual or corporation in small claims court, sending FOIA requests, and so much more.
The World's First Robot Lawyer Offers So Much More
DoNotPay's capabilities don't end there—we can also:
Help you get a tourist visa