How To Secure University of Maryland Scholarships
The cost of attendance at the University of Maryland (UMD) can go over $58,000 per annum, which doesn't include the application fees and other education-related expenses. Most students can't afford to part with such money every year—they either end up in debt that they keep repaying years after graduating, or they seek out some form of financial aid.
The University of Maryland scholarships and grants can help college students already at UMD and high school seniors who plan to enroll.
In this guide, we'll show you:
What types of UMD scholarships for current students there are
Why DoNotPay is your best bet for finding the program that suits you best
What University of Maryland Scholarships Exist?
The UMD financial aid programs can come from various sources, including the University, federal and local government, non-governmental organizations, companies, and private donors.
The University splits its awards between campuses. For instance, there are specific University of Maryland College Park scholarships. In some cases, programs are university-wide, meaning that all UMD students can apply.
All scholarships, regardless of the source, are divided into two types:
Merit-based awards
Need-based grants
University of Maryland Merit Scholarships
Merit programs are dedicated to UMD students who reach a certain level of academic performance and can boast a CV of personal achievements that include field-related activities. To prove their merit, students must have:
Take a look at the following table to see some examples of University of Maryland merit scholarships for freshmen and transfer students:
Eligible Students
Requirements
Scholarships
Award Range
Freshmen

U.S. citizens or permanent residents
No other University-backed award
Strong academic standing (minimum requirements vary)

Banneker/Key Scholarship
University of Maryland Presidential scholarship
Dean's Scholarship
Creative and Performing Arts Scholarships
Regents Scholars Program

From $1,500 to covering the full cost of attendance
Transfer students

Frederick Douglass Scholarship
Maryland Transfer Scholarship
Presidential Transfer Scholarship
Kelly, Shipley, or Weinberg Regents Scholarship

From $5,000 to covering the full cost of attendance
Need-Based Grants
If a low-income student can't meet the requirements necessary for a merit-based scholarship, they can look for need-based awards. They can prove their financial need by completing the College Scholarship Service (CSS) Profile or submitting the Free Application for Federal Student Aid (FAFSA) form.
This way, they will be able to show their family income by getting an estimate of their Expected Family Contribution (EFC). It needs to be below a certain limit—depending on the grant—for a student to be eligible.
The following programs offer financial aid based on need:
University of Maryland Grant
Federal Pell Grant
Federal Supplemental Educational Opportunity Grant (SEOG)
Teacher Education Assistance for College and Higher Education (TEACH) Grant
Senatorial Scholarship
Applicant Eligibility
Before you decide which University of Maryland scholarship you want to apply for, you have to check whether you're eligible. Award providers usually consider more than just students' financial need or academic merit. There are also requirements regarding student profiles, as shown in the following table:
University of Maryland Scholarships—Where To Find Them
Researching various award programs and finding the ones that you're eligible for can be a difficult task. You can spend weeks or even months scouring the internet for relevant information and still miss out on several scholarships.
If you're stuck and don't know where to look anymore, you can check out some of the following ideas:
University's Office of Student Financial Aid (you can contact the staff via phone at 301-314-8377 or by mail at umdfinaid@umd.edu)
Private financial aid consultants
DoNotPay
You can bypass the entire research process with DoNotPay. Sign up for our app and answer a few questions, and we'll give you a personalized list of all scholarships you're eligible for in less than five minutes.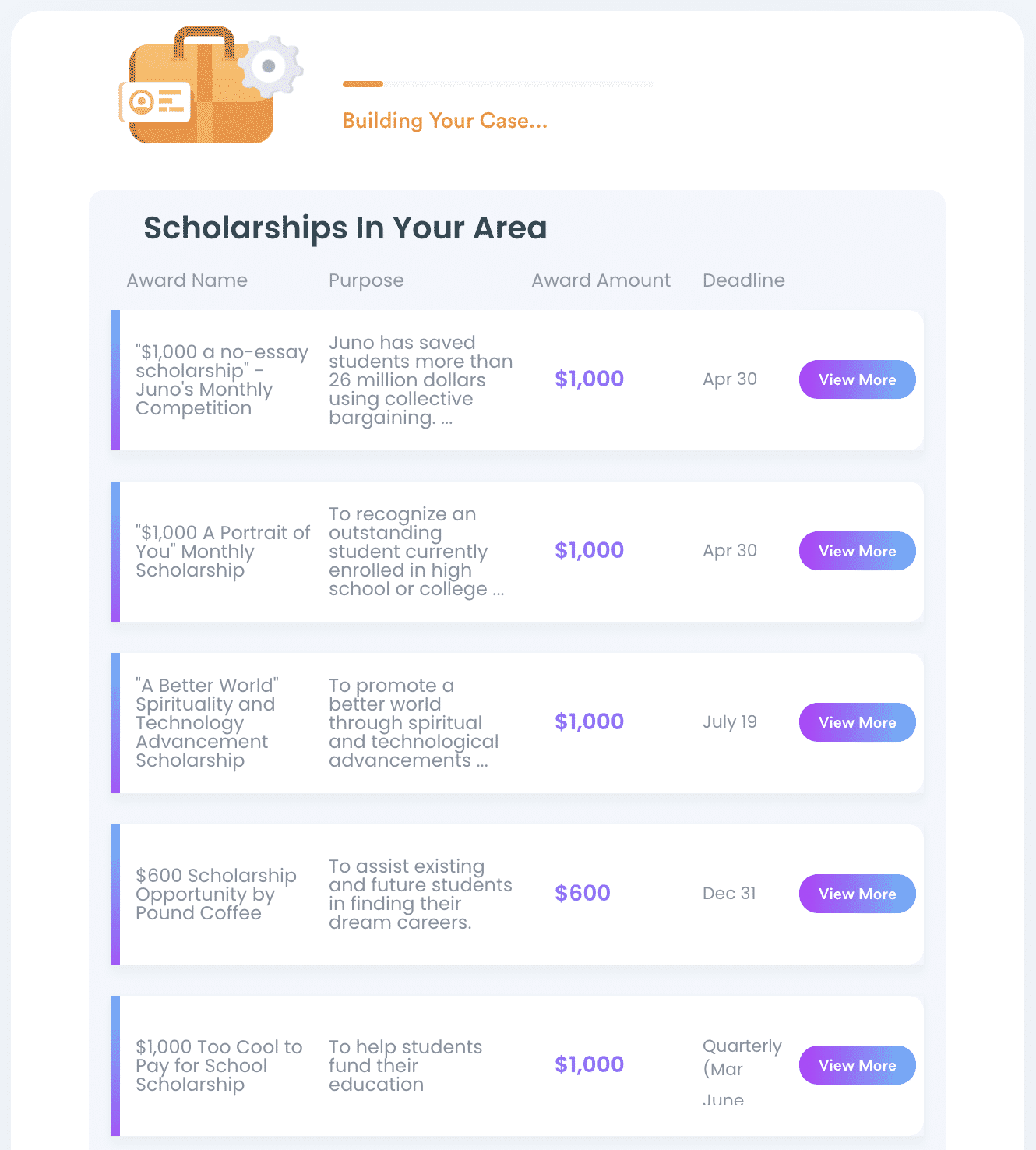 How To Apply for a University of Maryland Scholarship
The application process varies from one program to another. Scholarships have their set of rules and come from different sources, so you will need to research the way you should apply if you want your application to be successful.
In general, you should make sure you've done everything in your power to get accepted by checking if:
You meet all criteria
The application window is still open
You have all the necessary documents
How Can DoNotPay Help You Obtain University of Maryland Scholarships?
Researching financial aid programs is a tedious task that will require a lot of time and effort on your part. When you find the University of Maryland scholarship you like, you need to prepare for the application process, which also takes time.
DoNotPay can help you complete everything in a jiffy! All you need to do is the following:
Navigate to the Apply for Scholarships feature
Answer a few questions
Choose the type of scholarship you're interested in
Using your answers, our app will create a list of all scholarships that are looking for an applicant of your financial standing and academic performance. If the list contains no-essay scholarships, you can apply for them directly within the app, and we will complete the application process in your stead.
DoNotPay Turns Any Tiring Task Into a Piece of Cake
Are you tired of dealing with bureaucratic or legal matters on your own? You no longer have to—as soon as you subscribe to DoNotPay, we'll take any exhausting task off your plate.
Our app is capable of drawing up legal documents—including marital settlement agreements, child travel consent forms, powers of attorney, defamation demand letters, and affidavits to homeschool—getting them notarized remotely, filing complaints against companies, suing any individual or corporation in small claims court, sending FOIA requests, and so much more.
The World's First Robot Lawyer Offers So Much More
DoNotPay's capabilities don't end there—we can also: