An Easy Way To Get the University of Maryland Application Fee Waiver
The University of Maryland (UMD) is a public research university in College Park, Maryland. It is the largest university in the state and the Washington metropolitan area. The University of Maryland is a member of the Association of American Universities, and it competes in intercollegiate athletics because it is a member of the Big Ten Conference.
If you are applying to the University of Maryland, you should know that it has an application fee that you will need to pay—unless you opt for the University of Maryland application fee waiver.
College Application Fee Waivers 101
The purpose of fee waivers is to make the process of applying to colleges a bit easier for students by reducing or removing the costs of application fees. Fee waivers are forms that students fill out and send to universities they applied for.
You can apply for more than one fee waiver, just as you can apply for more than one college. To get your application fee waived, you need to meet certain qualifying guidelines.
The usual cost of application fees is $50–$60, but some of the more prestigious universities like Duke and Stanford charge up to $90 for their applications.
About the Qualifications for Fee Waivers
Fee waivers are mostly given to students in financial need, and there are several qualification guidelines for getting one. Check the list below to see whether you are eligible for an application fee waiver or not. You can get an application fee waiver if you:
Are currently enrolled in a program that helps students from low-income families

Meet the Income Eligibility Guidelines set by the USDA Food and Nutrition Service

Live in a foster home

Are homeless, a ward of the state, or an orphan

Receive public aid

Are qualified for the Federal Free or Reduced Price Lunch program
Here's a table showing Income Eligibility Guidelines in detail:
| | |
| --- | --- |
| Average Yearly Income | Family Members |
| $23,606 | One |
| $31,894 | Two |
| $40,182 | Three |
| $48,470 | Four |
| $56,758 | Five |
How Do I Know if I'm Eligible for an Automatic College Fee Waiver?
Automatic college application fee waivers are given to the students who already got an ACT or SAT fee waiver. If you are using the Common App or the Coalition App, you qualify for an application fee waiver as well.
Are You Eligible for the University of Maryland Fee Waiver?
The University of Maryland will waive the application fee for students who meet the criteria at the time of their application. UMD allows waiving the application fee for high school seniors who are National Merit, National Achievement, or National Hispanic finalists and semifinalists, as well as on an individual basis for specific circumstances. If any of those apply to you, you are eligible for the UMD fee waiver.
How Much Is the UMD Application Fee?
The application fee at the University of Maryland is $75. Admissions officials at the University of Maryland take into consideration a student's GPA as an important academic factor.
How To Get the University of Maryland Application Fee Waiver by Yourself
You can apply for UMD application fee waivers using either of these methods:
Coalition App

Common App
Applying for the University of Maryland Application Fee Waiver With Coalition App
To get your UMD application fee waiver via the Coalition app, follow the next four steps:
Add the University of Maryland to your list

Tap the

Start Application

button

Specify what type of applicant you are and click

Continue

Follow all the links to complete your application
Requests made through the Coalition App will be processed in one to three business days.
Apply for the University of Maryland Fee Waiver Using Common App
If you are applying for a University of Maryland fee waiver with Common app, follow these steps:
In your

Profile section,

indicate whether or not you qualify for a fee waiver

Select your reason why

Sign

the section
You will receive a reminder that your school counselor will need to confirm your answer. Common App will process your request in seven to ten business days.
You Can Get Your University of Maryland Application Fee Waiver With DoNotPay Fast
If you do not feel like dealing with the entire process of waiving college fees by yourself and you want it to be done easily and efficiently, DoNotPay offers the perfect solution! We can make the whole procedure enjoyable and stress-free—as a college experience should be!
In a few quick steps, you can apply for your University of Maryland application fee waiver by using our College Application Fee Waiver feature to avoid any inconveniences. Follow the next five steps to apply for your University of Maryland fee waiver with DoNotPay trouble-free:
Go to DoNotPay in your

web browser

Tap on

College Application Fee Waiver

Choose what fee you want to get waived

Pick the college that you are applying to and answer a few short questions concerning your financial situation

Indicate if you would like to get a counselor's signature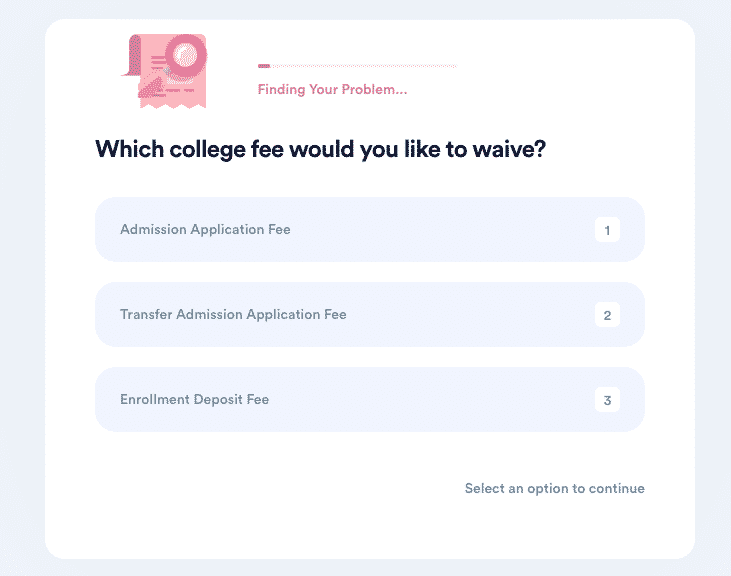 This way of applying for fee waivers may come in especially handy today, considering how difficult it is to get a signature from a school counselor due to the COVID-19 situation.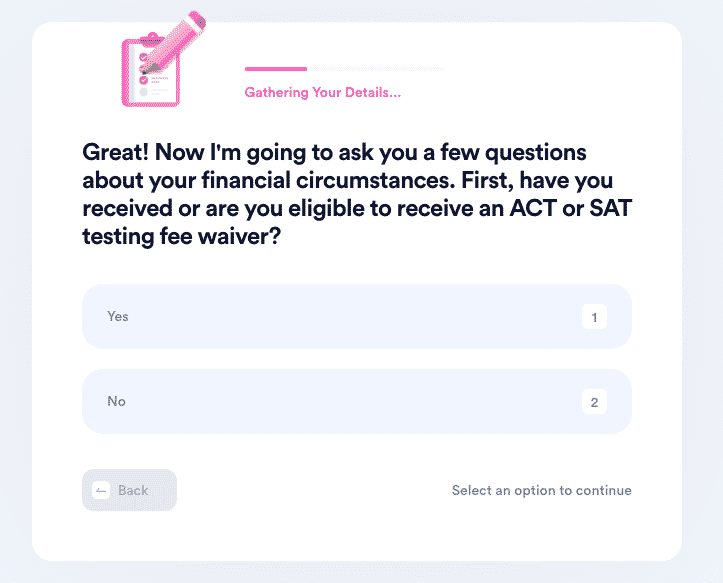 You can achieve even more with our app! We can also assist you with:
Filling out the form in your place

Sending the form to the university's financial aid office

Applying for college application fee waivers for both undergrad and grad studies

Requesting any test fee waiver apart from the SAT and the ACT
Our product works with any college in America because of our comprehensive database of universities in the U.S. We offer you three different types of fee waivers:
New Student Application Fee Waiver

Transfer Student Fee Waiver

Enrollment Deposit Fee Waiver
We present you with yet another feature you will find useful when applying to colleges. You can use it to boost your application by getting us to obtain a school counselor's signature for you. We will email the form to your counselor, along with the details regarding your financial situation for the counselor to attest to your financial need.
DoNotPay Offers You Many More Cool Features!
If you ever find yourself unable to handle all the bureaucratic tasks and administrative issues life throws at you, DoNotPay will swoop in to help you deal with them in a flash! 
We can present you the college application fee waivers for various universities, including George Washington, Florida State University, Temple University, Johns Hopkins, University of Chicago, University of Alabama, and many more.
All you need to do is go to your web browser and open our app. You will see how we can help you:
Fight speeding tickets

Dispute traffic tickets