I've Been Banned From Amazon—How To Get Back on Quickly
Amazon is the world's biggest e-commerce store with over 300 million users. To maintain order, the platform sometimes blocks users—temporarily and permanently. If you can't access your account because it was terminated, don't stress—many users get banned from Amazon. How to get back on, though? DoNotPay knows!
In this guide, you'll find out why Amazon bans its users, what the platform's terms of use are, and how you can appeal the ban decision. We will also reveal how subscribing to our app can prioritize your appeal.
Why Was My Amazon Account Banned?
Amazon expects its users to read and respect the Terms of Use. If you don't follow the rules, it reserves the right to lock your account or terminate it at its discretion.
You must pay attention not to break:
General rules
Rules for sellers
Rules for buyers
General Rules
There will be consequences if you break the general rules, such as:
Providing incorrect information when opening an account
Impersonating another person
Creating multiple accounts
Tampering with security software
Harassing or threatening other users
Spamming other users
Violating laws
Rules for Sellers
As a seller, you can get banned for:
Selling prohibited items
Describing the products falsely
Listing unregulated health products
Selling counterfeits or low-quality products
Not having necessary certifications for certain products
Communicating with shoppers poorly
Having too many negative reviews
Canceling too many orders
Leading buyers to other websites
Selling your account
Purchasing your own products
Refusing to issue refunds
Sending wrong items
Rules for Buyers
Buyers can get suspended or banned for:
Receiving money to write reviews
Leaving false reviews
Using Amazon services without adult supervision if you are under 18 years old
Purchasing alcohol if you are under 21 years old
Using someone else's credit card to make a purchase
Violating any of these terms of use will result in a suspension or ban. The service will suspend the account temporarily for minor violations, such as sending the wrong item accidentally. To cut the suspension time short, write an appeal.
If there is no expiration date on your suspension notice, your account is banned. More serious cases—like selling counterfeits or impersonating someone—will end in a permanent suspension or ban.
Can You Get Banned From Amazon for Returns?
To prevent system abuse, Amazon bans users for initiating too many returns. The platform doesn't say how many of them are allowed, nor how often you can send back your items. You might not know that this is the reason why you got blocked for good because Amazon reserves the right not to tell you.
Even if your returns are legit, the algorithm can be triggered for an unusual number of them. The only way to find out whether this activity got you banned is to write to customer service.
How To Get Unbanned From Amazon
Permanent bans can be removed if you file a complaint. You can get in touch with the reps and try convincing them to unban your account.
There are two ways of getting back on the e-commerce platform after being banned:
Make a new account
Appeal the ban decision
How To Make a New Amazon Account After Being Banned
Creating a new account is tricky but possible if you change all of your previous information.
The data you mustn't reuse are:
Name
Physical address
Phone number
Driving license
Email address
IP address
Credit card
Unique bank account
Product descriptions
You would need to use VPN to hide your IP address and take someone else's personal information—which violates the terms of use. A better option for getting back on Amazon is filing an appeal.
How To Appeal the Ban Decision
Amazon can reactivate your account if you provide it with a good reason. The first step of the appeal process is to write a request.
You can follow these steps to submit an appeal:
Go to Seller Central
Find the Performance section
Click on the Account Health option
Submit an appeal and provide the necessary documents
Include a Plan of Action (POA) alongside the letter that explains why you should get unbanned. You can also send the appeal letter to seller-performance@amazon.com.
Note that it can take some time until you receive a response. Amazon is swamped with different requests from users, and getting through to it isn't easy.
To improve your chances of getting your account back, subscribe to DoNotPay! We can make sure that your complaint is addressed timely.
Unban Amazon Account With DoNotPay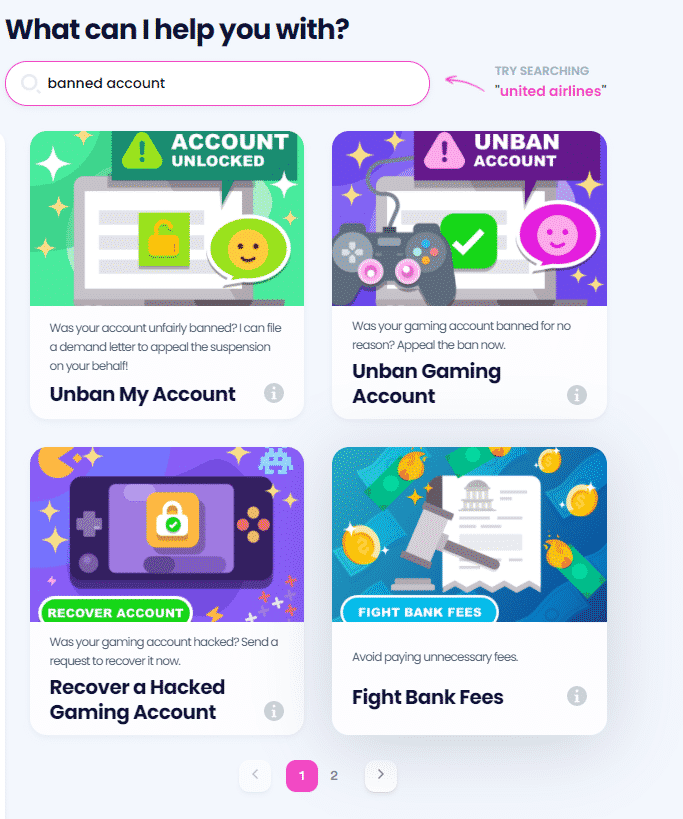 Our nifty app can push your ban decision appeal to the top of the priority list. We will create a valid demand letter and give Amazon a deadline to solve your request.
All you need to do is:
Locate the Unban My Account feature
Answer the questions about:

The platform that banned you—Amazon
The date when you got banned
The reason why you got banned
A refund request—if you want to make one
The federal or state protected class you belong to—if you feel discriminated against

Click on Sign and Submit
Within minutes, we will compose and send the letter to Amazon.
DoNotPay Can Take Your Ban and Suspension Troubles Away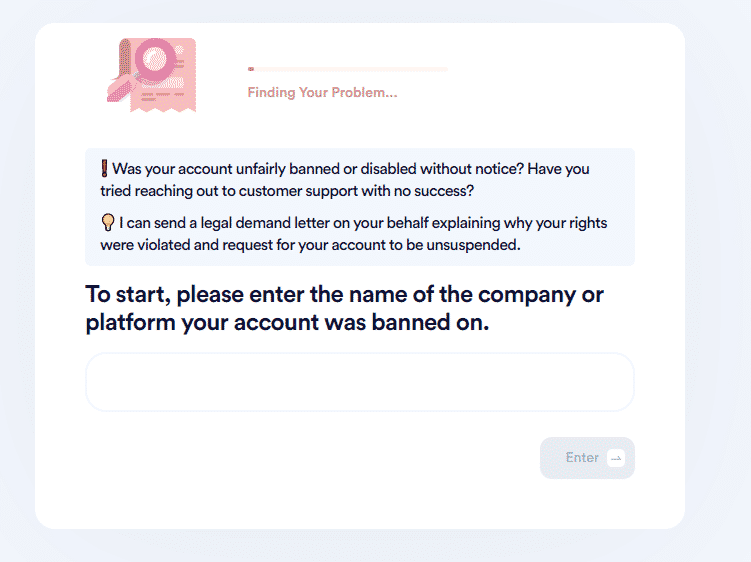 If you get banned or suspended from any platform, service, or game, DoNotPay can help you. Once you subscribe to our app, you can use the Unban My Account and Unban Gaming Account tools to submit an appeal to any company.
To learn more about suspensions and banned accounts, check out our helpful guides:
Solve Your Legal and Bureaucratic Issues With DoNotPay
The primary purpose of our app is to provide you with practical tools that can speed up all the drawn-out tasks you must complete. All you need to do is choose a suitable feature from our offer and get your problems solved in a heartbeat!
Once you create an account with DoNotPay, you can:
Feeling Unsafe or Harassed? DoNotPay Can Help You!
Have annoying calls and messages become your everyday problem? Don't give up on your peace—rely on DoNotPay and deal with robocalls and restless text and email spammers easily.
We also take care of your privacy, allowing you to create burner numbers and virtual credit cards to avoid revealing sensitive information when signing up for various online services.
If you are being stalked by somebody or discriminated against at work, we will do our best to help you fight for justice and report the case accordingly! We will also safeguard your creative work from copyright violation and ask for violent crime compensation on your behalf.