The Ultimate Guide to How To Get Unbanned From Roblox
Did Roblox lock you out from your digital universe? This is not uncommon as the platform does its best to keep a safe and fair environment for its 42 million users.
The ban doesn't necessarily mean that you need to forget about your creations—DoNotPay will help you find out how to get unbanned from Roblox!
Get answers to all your questions about the ban—why you were banned, how long the ban will last, and how to get your account back.
Why Does Roblox Ban Players?
To keep the community happy and functional, Roblox bans users that play against the rules. This doesn't refer solely to the rules of the game but community guidelines and terms of use as well. If you violate any regulation, you can get suspended or banned.
What falls under ban-triggering behavior on the platform is:
Being disrespectful
Discriminating
Disclosing personal information
Harassing or cyberbullying
Impersonating someone
Using Roblox for dating purposes
Showing sexual content
Violating local, national, or international laws
Selling, trading, or giving away Robux, digital goods, or game codes outside of the official channels on the Roblox platform
Being Disrespectful
Roblox demands that players show respect to each other. Offending, using foul language, or showing any signs of disrespectful behavior can result in a suspension or ban.
Discriminating
The platform doesn't tolerate any form of discrimination. If you use discriminatory speech or take such actions, you will be banned. You mustn't disrespect players based on their:
Age
Gender
Sexual orientation
Origin
Religion
Socioeconomic status
Political beliefs
Language
Physical characteristics
Mental or physical disability
Disclosing Personal Information
There is a rule against sharing other people's personal information. You are strongly advised to keep your own data private, but if you disclose someone's full name, address, password, email address, or any other confidential information, the outcome will be a banned account.
Harassing or Cyberbullying
Using the platform to bully, stalk, intimidate, humiliate, attack, or abuse someone is unacceptable. If you incentivize another player to engage in such actions, you will also be banned.
Impersonating Someone
You can't use someone else's identity on the platform. This includes impersonating a celebrity, another player, police, or any other individual or company.
Using Roblox for Dating Purposes
Roblox is not a dating platform, and it can't be used for such purposes. If you are looking for a dating partner on Roblox and it detects it, you will be banned.
Showing Sexual Content
Sharing or using any form of sexual content will be punished with a ban. Roblox welcomes underaged players as well, so creating an inappropriately dressed avatar, using sexual language, or conducting in a vulgar way will get you temporarily or permanently removed from the platform.
Violating Local, National, or International Laws
Law violations will be severely punished. This includes hacking, cheating, phishing, flaming, exploiting, spamming, scamming, blackmailing, or using the platform for any other illegal actions.
Selling, Trading, or Giving Away Robux, Digital Goods, or Game Codes
Conducting transitions related to Robux, digital goods, Roblox games, groups, or game codes is only allowed through official channels on the Roblox platform. If you engage in these transitions through Roblox groups, chat, or third-party websites, you will be banned.
How Long Will the Ban Last?
The length of the ban depends on the severity of the violation. There are two forms of punishment for disrespectful players:
Temporary ban
Permanent ban
Temporary ban or suspension is for minor wrongdoings, such as arguing, using foul language, and similar. The suspension can last:
One day
Three days
Seven days
14 days
You can wait until the suspension expires, or if you disagree with why you were locked out of the game, you can appeal the decision.
If you break the law, get involved in hacking, phishing, scamming, or any other more serious offense, Roblox will ban you indefinitely. The same will occur if you repeat a violation you were previously banned for.
How To Get Unbanned From a Roblox Game
Do you believe that Roblox banned you for no reason or that the punishment is too severe? Send an appeal. You can oppose the platform's decision 30 days from the day you were banned if you want Roblox to consider it. Only the owner of the account can send an appeal.
Start the procedure by doing this:
Go to the Support page
Fill out the form by including the following information:

Name
Email address
Username
Device you're using, such as Xbox, Mac, and similar
Support category—Select Moderation

Describe the issue you are having in detail and why you were wrongly banned
Submit the form and wait
Note that once your appeal has been reviewed and the decision made, Roblox won't change it. You need to make sure that the first request is strong and convincing—and DoNotPay can help you with that! to create a valid demand letter that will incentivize Roblox into prioritizing your appeal.
Get Unbanned From Roblox Using DoNotPay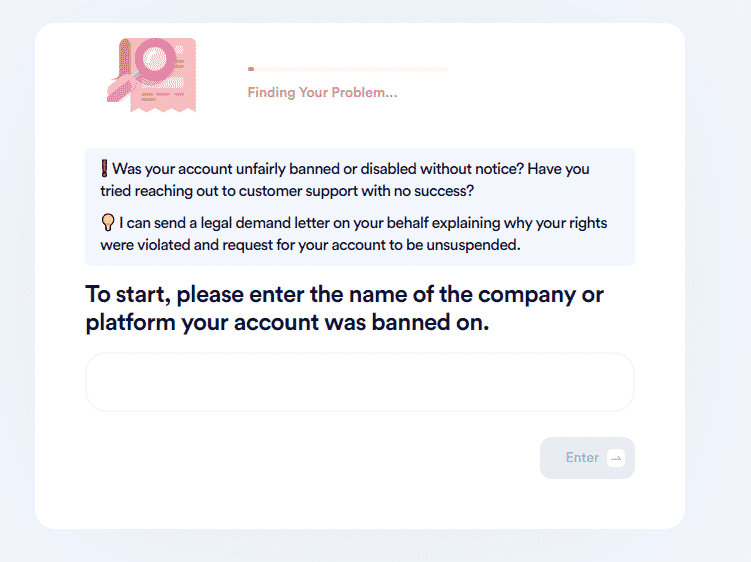 Convincing Roblox to give you a second chance will be easier when you send a professionally written letter with legal weight. Our nifty app will generate such a letter to make sure that the reps take your request seriously.
The process is as simple as it can be—you need to take four steps:
Click on the Unban Gaming Account product
Answer our chatbot's questions about your ban
Click on the Sign and Submit button
We will take it from here and compose and send a customized letter to Roblox. Yours is only to wait—but not for long as we will give the company a deadline to provide you with a response.
If you are having issues with any other game or console, use the Unban Gaming Account feature. We can send a demand letter for various gaming account nuances, including:
DoNotPay Is Your Go-To Solution for Banned and Suspended Accounts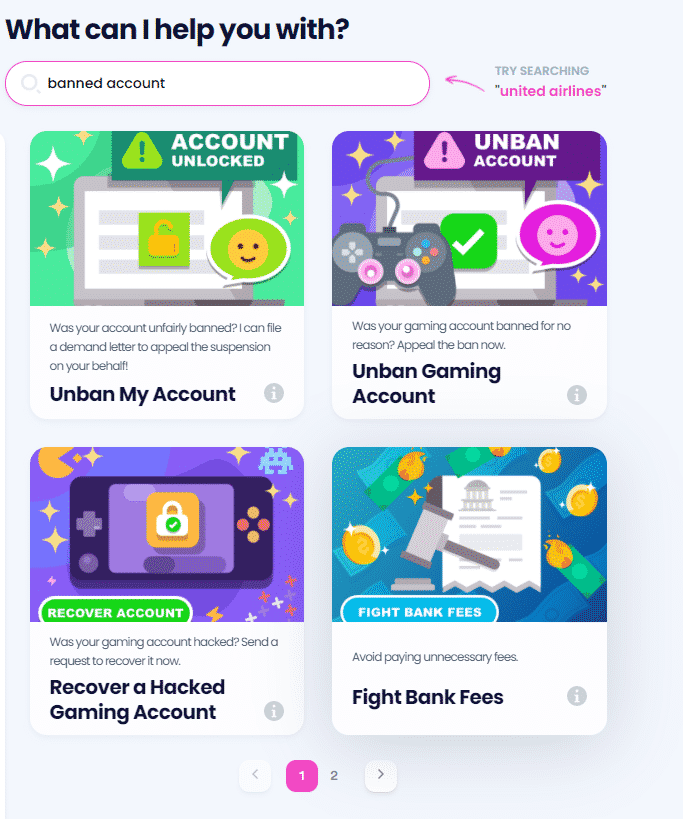 Are you having trouble with a non-gaming account? DoNotPay will help you with that as well. Our Unban My Account product can send an appeal for banned, suspended, and locked accounts.
Here are some of the platforms and account troubles we can assist you with:
Have Your Documents Created and Notarized in Less Than Five Minutes!
Why spend hundreds or even thousands of dollars on lawyers when the ideal solution is only a few clicks away?
DoNotPay saves the day by enabling you to generate numerous legal documents. Creating proper child travel consent forms, divorce settlement agreements, and powers of attorney has never been easier!
Our perks don't stop here—you can also have your documents notarized electronically from any location. Once you obtain a notary stamp and signature, your paperwork can be faxed online without outdated machines.
Explore Everything DoNotPay Has To Offer
Day-to-day tasks you must deal with don't have to be a burden or rocket science. Signing up for DoNotPay is your ticket to performing them the easy way! We offer a wide selection of products that don't cost an arm and a leg but do excellent work when it comes to solving your administrative issues!
Our services will help you: