The Ins and Outs of Paid Sick Leave in San Antonio
Federal laws in the United States do not require employers to provide paid sick leave to their employees. The states implement their own laws regarding this matter separately and may require companies to offer paid leave while leaving the exact number of days at the discretion of the company.
What is the law regarding paid sick leave in San Antonio? Can your employer force you to work while sick? will give you detailed answers to all of these questions.
The San Antonio Paid Sick Leave Ordinance
The San Antonio paid sick leave ordinance requires employers to provide paid time off to employees who get sick at work. This law is known as the Sick and Safe Leave and applies to employees who:
Are suffering from an illness or injury
Have been subject to domestic violence or sexual assault
Need to care for a family member
Require medical or preventive treatment
The law does not say anything about the minimum or the maximum number of days an employee can request off in a year.
San Antonio Paid Leave vs. Texas Laws
The city of San Antonio originally passed a law that required employers to provide one hour of paid sick leave for every 30 work hours. The state of Texas ruled that this law was in conflict with state laws and moved to block it.
While the ordinance was blocked, the Sick and Safe law is still in place, and employers can be held accountable under it.
State Laws About Sick Leave in the U.S.
Each state in the U.S. implements different laws when it comes to sick leave. The following table contains information about a few:
Why Do People Hesitate To Use Sick Leave?
Many people are reluctant to make use of sick leave benefits because they:
Work for an employer who does not provide paid sick leave
Have already used up their available days
Have too much work and no one to delegate to
Cannot afford to get a pay cut
Are afraid of upsetting their employer and getting fired
What Can You Do if You Fall Sick at Work?
With the pandemic in full effect, several changes have been implemented to ensure health and safety. If you get sick at work, you should:
Inform your employer immediately
Ask to work from home
If your employer does not allow you to take time off or go home, you should limit the interaction with others to minimize possible spreading. You should also inform your colleagues about the situation so that they can plan accordingly to ensure their own safety.
Request Sick Leave Quickly With DoNotPay
Requesting sick leave can be a hassle. While many companies allow call-ins, many require formal emails. If you want to shorten the process and apply quickly, we have a great solution!
To use DoNotPay to request sick leave:
and look for the Request Sick Leave feature
Select your state to see the specific laws that apply in your case
Provide some details about yourself and your employer
Let us know how many days you would like to request off
We will generate a custom request letter for you, which you can choose to email directly to your employer from our app!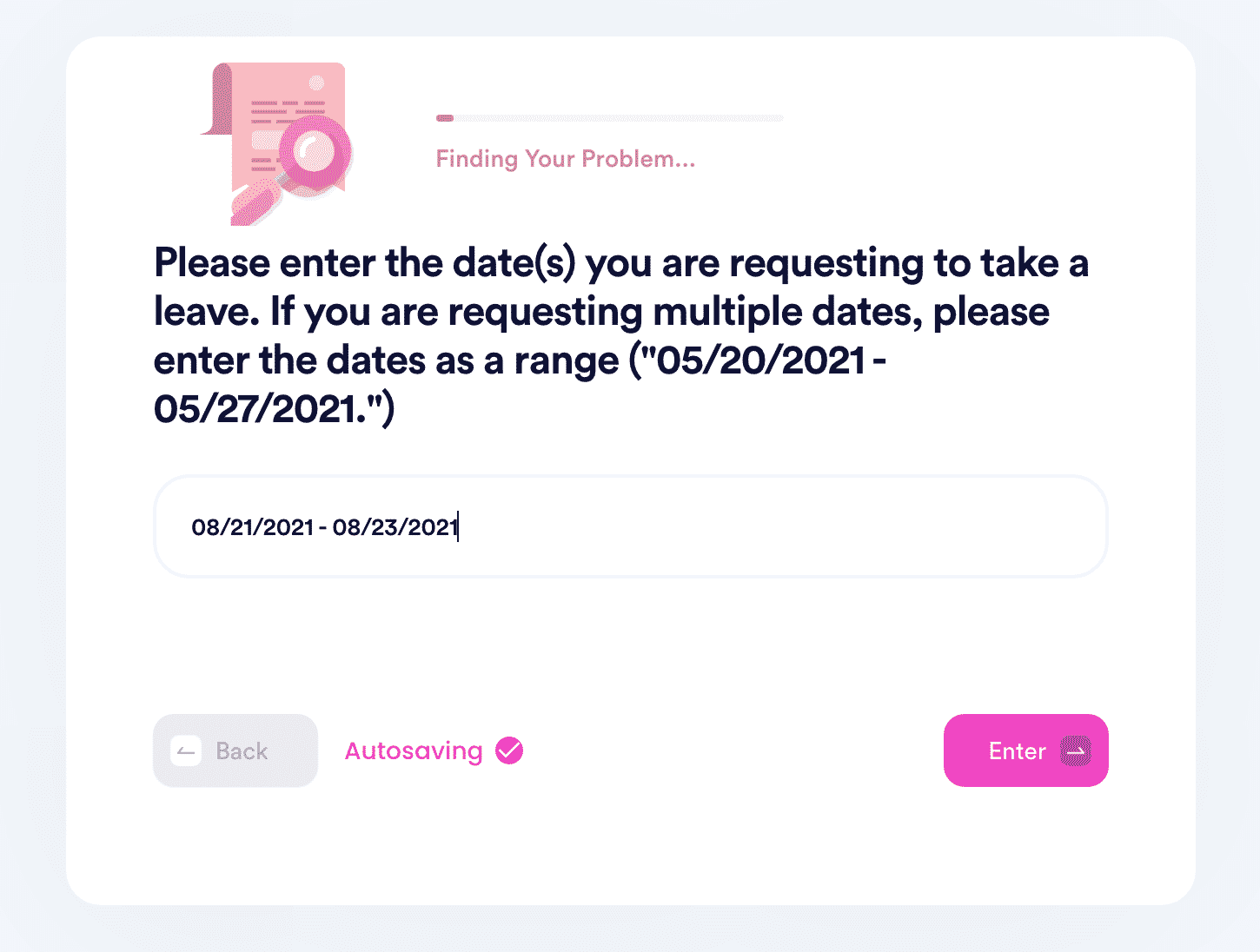 Employer Refusing To Accept Your Request? Sue Them With DoNotPay!
If you're entitled to sick leave, but your employer is refusing your request, you can sue them in small claims court with DoNotPay! We can help you:
Draft a demand letter
Prepare an argument to be used in court
Gather all necessary paperwork and fill out forms
File your lawsuit
What About Other Perks Our App Offers?
DoNotPay offers valuable assistance with the following tasks:
DoNotPay Cares About Health Matters
Finding suitable and verified clinical trials you can participate in is often complicated and time-consuming. Still, with DoNotPay, it becomes a breeze! Our platform allows you to search through clinical trial databases and apply for the ones that seem acceptable to you.
If you want to make sure your health wishes are honored if you get too sick, we help you compose an advance health care directive based on your preferences. That's not all—you can also name a person who can decide on your finances and estate if you get incapacitated by creating a power of attorney in our app!