The Oklahoma Notary Search—Is There an Easier Way?
Before booking a meeting with a notary in Oklahoma, you have to complete numerous steps—the first being finding a notary. Running an Oklahoma notary search by yourself can be tedious, so we are here to simplify the process.
and learn how to find a notary in Oklahoma in a few minutes!
How To Conduct the
Oklahoma Notary Search
Oklahoma residents have more than one option to locate a nearby notary. You can:
Visit various online registries

Go to public places that offer notary services
| | |
| --- | --- |
| Online Registries | Public Places |
| Visit any of the following online registries and enter your ZIP code to start the search: | Go to any of these public places and ask for a notary service: |
What Documents Can a Notary in Oklahoma Notarize?
Some of the main duties a notary in Oklahoma performs are verifying the signer's identity, witnessing the signing process, and notarizing documents by providing their stamp and signature. Check out the list of the documents an Oklahoma notary commonly deals with:
Consent forms

Employment contracts

Trusts

Real estate deeds

Loan documents

Business contracts
Different Notary Services in Oklahoma
Besides the traditional in-person notarization, Oklahoma residents can also choose:
Mobile Notary Service
To notarize your documents, mobile notaries travel to any location you want, including hospitals, offices, or local restaurants. They don't have walk-in offices you can go to.
Although convenient, mobile notarization is a more expensive option. You must cover their travel expenses, and those can get quite high. In Oklahoma, there is no upper limit for the travel fee, so a mobile notary can charge any amount they want.
Online Notarization
Getting documents notarized online gives you the luxury of doing everything from the comfort of your home. A remote notary hosts a video meeting to witness the signing process, and the signatures provided are digital. The best part is that you can find a remote notary in only a few minutes, so you can avoid wasting hours or even days on a simple procedure!
Notary Signing Agents
If you need to get loan documents notarized, a notary signing agent can do the job because they are specifically trained to handle these papers. You can often find these agents in financial institutions.
Electronic Notaries
Electronic notaries (eNotaries) require you to visit them in their offices. They provide the same service as the standard notaries, with one difference. They use documents in PDF format and provide a digital stamp and signature.
How Much Is the Notary Fee in Oklahoma?
The prices of notary services differ significantly throughout the States. The Oklahoma law allows notaries to charge a maximum fee of $5 per notarial act. They can only charge extra for additional signatures or travel expenses.
Skip the Tiresome
Oklahoma Notary Search
and Find a Remote Notary in Minutes With DoNotPay!
You can forget about running the tedious Oklahoma notary search. Use DoNotPay to book a meeting with a remote notary stat! We offer you around-the-clock service, so if you need to make a notary appointment after hours, we got you covered!
and follow these three simple steps to initiate the process:
Select the

Notarize Any Document

feature

Attach the documents you want to get notarized

Type in your email address
We'll send you a link to a remote notary timetable by email, and you're good to go! A notary witnesses the signing over a video call and adds a digital stamp and signature to your doc.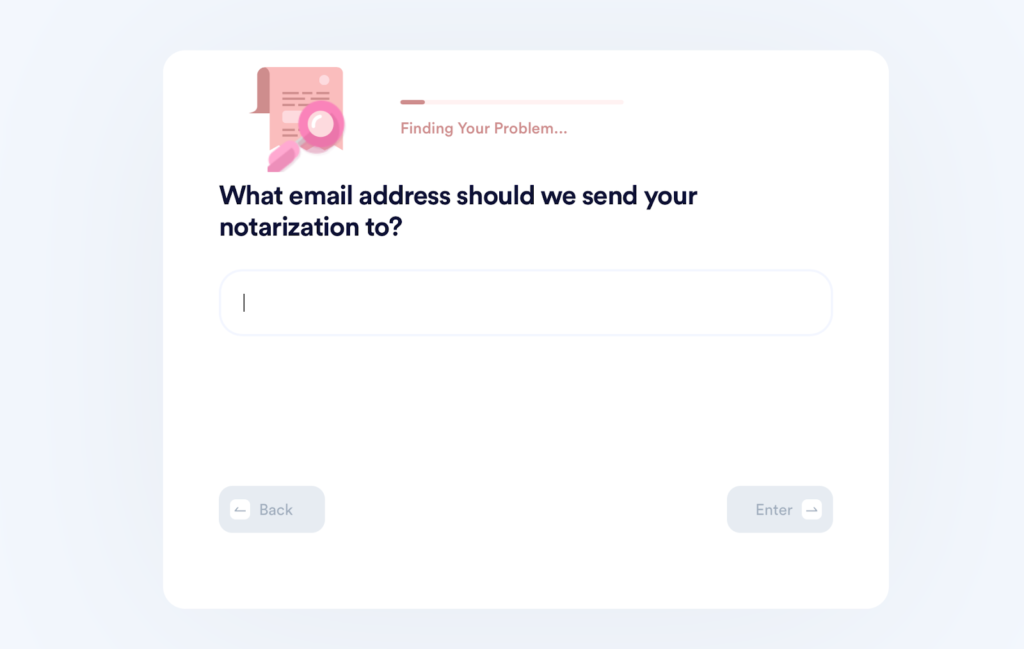 We made our notary service available to everyone, even if the remote notary law wasn't passed in a specific state! In case a state doesn't allow RON, DoNotPay will connect residents to a notary from another state, and he or she will notarize their documents in an instant.
Searching for More Notary-Related Info? You Ask, We Answer!
If you need more information about notary services, check out the list of questions DoNotPay answers for you:
There's More DoNotPay Can Do for You
In case you're struggling to cover your bills, our hacks may help you earn or save some extra money. Use our app to sign up for paid clinical trials in your area and try your luck with free raffle tickets. We can also help you get late delivery refunds and cash back on gift cards. You may not even know that you have funds lying around—rely on DoNotPay to uncover your unclaimed money.
If you have any documents or letters you need to send, we can save you the trouble of using a fax machine or waiting in line at a post office, thanks to our nifty products—Online Fax and Mailing Service.
Fast-Track Your Tasks With DoNotPay
If you've been putting off your errands because they take too long or they are too complicated, we know what to do! From filing insurance claims, getting documents notarized, submitting item return requests, demanding late delivery refunds, and getting a child travel consent—there isn't much we can't streamline for you.
You can count on our assistance even for more serious and complex tasks, such as: