The Essentials of the Notre Dame Financial Aid Program
The University of Notre Dame (ND) is the highest-ranked school in Indiana and in the top 1% of all schools in the United States. The tuition and attendance fees that amount to $78,347 may seem scary to prospective students, but the University's financial aid program can help them handle the colossal expense.
Learn everything about the University of Notre Dame financial aid program, including how to apply for it, how much aid you can expect, and how to if it doesn't work for you!
What Types of Aid Does the University of Notre Dame Offer?
ND students can qualify for the following types of financial aid:
Grants and scholarships
Student employment programs
Loans
Veteran and ROTC benefits
Notre Dame Financial Aid—Grants and Scholarships
Check this table for the types, amounts, and durations of grants and scholarships you can receive from Notre Dame:
Category
Grant
Amount
Federal
Federal Pell Grant
$650–$6,495 per year, up to six years
Federal Supplemental Educational Opportunity Grant (SEOG)
$100–$4,000 per year
State
21st Century Scholarship
Up to four years of tuition
Mitch Daniels Early Graduation Scholarship
$4,000, one time
Frank O'Bannon Grant
$650–$9,200 per year plus up to $3,200 for bonus student achievement incentives
Adult Student Grant—Indiana You Can. Go Back. program
$2,000 per year
Institutional
Notre Dame Scholarships
N/A
Notre Dame Club Scholarships
N/A
ND students with outstanding academic accomplishments can refer to the merit scholarships page to find and apply for available opportunities.
Notre Dame Student Employment Programs
Notre Dame students can work:
On-campus—for all students, regardless of financial need
Through the Federal Work-Study program—for students demonstrating financial need
Earnings can range from $510 to $5,640 depending on the number of hours a student works per week and the skill they demonstrate at work. Work hours cap at 20 hours per week so students can keep making required academic progress.
Students can refer to JOBboard to find available positions or ask school departments for open spots.
Notre Dame Financial Aid—Loans
If you have a financial gap despite receiving other types of aid, you can apply for the following loans at the University of Notre Dame:
Federal Direct Subsidized Loan
Federal Direct Unsubsidized Loan
Notre Dame Subsidized Loan
Federal Direct PLUS Loan
Students can also opt for private loans to acquire the means to pay their contributions.
Veteran and ROTC Benefits at Notre Dame
The University of Notre Dame participates in:
The Post 9/11 G.I. Bill
The Yellow Ribbon Program
Reserve Officer Training Corps (ROTC) scholarship program
Students eligible to receive aid based on their or their parents' service should report to the ROTC Office and the Office of Military & Veterans Affairs for further instructions.
How To Apply for Notre Dame Financial Aid
To apply for Notre Dame financial aid:
Complete your Free Application for Federal Student Aid (FAFSA)—school code 001840
Submit your College Scholarship Service (CSS) profile—school code 1841
Upload other required documents, such as tax returns, to the Institutional Documentation Service (IDOC)
To ensure you apply on time, take a look at the application deadlines at the University of Notre Dame:
Student Category
Restrictive Early Action
Regular Decision
Undergraduate students
FAFSA, CSS Profile, and IDOC—November 15

FAFSA and CSS Profile—February 15
IDOC—March 1

International students
CSS Profile—November 1
CSS Profile—January 6
Fall transfer students
/
FAFSA, CSS, and IDOC—April 15
Spring transfer students
/
FAFSA, CSS, and IDOC—November 15
Current students
/
FAFSA, CSS, and IDOC—April 15
For all questions related to the application process, contact the University of Notre Dame Office of Financial Aid by:
Calling (574) 631-6436 to schedule a phone appointment
Sending an email with all of your questions to finaid@nd.edu
If the University rejects your application, you can file a Change in Circumstances form, accompanied by a convincing appeal letter.
Use DoNotPay To Request More Aid From the University of Notre Dame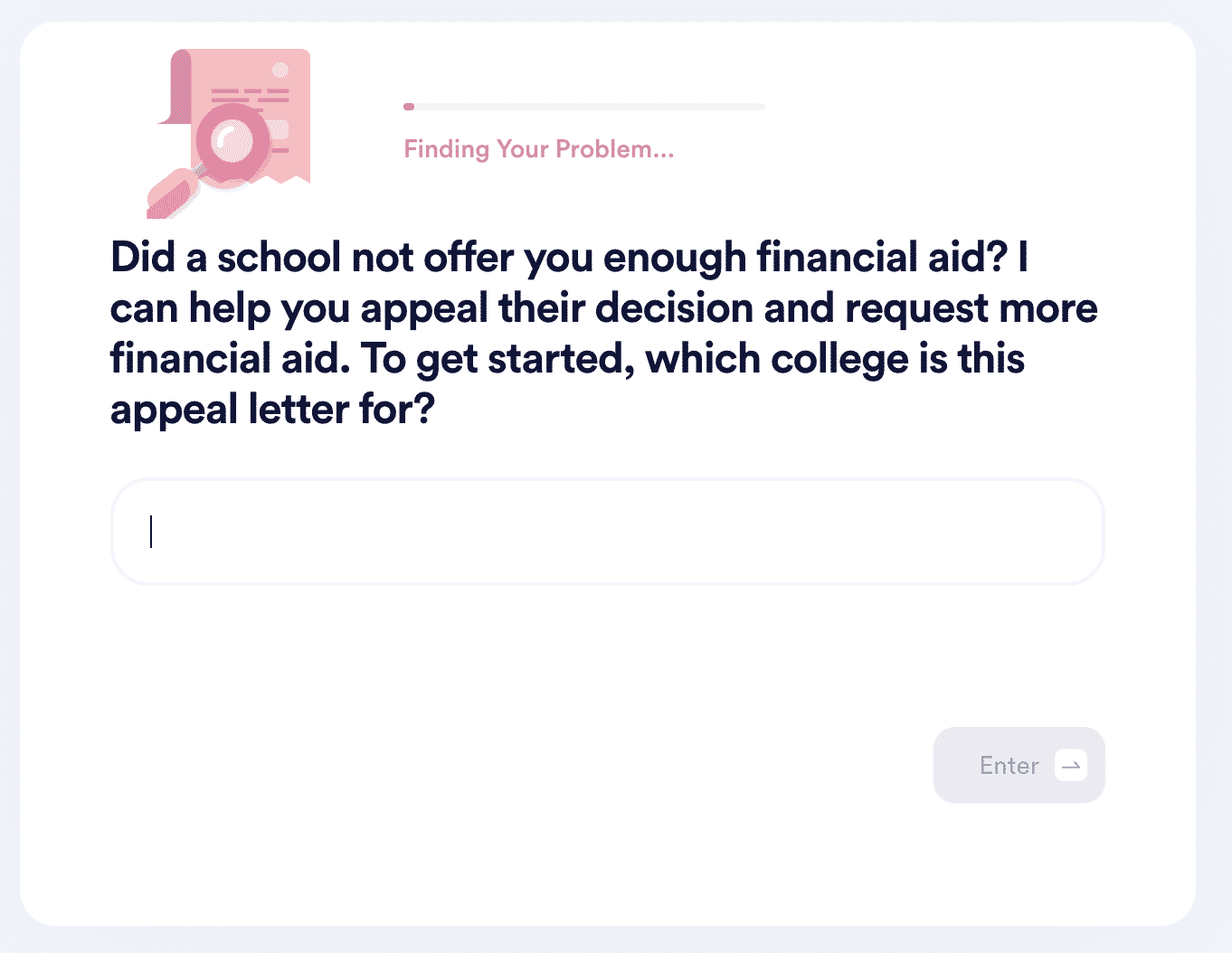 If the University of Notre Dame rejects your application or doesn't offer enough financial relief, you can appeal its decision in three simple steps:
in any web browser
Type Appeal for More Financial Aid in the search bar
Explain what unfortunate circumstances are impacting your financial need
After you complete all steps, you will get a custom appeal letter which you can send to the University of Notre Dame to request more aid!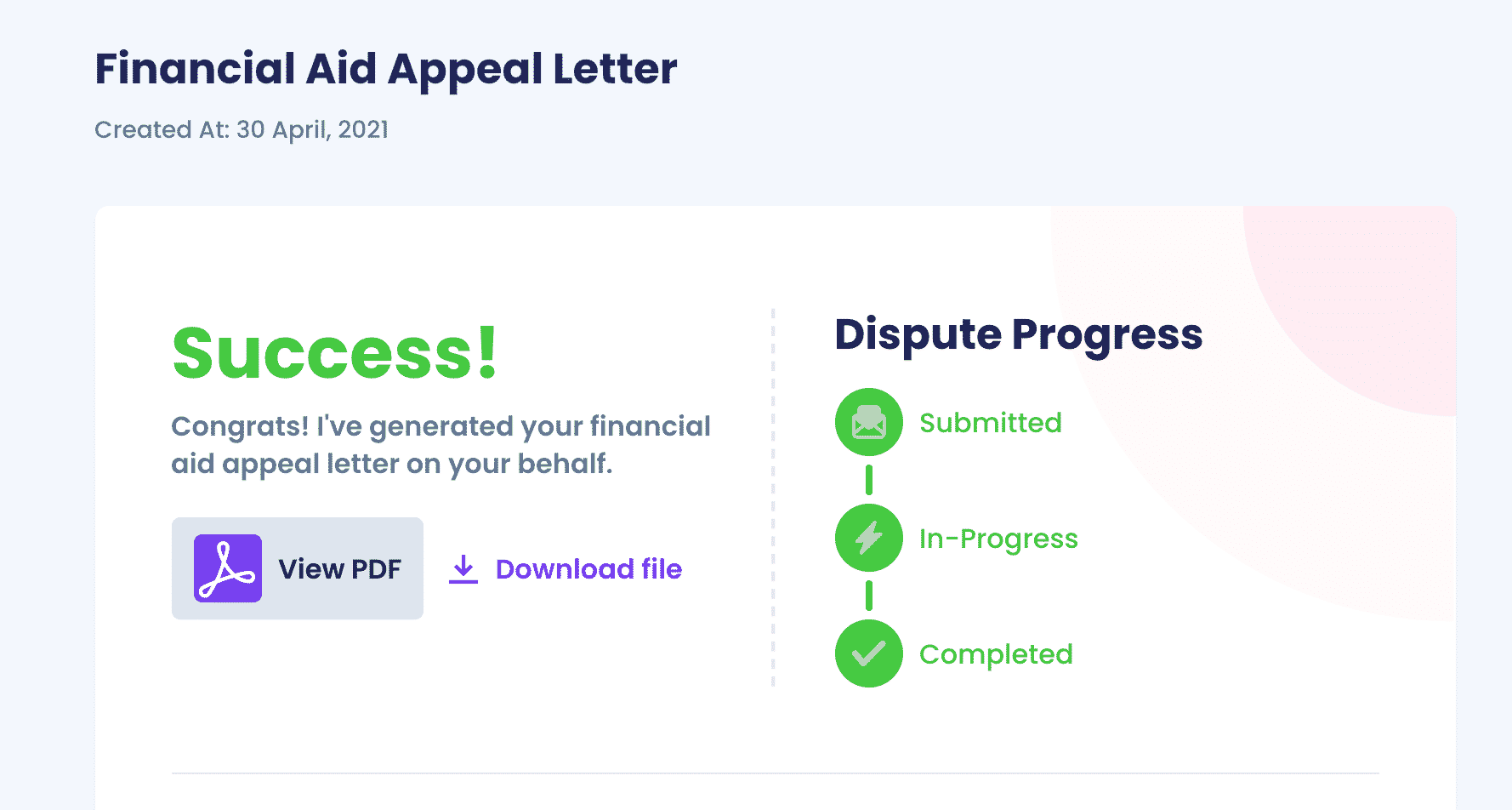 Expand your knowledge about financial aid and discover more guides in our learning center, such as:
Alternatives to the University of Notre Dame
If the University of Notre Dame didn't meet your expectations, check out some of the other schools and financial aid programs we wrote about:
Solve Any Issues Like a Pro With DoNotPay
DoNotPay is an AI assistant that is able to solve almost all issues you're facing. Whether that be your noisy neighbors, the annoying text and email spam you're receiving, or the frustrating robocalls that won't leave you alone. We'll even cancel your unneeded subscriptions and get you a few extra bucks you've been cheated out of.
The world's first robot lawyer app can help you get:
DoNotPay Helps You Deal With Any Administrative Issue Effortlessly
Tedious administrative tasks are always headache-inducing, but they don't have to be if you use DoNotPay. With our AI-powered app, you will be able to: