Get Legal Security With a Notary Public in Odessa, TX
Almost any legal document gains weight and becomes more difficult to contest if you have it notarized.
Whether you are dealing with a will, a contract, an affidavit, or a bill of sale, having a notary signature and stamp on your document vets its authenticity.
Choosing the right notary public in Odessa, TX, can be a time-consuming process, though. DoNotPay is here to help you make the right choice!
What Happens When I Get a Document Notarized?
A notary service makes sure that all the legal requirements for a document to be enforceable are fulfilled before it is signed. As an official witness to your signature on your document, a notary attests to these facts:
You are who you say you are

You are entitled to sign the document

You understand what the document means
Before you sign, a notary will go through a series of questions to verify your:
Identity

—You will need to provide a photo ID to prove who you are

Eligibility

—You must prove whether you are the author, a signatory, or a party affected by the document

Competence

—You should demonstrate that you understand what the document is about and how it affects you
Once you have satisfied the notary on these points, you sign the document and the notary countersigns to signify that your signature has been witnessed. All that remains is to pay the notary fees.
Where Can I Find a
Notary in Odessa, TX
?
You can access notaries in three ways:
In-Person Notary
Visiting a notary in their office is the traditional way of having your documents notarized.
Many in-person notaries advertise walk-in services, but you will most likely have to book an appointment, involving:
Arranging your schedule around the time you are given

Traveling to the notary's office and finding parking

Waiting in line in close contact with other clients (undesirable in

pandemic

times)

Remembering to bring all the necessary documents (if something is missing, you will have to rebook)
The process is inconvenient and time-consuming, but you can find an in-person notary easily using these search engines:
As an alternative, these locations normally offer in-house notarial services:
Organization Type

Examples

Public offices

Financial or legal institutions

Other outlets

AAA

stores

Car dealerships

Large companies
Mobile Notary
More convenient than an in-person notary, a mobile notary comes to you at a pre-booked time.
While you don't have to leave your home or office, you may find that mobile notaries are heavily overbooked and only able to give you an appointment for some time later. If your document requires urgent notarization, this may not be a viable alternative.
Mobile notaries also charge for their travel, so you may find that the convenience is outweighed by the extra cost involved.
Online Notary
Texas is one of the 28 states that has legalized online notarization, meaning that you can get your documents notarized with a few clicks.
The process is simple—before the appointment, you send digital copies of the document and your ID. During the video call notarization, the notary asks a few questions taken from your online profile to verify your identity, witnesses your signature on the document, and issues a digital stamp and signature.
Online notarization gives you a simple and convenient alternative to the more traditional routes to notarization, and DoNotPay can .
How Much Must I Pay for Notarizations in Odessa?
Notary fees in Texas are regulated by the state legislature and are as follows:
Service
Fee

Taking acknowledgments or proofs

$6 for the first signature

$1 for each additional signature

Administering an oath or affirmation

$6

Swearing a witness for a deposition

$6

Taking a witness deposition

$0.50 per 100 words

Certifying a copy

$6
The state requires notaries to be upfront and transparent about their fees, but bear in mind that extra services like travel, scanning, copying, or phone calls may be charged at a premium rate.
Can DoNotPay Help Me Make the Right Choice of a Notary in Odessa?
DoNotPay can take all the hassle out of choosing a notary by connecting you with an online notary in a few clicks.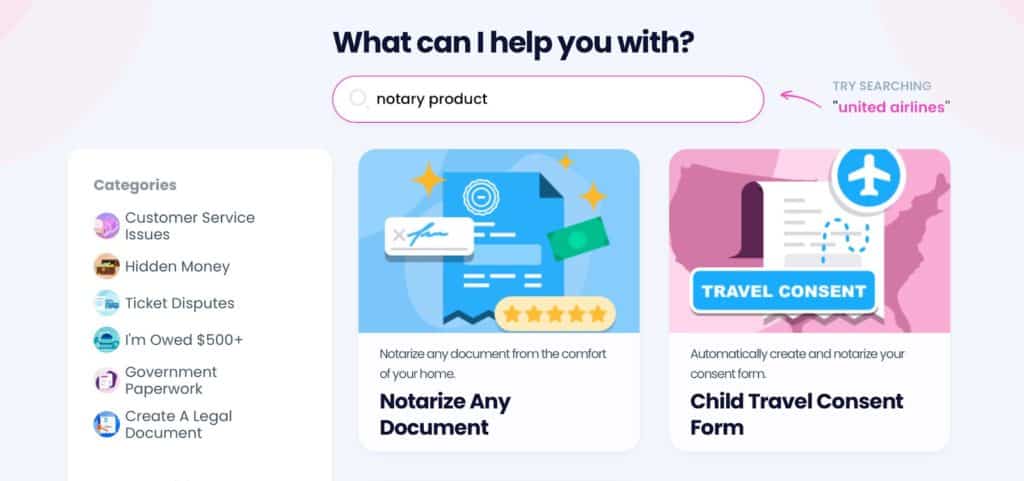 All you need to do is:
Navigate to DoNotPay on the web and

Click on our

Notarize Any Document

feature

Upload your document

Give us your email address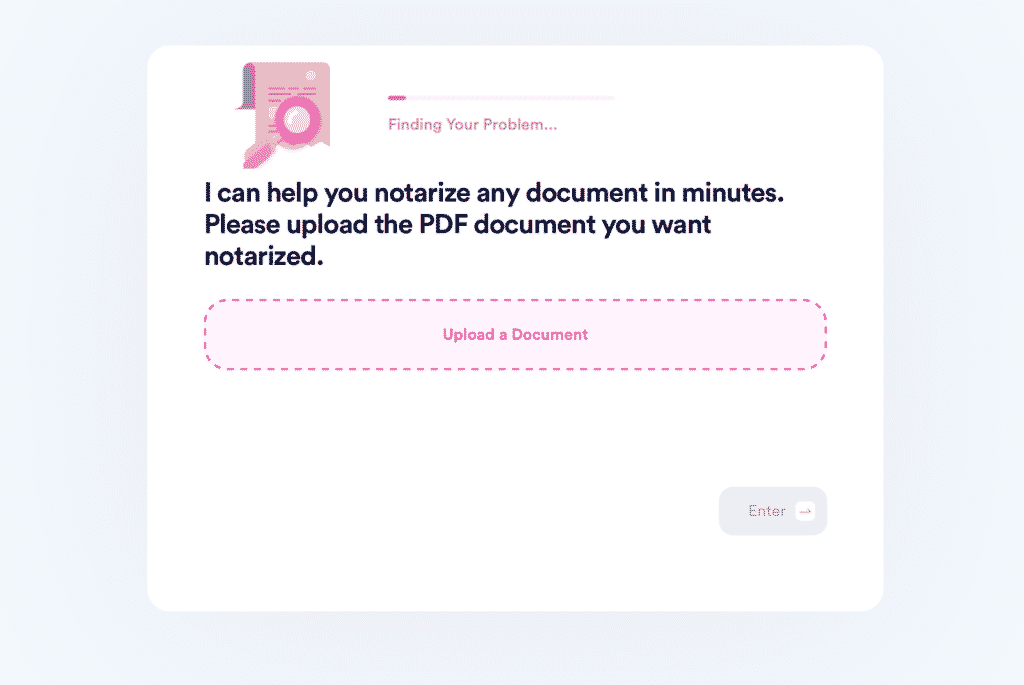 In no time at all, you will get an email with a link—follow the link to set up an appointment with one of our online notaries.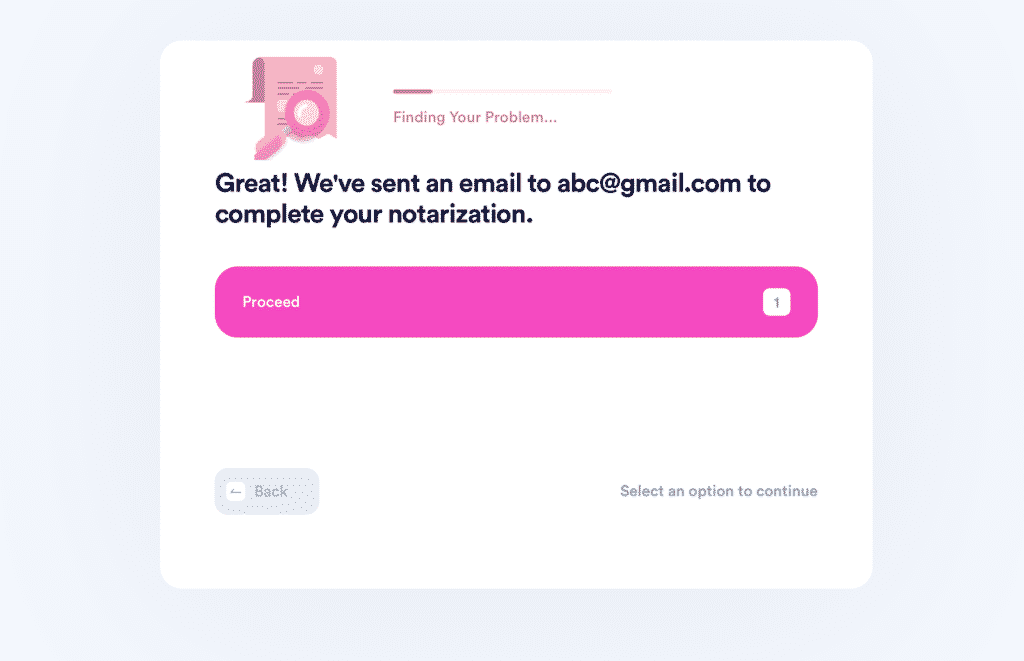 Can I Get Legal Documents From DoNotPay?
If you feel unsure about how to word a contract, we have a range of contract templates and legal documents for you to customize.
To get your customized legal document, do the following:
with DoNotPay

Look for the document you need

Insert your details as prompted

Wait while we create your tailor-made document
We have a rapidly-growing selection of legal documents for you to choose from, a few examples of which are:
Personal:
General affidavit

Custody agreement

Prenuptial agreement

Promissory note
Property:
Lease agreement

Real estate purchase agreement

Estoppel certificate

Quitclaim deed

Intent to purchase real estate
Business:
Non-compete agreement

Non-disclosure agreement

Operating agreement

Independent contractor agreement

Bill of sale

General business contract
What if I Need a Notary Somewhere Else?
DoNotPay can help you in any of the 28 states that allow online notarization. The states are:
DoNotPay Helps Out in More Ways Than One
As a versatile app, DoNotPay is so much more than a money-saving hack. Check out the table below for an overview of what we can do for you:
Managing Tasks With DoNotPay Saves Both Time and Money
If your to-do list is overflowing and you need more hours in the workday to get everything done, we've got a solution! DoNotPay's products help you check off your errands in record time. Within minutes, you'll be able to get a free trial, cancel a service, or request a refund. Perhaps you're dreading wasting your time in lines or on the phone, but don't worry—we'll deal with customer service, book a DMV or a notary appointment in your stead.
We can also assist you in filing a FOIA request, getting in touch with an inmate, and prepping for government tests.