Get the Best Deal on a Notary in Lexington, KY
Using a notary service in Lexington, KY, is something most Kentuckians will have to go through at some point.
You may need to notarize wills, contracts, affidavits, and many other legal documents in Kentucky, but getting a notary signature on your document can end up being an expensive and time-consuming exercise.
DoNotPay is your go-to resource for taking the pain out of using a notary public in Lexington, KY.
What Does a Notary in Lexington Do?
Notaries in Kentucky are authorized to:
Administer oaths

Issue acknowledgments of contracts, agreements, and other legal documents

Confirm affidavits

Take proofs of execution
A notary's most important function—whatever the document to be notarized—is to verify your:
Identity

Eligibility

Competence
Identity
A notary must verify that you are the person you say you are, so you will need to provide a form of ID that includes a photo and a sample of your signature. Acceptable forms of ID could be:
Current passport

Driver's license

Any government-issued document that fulfills the criteria
If you use an online notary, you may also have to answer some questions pulled from your online profile to verify your identity.
Eligibility
You will need to prove that the document to be notarized concerns you, meaning you should be:
The author

A co-signatory

An affected party
The notary will interrogate your relationship to the document to make sure you are eligible to sign.
Competence
A notary must be convinced that you know what you are signing and will verify that you are:
Of legal age

Mentally fit and capable of understanding the document
Notaries will only proceed with the notarization of your document once they have checked all these points.
Where Can I Find a Notary in Lexington?
To find a notary in Lexington, you must first decide on what kind of notary service you want to use. Your choices are:
Notary Type
Explanation

In-person notary

An in-person notary is one that you see face-to-face—the most common type of notary available. Although many notaries offer a walk-in option, in many cases, you will need to:

Book an appointment

Travel and find parking

Wait in line for your slot

Come into contact with other clients and staff

Remember to take all the required documentation (forgetting something will mean making a new appointment)

The process can be inconvenient and time-consuming

Mobile notary

Mobile notaries travel to you, meaning you do not have to leave your home or office to get your documents notarized. Many mobile notaries are overbooked, though, so you may have to wait to get an appointment. Mobile notaries also charge you for their travel

Online notary

An online notary performs the notarization via video call, meaning you don't have to travel or meet anyone face-to-face. You upload your documents and ID in digital format in advance of your appointment. In the video call, the notary verifies your identity and appends a digital signature and stamp to your documents
An online notary offers you an easy, quick, and hassle-free way to get your documents notarized.
You can find a notary in Lexington by using these search engines:
Notaries are also usually located in the following places:
Location Type

Detail

Public facilities

Courthouses

City or county clerk's offices

Public libraries

Colleges and universities

Financial or legal firms

Other outlets

AAA

stores

Car dealerships

Hotels

Large companies
How Much Does Notarization Cost in Lexington?
Kentucky—together with Iowa, Kansas, and Louisiana—does not set a rate for notary services.
This means that notaries in Lexington can charge whatever fee they want to notarize your documents. They may also charge for ancillaries, such as scanning, phone calls, and photocopying, and may levy a cancellation or waiting fee if you are late for your appointment or forget a required document.
Mobile notaries also charge for their travel, which is usually calculated on a round-trip basis.
Bearing all this in mind, you have to shop around in Lexington to get the best deal. Even better—use DoNotPay to get your documents notarized in a flash!
How Can DoNotPay Get Rid of the Hassles of Notarization?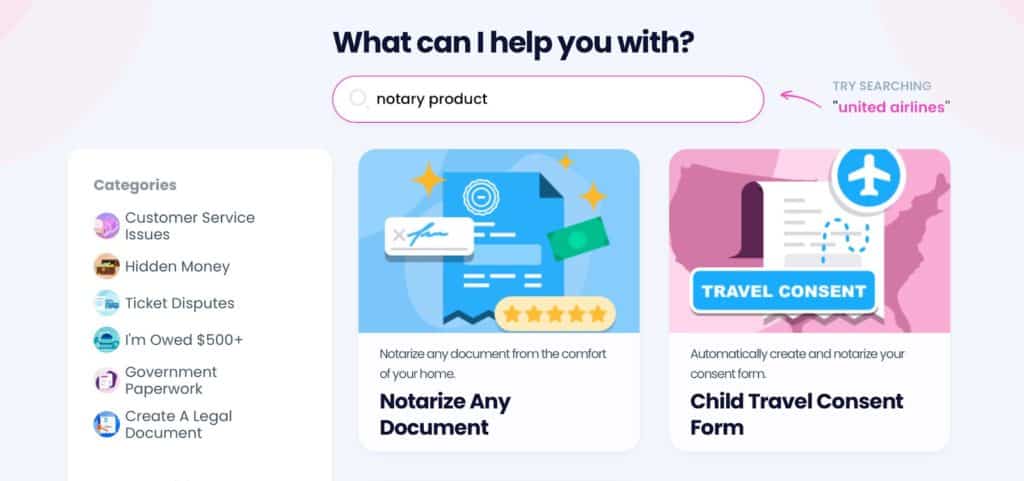 DoNotPay can help you get your documents notarized in a few clicks—here's what you need to do:
Navigate to DoNotPay in your browser and

Click on our

Notarize Any Document

product

Upload the document you want notarized

Give us your email address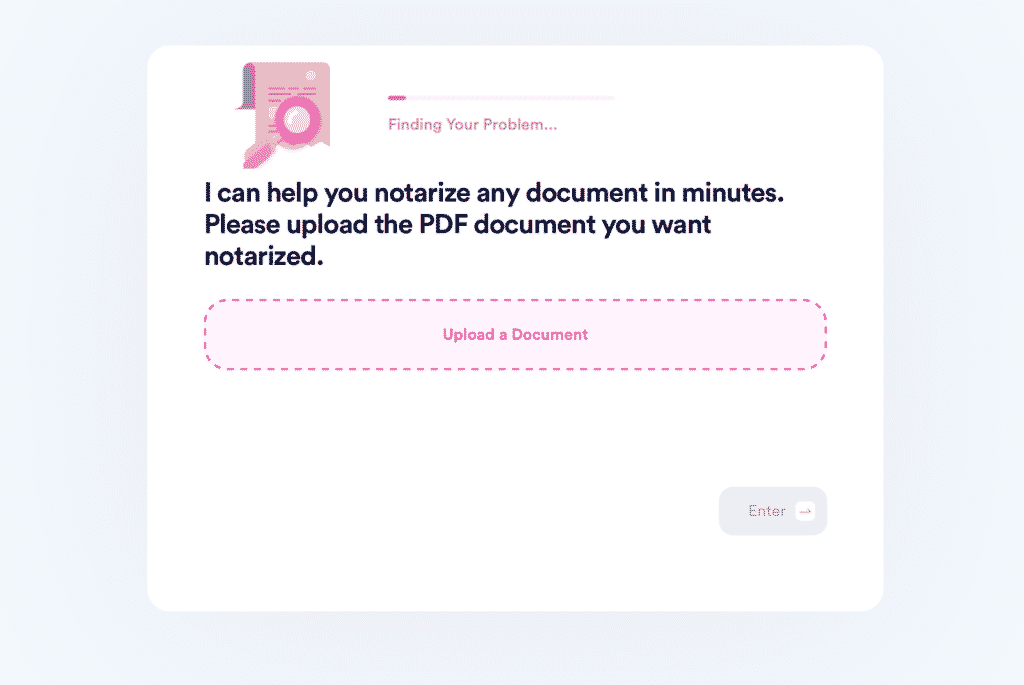 We will send you a link via email—click on it to schedule an appointment with an online notary.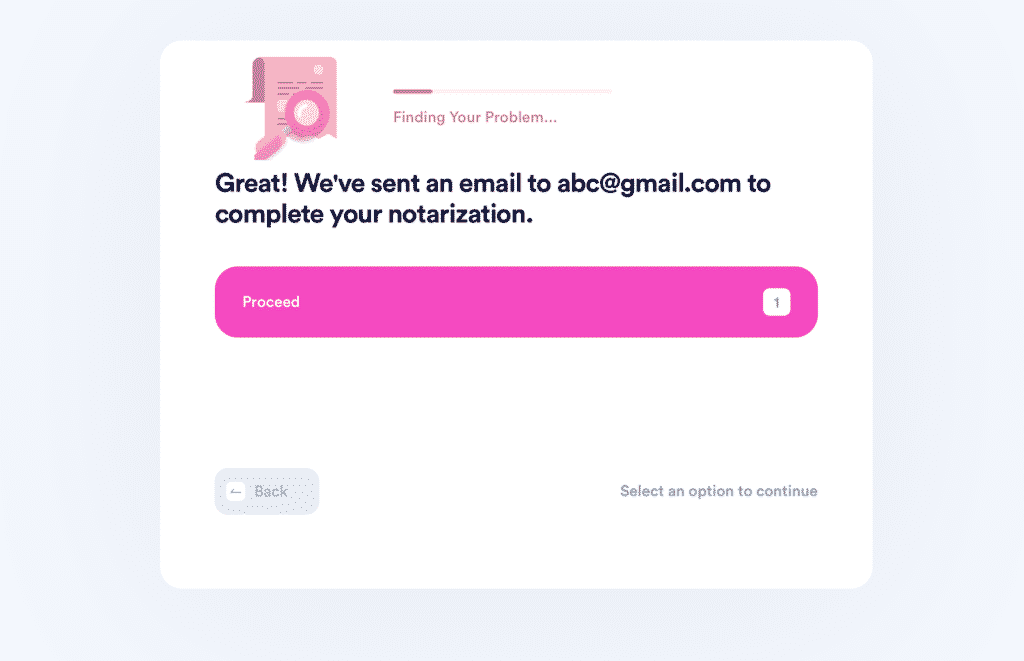 Can DoNotPay Help Me Get a Document Notarized Somewhere Else?
There are currently 28 states that allow online notarization, but you can have your documents notarized out-of-state in most jurisdictions. The 28 states are:
Can DoNotPay Help Me With Legal Docs Too?
We understand that not everybody feels comfortable drawing up a contract, so we offer a range of legal documents and contract templates that you can customize to your requirements. Here's how you can get what you need:
or sign in

Search for the document you need

Fill in the details you want

Wait while we create your customized document
Our range is expanding all the time, and here are a few examples of what we can offer:
Document Type
Examples

Property

Real estate purchase agreement

Lease agreement

Estoppel certificate

Quitclaim deed

Intent to purchase real estate

Business

Non-disclosure agreement

Non-compete agreement

Independent contractor agreement

Bill of sale

Operating agreement

General business contract

Personal

Prenuptial agreement

Custody agreement

General affidavit

Promissory note
Falling for Scams Is Less Likely With DoNotPay
Thanks to AI technology, DoNotPay is a great resource for protecting your privacy and finances from potential scammers. Our bots can help you report robocalls, keep your inbox clean from spam email and shady text messages, or even deal with stalking and harassment, if it comes to that.
In case the issues escalate, skip the expensive lawyers and sue the offenders in small claims court with ease.
Another great way to increase your online security is to use our virtual credit cards and sign up for any free trial without risking unwanted charges. You can even avoid sharing your contact info with our Burner Phone feature.
The Solution to Your Driving Woes
DoNotPay provides invaluable help to future and current drivers. By helping you ace that driver's license test, scheduling a DMV appointment the easy way, or contesting parking tickets, our app saves you money and time.
If you need to file a car warranty or an insurance claim, we will help you deal with the necessary paperwork within minutes. Trying to get out of a car wash membership? DoNotPay can cancel it in an instant.
Our platform works above ground as well. You can use DoNotPay to secure refunds from airline companies or compensation for delayed and canceled flights.