Get Your Documents Notarized by a Notary in Greenville, SC, With DoNotPay
Legal documents are used everywhere, from affidavits to zipper clauses in your employment agreement. Having them notarized adds legal weight and makes them harder to contest in court.
If you live in Greenville, SC, you can get a notary signature in many places. DoNotPay can help you find a notary service in Greenville, SC, and get your documents notarized.
What Does a Notary Do?
A notary makes sure you are who you claim to be and that you have physically signed a legal document. Most legal documents only become binding when they have been notarized, but this is particularly true of:
Contracts

Business agreements

Car titles

Wills

Documents relating to real property

Personal agreements

Affidavits
There are many kinds of documents that are given more weight by having them notarized, and the process offers you added protection if the document is contested.
How Can I Find a
Notary Public in Greenville, SC
?
South Carolina is one of the three states that still do not allow online notarization. A bill was introduced in 2019 to enable online notarization services but has stalled in the Judiciary House Committee phase.
You still have to have your documents notarized in person in Greenville, but there may be options to use an online service if it involves physical (not electronic) signatures that are witnessed by a notary via video call.
The types of notary available to you are:
Notary Type
Explanation

You can find notaries in many locations, including:

Banks

, such as

Wells Fargo

or

Bank of America

City or county clerk's offices

Police departments

Shipping facilities, like

UPS

Courthouses

Realty agents

Accountancy practices

AAA

stores

Law firms

Public libraries

Car dealerships

Visiting a notary means making an appointment, traveling, and possibly waiting in a queue. It is not a convenient way to get your documents notarized

Mobile notaries arrange an appointment and come to you to notarize your documents. Mobile notaries are frequently over-burdened, though, so getting an appointment may prove difficult. Mobile notary charges are also often considerably higher

You may be able to have your South Carolina legal documents notarized by an out-of-state notary, as long as the notary makes it clear that the document was notarized in a different state. In this case, you may be able to use an online notary, which is legal in the following states:

Alaska

Idaho

Iowa

Minnesota

Missouri

Montana

Nebraska

North Dakota

Tennessee

Vermont

If you are in doubt about whether you can use an online notary service in South Carolina, you can check with the Greenville Clerk of the Court or the Recorder of Deeds for real property matters
How Does Notarization Work?
A notary's job is to verify that you:
Are the person you claim to be

Understand what you are signing

Are entitled to sign

Are not under any duress or pressure to sign
You Are the Person You Claim To Be
A notary has to verify your identity before notarizing your document, so you must provide a photo ID that proves who you are. In Greenville, forms of ID include:
Current driver's license

Current passport

Any current form of government-issued ID that includes a photo, your name, and your signature
You Understand What You Are Signing
You need to demonstrate that you understand the contents and the implications of the document you are signing.
You Are Entitled To Sign
You have to demonstrate the relevance of the document to you, meaning you should clarify whether you are:
The author of the document

The co-signatory

An affected party
Once the notary has established your relationship to the document to be signed, you will be asked to prove that you are:
Of legal age to sign

Mentally capable of understanding the document to be notarized
You Are Not Under Any Duress or Pressure To Sign
The notary should be satisfied that you are not being put under any pressure to sign the document and that you are signing it voluntarily.
Once the notary is satisfied that all these conditions have been met and has witnessed your signature, you receive a notary stamp and signature on the document that verify that your signature is authentic.
How Can DoNotPay Help Me Notarize a Document?
DoNotPay has developed a simple and efficient way to get your documents notarized online with a few clicks.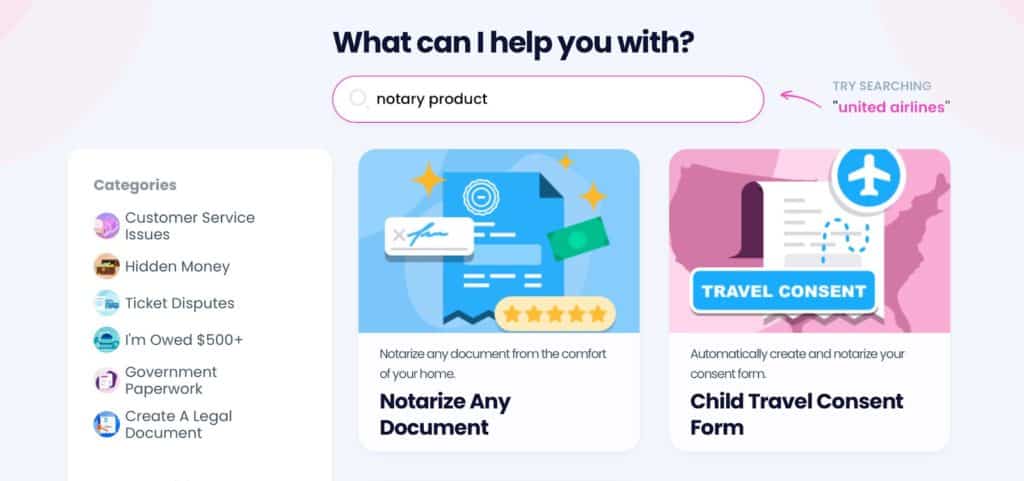 All you have to do to use our online service is:
with DoNotPay

Go to our

Notarize Any Document

feature

Upload the document you need to be notarized

Fill in your email address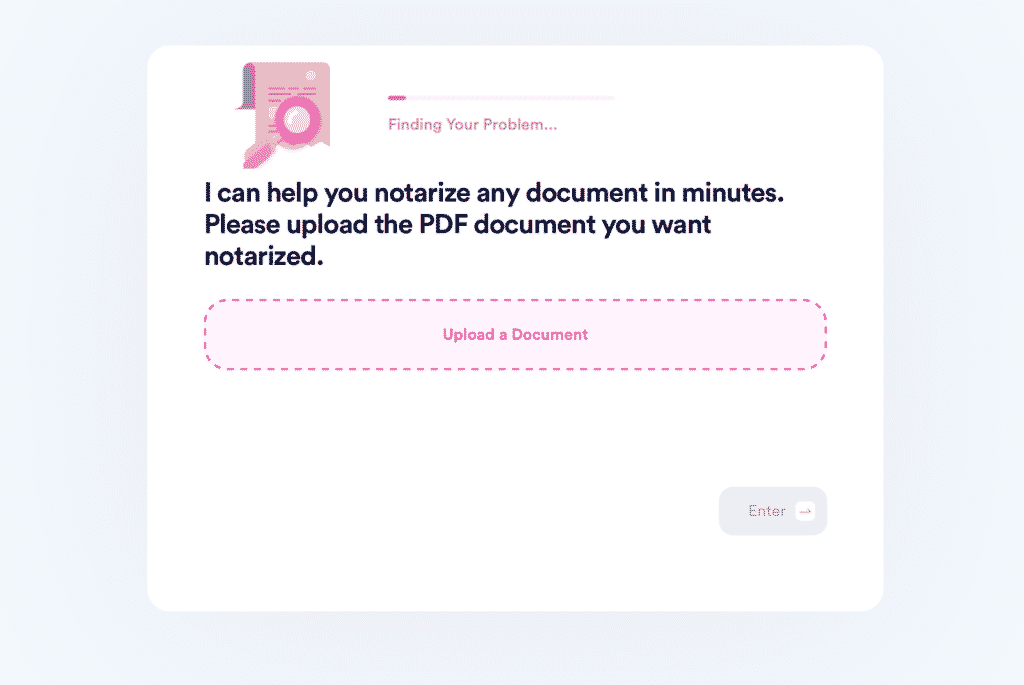 In a few seconds, we will send you a link to schedule your appointment with an online notary.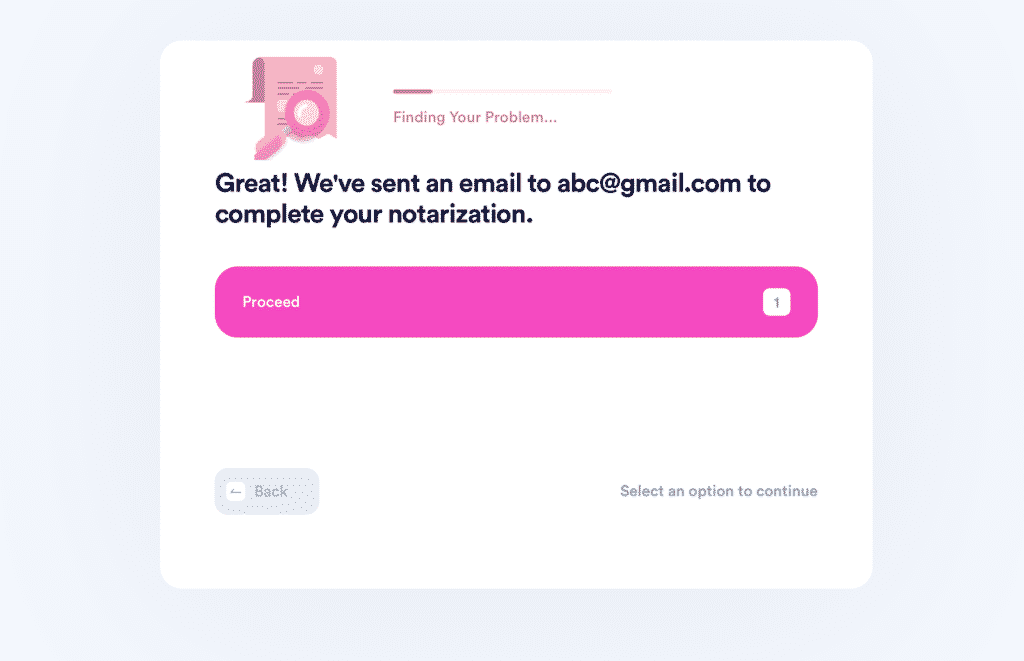 Can DoNotPay Help Me Create Legal Documents?
DoNotPay can also help you create legal documents and contract templates for many situations. To get your customizable legal document, all you need to do is:
with DoNotPay

Search for the legal document you need

Fill in the details you require

Wait for us to generate your document
Among the documents we can offer are:
Lease agreements

Non-disclosure agreements

Non-compete agreements

Independent contractor agreements

Prenuptial agreements

Custody agreements
Falling for Scams Is Less Likely With DoNotPay
Thanks to AI technology, DoNotPay is a great resource for protecting your privacy and finances from potential scammers. Our bots can help you report robocalls, keep your inbox clean from spam email and shady text messages, or even deal with stalking and harassment, if it comes to that.
In case the issues escalate, skip the expensive lawyers and sue the offenders in small claims court with ease.
Another great way to increase your online security is to use our virtual credit cards and sign up for any free trial without risking unwanted charges. You can even avoid sharing your contact info with our Burner Phone feature.
The Solution to Your Driving Woes
DoNotPay provides invaluable help to future and current drivers. By helping you ace that driver's license test, scheduling a DMV appointment the easy way, or contesting parking tickets, our app saves you money and time.
If you need to file a car warranty or an insurance claim, we will help you deal with the necessary paperwork within minutes. Trying to get out of a car wash membership? DoNotPay can cancel it in an instant.
Our platform works above ground as well. You can use DoNotPay to secure refunds from airline companies or compensation for delayed and canceled flights.