The Quickest Way To Get Your Legal Document Notarized by a Notary in Gonzales, LA
Wills, agreements, contracts, and affidavits all need a notary signature to make them as legally robust as possible, and many other documents also benefit from being notarized.
If you are looking for a notary public in Gonzales, LA, DoNotPay has all the info you need to choose the quickest and easiest option!
What Does a Notary Do?
A notary adds legal weight to your documents by verifying that you:
Are who you claim to be

Are entitled to sign the document to be notarized

Understand the content of the document you are signing
By using a notary service for your documents, you make them much more difficult to contest in court.
A Louisiana notary has a wide range of powers, some of which can only be performed by attorneys in other states. Their services include:
Drafting and preparing notarial acts

Witnessing affidavits

Certifying contracts and agreements

Drafting prenups

Notarizing wills
Louisiana notaries must go through intensive training and pass notary exams to make sure they are competent and well-versed in both state and federal law.
How Much Does a Gonzales Notary Charge?
Louisiana, along with Iowa, Kansas, and Kentucky, does not set rates for notarial services. This means that notaries in Gonzales can charge whatever they want—so you have the job of shopping around and researching the best deals.
Notary fees across the U.S. range from $4 to $35 for each notarial act, so most notaries in Gonzales should fall within this range.
You can avoid having to spend hours on the phone hunting for the best deal by using an online notary service—and !
Where Can I Find a
Notary in Gonzales
?
If you are looking for a notary in Gonzales, you have several options:
In-Person Notary
You have to visit an in-person notary at their offices to have your documents notarized. Although some notaries in Gonzales offer a walk-in service, in most cases, you will have to:
Book an appointment

Travel to the notary's location

Wait in line for your allotted time

Take all the necessary documents with you

Come into close contact with the notary, office staff, and any other clients waiting, which is not the best option

during the COVID-19 pandemic
If you are unlucky, you will have forgotten an essential document and will have to rebook and return a second time.
In-person notaries are an inconvenient way to get your documents notarized, but—if this is your preferred route—you can find one in Gonzales using the following search engines:
You can also normally find notaries in the following offices and outlets:
Location Type

Detail

Public facilities

Public libraries

Colleges and universities

Financial or legal firms

Other outlets

AAA

stores

Car dealerships

Hotels

Large companies
Mobile Notary
A mobile notary saves you the inconvenience of travel by coming to your location.
Mobile notaries are often over-booked, though, so you may have to wait a considerable time to get an appointment. If your document needs urgent notarization, this may not be feasible.
You should also bear in mind that mobile notaries charge for their travel. This—combined with Louisiana's unregulated notary fees—could mean you are landed with a large bill to have your documents notarized.
Online Notary
By far, the most convenient way to get documents notarized is with an online notary.
An online notary uses digital copies of your ID and your documents to perform the notarization via a video call.
Louisiana is one of the 28 states that allow online notarization, and this method is fast becoming the most popular option due to its ease and convenience.
Can DoNotPay Help Me Get My Documents Notarized in Gonzales?
DoNotPay can make notarization easy and convenient by connecting you to our online notary service. All you need to do is: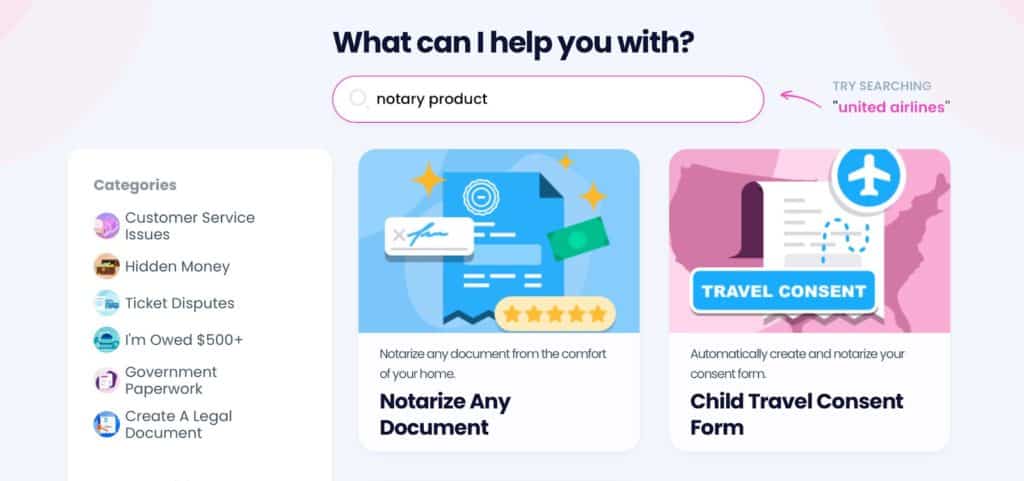 Go to DoNotPay in your web browser and

Click on our

Notarize Any Document

product

Upload the document you want notarized

Fill in your email address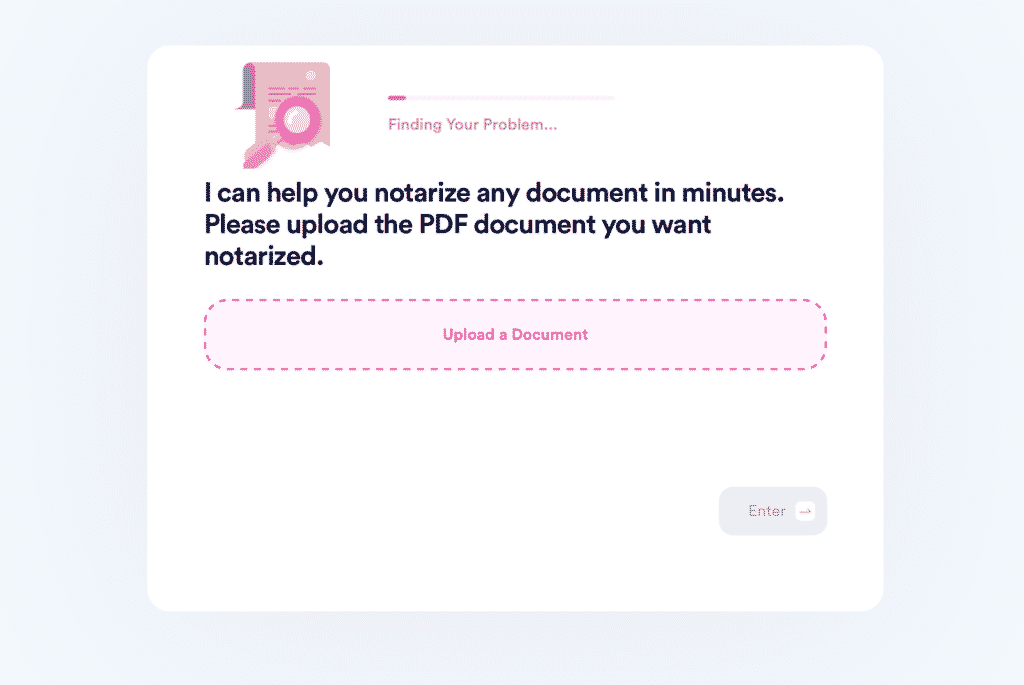 We will send you an email with a link—follow the link to schedule your appointment with your online notary. At your appointment, the notary will verify your identity, make sure you understand what you are signing, witness your signature, and notarize your document.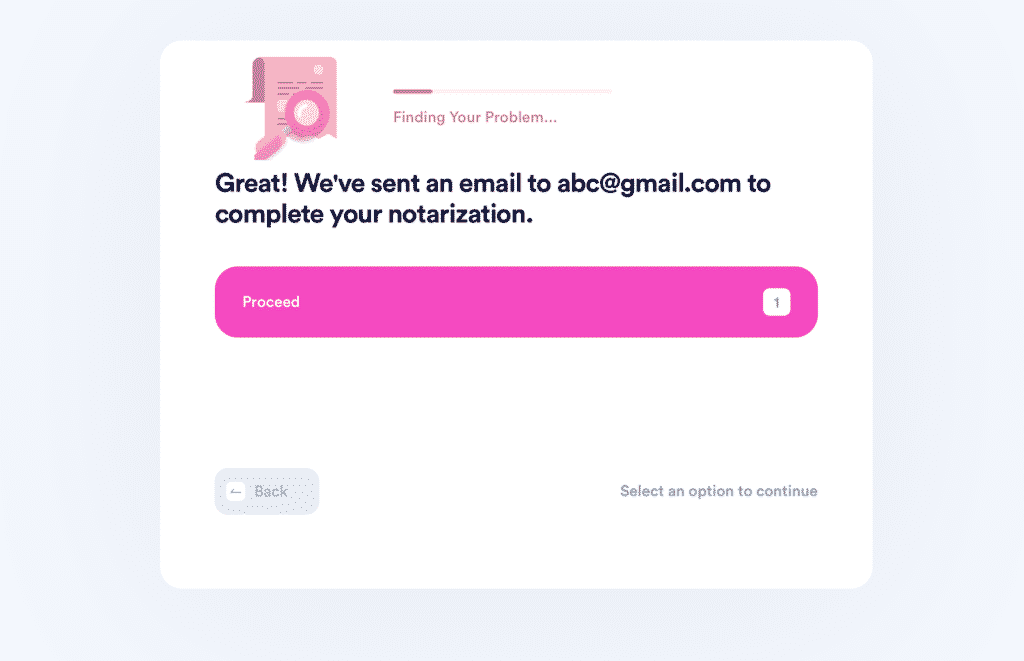 What if I Need To Create the Document As Well?
DoNotPay can help with legal documents and contract templates for many different applications. We know that not everybody feels comfortable writing a contract, so we offer legal documents that you can customize to your requirements.
Here's how to get your tailor-made legal document:
Use the search bar to find the document you need

Insert the details you want in the document

Wait while we generate your solution
Our range of templates is growing all the time, and here are a few of the documents we can offer:
Property
Business
Personal

Real estate purchase agreement

Lease agreement

Estoppel certificate

Quitclaim deed

Intent to purchase real estate

Non-disclosure agreement

Non-compete agreement

Independent contractor agreement

Bill of sale

Operating agreement

General business contract

Prenuptial agreement

Custody agreement

General affidavit

Promissory note
I Need a Notary Somewhere Other Than Gonzales—Can DoNotPay Help?
We are the experts on online notarization in the states that allow online notary services, which are as follows:
DoNotPay Breaks Down Communication Barriers
Communication and new technologies walk hand in hand, and DoNotPay can smooth out any bumps on that road. On our platform, you can find useful tools for avoiding phishing emails and text messages, sending faxes online, stopping annoying robocalls, or signing up for new services without phone verification.
Contacting customer support is no party, but DoNotPay can make the process so much easier, whether you need to request a refund, demand compensation for a canceled flight, or file a warranty claim.
You can even use our platform for locating your loved ones in prison and sending them letters the proper way!
Can Your Virtual Assistant Do This?
Hey, Siri! Make me ready for my upcoming small claims court appearance. No luck? OK, Google! Prepare a DMCA notice for that website that uses my photos without authorization. Still nothing?
DoNotPay is the virtual assistant that won't back away from issues that require legal expertise. Our lawyer bots work around the clock to get you due date extensions for utility bills, reduce your property taxes, or stop stalking and harassment before it gets ugly.
The world's first robot lawyer will provide assistance even with securing compensation for victims of crime!