The Quickest Way To Connect With an Online Notary in Eugene, Oregon
If you need to handle document notarization but want to avoid the traditional process, you've landed on the right article! DoNotPay knows that the standard notarization procedure takes a lot of time and energy. You'll be relieved to know that we can help you get your documents notarized without going to a notary in Eugene, Oregon.
and find out how to get your documents notarized online using nothing but your PC, tablet, or smartphone.
What Do Notaries in Eugene, Oregon, Do?
The Secretary of State in Oregon authorizes Eugene notaries to perform these acts:
Witnessing or attesting signatures

Taking

acknowledgments

Notarizing copies

of personal documents (such as

diplomas

, passports, employee IDs,

driver's licenses

, and similar)

Administering oaths and affirmations

Taking verifications upon oaths and affirmations

Protesting commercial papers
Every notary needs to provide a notarial certificate that includes a notary signature and stamp to complete the notarization.
Notaries in Eugene are obligated to refuse to perform notarization under these circumstances:
The signer didn't appear in front of the notary

The document is incomplete, or it has:

Missing pages

Blank spaces

The signer didn't bring his or her ID

The notary suspects fraudulent behavior

The signer appears:

Intoxicated

Coerced to sign the document

Mentally incapacitated
Which Documents Should You Get Notarized in Eugene, Oregon?
These are some of the documents that should get notarized in Eugene, Oregon:
Real estate deeds

Business contracts

Power of attorney

forms

Loan documents

Property ownership transfers
Since the list isn't complete, you should consult with a lawyer to find out whether your document requires notarization. By law, documents such as birth, death, and marriage certificates can't be notarized.
Eugene Notary Fees—Find Out How Much You Need To Pay
While the price of notary services depends on various aspects, the state of Oregon limits the maximum fee that notaries can charge for each act. Whichever notary you choose, he or she mustn't charge more than $10 per notarial act. They can choose to charge less or notarize your documents for free.
Travel and administrative fees aren't imposed by the state, which means that notaries can determine those prices independently.
All fees should be displayed in the notary's office and on his or her website. You also have the right to call and ask about the cost before deciding to book an appointment.
The Ins and Outs of Document Notarization in Eugene, OR
Citizens of Eugene, Portland, Salem, and other Oregon cities can have their documents notarized by a:
Check out the following table to learn more about each notarization method:
Notarization Method

Brief Explanation

Standard notarization

Standard notaries are officials who notarize paper documents in their offices. If you choose to handle document notarization the traditional way, your in-person appearance is obligatory

Electronic notarization

E-notaries can notarize contracts in digital form. This notarization method also requires in-person presence in the office

Mobile notarization

Traveling notaries go from one location to another to complete notarial acts. They can notarize documents in places like:

The clients' homes or offices

Hospitals

Cafes

Restaurants

Airports

Nursing homes

Note that mobile notaries can be costly because of the travel fees

Online notarization

Notarizing documents via audio-video calls is—by far—the most convenient solution. Oregon notaries are allowed to perform remote notarization because of the pandemic until July 2021, unless the state extends the

HB 4212

bill

Out-of-state notarization

If Oregon decides to ban online notarization after July 2021, residents will still have the right to get their documents notarized by online notaries from other states
Want To Connect With an Online Notary ASAP? DoNotPay Can Help!
DoNotPay strives to make the notarization procedure as effortless as possible, which is why we created the Notarize Any Document product. Our app can help you handle contract notarization in under five minutes. We will find an available notary on your behalf and enable you to set up a meeting in a few clicks.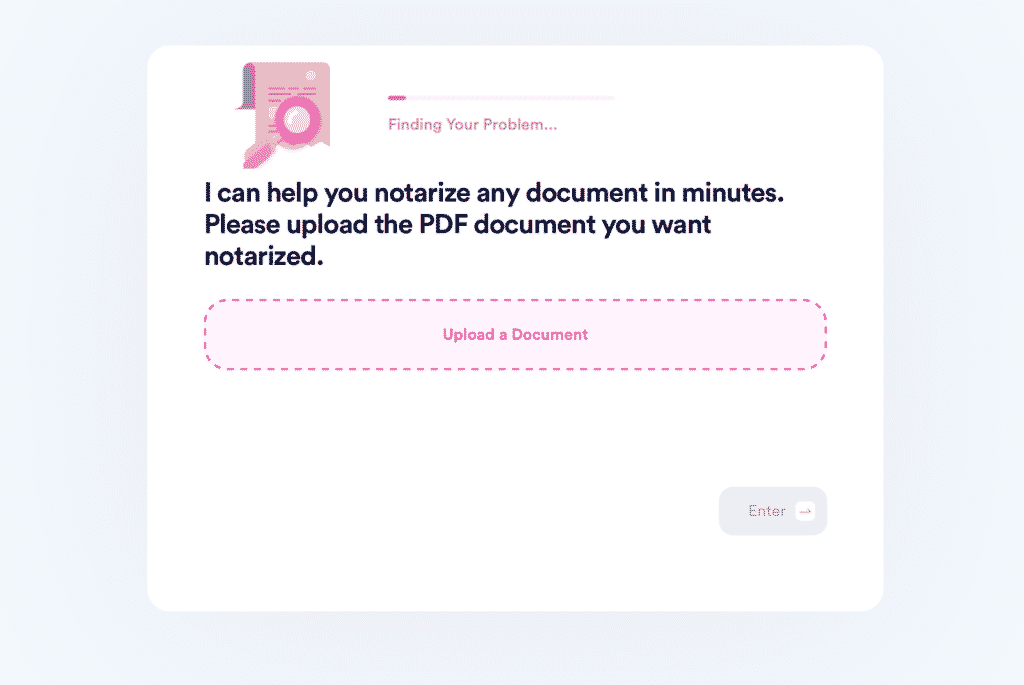 Here are the steps you should follow to use our product:
Enter

Notarize Any Document

in the search bar

Upload your contract

Type in your email address

Open the email DoNotPay sends you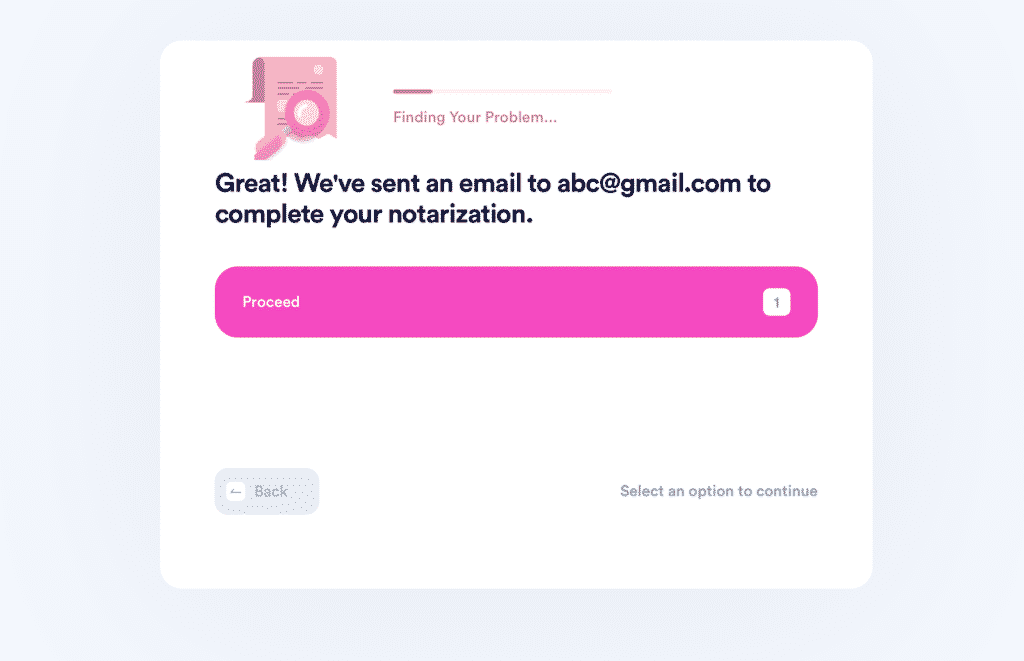 The email will include a link that you should click to schedule a virtual appointment with a 24/7 notary. Once you connect with the notary, he or she will verify your identity, witness your signature, and perform a notarial act during the video call.
You can use our app even when Oregon stops allowing notaries to notarize documents online. We will help you find an online notary from another state, such as:
Check out our Legal Documents feature to find out how to draw up contracts in a snap and handle notarization through the same app!
DoNotPay Can Help You Solve Pesky Issues Stress-Free
Dealing with everyday issues can become overwhelming, especially if they include bureaucracy. DoNotPay can help you handle numerous problems in a few minutes. With us, you can schedule your DMV appointments, get documents notarized remotely, and create various legal documents—including child travel consent statements—in a snap.
Do you need help paying your bills or disputing parking tickets? Once you register for DoNotPay, you'll be able to manage all of these and many more issues in no time.
What Else Can You Use Our App For?
Besides helping you handle tedious administrative hurdles, DoNotPay can do much more for you! You can use DoNotPay to:
With us, you can send online faxes or mail letters from the comfort of your home. Do you have friends or family members who are serving time? We can help you connect with inmates in a flash by enabling you to locate them and send them letters.